For the Malay Language, click here.
Greetings to all my readers. From December 28, 2016, to January 12, 2017, we'd completed 10 cities in Thailand and one in Laos. It is pretty challenging and there are few obstacles because involving children aged 3 years and 10 months.
Nearly 6000 pictures and 125 videos have been taken throughout the journey. Wow … so many! I will try to cut any unimportant, reduce the picture myself, and prioritize the scenery pictures. I used a Canon 600D with an 18-55mm lens and it's already aged 5 years old. If you are interested, I would recommend an upgraded version of a Canon EOS 800D (also called Canon EOS Rebel T7i) with an 18-55mm STM lens.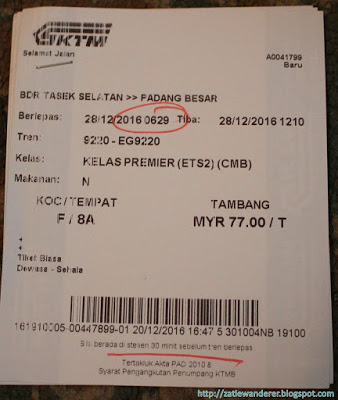 On December 20, we bought ETS train tickets to Padang Besar for 2 adults and one child. The adult ticket price is MYR77.00 and MYR43.00 for children. Initially, I'd like to buy a ticket for December 25th. But, unfortunately, all the tickets are sold out due to the Christmas holiday. So, now I know how to buy ETS tickets that need to be purchased 6-8 days before the date of travel. That's the tip. When there is no ticket for Dec 25, we have no choice and bought one for December 28th. Since we are self-employed, so it's easy for us to choose any date. Most importantly, all expenses are enough to start the adventure.
Hotel booking? We do not book anything even to the 11 cities in Thailand and Laos. I purposely made this concept. There will be the fate for a cheaper hotel than those advertised on Agoda and Booking or otherwise. Our only satisfaction is to choose a hotel or resort that is beautiful and easy to access to or from any destination.
I changed the money for MYR1508.00 to get THB12,000. At first, I wanted to change the MYR1500, after which the money changer said to add MYR8.00 more to make THB12,000. Sadly because our currency shrank a lot at that time. I exchanged in Tesco Extra Cheras. I felt lazy to change money at Ampang Park or the Indian Mosque because when mixed with the cost of petrol and parking, it will be the same and not much difference.
Well, these are the 11 cities in Thailand and Laos that we've been through: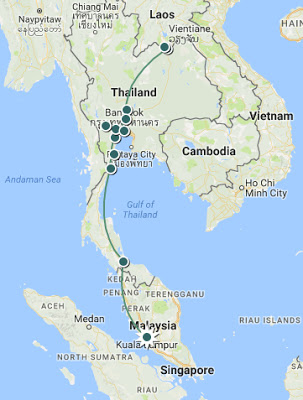 Hat Yai (Thailand)
Prachuap Khiri Khan (Thailand)
Hua Hin (Thailand)
Samut Songkhram (

Maeklong Railway Market

) (Thailand)
Nakhon Pathom (Thailand)
Kanchanaburi (Thailand)
Bangkok (Thailand)
Lopburi (Thailand)
Ayutthaya (Thailand)
Nong Khai (Thailand)
Vientiane (Laos)
So if we calculated the distance traveled from Kuala Lumpur, through 11 cities in two countries up to Vientiane, then return to Bangkok, boarding the plane back to Kuala Lumpur, so the total distance of the journey is 4,713km. How's that sound? Thousands of thousands of kilometers of thrilling shocks?
Initially, these travel destinations include Thailand (several districts), Laos (Vientiane, Vang Vieng, Luang Prabang, and Phonsavan), Cambodia (Battambang, Siem Reap, Phnom Penh, and Kampong Cham) and Vietnam ( Ho Chi Minh City and Mui Ne). But because of the inadequate time, I had to cancel my trip to Cambodia and Vietnam and continue my adventures with my wife and children for 16 days in Thailand and Laos. So maybe next time, we'll travel to the place that has been dropped from the list. Most importantly, the Indochina mission is also implemented, better than nothing, right?
All transports were done via overland except for the returned trip by plane. Below here is the list of transportation that we use:
ETS train
Thailand train (

sleeper berth

)
Ordinary Thailand Train (3rd class)
Tuktuk – lorry/car type
Tuktuk – motorcycle type
Tuktuk – a three-wheeler car
Motorsikal – similar to the "Ojek" in Jakarta
Public bus
Boat
Ferry
City taxi
Bicycle
Monorail – Skytrain
MRT – Underground train
A motorbike that brought a vegetable (

hitchhiking

)
Hitchhiking (but unsuccessful)
Airplane – Malaysia Airlines
Additional items we've brought in the backpack (besides essential items like shirts, trousers, slippers, fittings and more):
Naturehike LW180 Sleeping bag

Mess tin

Butane Stove

Butane Gas

Travel Iron

(weight at only 160gm)
Umbrella (the lightest in the market that we've found)
Bicycle Lock (the lightest type of wire – to lock backpack in the sleeper berth train)
Tupperware (plastic container for keeping food)
Spoon and fork

Airport Cover Bag

(use to wrap a backpack when checking in as a luggage. Important as to prevent the backpack harness or strap that might be stuck in the baggage carousel).
20L Daypack
First Aid Kit
Important medicines for travel
0.5L Thermos
Kid's clothing
Pampers
I will try to prepare the latest entries for Thailand-Laos travel as quickly as possible with the newest information such as the daily cost, transportation system, hotel type, etc. All the list of blog entries will be listed below. A clickable link means the blog entry has been successfully published and I will update the rest from time to time.
Note: This blog post for Thailand-Laos is 100% completed.
Malaysia – Thailand – Hat Yai
Hat Yai – Prachuap Khiri Khan
Prachuap Khiri Khan – Hua Hin
Hua Hin – Samut Songkhram
Samut Songkhram – Nakhon Pathom
Nakhon Pathom – Kanchanaburi
Kanchanaburi – Bangkok
Bangkok – Lopburi:
Lopburi – Ayutthaya
Ayutthaya – Nong Khai
Nong Khai – Vientiane (Laos)
Vientiane (Laos)
Vientiane – Nong Khai (Thailand)
Bangkok – Malaysia
See also: