Continued from Thailand – Laos: Day 9 – Part 7 – Khao San Road & Suzie Walk. For pre-travel, please refer here.
Travel Date: 6th January 2017
Day: 10
Location: Bangkok & Lopburi
Our situation was chaotic that morning because we woke up a little late from the time we should have. Why chaotic? The train to Lopburi will leave at 4.20am and we woke up 1 hour 15 minutes earlier! Fortunately, the distance from the Barnana Hostel to Hua Lamphong Railway Station is not far.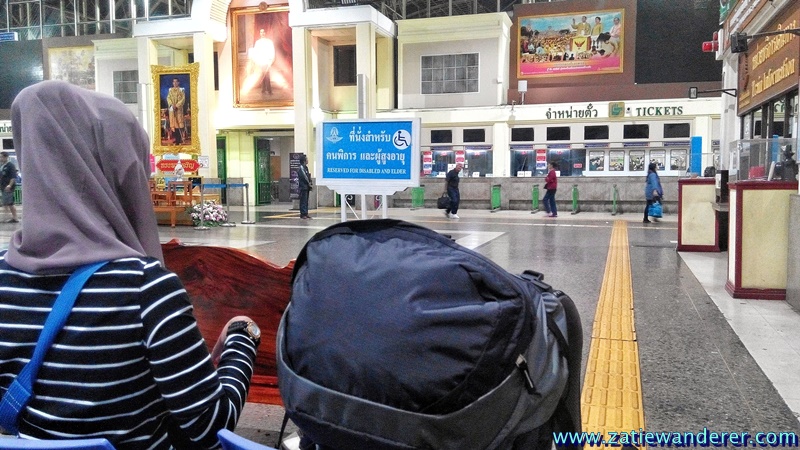 It feels like this time is our fastest inserting stuff into a bag in history. We took a shower for only 3 minutes each. This is the consequence of squinting at Facebook, Twitter, Instagram and others. I realized it was 1 o'clock in the morning.
All of our stuff is just inserted into the backpacks without sorting properly. Later, we'll arrange it nicely. Importantly, all items are not left at all in the hostel.
After finishing everything, we walked from Hostel Barnana to the main road. There are only 35 minutes left to arrive in Hua Lamphong. Did we have time to arrive at the train station? The distance from the hostel to the main road is about 100 meters but it feels like walking 2 km. In my head, when we will arrive on the main road! OMG!
Less than 3 minutes of waiting on the main road, a taxi arrived with a fare (as far as I remember) THB150 (MYR18). Indeed the fare is expensive. On foot, it is only 4.3km away. But are you willing to walk at night on a dark street?
Our hearts were relieved when we reached Hua Lamphong Railway Station. But the entrance to the inner area of the station has not yet been opened. We hang out outside first. We also waited for about 15 minutes before being allowed to enter. It looks like a lot of people are lying outside like camping overnight.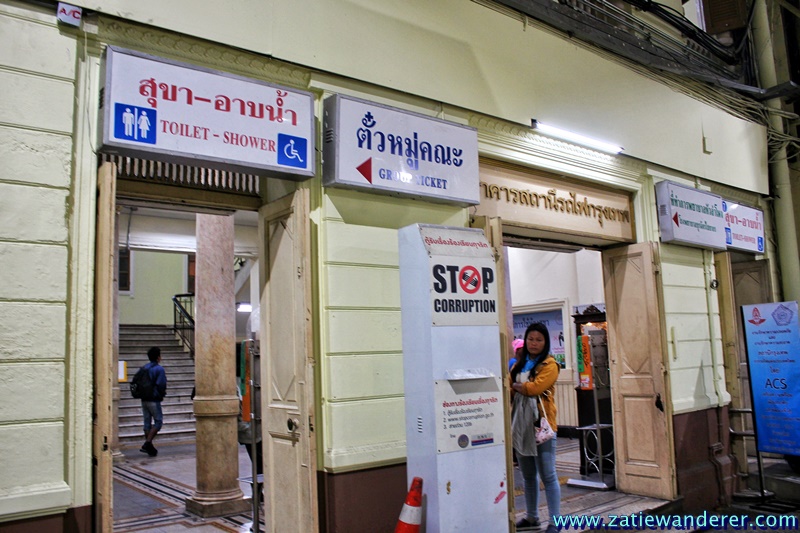 We anchored the backpack on the edge of the wall first before I went to the counter to buy tickets. The schedule to Lopburi I had actually gotten the day before. Based on the schedule, I knew the train would leave for Lopburi at 4.20 am.
In fact, there are many departure times from Bangkok to Lopburi in a day. There are 24 trains a day. But, the number of trains to Lopburi is only 13. We deliberately chose the earliest because we wanted to visit two places at the same time, namely Lopburi and Ayutthaya. This train is a commuter and not an express train.
Here there is a special corner of the cafeteria and there are halal stalls. See the moon and star signs in the picture above. But at 4.00 am, no food stalls were open.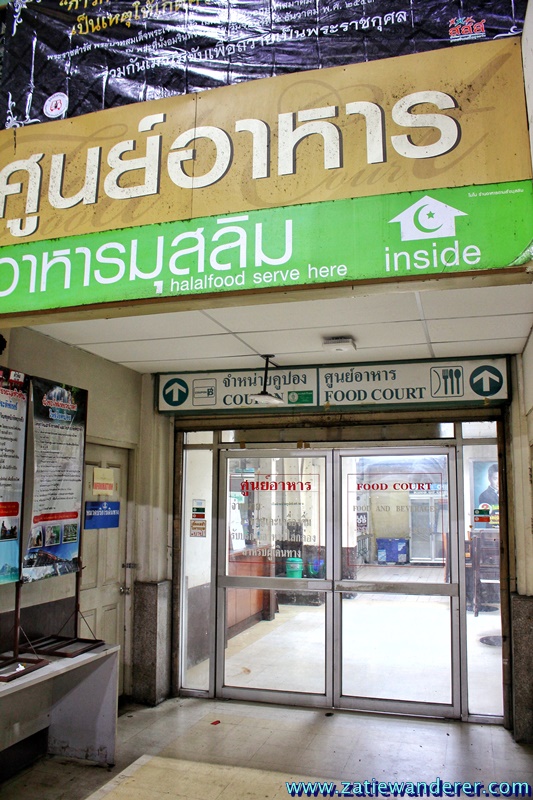 Early in the morning, there were already many people here and finally, we could feel like travelers who had just arrived at the biggest and most popular train station in Thailand. The day before, we had already come here. But our style is like normal people's because we don't carry a big backpack.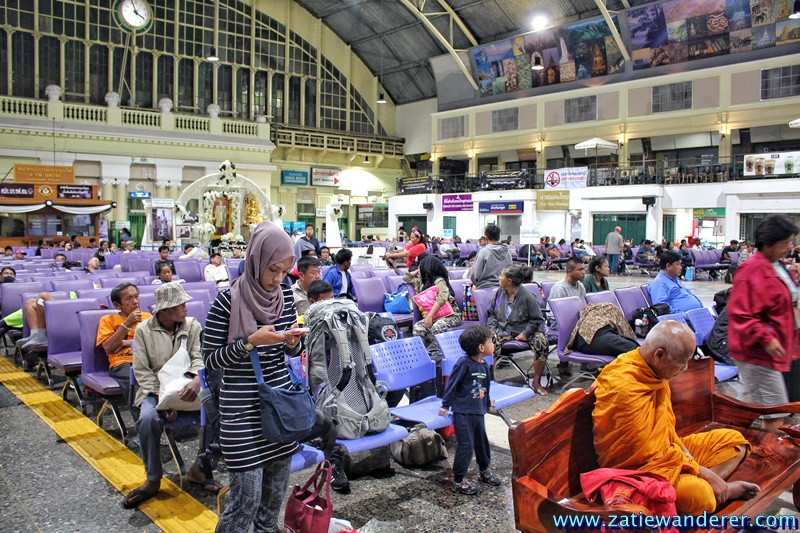 If you come here, be sure to take pictures in the train terminal, especially in the middle and you will see the roof of the terminal and the long train. To your knowledge, you cannot enter the terminal section without a ticket. So it is advisable when arriving from the south (Hat Yai) or northern Thailand (Chiang Mai) and still be in the terminal section, immediately take a picture there.
It was already 4.20 in the morning but the door to the terminal was still not open. I walked around the main room until I met a "monk vending machine". Choose what you want for the future, hehe.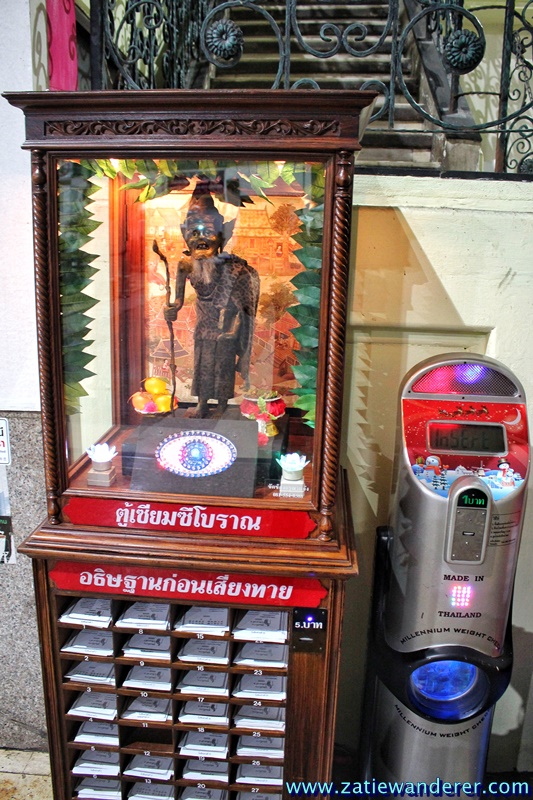 This is a prayer room for all religions. But I'm not sure why there are height measurements for children and adults.

As soon as the door to the terminal opened, we rushed in like goats out of the barn. During this travel, my anxiety was very strong. It's called "travel anxiety". Fear of some things that have not yet happened. Fear of missing the train, fear of falling asleep and missing the station, fear of being chased by a dog, fear of being robbed, fear of defecating in the train and various types of fear.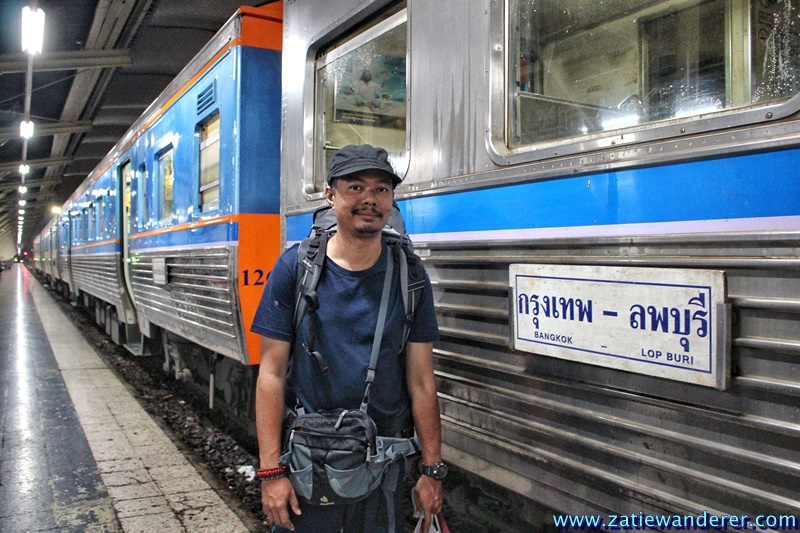 So, it's a big loss because the picture is on the side of the terminal and not the middle.
Here are train tickets for two adults. Expected to arrive at 7.05am. The price is very cheap for a 2 hour and 45 minutes journey which is THB28 (MYR3.00). Children aged 3 years 10 months like Aqif are excluded.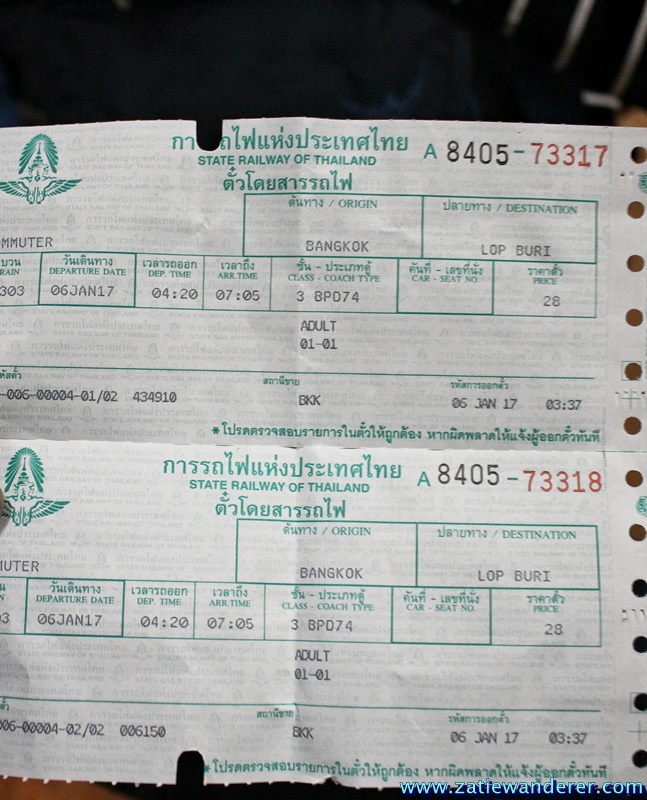 Our faces are sleepy and tired since yesterday because the struggle to travel is not over yet.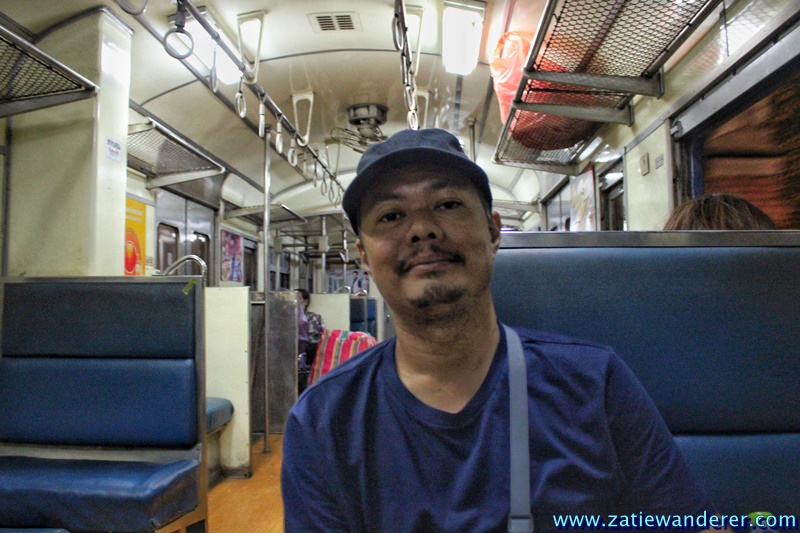 It's only 5.05 in the morning. Aqif and Tatie went back to sleep. A father like me must keep his eyes peeled for their safety.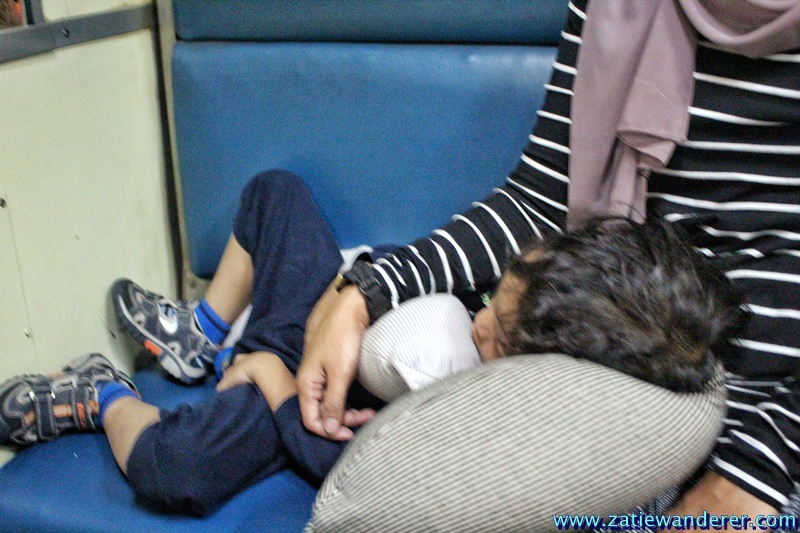 This is Ayutthaya train station and arrive here at 5.49 am. However, this is not the location we need to get off. For the knowledge of the reader, if from Bangkok and heading north, will meet Ayutthaya station first and then Lopburi. Meaning, after we toured in Lopburi and wanted to go to Ayutthaya, it was like taking a train heading south which was like going back to Bangkok again. The distance from here to Lopburi is about 1 hour 10 minutes.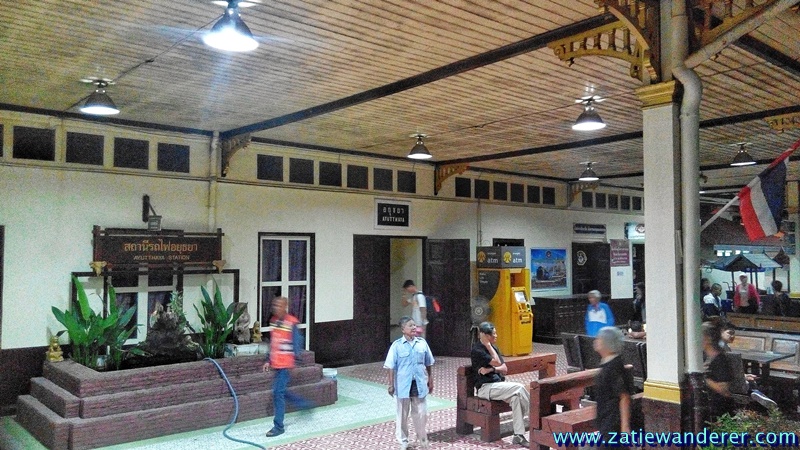 We are very excited to get to Lopburi. Just know that November to January is the spring season. Continuing here, ladies and gentlemen, the beauty of the Sunflower farm that is so great!