Continued from Thailand – Laos Travel: Day 9 – Part 6 – The Emporium, The Helix Quartier & The EmQuartier. For pre-travel, please refer here.
Regarding the rail transportation system in Bangkok, we are lucky because the display is in two languages, Thai and English. And each stop is the same as taking the LRT in my country, which will show the stations that have been passed and will be passed. I can give a rating of 9.5/10 in terms of ease of rail use in Bangkok.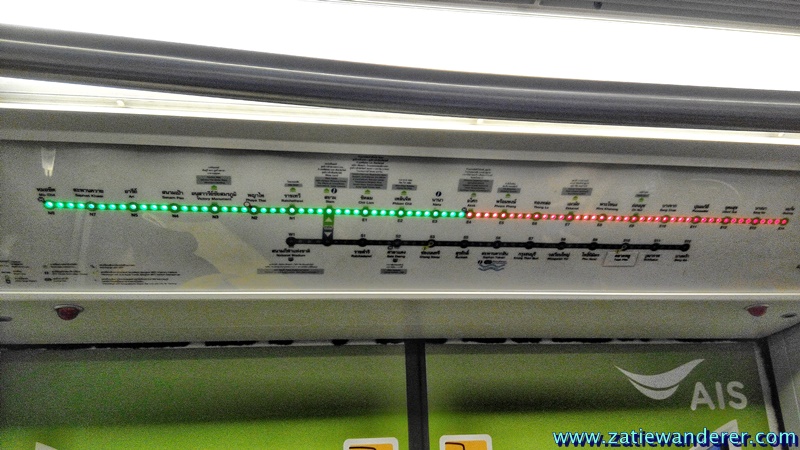 This is a closer look. We depart from Phrom Phong (Sukhumvit Line) and will stop at Silom BTS station (after Chit Lom station referred to in the picture above). Silom Station can be considered as a center because it is a transit station with Silom Line and also the nearest station with MBK Center and many others.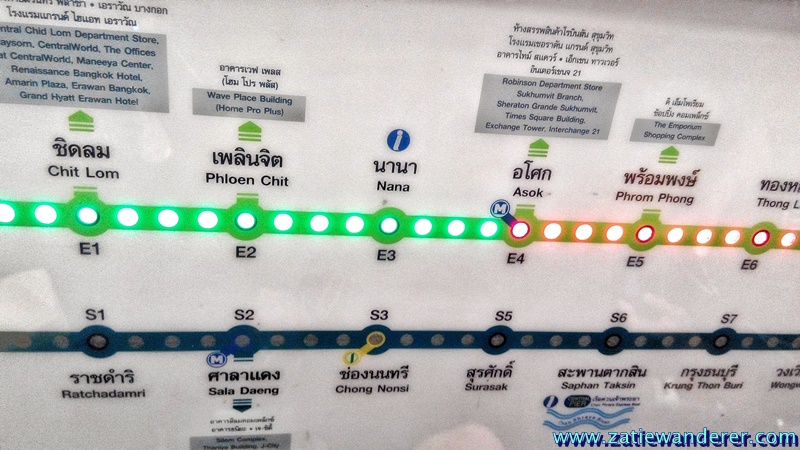 It is now peak time which is 6.34pm and it looks like many have just returned from office work. In fact, my family and I had to stand until we reached Silom station.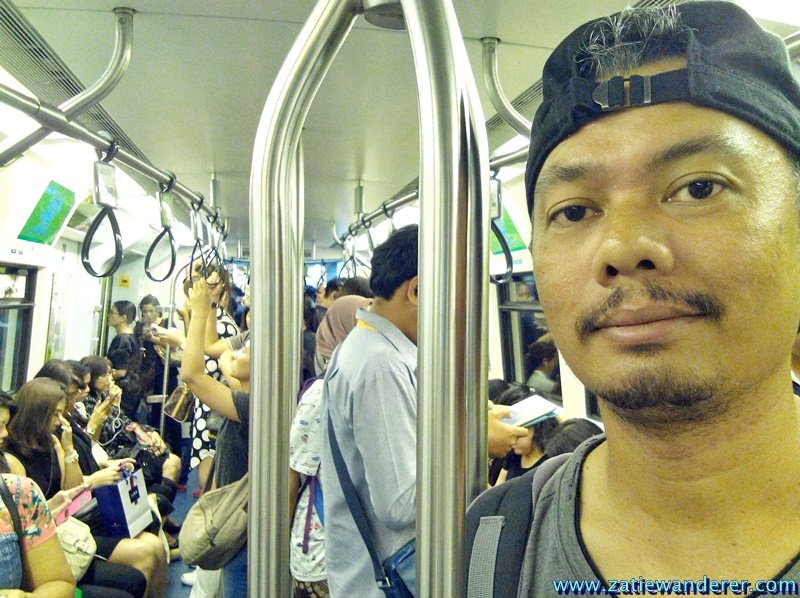 Arriving at the station, we planned to take a public bus heading to Khao San Road as no trains were passing through the area. I had to ask people around here to find out the bus number that goes there. So far, I've forgotten the bus number (but referring to Google Maps, the bus number is 15 or 47).

We waited quite a long time, almost 40 minutes! Just want to taste the experience. And how do we feel when we wait so long here? Sweat and sticky bodies are almost the same as waiting for a bus at Puduraya Bus Station in Kuala Lumpur. I mean, the weather and temperature at dusk is more or less the same in Malaysia.
We were actually waiting for the bus right under the National Stadium BTS station and next to the MBK Center.
The atmosphere is crowded in public buses. Tatie and Aqif have sunk inside.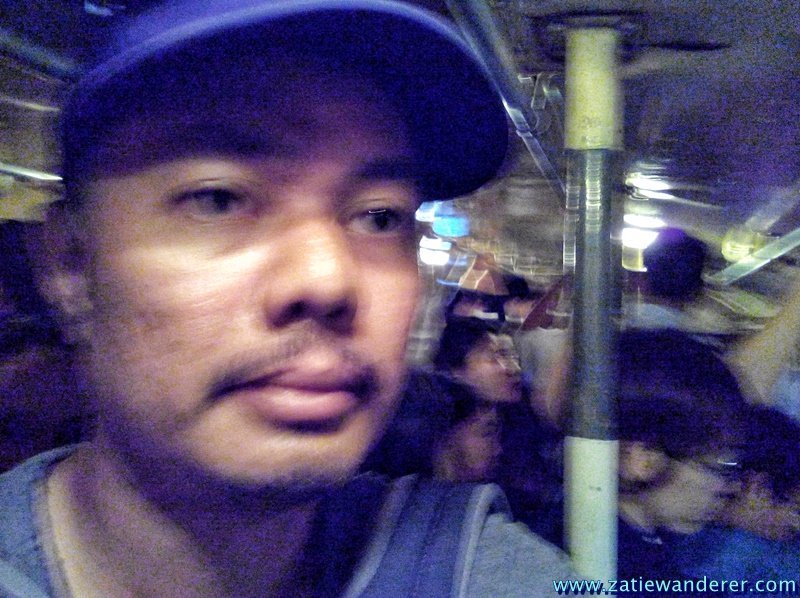 After several stops at the bus stop, Tatie and Aqif got a seat next to an elderly women. From a distance, I saw how friendly they were chatting.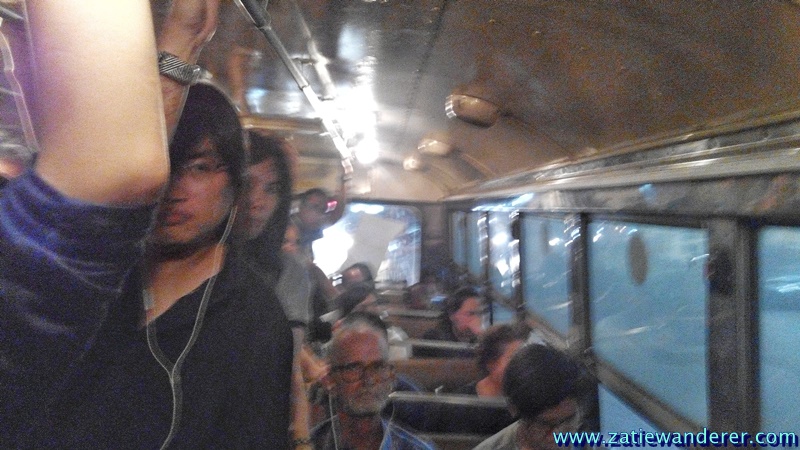 We stopped at this bus stop after passing the Democracy Monument. And from here, we walked 220 meters towards the entrance to Khao San Road on the east side.
Here is an incident that can be said to be a bit panicky but funny. As a result of the lively chat between Tatie and the elderly woman next to her, we got off the bus but Tatie forgot to take the Osprey daypack bag. Although there are no valuables, the bag is useful to carry children's necessities. I held onto Aqif and Tatie ran like a marathon towards the bus which was already moving 50 meters while shouting at the bus driver.
We breathed a sigh of relief as the bus finally stopped. The elderly woman in the bus shouted at the driver to stop the bus and she handed the bag through the window. The events that took place provided an unforgettable experience for us.
Then I told Tatie not to forget again in the future. Understand that the bag costs almost MYR400. But I can't blame her 100% because at the same time she has to take care of Aqif who is sitting on her lap.
Unlike yesterday, we continued walking and entered the central part of Khao San Road. Oh yes, before that, at the entrance of the street on the east side, I bought caterpillars and crickets as proof that I dared to eat. I inserted the picture below.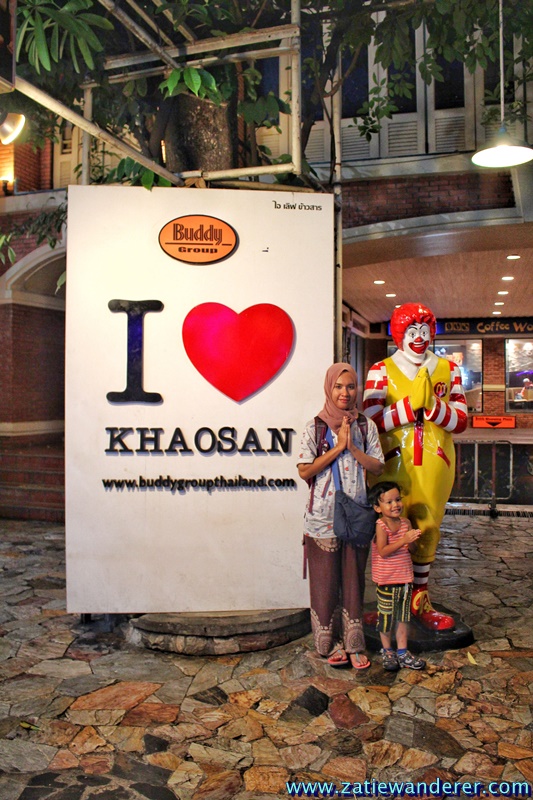 After stepping a few meters forward, we saw an alley that was quite long inwards. It's called Suzie Walk. But first, I flipped through Google Maps and found that it penetrated towards the main road (Soi Rambuttri) and headed to the hotel where we were staying. We kept walking into the alley …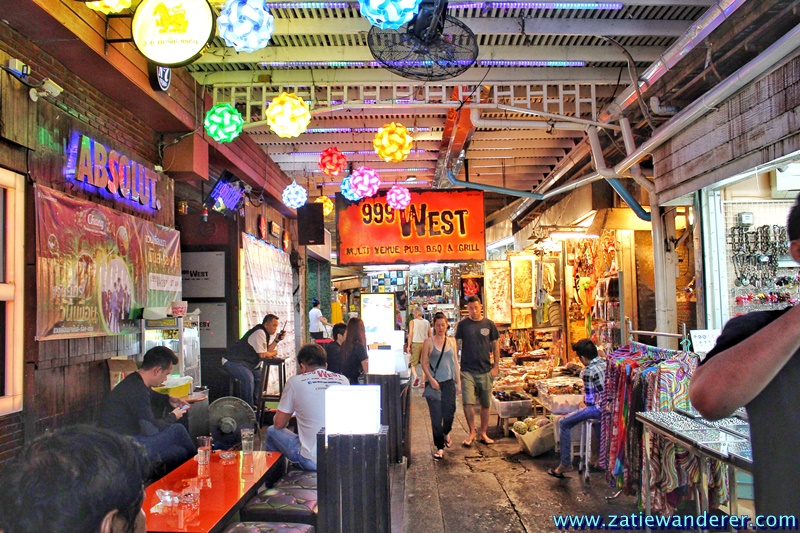 This is the GPS location of 13.758568, 100.497990 for those who want to enter Suzie Walk or just click the map above.
The hallways here are like having a roof that prevents the rain from pouring down. I am very comfortable here because it is not as noisy and lively as it is on Khao San Road. Here, the atmosphere is calmer and a large selection of items are sold.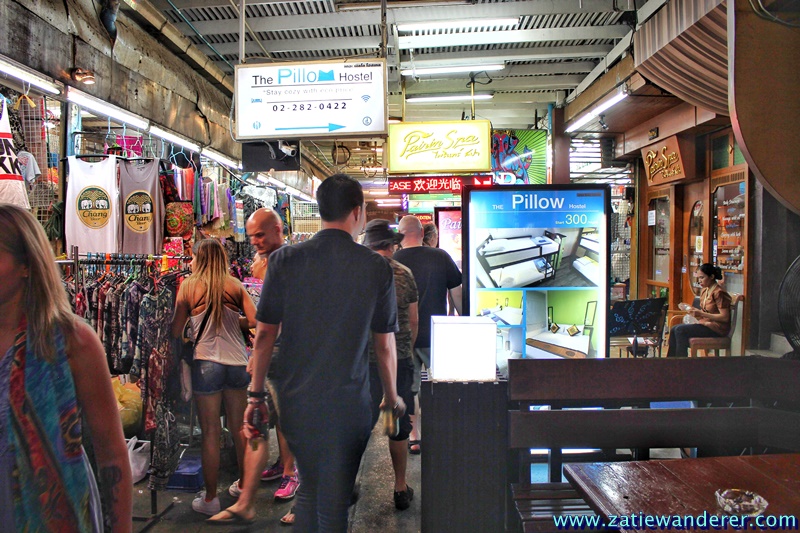 Indeed, there are more options here.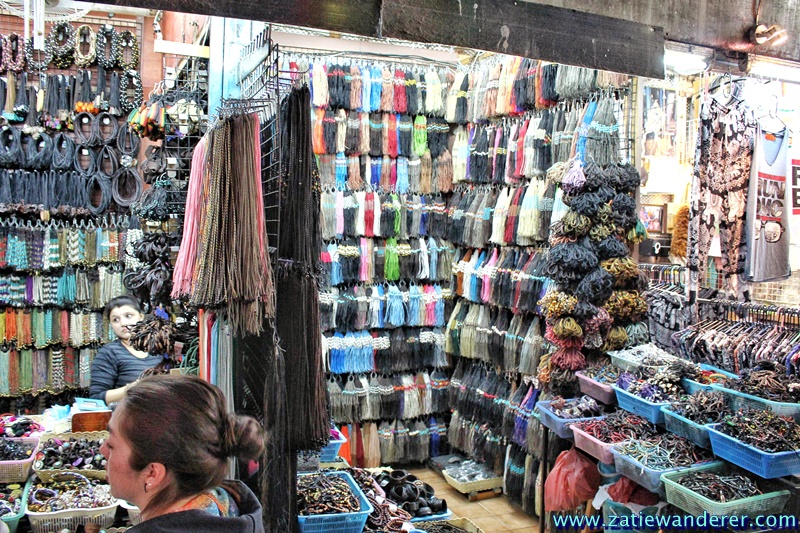 If I'm not mistaken, along this Suzie Walk , there are almost 20 shops.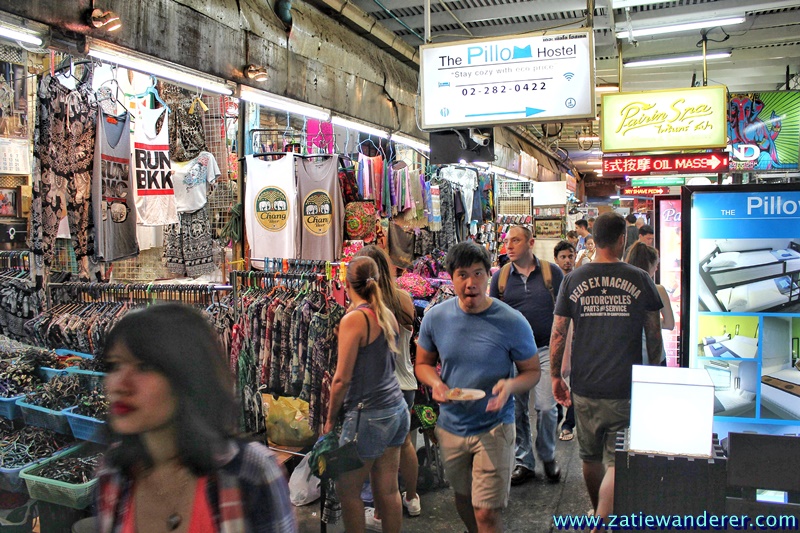 The price is also a little cheaper than on Khao San Road. If there is more budget, I will buy a silver bangle here.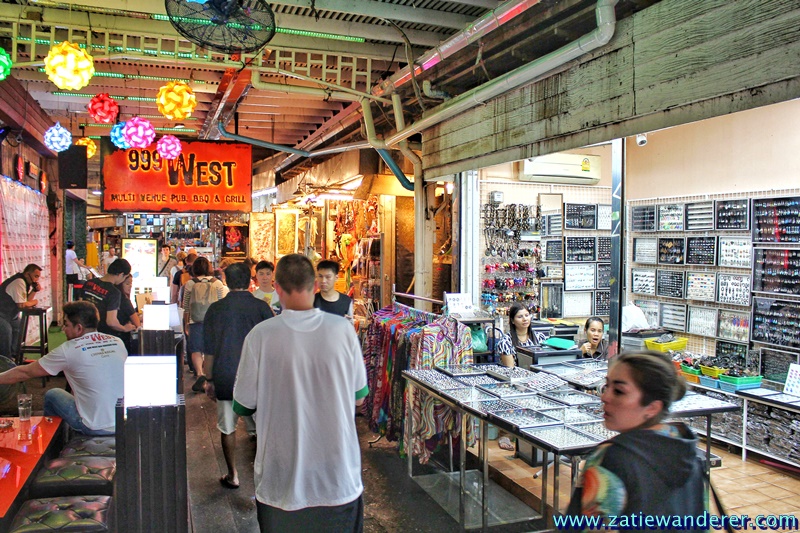 This is a shop that is a favorite of women for extreme activities such as leather bracelets and so on.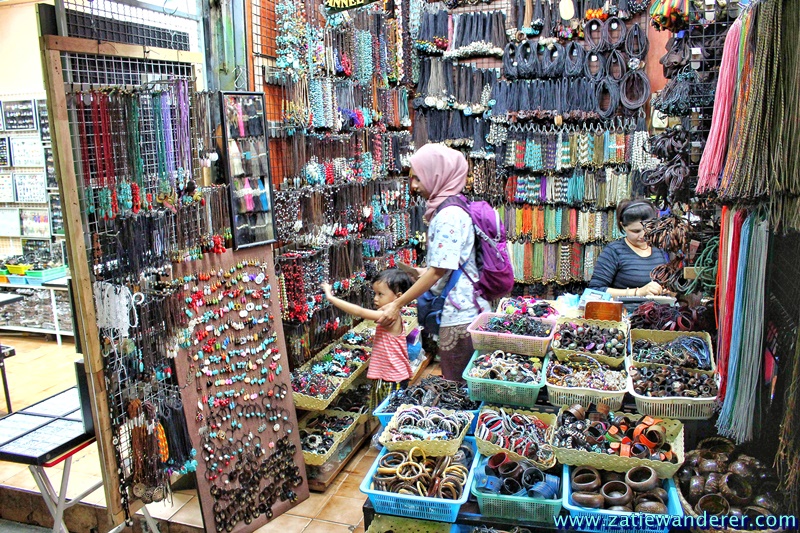 In the middle of Suzie Walk, there is also a bookstore. Want to buy a postcard? Buy here. Next, we went back to the hotel.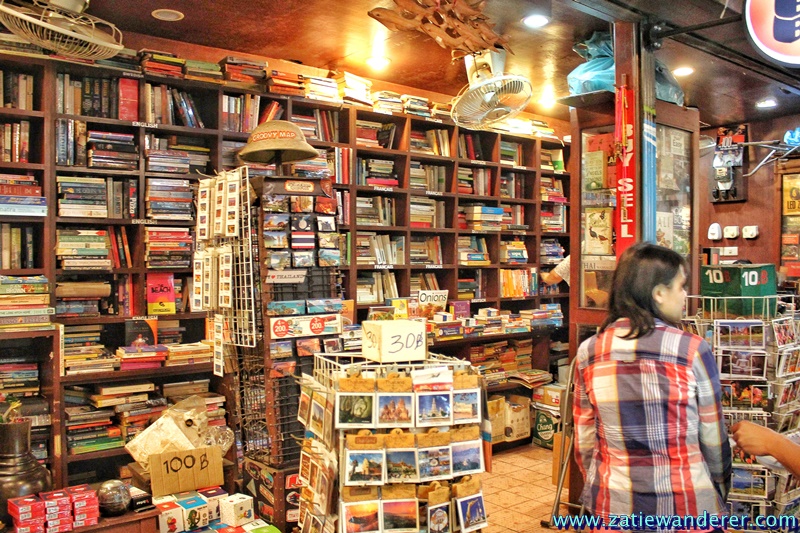 Here are the caterpillars and crickets I bought earlier. Isn't it delicious? Want to try? Please eat it.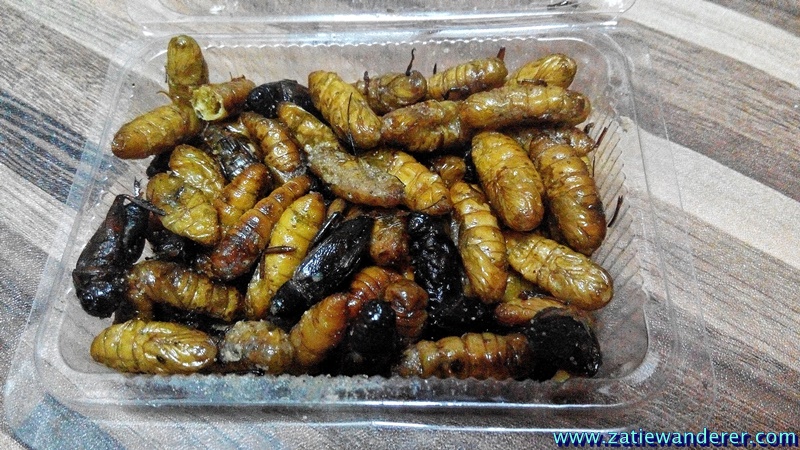 What does it taste like? The caterpillars taste like fat, it tastes like chewing the tasteless and fatty contents of an avocado. Crickets taste like chewing dried shrimp without the taste of shrimp, but it does not taste like cockroaches.
In fact, foods like these are rich in protein. I forgot the price per box, about THB80 but I didn't eat it all. Only 3-4 caterpillars and crickets. It is quite difficult to get it in Malaysia. So if you come here, you must try it.
This is the 'lobby' of Barnana Hostel. For the last night, I deliberately hung out in the basement while looking at the atmosphere outside the hostel. Suddenly the hostel owner came to greet me. We spoke a little bit of English and he took a bottle of mineral water from the fridge and gave it to me for free. Thank you, landlord!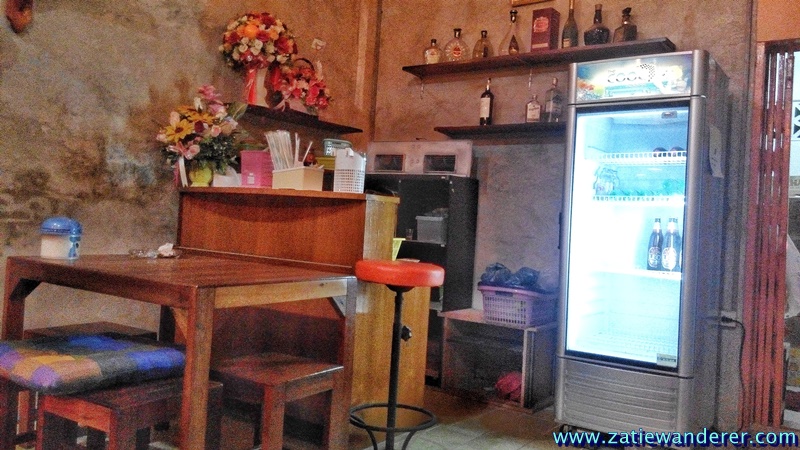 I hung out for about 30 minutes because I noticed that at the top, our room was facing a dorm that could accommodate 12 people. Safety factors should also be a priority when bringing a family. So, complete the category of accommodation that we want to feel that is hostels and be able to feel a little valuable experience.
Our 9th day in Bangkok has come to an end, it is time for us to leave for another district or state the next day. Let's hit Lopburi and Ayutthaya !!