Continued from Thailand – Laos Travel: Day 4 – Part 1 – City Pillar Shrine In Prachuap Khiri Khan. For pre-travel, please refer here.
As soon as we stepped out of the City Pillar Shrine, we saw an area on top of a hill. At first, I guess that the one on top was a house but turned out to be Wat.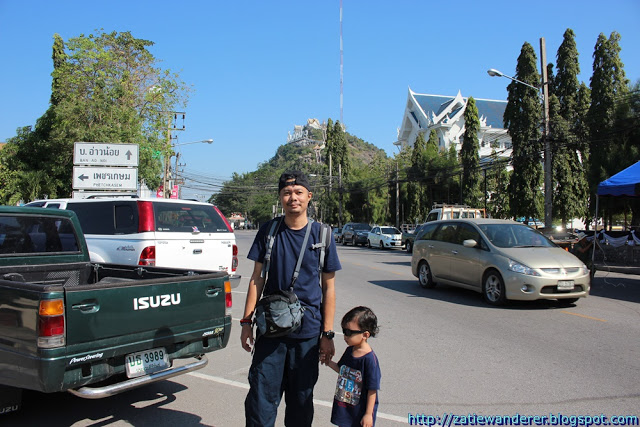 The name of this place is Khao Chong Kra Chok (KCKC) or Khao Chong Krachok, and I'm not sure the name represents Wat or represents the name of the hill. From a distance, you can see hundreds of stairs to climb up.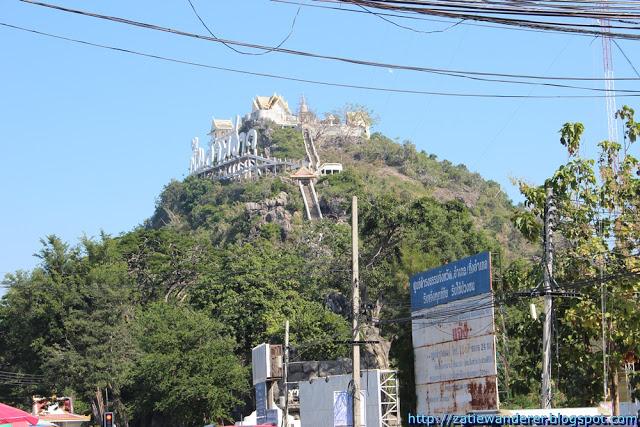 I'm counting the time left. It's only 10.37 am. Meaning, there is only 1 hour 23 minutes left to checkout from Maggie Guesthouse at 12.00 pm. Ok, it was checkout time, so we had to go back early to pack up at 11.30 am at the latest. So there are only 53 minutes left.
Should we climb or not? Suddenly I jerked out because there was a shocking voice in my head and shouting, "Hey, aren't you already here? Want to wait until when to come here again? " All right. I agree with the words from myself that are positive. From the negative side of me, of course, trying to incite and intimidate myself.
Without waiting any longer, we hurried to the hillside. Although walking fast but in a "fast and steady" mode. These are the monkey monument built at the foot of this hill. Yesterday, we took a picture of this monkey, but the photo is a bit less clear. Then, we stopped and took a photo for a moment. In my head, I felt that from the bottom to the top of the hill, it was specially built to commemorate the monkey god, Hanuman.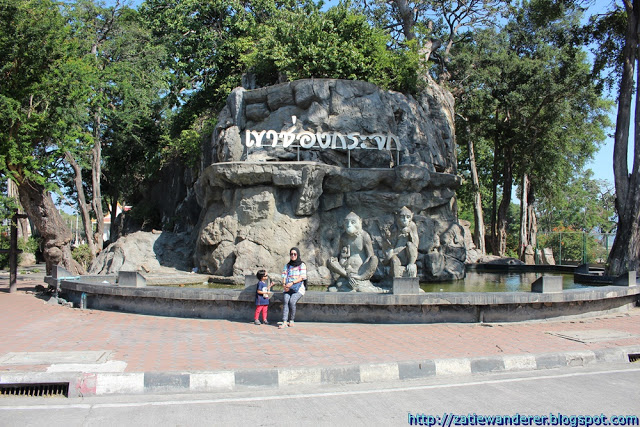 In India, cows are considered sacred and holy. The Southeast Asian side is different. Monkeys are considered sacred from here to Bali, Indonesia.
We tried to get closer to the edge area of ​​the monkey monument. It looks like there is the main entrance to climb to the top of KCKC hill from a distance. I also had the opportunity to take pictures of locals who might be waiting for a tuktuk. In this area where we are standing, there are many buildings which are the administrative center of Prachuap Khiri Khan City.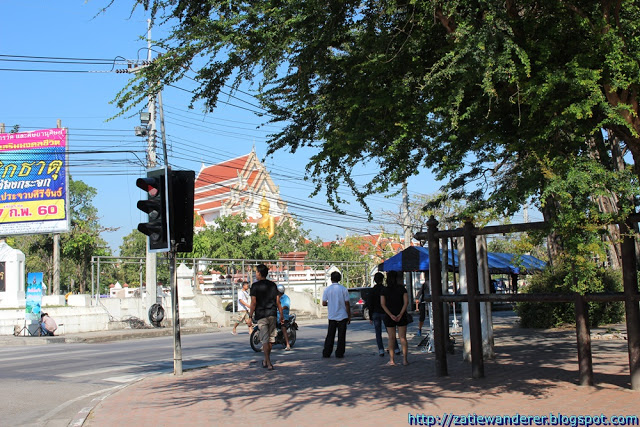 As soon as we passed the 'bus stand' (which was not officially built by the local government) earlier, I took a picture of Wat. Its long name is Wat Thammikaram Worawihan. It is the largest Wat in the city. It looks like a lot of plastic chairs are commonly used for any occasion. Similar to the City Pillar Shrine just now. Maybe there will also be held the new year celebration 2017.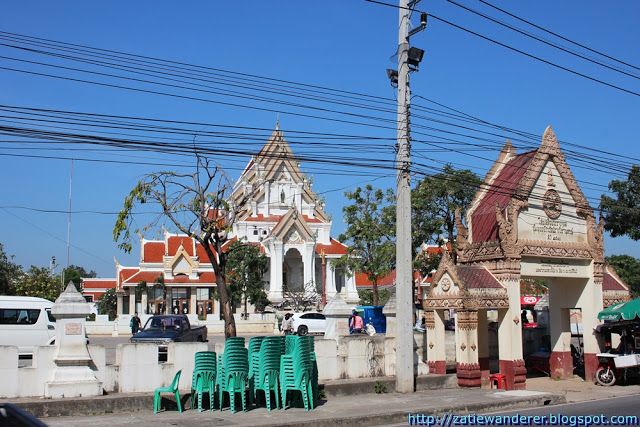 But we neglected this Wat for a while to visit because the primary mission was to climb the peak of KCKC.
Finally, we arrived at the main entrance or gate to climb the stairs. It seems that many visitors are also relaxing here, perhaps relieving tiredness after a tiring climb.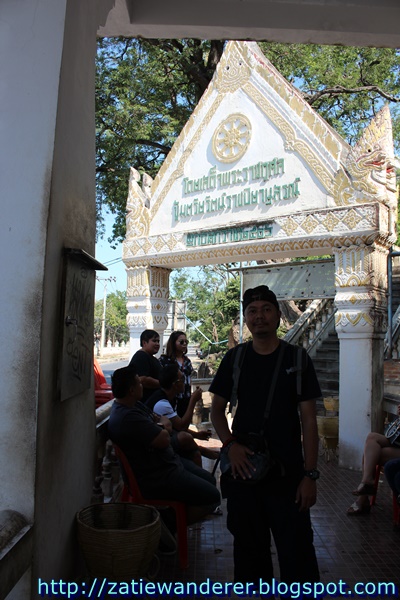 Sruppp… fuhhhh… we took a deep breath first before going up. I haven't visited Batu Caves, which is very close to Kuala Lumpur yet, but here I can climb, hehe. I'm not sure how many stairs are here. I did a Google search earlier and there were 396 numbers of stairs! However, some opinions say it has 395. So, it is your job to calculate the actual number of stairs.
These are a warning that I would like to share with readers. From downstairs up to the top, there is a species of monkeys of the type "macaques" which are considered unfriendly species to humans. So:
Avoid bringing food if you do not want to be surrounded by 10 monkeys. It is better to bring a daypack to store food.
Avoid holding a camera or mobile phone in your hand. Worried, the monkeys will snatch because they think it is food.
Avoid being static or standing too long and close to the monkey due to viewing the scenery of Prachuap City. Be patient…. because upstairs later there will be a seat and a roof that you can relax without the presence of many monkeys.
Intend to feed the monkeys? Before going up, there were some banana sellers in the square of Wat Thammikaram Worawihan. If I'm not mistaken, a bunch or a pack of bananas to feed a monkey costs THB50.
Khao Chong Kra Chok entrance location: 11.813279, 99.797288
Let's start climbing the stairs. I here present to you a fascinating view from the top. Just kidding!! These are only a quarter of the climb, not the peak area yet. That colorful building is a technical college.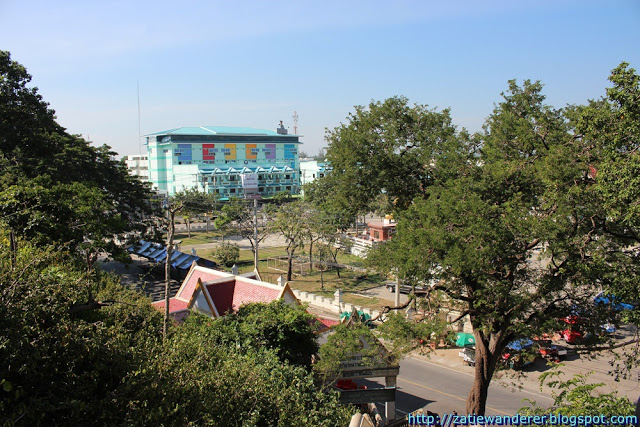 Fuhh… we paused to take a deep breath. This time we need to switch to slow and steady mode. Aqif is already climbing slowly and steadily from the beginning. Usually, children often walk at a slow pace. But to your knowledge, we didn't feel exhausted due to being excited to get to the top. Many Thais who visit here are over 50 or close to 60 years old.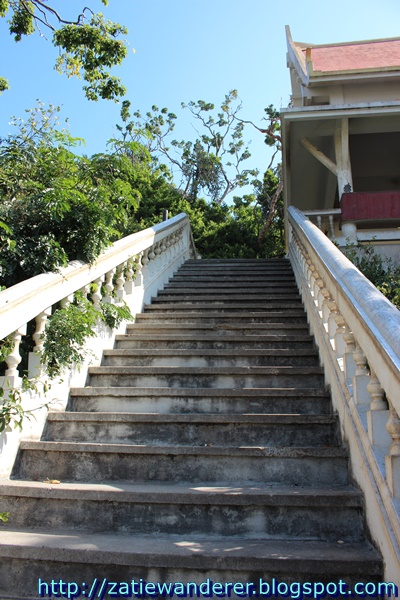 It's halfway. There's no presence of monkeys. So, we rested for a while to view the scenery. Seen there is Wat Thammikaram Worawihan.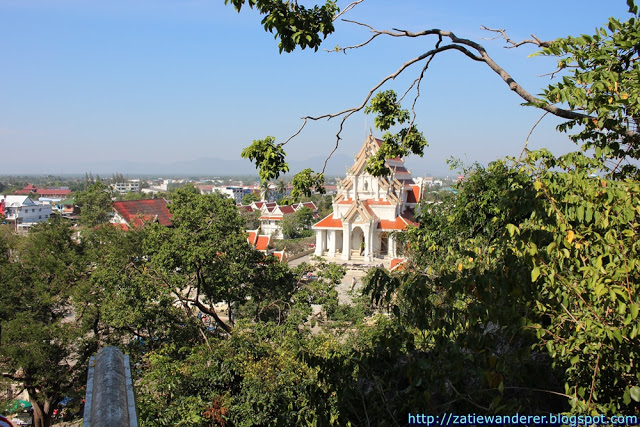 Continue climbing. Although there is an unpainted staircase, it is pretty well maintained because the construction is good and there is no damage or cracks. Luckily there are railing on the left and right to be held, very suitable for the elderly who want to fulfill their religious desires here.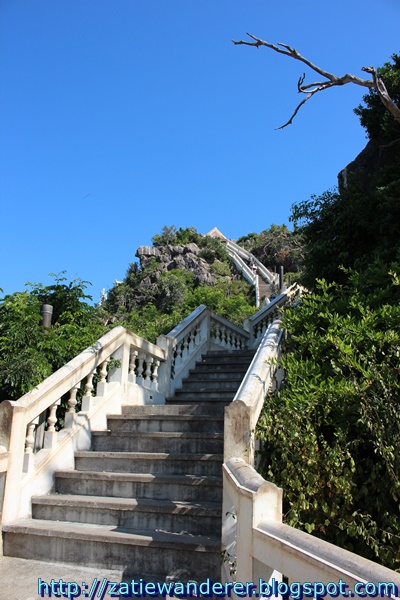 We got to the first checkpoint. Here, you can also relax and have no distractions from wild monkeys. Just a piece of information, the scenery here is not very interesting and you need to climb up more.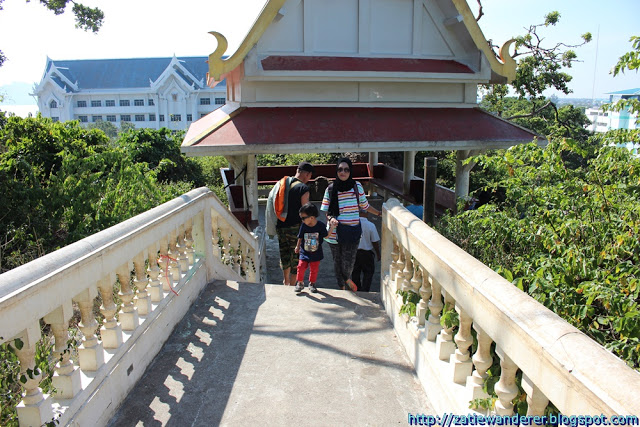 Take a look. There are many more stairs. Isn't it look like there's a roof up there? That is the second checkpoint. To take a picture against the background of the stairs is also interesting here.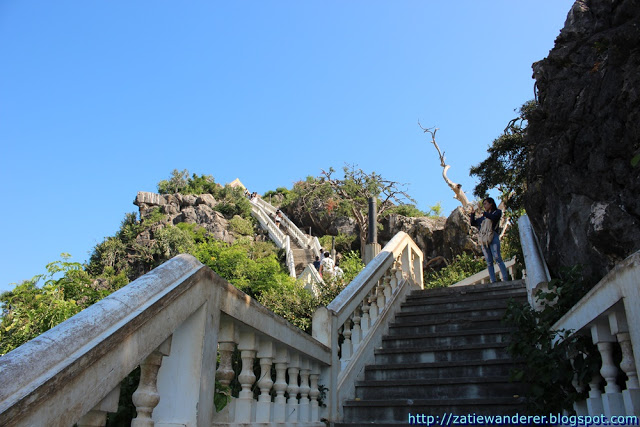 I took a selfie photo here while trying to show Wat Thammikaram Worawihan in the back. It is only now that the Wat is obvious.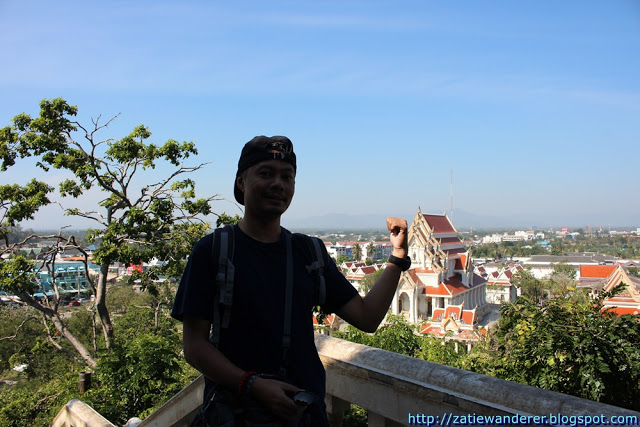 More selfie pictures on the stairs.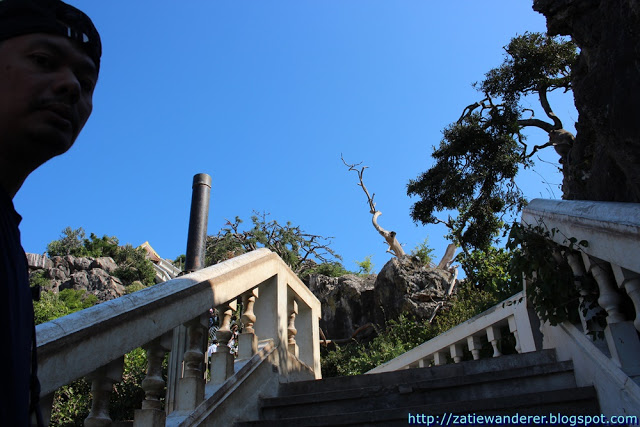 Practice makes perfect.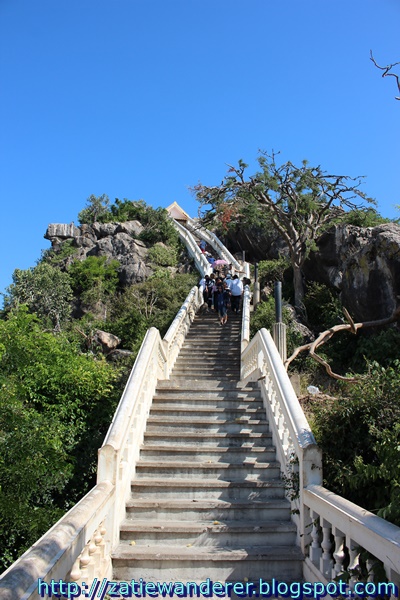 Before reaching the 2nd checkpoint, we suddenly saw a pretty exciting sight. Without waiting any longer, Tatie stood there with the sea behind to be photographed.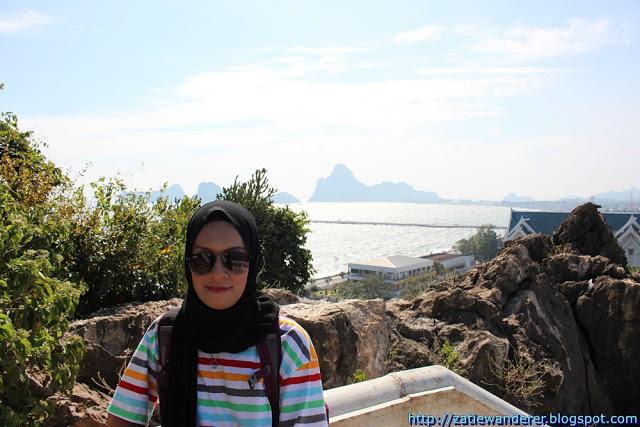 Only this time, we saw Wat Thammikaram ultimately. This is because the surrounding area of the Wat is extensive.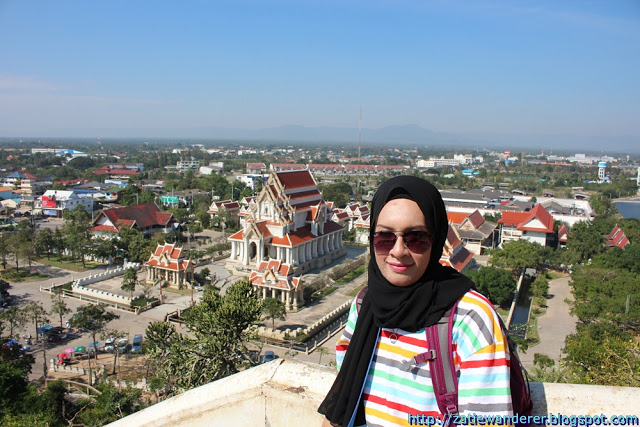 I took a picture on the edge of Wat Thammikaram because there is a view of the water reservoir area, which is quite large and exciting.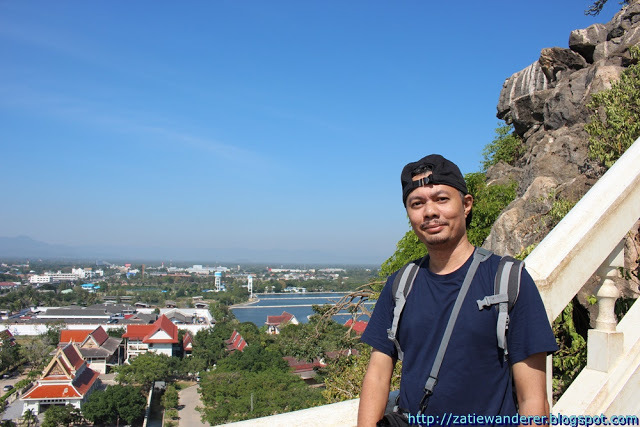 Did you see the monkeys? They're very wild. Please be careful. We were lucky because, before that, some visitors had fed the monkeys until they were full. So, less harassment against us. Monkeys that often bother visitors are because of hunger.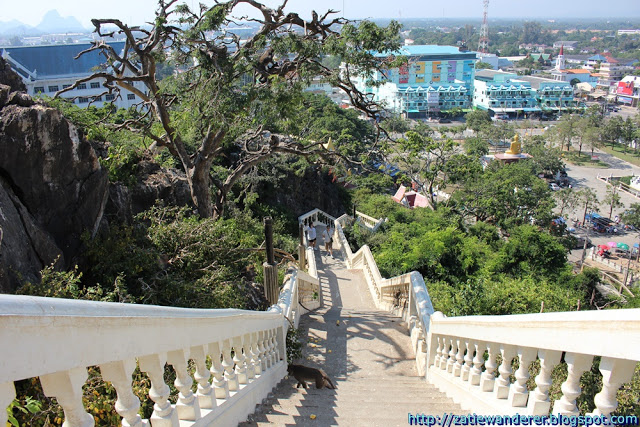 Wow !! Marvelous scenery. With bright weather and clear views without any haze. See the jetty we stopped at yesterday? Very lengthy. Our guest house is also located nearby. If measured by the distance from the guest house, KCKC is not far.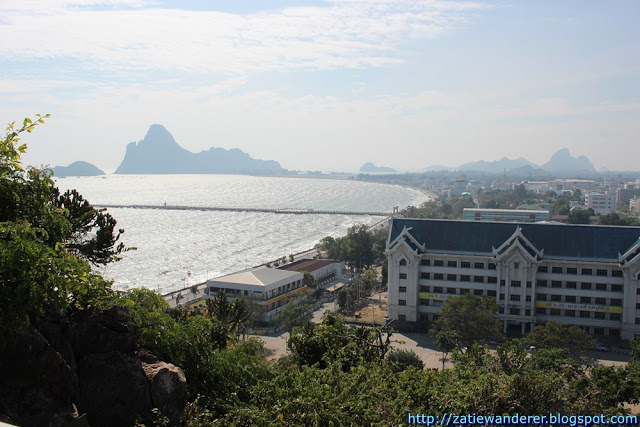 Overall view of Prachuap Town.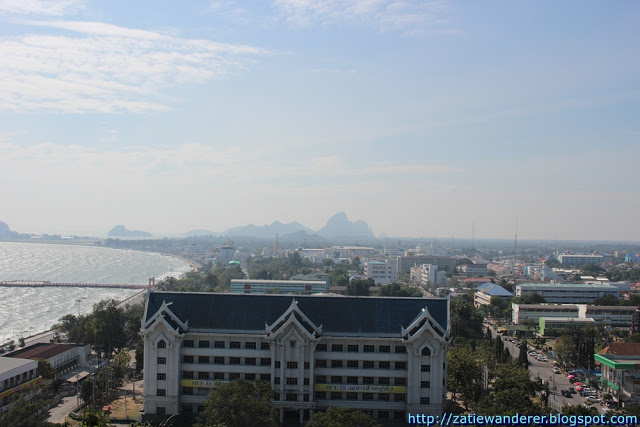 We already reached the 2nd checkpoint. Although many monkeys are here, they are a bit scared because there are a lot of humans here. They were playing on the edges. Usually, those who scream or are startled because of monkeys are visitors from non-Asian or tropical countries. Asians like us have come to know the ferocity level of these monkeys. Visitors from the west or middle east would love to see monkeys from a closer distance. Their country has no apes or monkeys and does not understand their behavior and level of violence.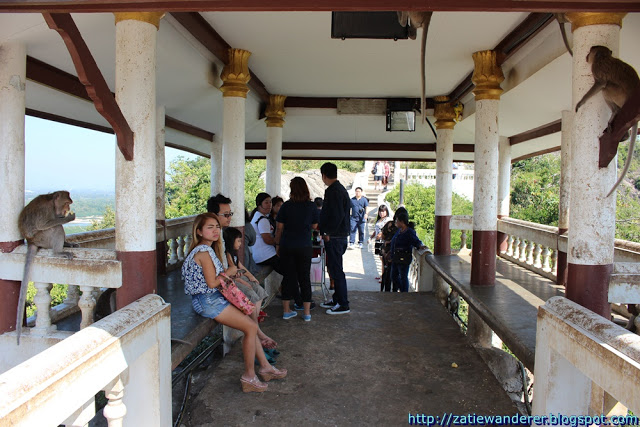 At a time like this, don't expect to ask Aqif to sit up calmly. Felt fear, his mind was on alert as his eyes widened at the monkey. No way! My descendants need to be brave!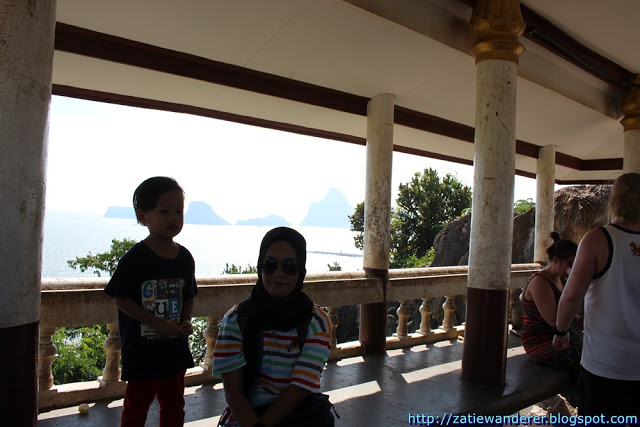 The whole picture of the water reservoir area. From this picture, you can get an idea of how big Prachuap city is.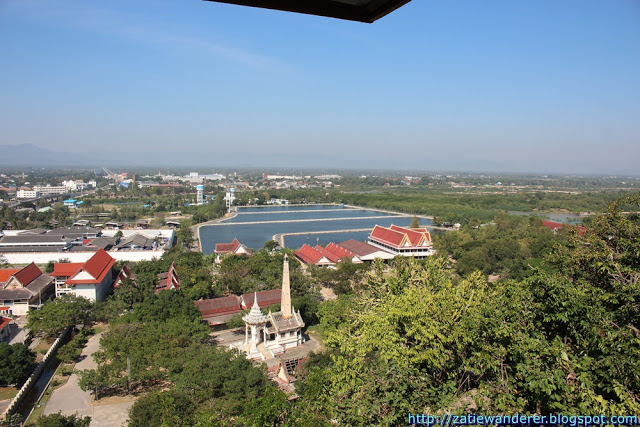 I took a picture of the right area of the hill. There seems to be a bay area at the end there. Maybe that's the area we passed yesterday afternoon.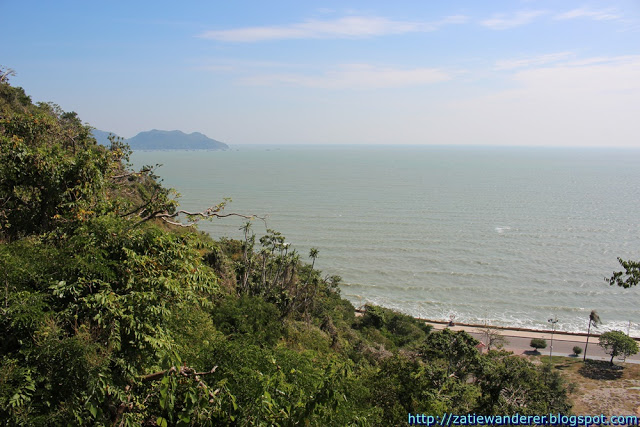 Picture of the end of the jetty.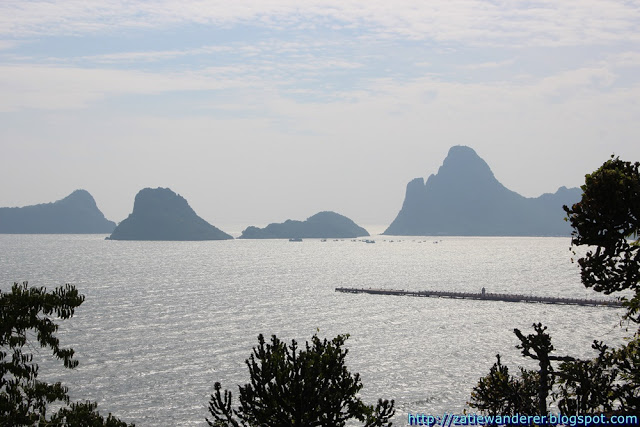 For the sake of her hungry children, she dared to enter the 'territory' of humans to solicit sympathy if there was food that humans would hand out.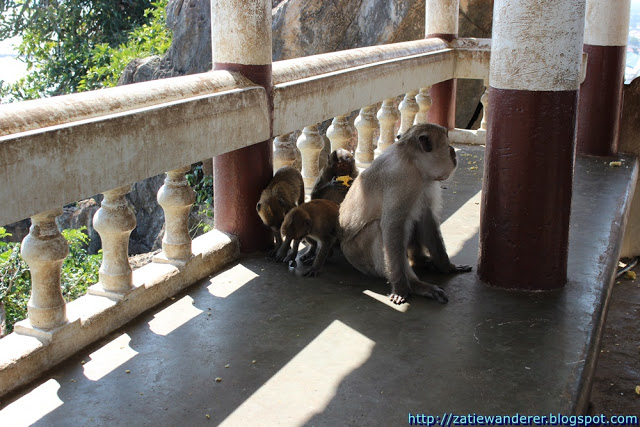 A few meters from the 2nd checkpoint, we stopped for a moment because we wanted to rethink whether to climb to the top or not. But it's already 10.51 am. After arriving at the foot of the hill later, we plan to visit Wat Thammikaram Worawihan and then step back to the guest house, which takes 20 minutes. Hmm, it feels like not enough time.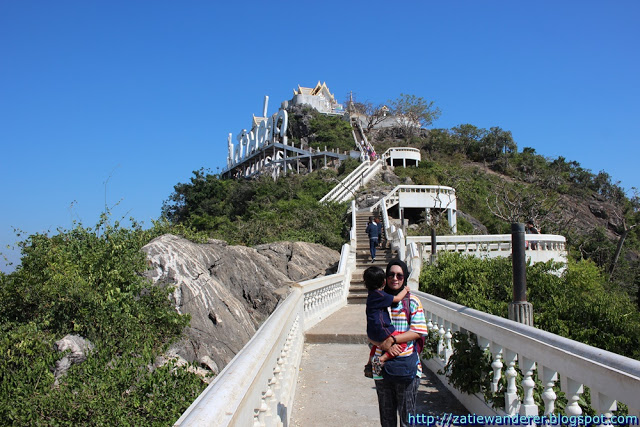 So, this KCKC mission ends as far as this checkpoint only. I think the end of the mission here is considered pretty good. What is important is a picture of the whole city and mission accomplished!
But if you're here and have a lot of time, I encourage you to go up to the top. Maybe up there is a section that we can see the scenery behind the hill. But, of course, the view is even more marvelous. The Wat above has the same name as the Wat below, which is Wat Thammikaram. The difference is, without the word "Worawihan". According to Google sources, it is said that there are footprints of Buddha inside the Wat.
As soon as we got back to the 2nd checkpoint, we saw a man with a curly mustache. I asked to take a picture with him and he agreed.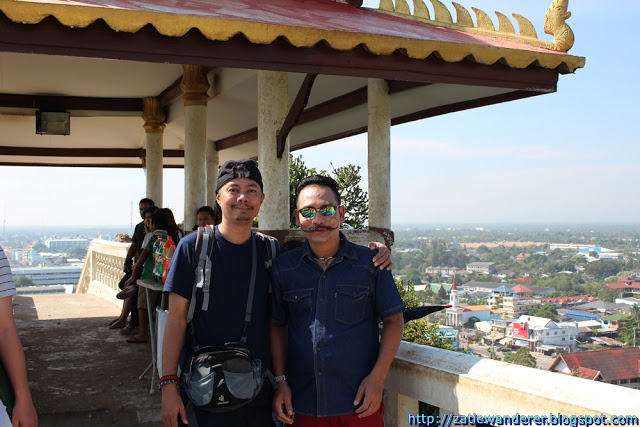 Where from? … Asked me.
The man replied … from Sathon.
I just nodded because I didn't know where the place was and told him that we were from Malaysia. He nodded and smiled. When I look at Google Map, Sathon is located right in the middle of Bangkok.
Before ending the conversation, I said "thank you" and shook hands. The Thais are indeed kind.
These monkeys roll over as they chew and enjoy food. Is it because it's too tasty?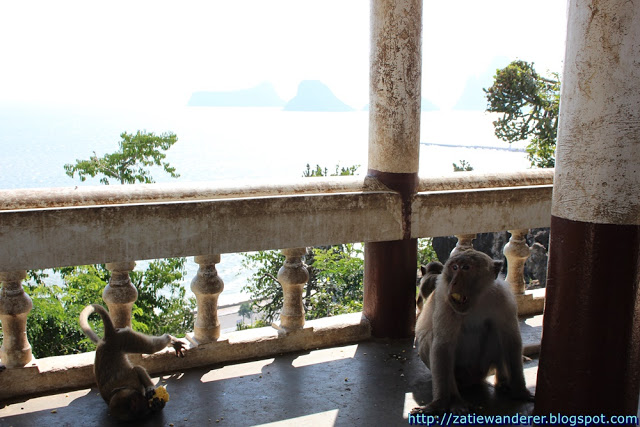 Here is also an exciting location to take pictures, especially if you want to highlight the steepness of the stairs.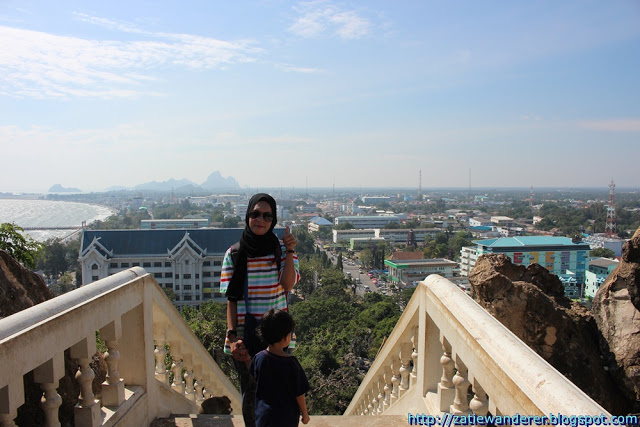 We went down the stairs next to this monkey.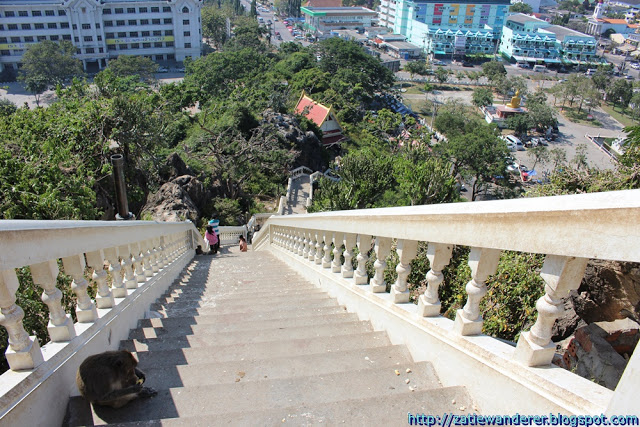 I deliberately took this picture even millions of times with the background of Wat Thammikaram. It felt special when there is a combination of hills, monkeys and Wat. Then you can compare the height between the two.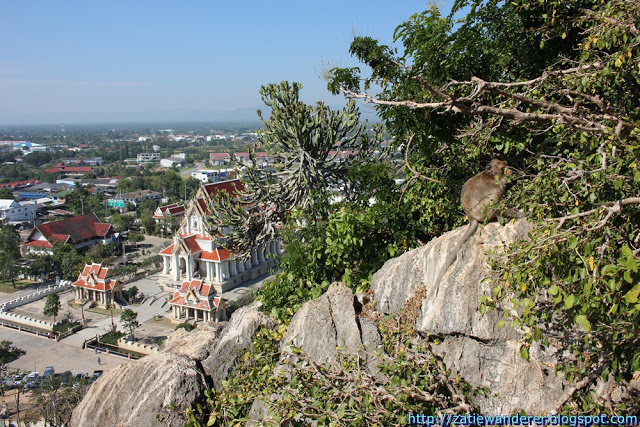 This hill is full of rocks along the climb from the bottom to the top. Presumably, how did they break the rocks a long time ago to build the climbing route?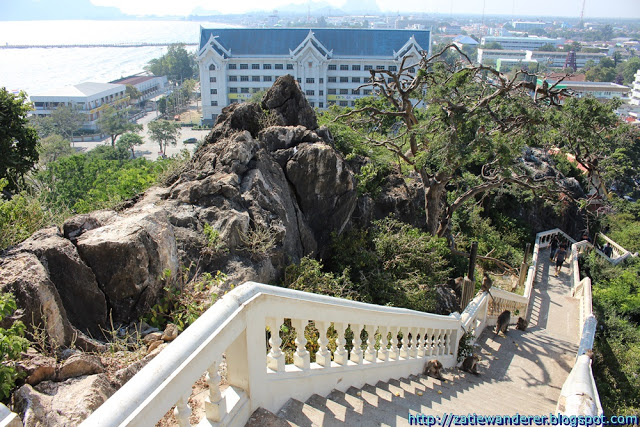 Ok, I confess that I have never seen a monkey eat ice cream all this time. However, there was a visitor who, probably out of fear, threw ice cream at this monkey.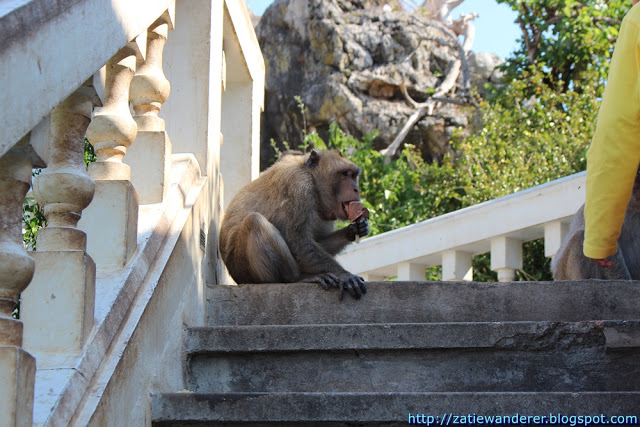 While climbing, we did not notice that there was a monkey tied up in a hut here. But, right after coming down from the hill, then we saw it. We went down with a family of tourists from the west. Somehow, I was moved to tell them that this monkey might be the incarnation of Monkey God. Its popular name is Hanuman or Sun Wukong. So, he was specially placed in a hut as a tribute.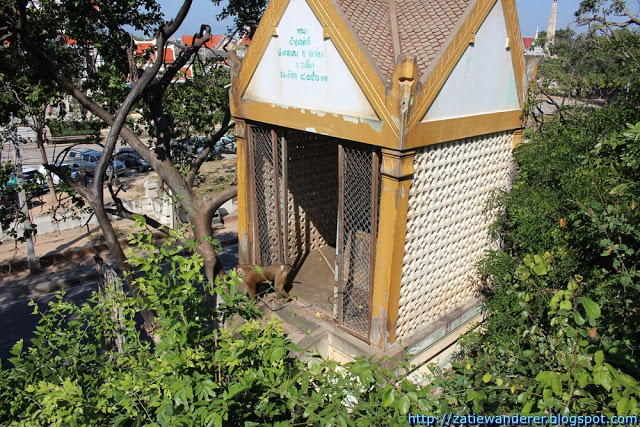 The whole family was excited to hear my story, which may or may not be accurate. Maybe they imagined Asian kungfu movies, Shaolin, Jet Li, etc. It's funny when I recalled the moment.
Those are them. I managed to snap a photo. Ok, I would like to advise readers on the best time to visit here. What if you come at sunrise or sunset? The scenery must be so beautiful.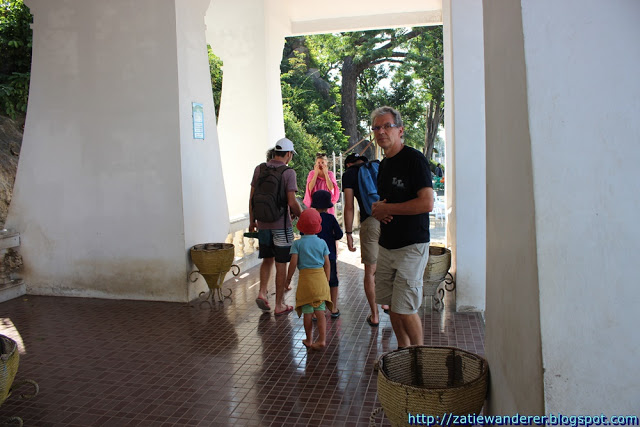 Where are we heading after this? First, of course, to Wat Thammikaram Worawihan, which is hard to pronounce. Come on! Let's go there … we don't have enough time before the check-out time.
Continue to the next entry… Thailand – Laos Travel entry: Day 4 – Part 3 – Wat Thammikaram Worawihan and Return to Maggie Guesthouse in Prachuap Khiri Khan.