For the Malay Language, click here.
Continued from the entry Thailand – Laos: Day 2 – Part 2 – Thai Primary School and Wet Market in Hat Yai. For pre-travel, please refer here.
Location: Hat Yai, Thailand
It is also nice to change the title name from "Thailand-Laos" to "Trans Thailand" when reconsidered. The reason is that I looked back on the travel map and it looked like our journey will cross Thailand from the southern end to the north end. The distance on the map is very far, with a one-way distance of 2,082km (approx.). For travelers, it has become a habit to announce how far in kilometers they have successfully achieved … hehe.
Hmm .. how many blog posts have I written, but we're still in Hat Yai? Get ready …. based on my behavior, I want to share as much as possible about our travel and information. The blog stands for two purposes. First, because I want to contribute to the community about travel information and second, I want to make this blog a reading archive for my family when they grow up later. I hope this blog still exists for another 20-25 years.
Is it true that we are backpackers? Most Malaysian backpackers say, if you want to get a 'license' as a backpacker, you have to travel to Krabi (Thailand) first. And to get a license as a global backpacker, you need to travel to India. But, we've gone till Vientiane (Laos), how is that? Do we still need to go to Krabi? Hihihi… I don't care much about these licenses like some other people.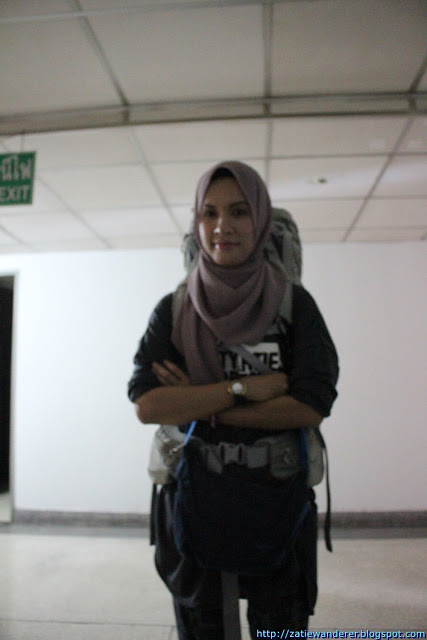 I used to travel alone to the UK in 2009. We travel as a DIY traveler in the real sense, using a backpack, preparing our itinerary, living in a local home (including a paid accommodation such as Airbnb), without a driver and travel agency. But don't worry, I'm very flexible whether you are traveling alone or with a travel agency. It does not matter how your journey is, as long as you appreciate whatever you do. When I'm old, I will carry a wheeled bag and hire a driver too.
Kim Yong Market
After getting out of the wet market lane, we crossed the street to take a picture in the middle of the road. I like to see the atmosphere of the area here in broad view. The road is significant and is named Phet Kasem Road. Back from travel, I felt weird because in Prachuap Khiri Khan, Samut Sakhon (Maeklong Railway Market), Nakhon Pathom, and several other states in Thailand, many roads are using the name Phet Kasem. Phet Kasem Road is a highway in Thailand similar to the "PLUS Highway" in Malaysia. However, they use standard terms and "Road" terms instead of "Highway". Did you know, all the highways in Thailand are accessible without any toll? Interesting, right? Can we implement it in Malaysia? Please pour water to my face …. apparently, I dreamed in the daytime…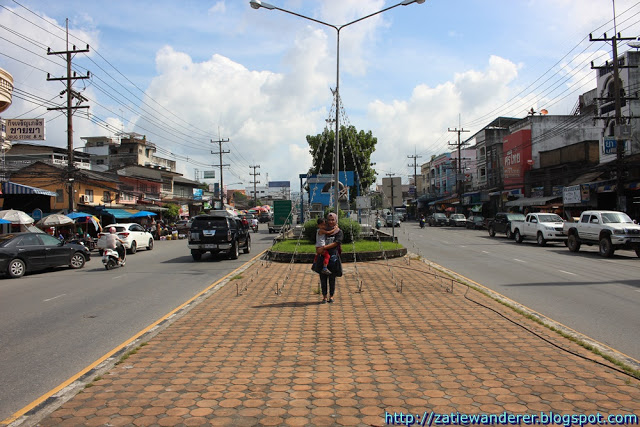 Ok, back to our previous topic about Phet Kasem's road. Its name is taken from the 7th Director-General of the Highway Department, namely Luang Phet Kasemwithisawasdi. It is also known as "Thailand Route 4" and is Thailand's longest freeway which is 1,274km. The latter end also reaches north of PLUS Highway (Malaysia), Sadao (Thailand) border, and Bukit Kayu Hitam border in Malaysia. It crosses the district or state such as Samut Sakhon, Nakhon Pathom, Ratchaburi, Phetchaburi, Prachuap Khiri Khan, Chumphon, Ranong, Phangnga, Krabi, Trang, Phatthalung and Songkhla. In addition to the highways such as Phet Kasem, there are three other which are Phahonyothin Road (Route 1), Mittraphap Road (Route 2) and Sukhumvit Road (Route 3).
Eyy … "I want to take pictures too", said Aqif. So every time we both took pictures, he had to be pictured twice. First with Tatie, second with me. Pity. There's no chance for the three of us to shoot all in one single photo because I can't trust anyone by handling the camera to an unknown person to help us take pictures. Unless if selfies, but then the distance is too close to our face and the background view appeared as only 30%.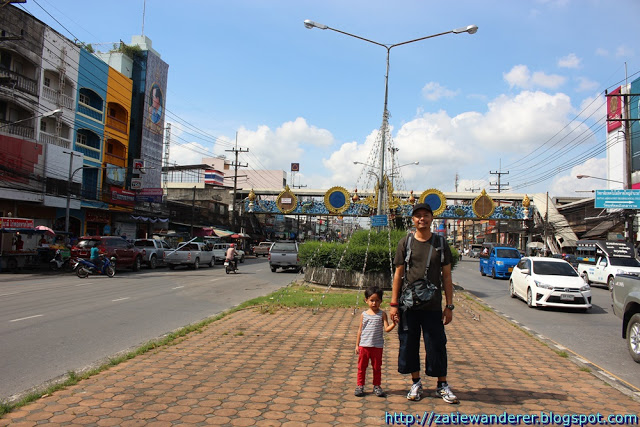 I want to share a tip if you're going to ask someone else to shoot your photo. Find an older people, a family of more than two children, a school teacher accompanying a group of schoolchildren, a childless married couple but comprised of a combination of an elderly and adults and others who you think is suitable and based on your intuition. These types of people are difficult to steal your camera and run away.
You can buy a new camera at any time, but the captured photo is priceless if missing. So take good care of your camera.
Then, we crossed back to the place near the lane to the wet market because when I looked at GPS, the supposed direction to Kim Yong Market is on the same side as the lane. Initially, there was a tuk-tuk that stopped, but the fares were somewhat high. So we didn't ride on it. Kim Yong Market is not very far, and the distance is within 1km. Suddenly there is a tuk-tuk and a driver is an older man and he is very nice to us. Fares are only THB10 and children are excluded. Total of THB20 for both of us and it's cheap. Without further ado, we go up and ride the tuk-tuk. After we cross the flyover, I picture the railway track, the most crucial train exchange station and the largest in southern Thailand.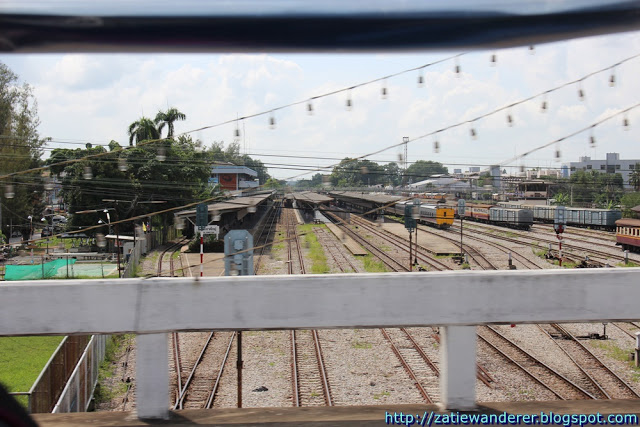 Location of Kim Yong Market by Google Maps. Or copy the GPS coordinates of "7.008187, 100.469378".
Our tuk-tuk stopped here and we had to cross the road.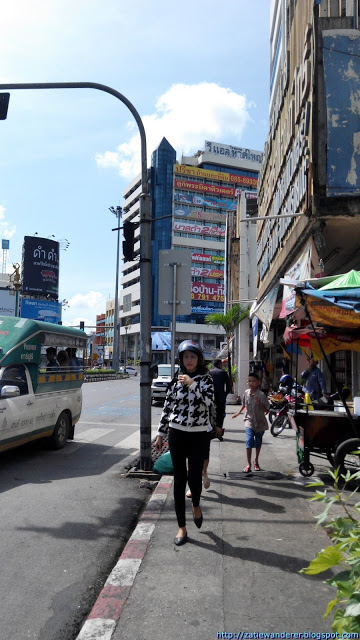 Kim Yong Market is located beneath the long canvas roof across the road. I think it is also best to practice similar canvas roof techniques in Malaysia. Local people can also do business and the country will benefit from tourism revenue. If I'm not mistaken, we can get into the deeper part of King Yong Market, but we don't have enough time to explore everything.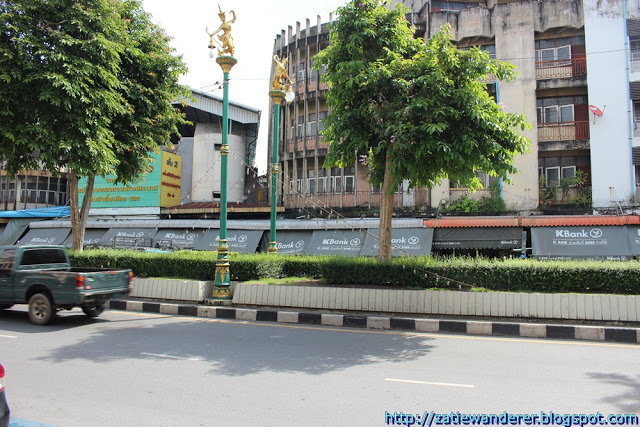 It feels like traveling to Argentina or Mexico. But this place is near and located very close to the Malaysian border.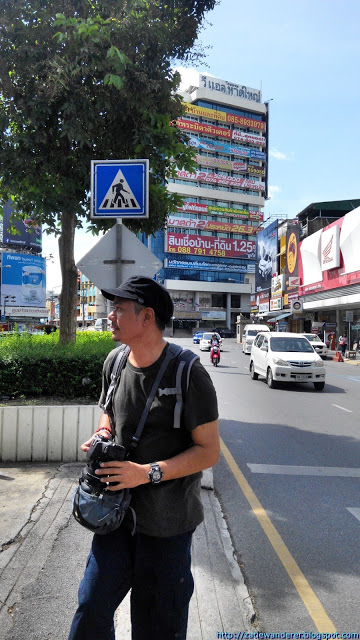 We cross the road again …… hang out for a moment in the middle of the road.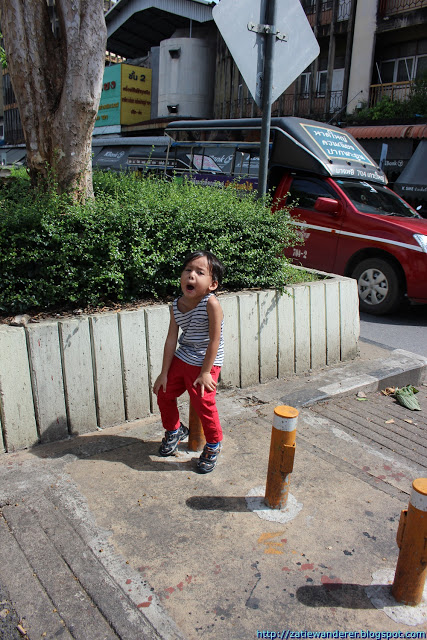 I want to tell you about the types of a tuk-tuk in Hat Yai. Only in Hat Yai and not the whole of Thailand, as every state and district has different designs and uses. If you want a cheap fare, take a big tuk-tuk type like the picture above, only THB10 per person. But I'm not sure how far the distance will go. There is also another tuk-tuk that is smaller in size. These types are expensive and often reserved solely for you for tourism purposes and sightseeing.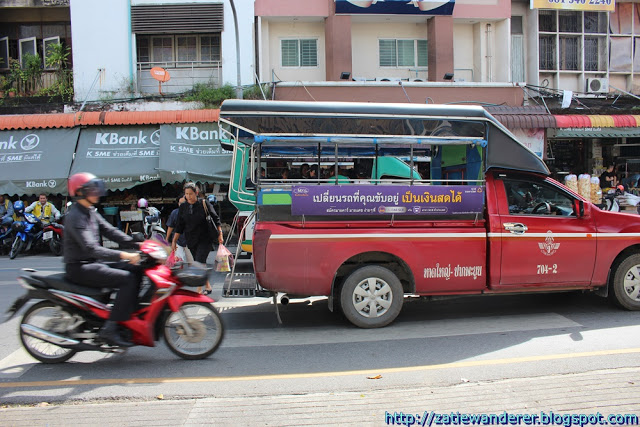 How to pay for the fares? Did you know that this is our first family trip to Thailand? So at first, I was confused if I had to pay first before riding on it or pay later. After the tuk-tuk stop to fetch you, ask the driver for your required destination. If the destination is in the direction, ride it on and probably you have to squeeze and push yourself inside if there's already a passenger inside. If the destination is getting near, ring the bell (some tuk-tuk with this kind of facility) or knock on the window at the driver's rear. After getting off the tuk-tuk, go to the driver's window and pay. And while you are in the tuk-tuk, you can also use monopods, but be sure not to stretch your arm too much out of the window. If the tuk-tuk passes, let say, besides a lamp post that is so close, it is feared that you will lose your hand!!
I'm walking ahead…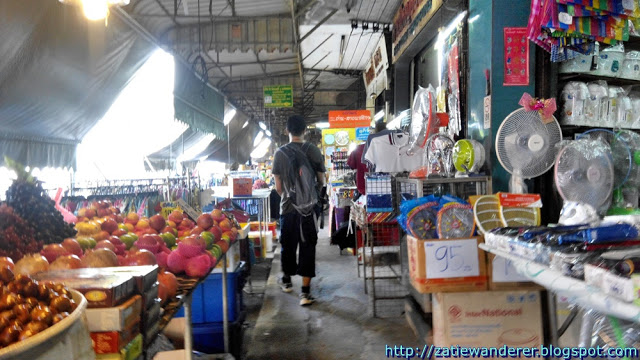 The ultimate mission here is to find a fake sunglasses shop. Yes, it's fake because of imitation brands. I'm not shy about telling it. Maybe you're the same and have been wearing imitation stuff. Just admit it. While walking, I saw a shop selling sunglasses and we stopped by.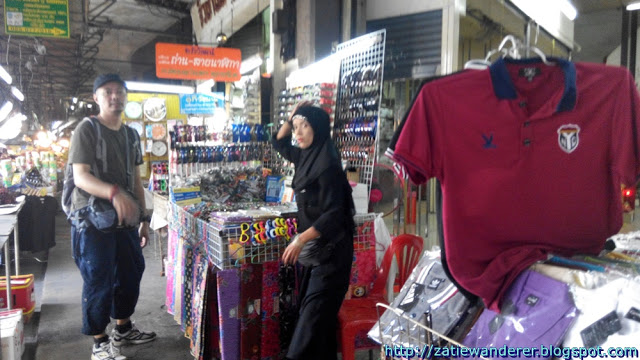 Various designs are available. The price is relatively low, from THB100 to THB150. Don't ask about the quality. If only for sightseeing in Thailand, it would be perfect. After purchasing it, we just noticed that the sunglasses do not have any brand label. However, my sunglasses frame has broken after several days of using it. Avoid buying imitation sunglasses for those concerned about eye care and to be used for a more extended period.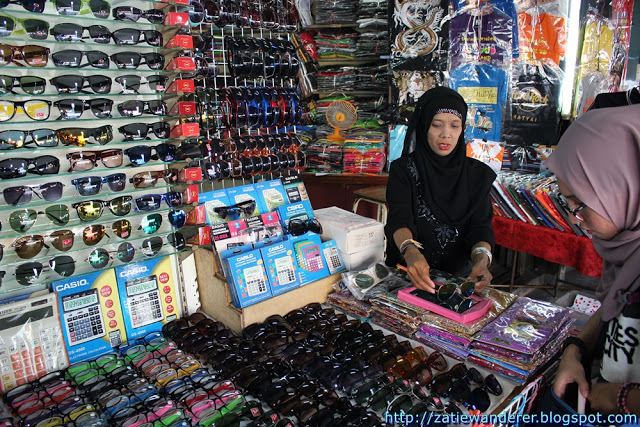 Next, we walk furthermore into the market to buy snacks and fruit. After that, we will board a 12-hour train ride to Prachuap Khiri Khan. I'm pretty worried if suddenly a gastric attack happened. Once attacked, my body will become weak. Ok, let's see the pictures below …. the trading environment at Kim Yong Market …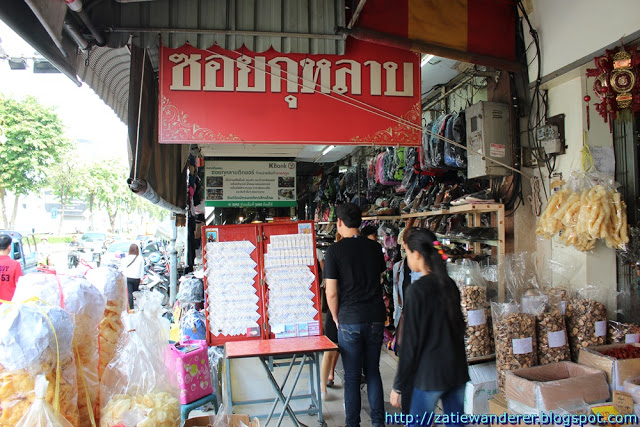 What's that board in the picture above? It looks like a lottery board similar to Sports Toto and Magnum 4D in Malaysia.
Here, we buy date fruit. Various kinds of date fruit are available. The price is very low, but I've forgotten how much it costs.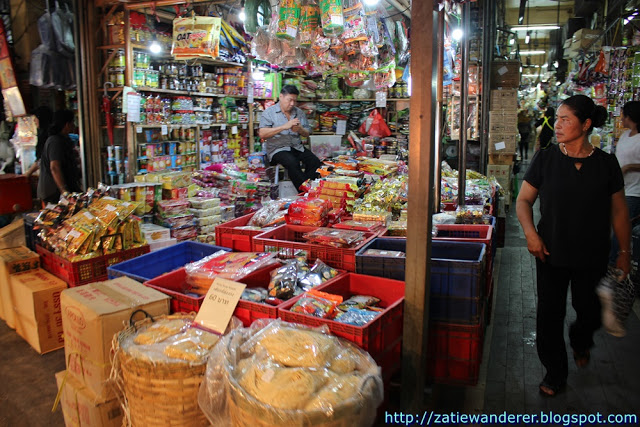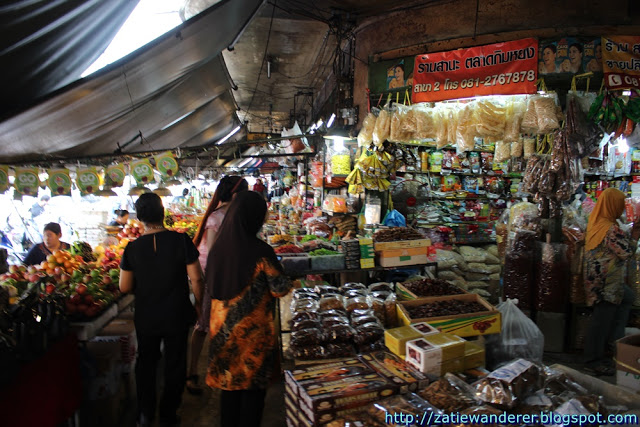 Snacks hanging all around. Every country I visit, I'll see the above shop signboard to symbolize a "local shop". A natural local or local feeling, "Hey, look at the signboard, it's not written in a Malaysian word … I'm now abroad!" Hehehe … That feeling may not exist in Thailand or Indonesia for you if you're Malaysian. Try to feel it in other countries like Latin America, India or Morocco.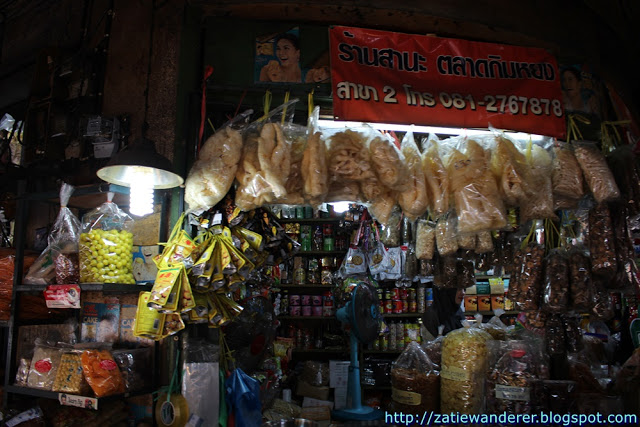 Tatie bought some marinated fruit here.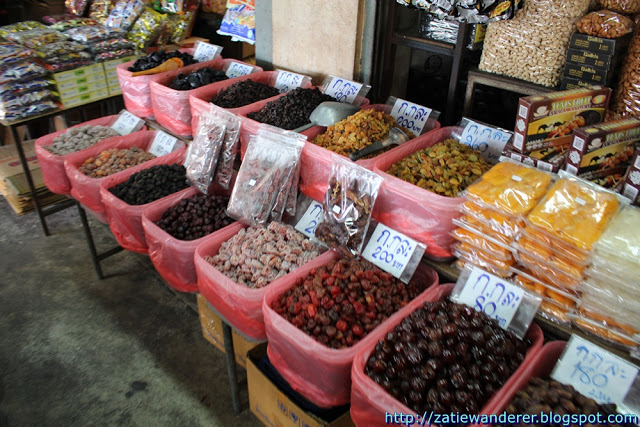 We pictured memories with Kim Yong Market before returning to the hotel.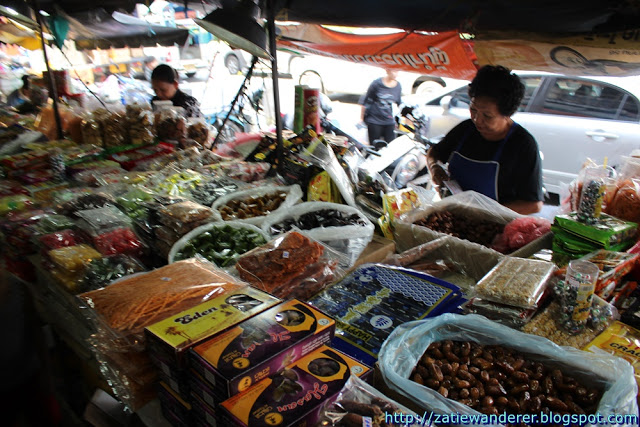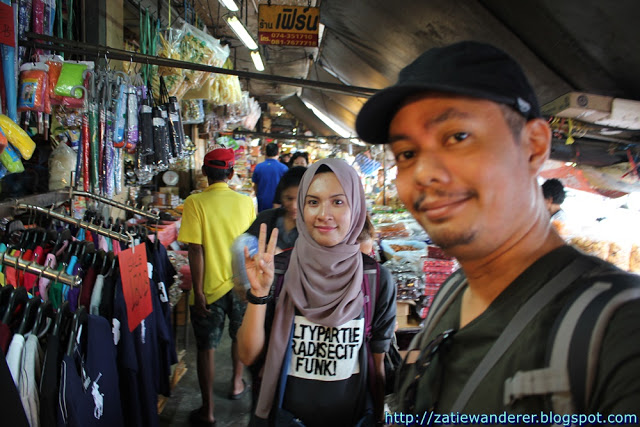 Fruit chestnuts, but we don't buy any …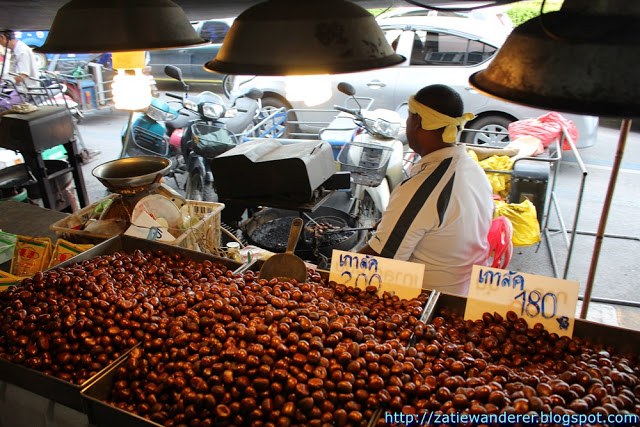 Muslim traders sell fruits. We also have bought a few fruits here. But I forgot what type of fruit we purchased, and I only remembered a date.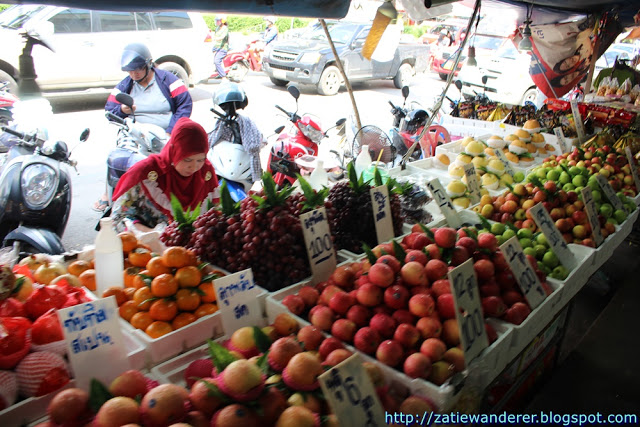 From Kim Yong Market, we walk back to the Park Hotel. Not far, just 500 meters away. Without a heavy backpack, it is easier to walk. While walking, we stopped by at the signboard. Interesting because it displayed a whole map of Hat Yai. What does Aqif want to show you??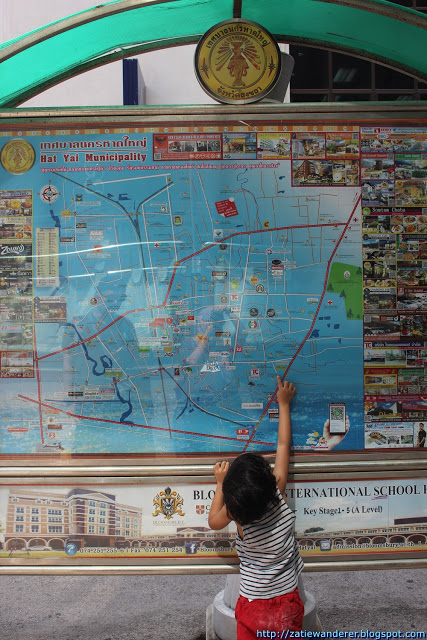 ***
The Park Hotel
It was almost noon and we needed to check out of the hotel. We pack very fast because the receptionist said the maximum to check out time is 1 pm. I'll show you the condition of the room after we pack to share a picture. Initially, it was a twin single bed combined into a king-sized bed, which many parents use.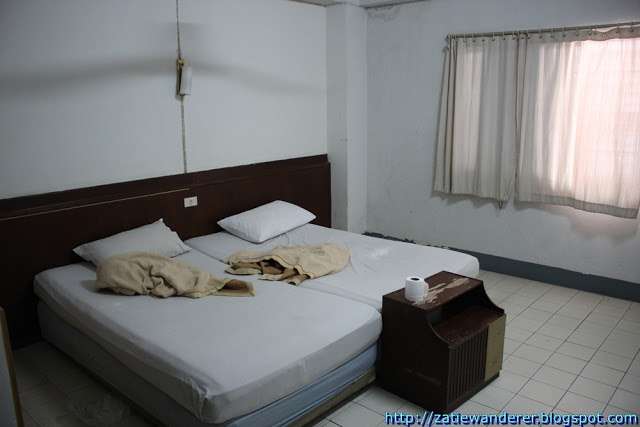 TV, two chairs and a table are provided. If you're a digital nomad, the table and chair are suitable for working with a laptop. Thermos and cups are also available. Only the water heater needs to borrow from the reception at the hotel lobby. We don't borrow it because there's a free water heater for guests at the hotel lobby to boil water. So, bring the thermos down there.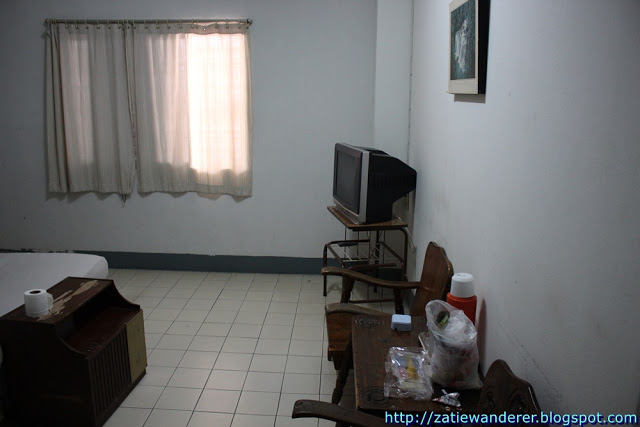 The toilet is good, fast water and water heater work. If you want to lay clothes on the floor for a manual brushing, you can do so and won't feel disgusted. Eeeeeee… What's that tiny thing on the floor? Oh .. the tile is broken a bit.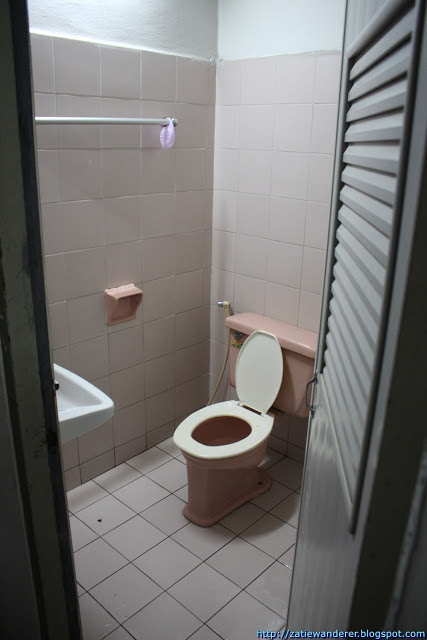 The exit door is on the left. A wardrobe is provided here.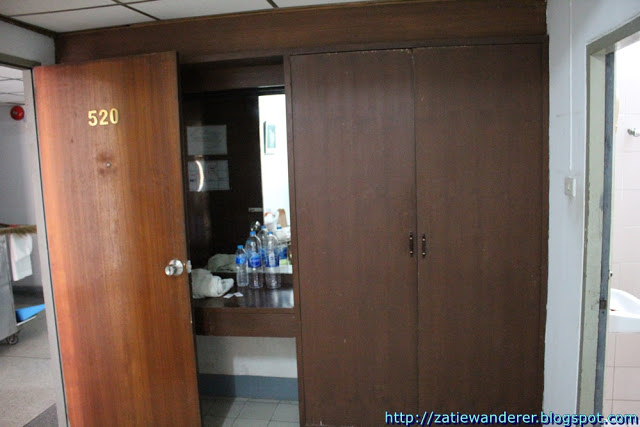 Our room is located just down the corridor. So I took a picture of the back of the hotel. But, haha, we can't see any scenery through the windows as another building blocked it.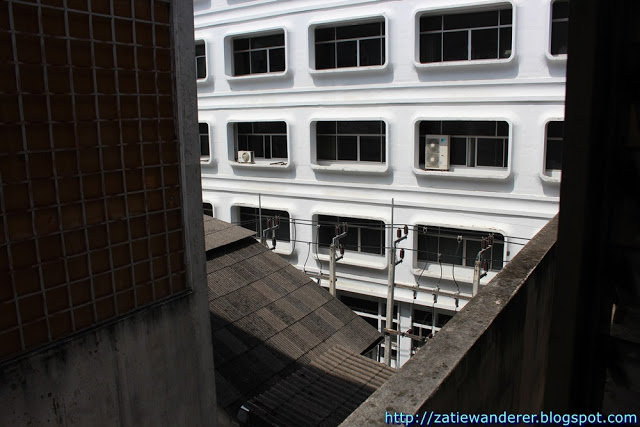 The left window is our room. I guess that it's possible to hang and dry clothes here if you planned to stay longer.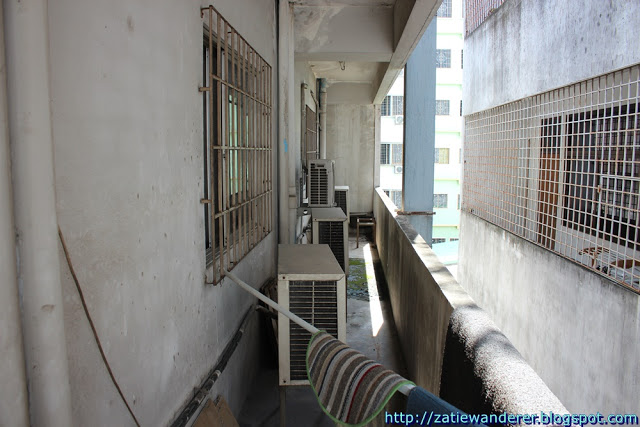 When we came down to the hotel lobby, I told Tatie, "we shall delay the time". We want to kill time because the train schedule that will depart to Prachuap Khiri Khan is a few more hours to go. And in the hotel lobby, we are lounging for half an hour while using WiFi there and updating the latest status on social media. The internet line here is free and the speed is superb.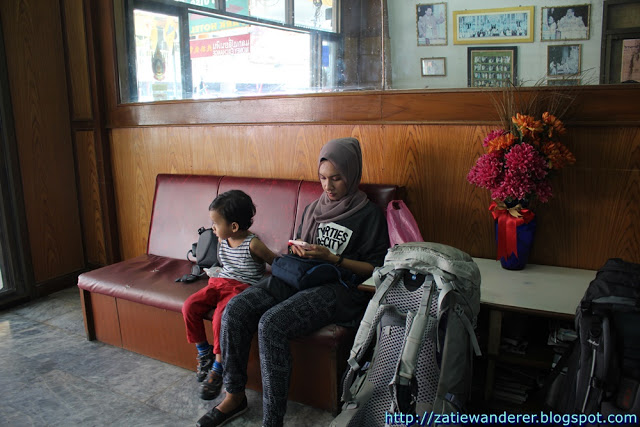 What are you doing, Aqif?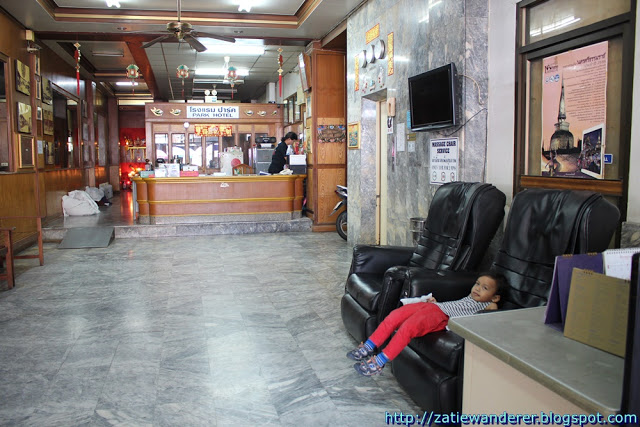 Selfie, but I've not focused my face as to highlight the reception area of the hotel. Indeed this is an SLR camera problem, and it focuses only at a certain distance. At the end of the lobby, there is a temple. This is quite common in Thailand. Most of its temples are enormous.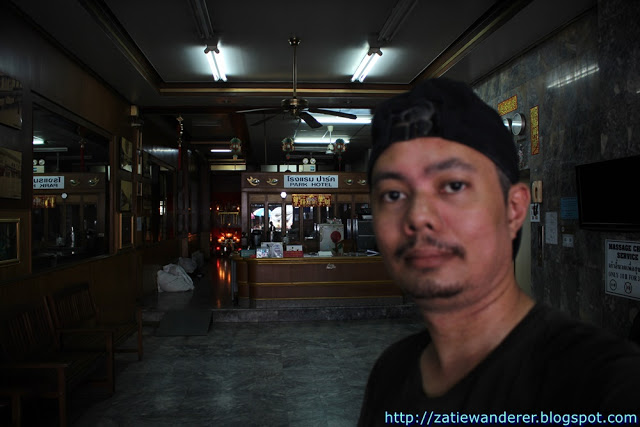 I made a walk to the reception to fill hot water there. We also carry a small size Thermos for making baby milk. While filling the hot water, I was interested in looking at the old pictures hung here. This shows that the people of Thailand are so flattering their late King.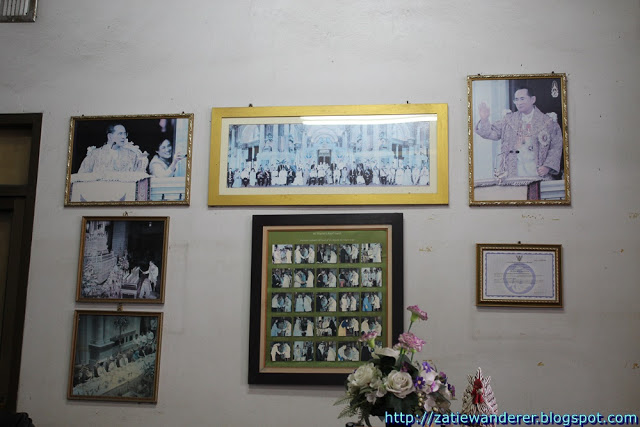 Photo of the late King when he visited Hat Yai a long time ago.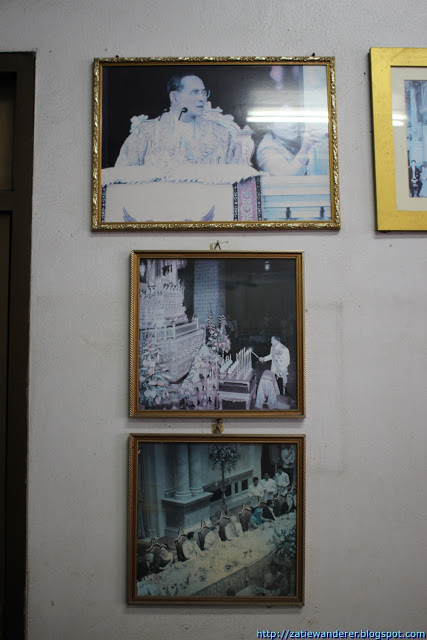 Picture of a significant flood in Hat Yai in 1988.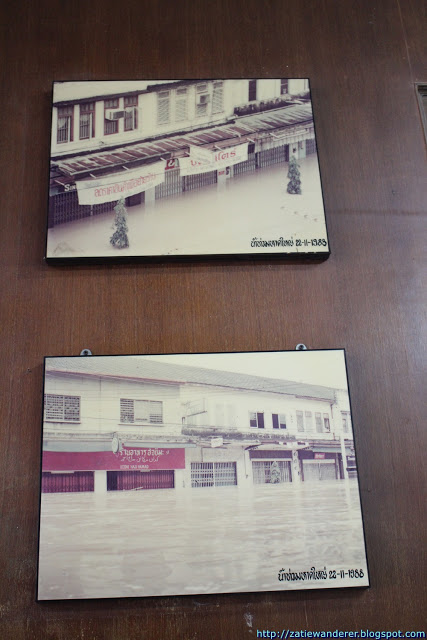 Hat Yai's old picture in 1924 and 1934. Can you see the difference after 10 years?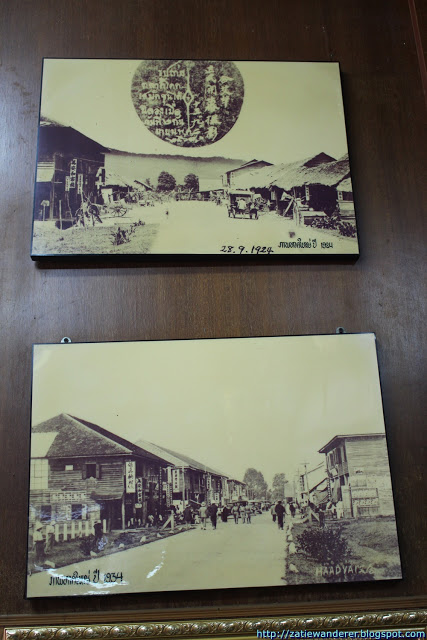 So overall, I can rate 7.5/10 for Park Hotel under the medium and cheap hotel category. It is perfect for THB350 per night, ready with an air conditioner, free Wi-Fi, elevator, pantry for hot water, comfortable bed, TV, clean toilet, no noise and no Thai ghosts at night.
After this post, it will be the last posting for Hat Yai as we will enter the second city, Prachuap Khiri Khan. So, keep reading the ending entry in Thailand – Laos Tour: Day 2 – Part 4 – Salma Restaurant and Trip to Prachuap Khiri Khan.