For the Malay language, click here.
Continued from the entry Thailand – Laos Travel: Day 3 – Part 4 – Muslim Food Stalls and Night Market in Prachuap Khiri Khan. For pre-travel, please refer here.
Travel Date: 31st December 2016
Day: 4
Location: Prachuap Khiri Khan, Thailand
That morning we woke up a little late, at almost 9.00 am. I was thinking about whether we have enough time for 2 to 3 more tourist attractions here.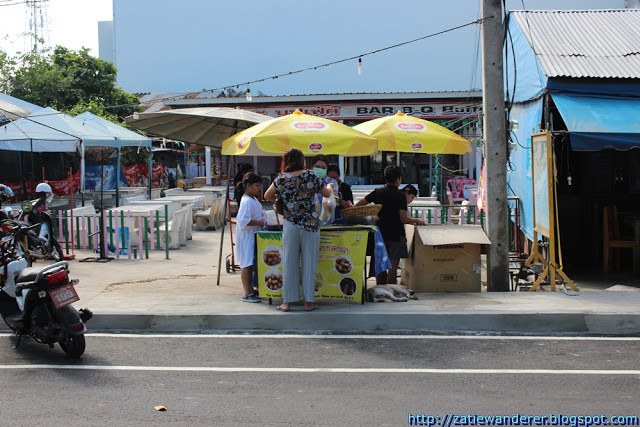 While looking at Google Maps and the coordinates of the place I had plotted, luckily, it was located nearby. So we just had to take the main road at Prachuap Khiri Khan (PKK) heading north.
Just out of Maggie Guesthouse (MG) around 10.04 am, a breakfast stall vendor was seen on the side of the road. Not far, just 50 meters from MG. Unfortunately, everything is not halal. I'm too lazy to look closely. Later if you go there, try to look closer. Who knows, maybe sell halal egg sandwiches to eat. It's better than having nothing to eat.
Then, there is also a big food stall here and also selling non-halal food. But quite lively and crowded. To the right of the picture is the main street of Prachuap town. The main road is quite long, but here is the main focus or landmark for Prachuap town. Look at the stalls, just like coffee shops in villages in Malaysia, right?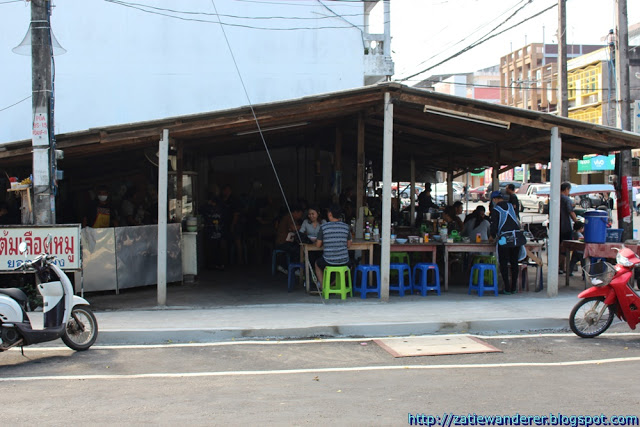 The weather today was quite good, although at first, it was a bit scorching but not hot. As soon as we passed the stall, we turned right and headed north to Prachuap town. Look at the parking lot on the left and right sides of the road. It is not jam-packed with vehicles.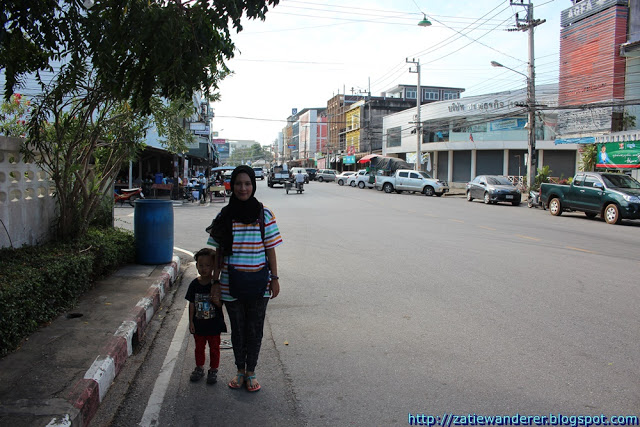 The cafe is similar to Chatime in Malaysia. Therefore, I think it's okay to try the drink because we can choose the content according to our liking.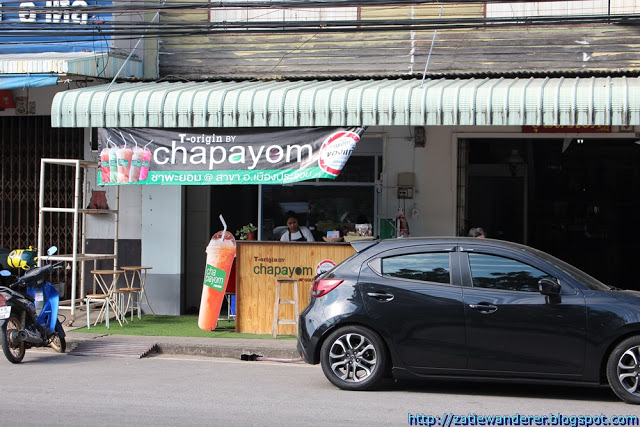 I was pictured behind the road to the north of Prachuap town. You may be wondering, "I'm wearing a sling bag. Why I'm wearing another bag which is a daypack?" Ok, I'll answer it. The sling bag serves to place my large SLR camera, including wound plaster, tickets, hotel or guest house business cards and so on. For the daypack, I put extra food for us to eat, especially for my gastric problems, bottled water, and other shopping items. So, there is no need to hold it in your hand.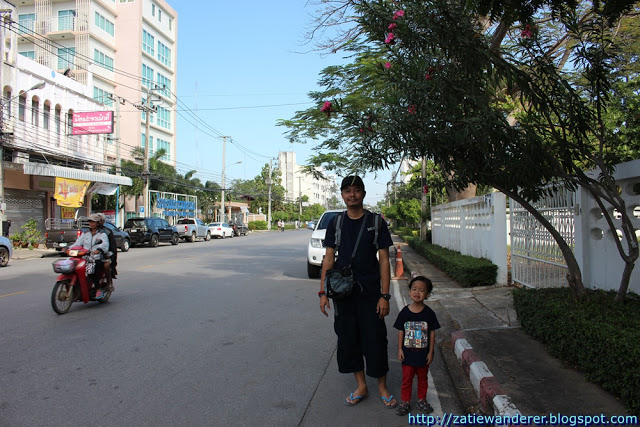 What about Tatie's daypack bag? Full of Aqif spare shirts and pampers and women's stuff.
Prachuap Grand Hotel. It never crossed my mind to ask the rate, let alone stay here. I think it must be the same price as the hotel we first reviewed earlier, which is more than THB800 per night.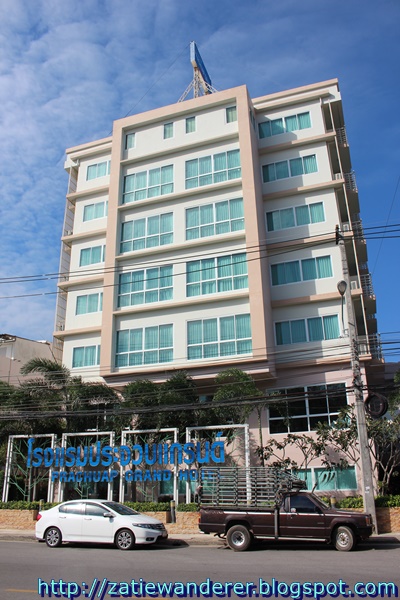 I used to see a similar atmosphere in my village in Penang (Malaysia) during the late 80s and early 90s. Now, if this atmosphere still exists, only in the morning market area.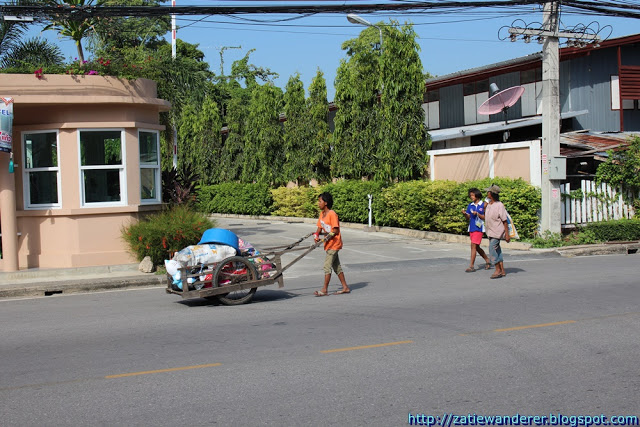 The sun was starting to get hot and all started wearing sunglasses.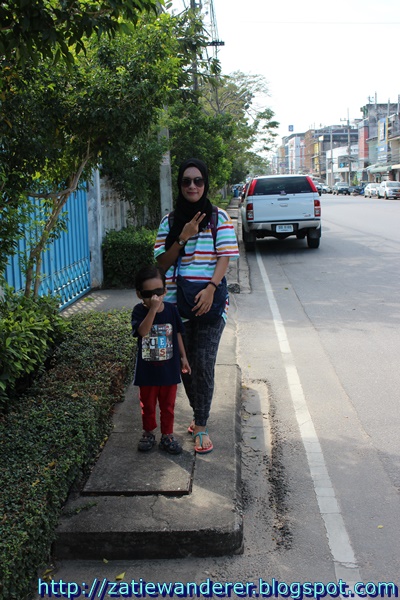 Prachuap town Police Station. On the way back to the guest house, we tried to enter the station to see the difference between our country's police station. I tried to ask permission to photograph the inside. But scolded for the reason "NO NO NO !! For security reason, NO!" Yes, I understand. I complied and only photographed on the outside was allowed.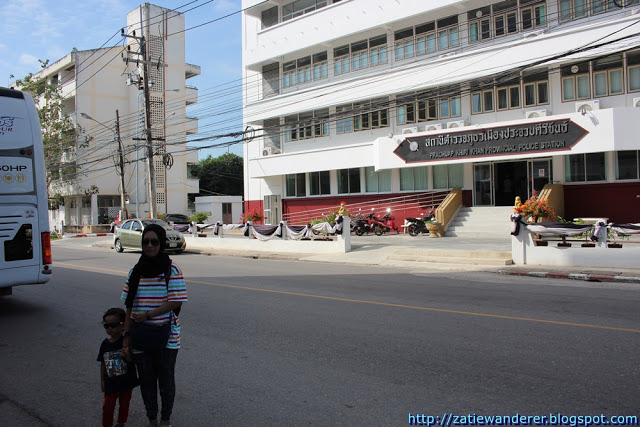 All I can say is that the interior is the same as the police station in Malaysia. That is, there are counters to make reports and waiting chairs.
While walking, we came across the Museum of Prachuap Khiri Khan. I thought it was opened, apparently still under construction and almost 90% completed. Don't forget those of you who want to come here. Try to check it. Maybe already open for the public. I wanted to see the photos of when Prachuap town tried to be colonized by Japan long ago.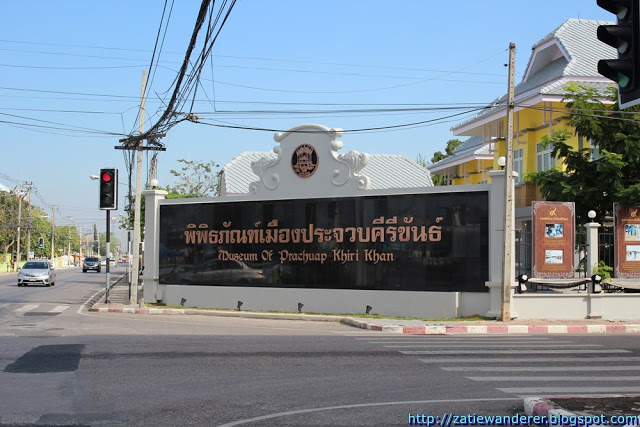 Remember the longest jetty here in the previous post? These are the entrance road to get there. The jetty is located behind Tatie and Aqif.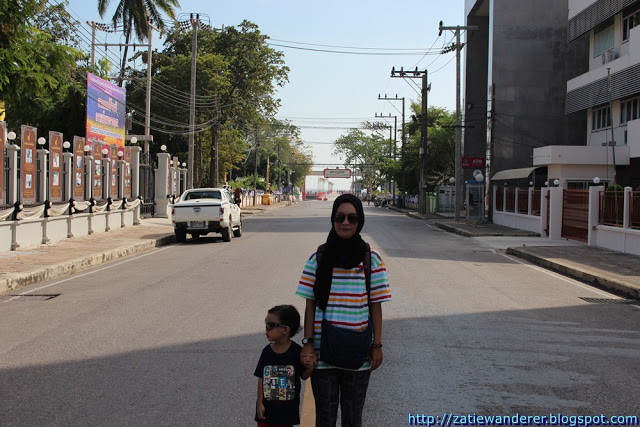 Sawadikappppp !! Where should we be heading now???? When we look at this signboard, there are many places that we did not have time for a visit, for example, King Mongkut Memorial Park of Science, Post Office, Koalak Ward and Klongwan Ward.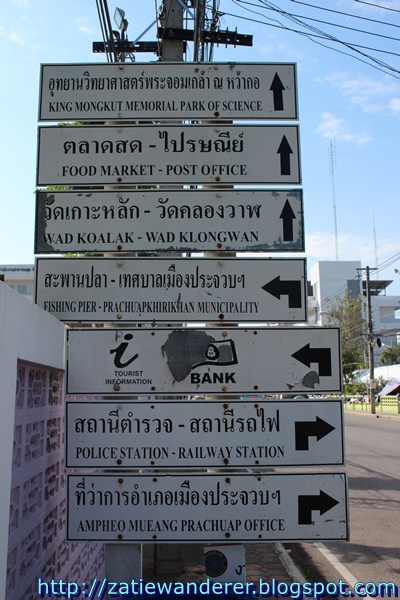 Haha. What are you doing, Aqif?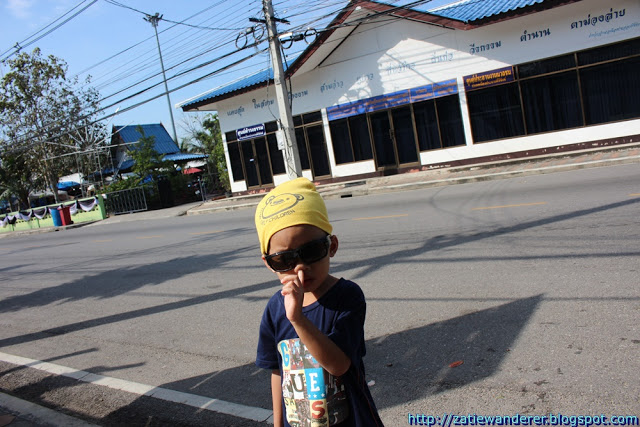 If in Malaysia, I think this car has been sued for a long time. This atmosphere is considered normal in Thailand. I'm just not sure if they are school students, morning market workers, or whoever they might be.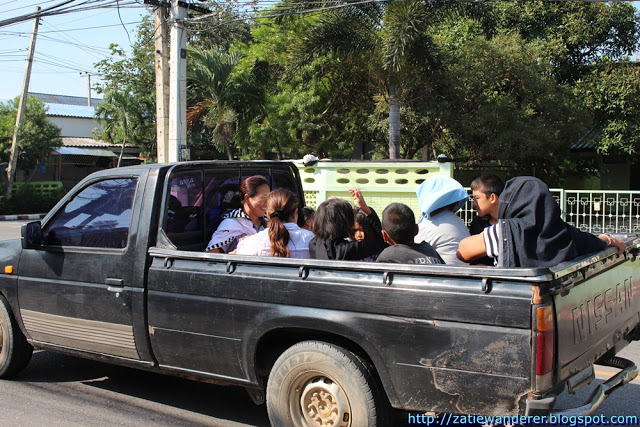 Prachuapkhirikhan Technical College. Notice, Prachuap Khiri Khan's spelling is all spelled closely? Ok, this is a technical college, but it seems closed. Maybe it's the new year's holidays.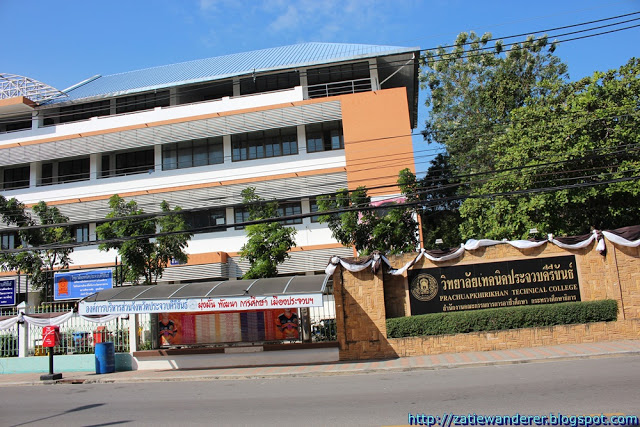 In front of the technical college, there is a table and a memorial picture for the late King Bhumipol. Be careful, don't make fun of their King. There was a case where a western tourist was jailed for 10 years simply for insulting their King.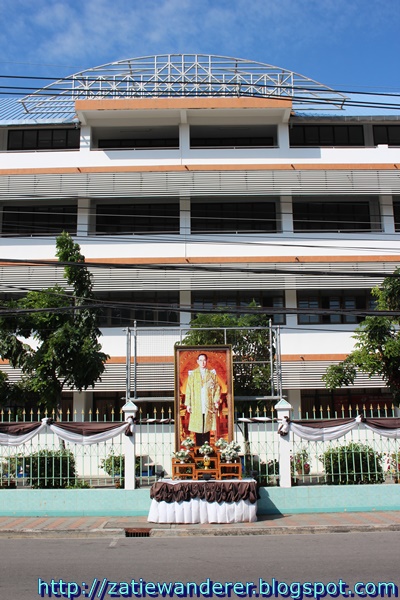 Sad to see this cat. In fact, we have twice seen dead cats on the side of the main road. It may be hit by a vehicle. But what is the 'sign' that God wants to convey to us?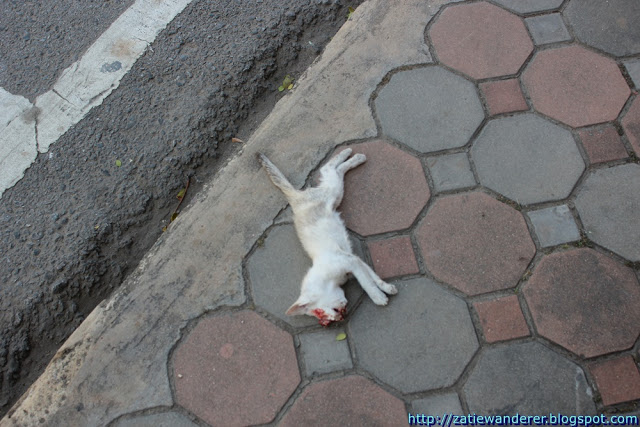 These are the Prachuap town court. Along the way, we came across all sorts of things.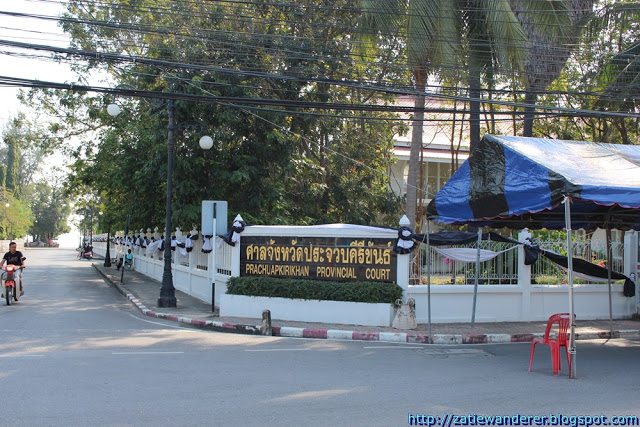 Nearly 700 meters, we walked from Maggie Guesthouse to Prachuap Khiri Khan City Pillar Shrine, which I will tell you about below.
These are the first place we set foot on today which is the City Pillar Shrine. For your information, pillar shrines are built in every major city in Thailand. It is intended for the local community to pray for the well-being of the entire city. It is also like a beacon or storehouse of positive energy resulting from the collection of prayers and 'radiated' to the whole city or town.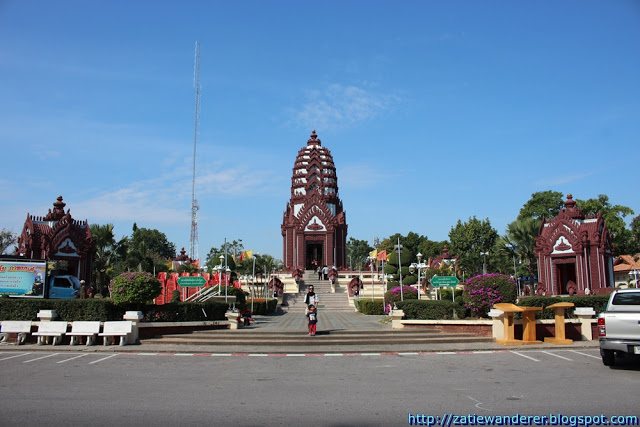 GPS coordinates for this place: 11.811157, 99.796960
As soon as we enter here, we saw this mini horse. Its height is almost my knee.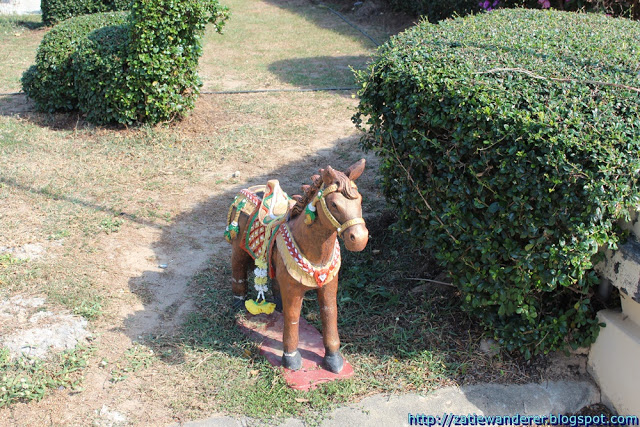 The central part of the shrine.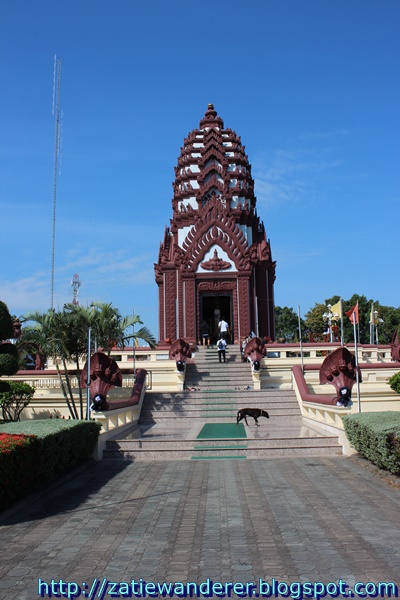 On the left and right there are many chairs arranged. In my opinion, maybe for the new year 2017 celebration tonight.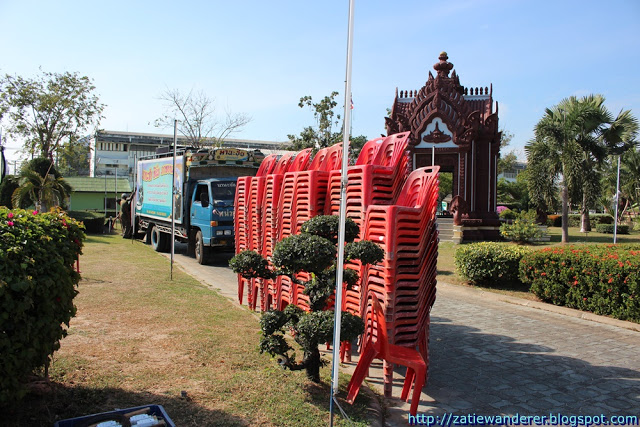 The main shrine is 'guarded' by two mini shrines on its left and right.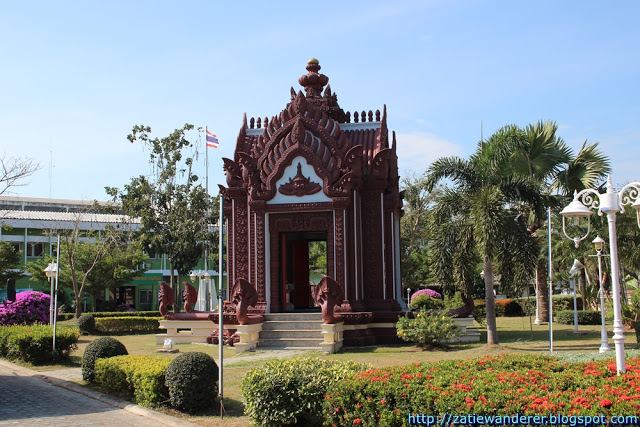 At the far end, there is a house that houses old Buddha statues. Unfortunately, we didn't have time to enter that house.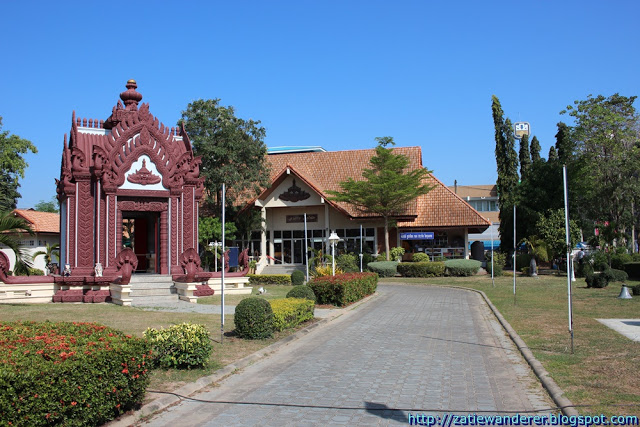 This dog looks clean and has a tag on the neck. Maybe someone is taking care of him.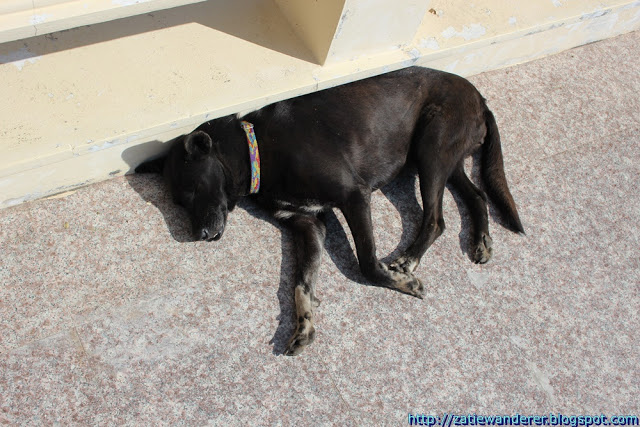 We started stepping up to the top of the main shrine. I think those who came that morning were probably many Thais living outside the Prachuap town. Ah, just like most of us. Every time we arrived in any district, we usually stop by any mosque there.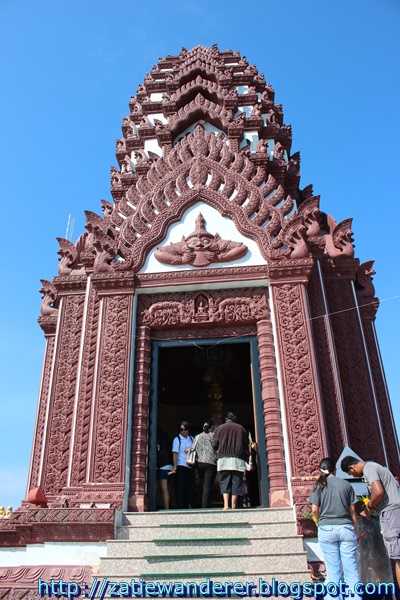 The couple was seen inserting a flower bouquet into an iron barrel.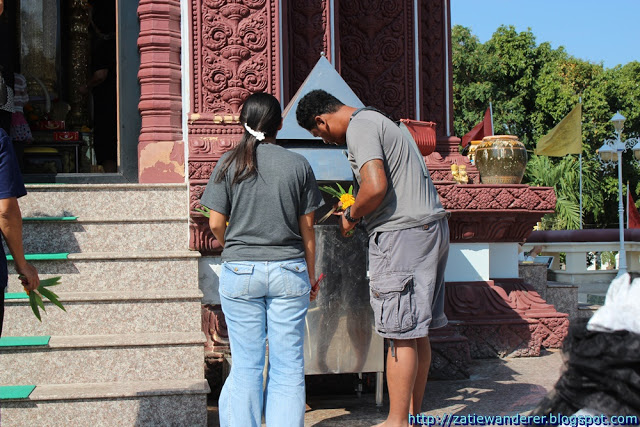 I'm not sure what the purpose is. Did they burn the beautiful flower bouquet that was inserted earlier?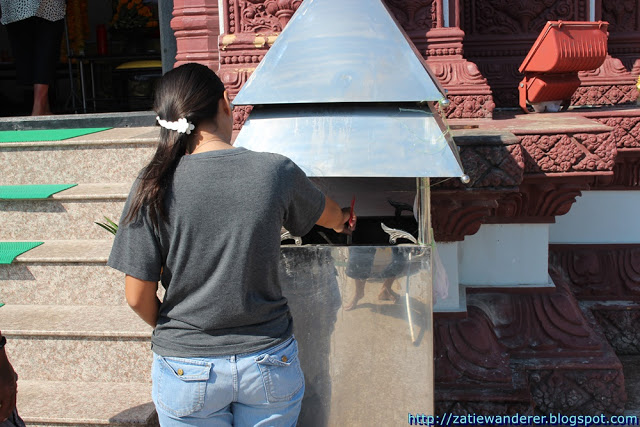 Burn the plug and place it in this vase. For your information, it is not allowed to burn plugs on the inside of the main shrine, only on the outside.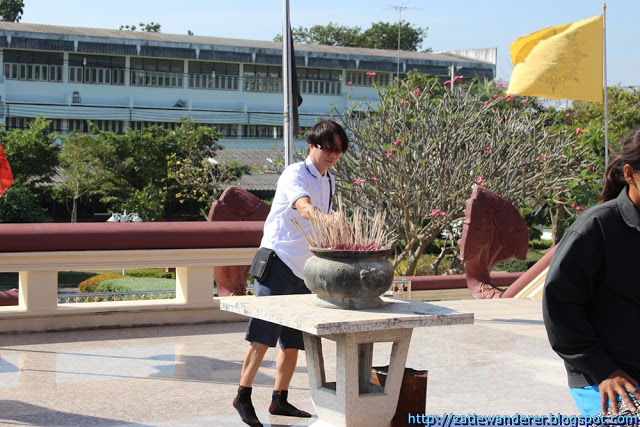 Start entering the room in the main shrine. The shoes have to be taken off.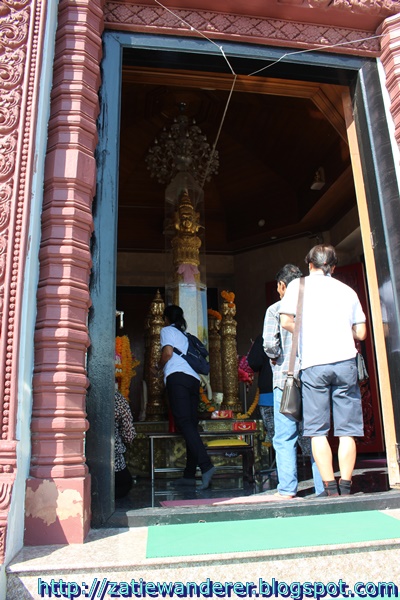 Four heads are facing four corners. I guess, if you measure the position of the location, it may be rightly positioned facing the north, south, east and west. This head pillar is the Main Pillar Shrine. It is also equipped with 4 additional pillars around it. There are also a lot of flower vases here and I don't know the flower's name.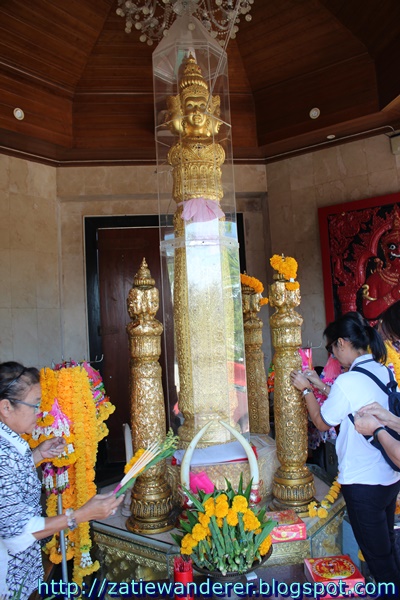 Try to see what the woman in a white shirt does? She was sticking gold paper on the pole. Maybe the paper is already prepared here.
Not sure what the name of this statue is.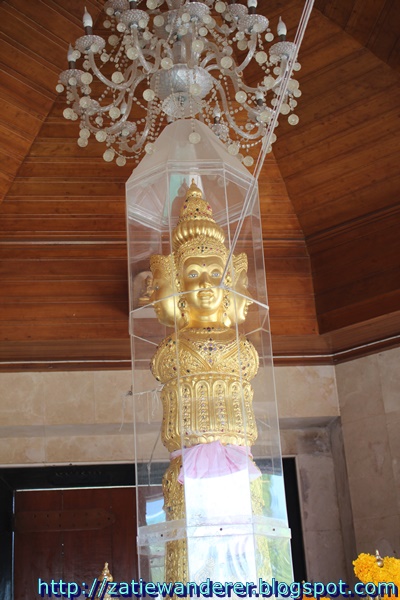 Is this a category of devils, demons, 'naughty' gods, or from among the jinn? And why it faces the main shrine, there must be a reason. Also, when the door is closed and it faces the outside, there must be a reason that I have no idea about it.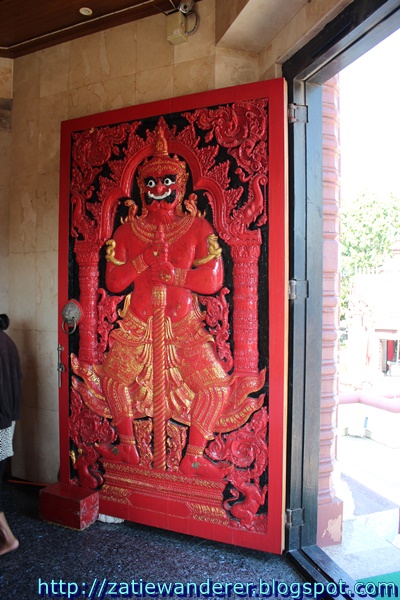 We pictured for a moment here as a keepsake. It is best to dress below knee level if you want to come here.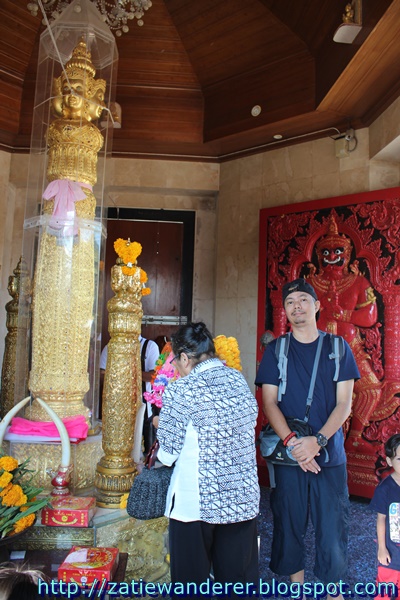 I told Aqif to dare to sit here if belief in his own God himself. Who knows, when he grows up, he might see this old picture.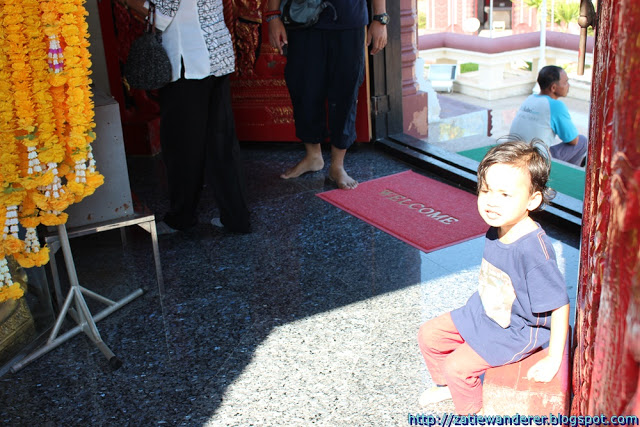 Want to watch a video of the prayer ceremony here? Click the video above.
The exterior of the pillar shrine.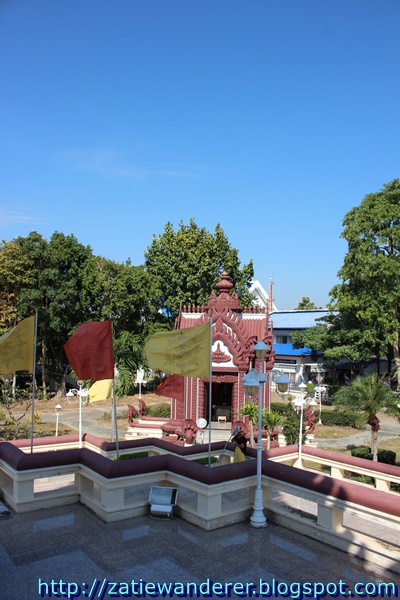 Tatie is also pictured here. The best thing is, local visitors here don't care if we are Muslims.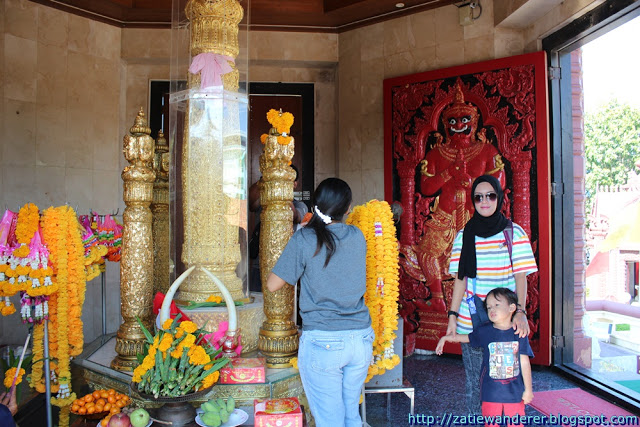 As soon as we stepped out of the pillar shrine, we saw a group of families who had just arrived here. The clothes are also traditional.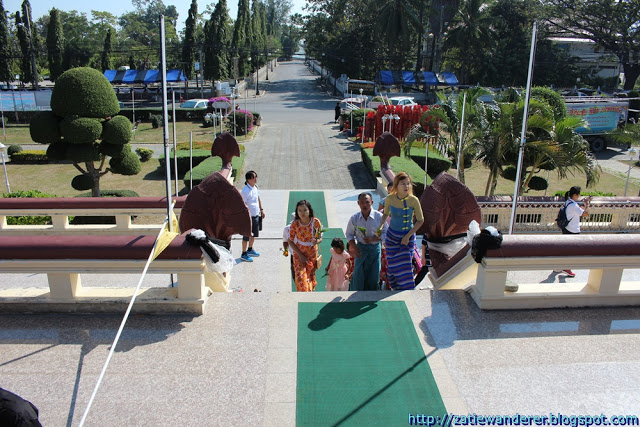 I asked one of these girls to take a picture with Tatie. Try to look closely at the girl's cheek? It looked like a smear of clay on her cheek. Not sure what the purpose is. Maybe it's also a ceremony to ask for blessings to get married.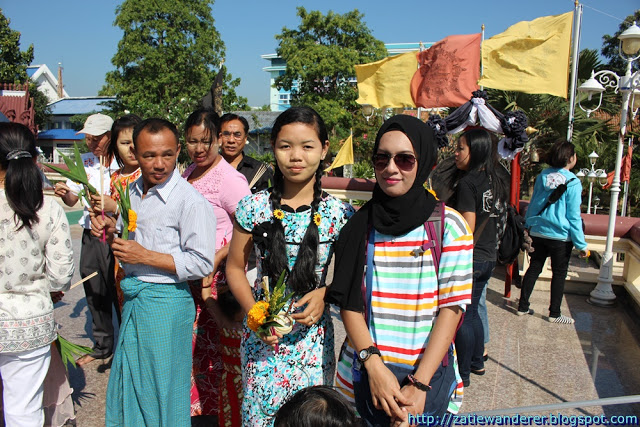 Taking a picture of the memento here as proof "we're here!" … hehe.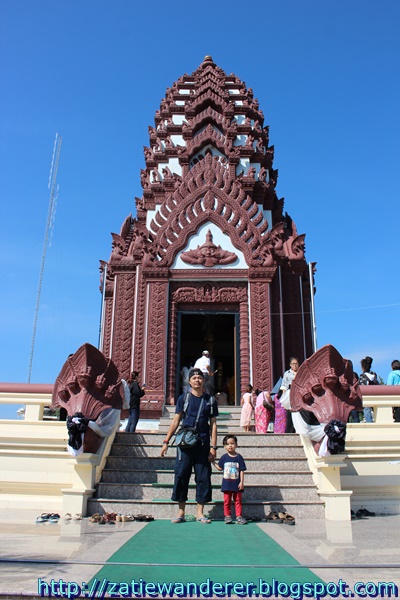 Call it a water dragon, snake, or serpent with five heads.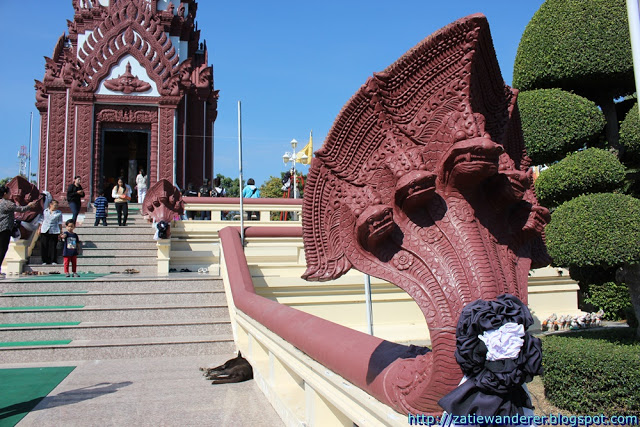 After going downstairs to the main shrine, we went to the small shrine found here.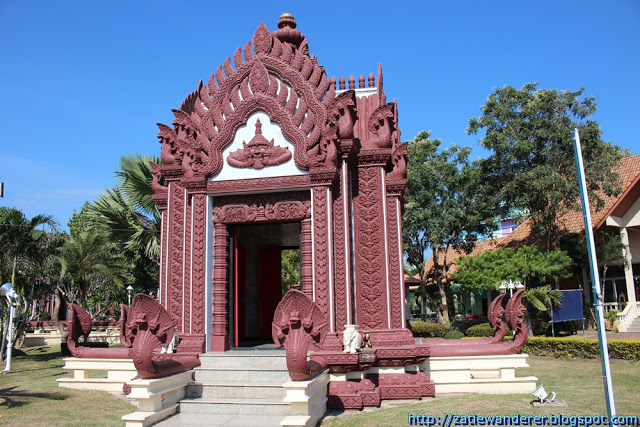 Inside houses a statue that may have acted as the "guardian" of the main shrine.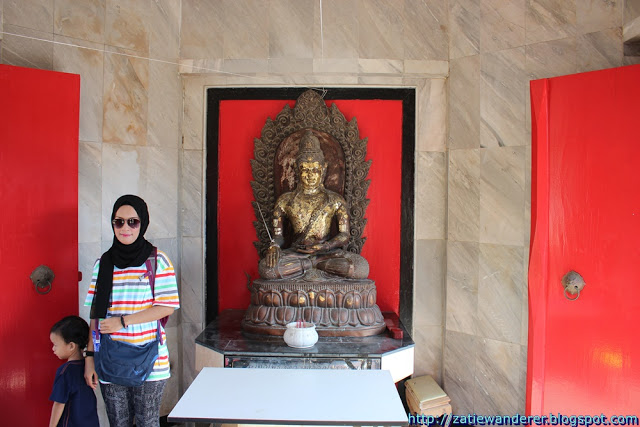 There is an elephant…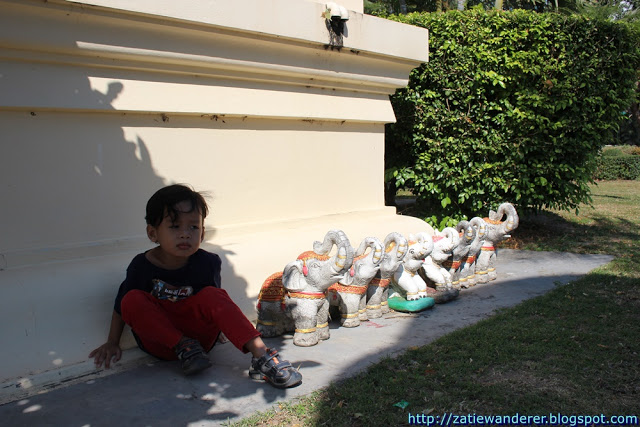 There is also a statue of a chicken. Looks real. Aqif! Why strangle that chicken's head? Pity him…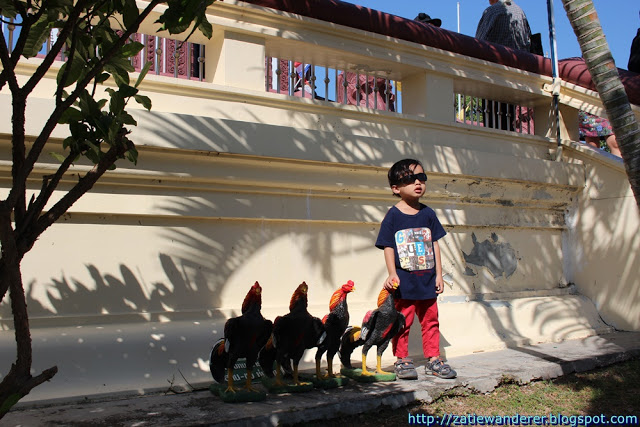 Aqif is pictured next to the horse statue we found earlier.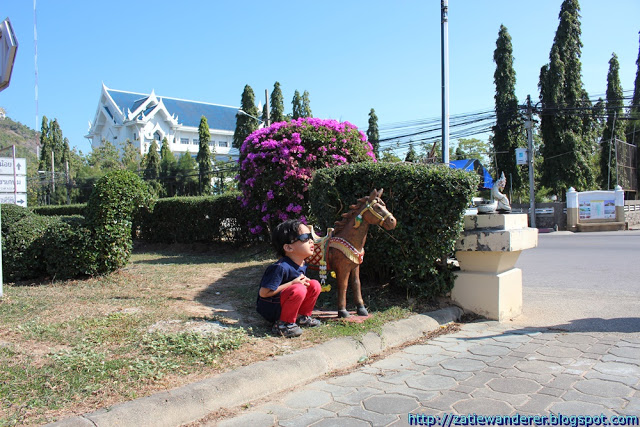 It's 10.35 am. Continued to next entry …. Thailand – Laos Travel: Day 4 – Part 2 – Khao Chong Kra Chok in Prachuap Khiri Khan.