Continued from Thailand – Laos: Day 8 – Part 7 – Siam Center & Siam Discovery. For pre-travel, please refer here.
My writing mood has been a bit sluggish lately, I hope you understand.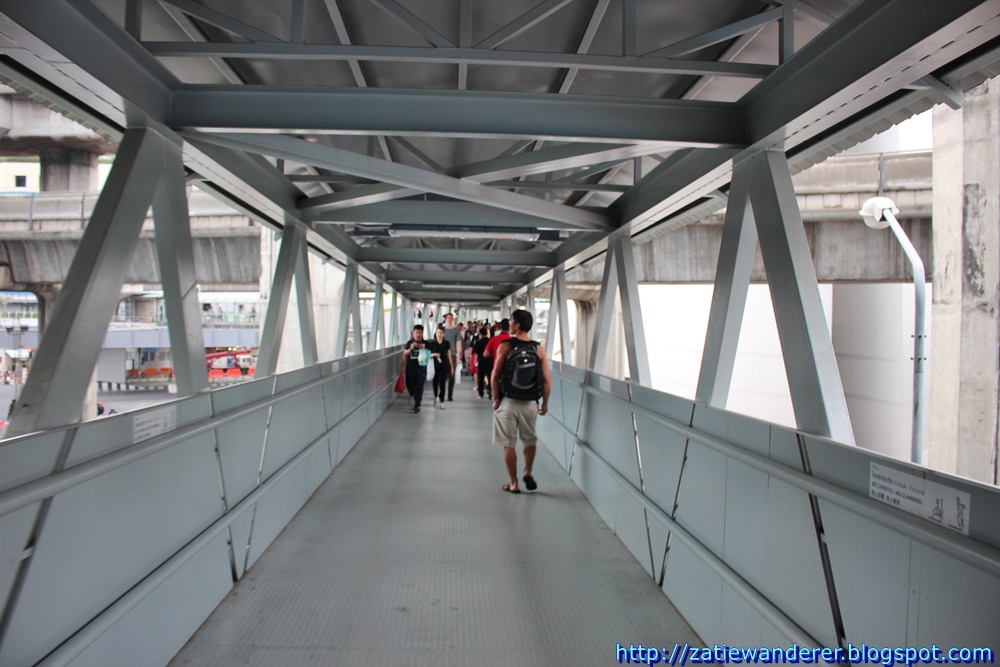 From Siam Discovery, there is an exit to the bridge that connects with the Skytrain building and other buildings.
Just like the concept of "KLCC – Bukit Bintang Pedestrian Walkway". The difference is, there is no air conditioner and open air. The temperature in this bridge is not hot even though it is all made of iron. For those with small children, there is no need to worry because the temperature is still suitable. A baby stroller is also suitable here, the stairs are not steep and also not many stairs but it takes the energy of husband and wife to lift it.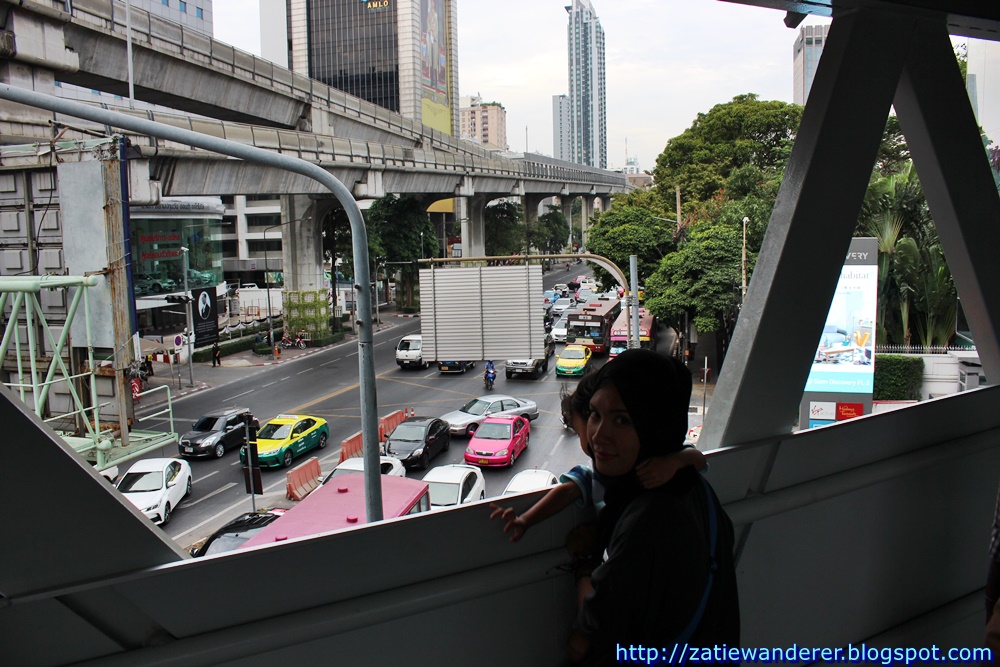 From here, you can also take pictures of the bustle of Bangkok's streets. One of the uniqueness that will make you really be here is the pink taxi.
The left, right, front and back of the route all have pedestrian bridge connections. To get to MBK Center, we only walk because the distance is about 400 meters. At each end of the connecting bridge, there will be a signboard of the direction you want to go. MBK Center is clearly on the signboard.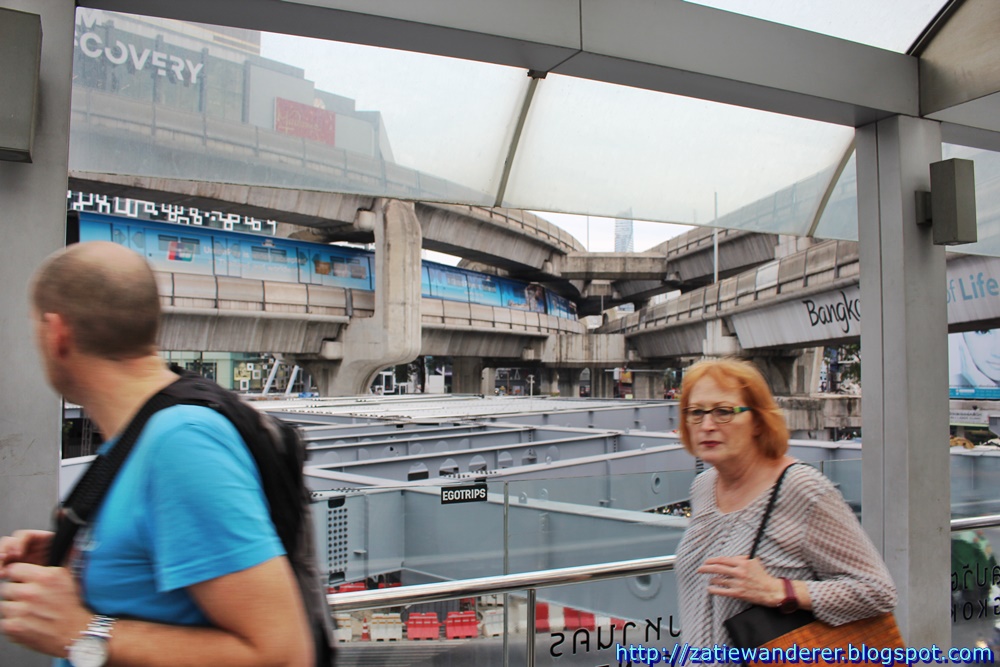 I see tourists here walking casually here and there. But my advice, if possible, don't carry a shoulder strap-type handbag like in the picture above, not only in Thailand but everywhere.
We have arrived here. Quite excited because before this I saw many pictures from FB friends who have come here.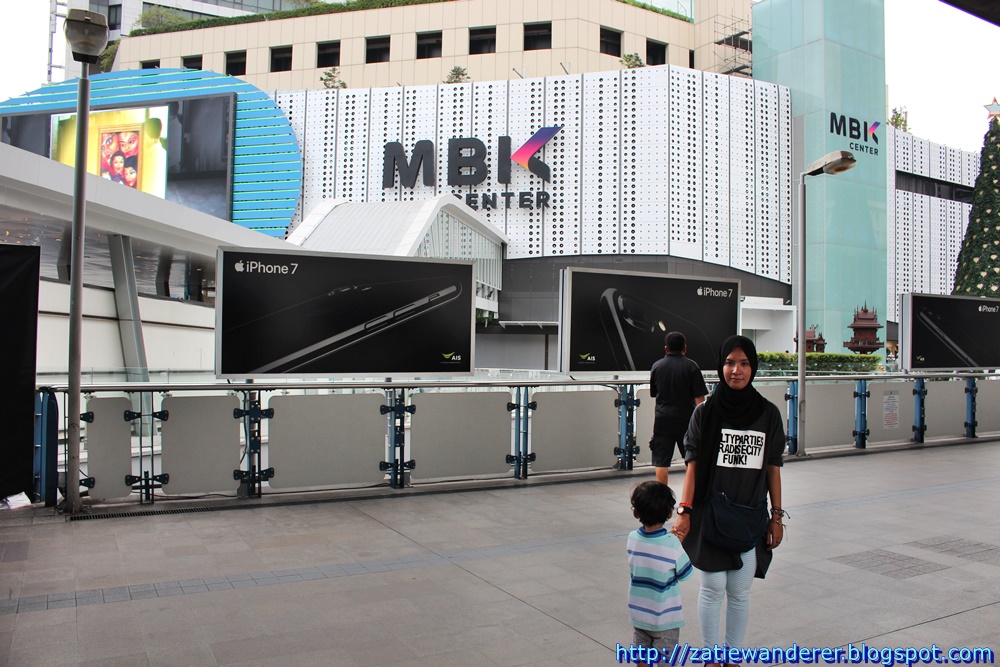 Because the Skytrain bridge is a bit confusing, you have to find the stairs either to go up or down to get here.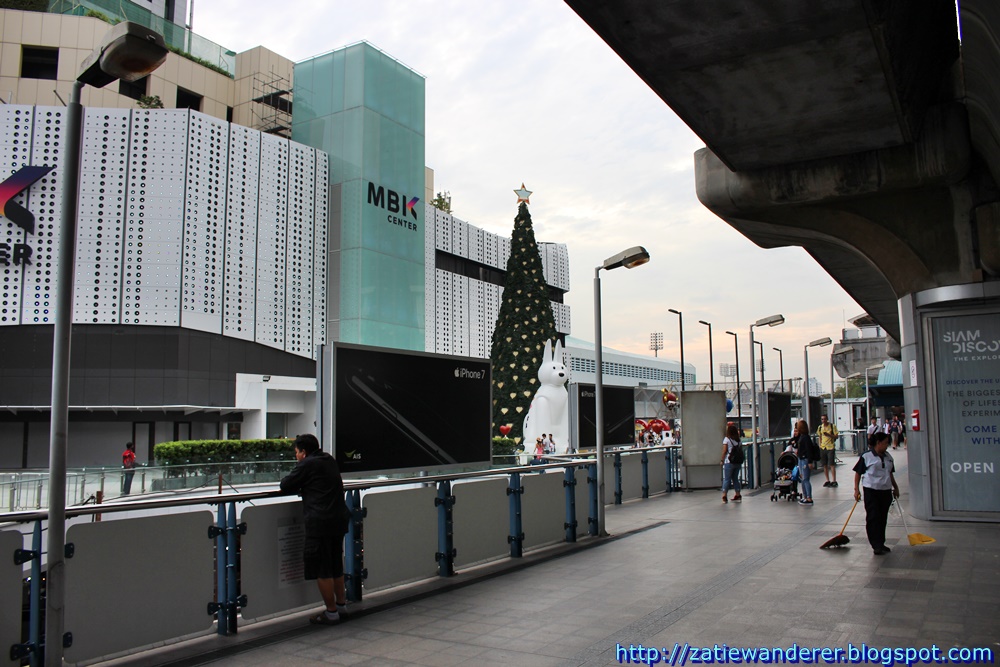 Take a look, we are still on the bridge outside the MBK Center. Did you see a blue box down there? That is a police hut for tourists. If there is any untoward incident, you can report it directly to them.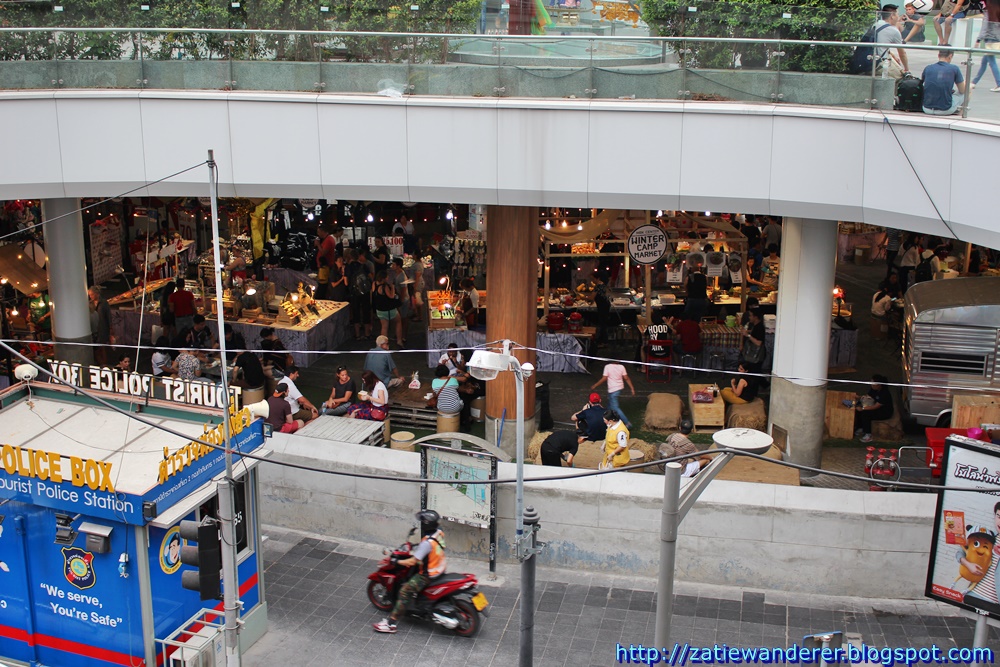 Haa, we just found a path with a bridge that leads to the entrance of MBK Center. I'm not sure if it's the main entrance or the second entrance. For your information, the entrance is also located near the police hut shown earlier, which is on the ground floor. Meaning, there are two entrances to the MBK Center.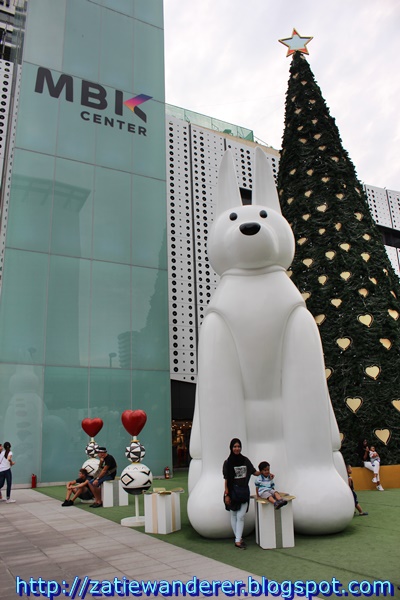 The Christmas season has not yet subsided even though it has entered January 4, 2017. On average, many districts that we stopped at will have this Love symbol …. "please come to Thailand with love", hehehe.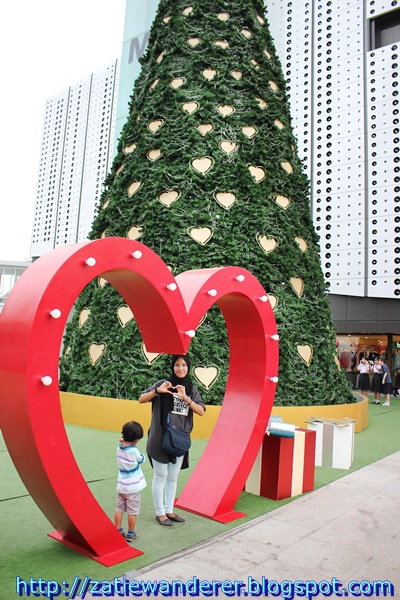 Only then did I know why MBK Center is famous. It is a shopping mall that sells goods at moderate prices. The interior condition is also similar to Pertama Complex or Sungai Wang Plaza in the 90s by looking at the tile floor, ceiling and the type of shelves used.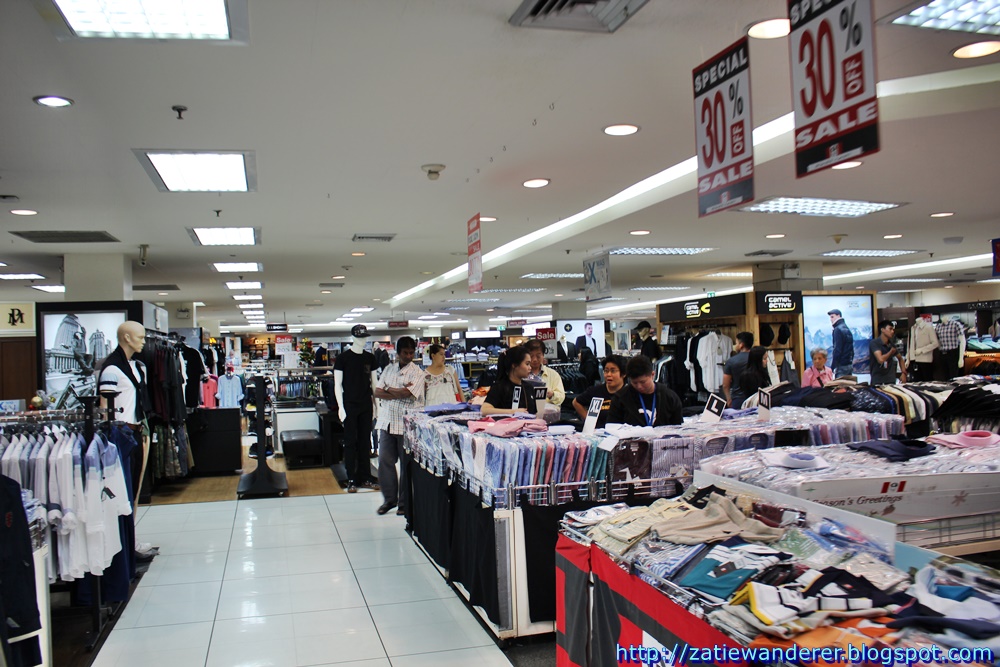 This is the supermarket section. Food and wet items are sold not on the ground floor as in Malaysia. We should have stopped here to buy food like fruit, instant noodles, bread and biscuits that could be taken back to the hotel. If you buy at 7-Eleven, of course, the price is a little expensive.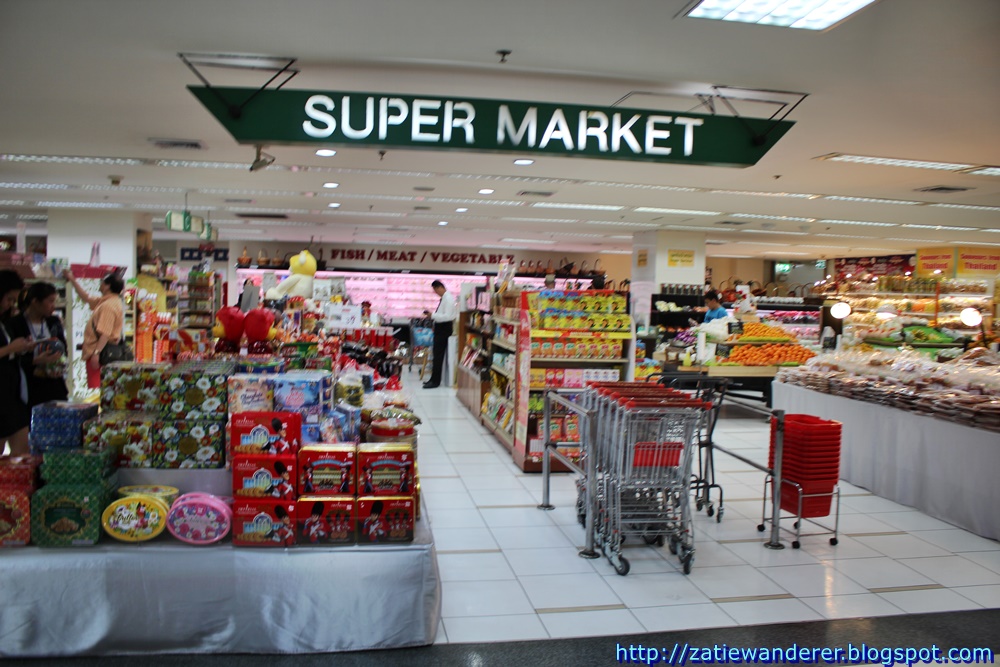 A hungry stomach kept us heading here, The Fifth food Avenue. It is called The Fifth because it is located on the 5th floor.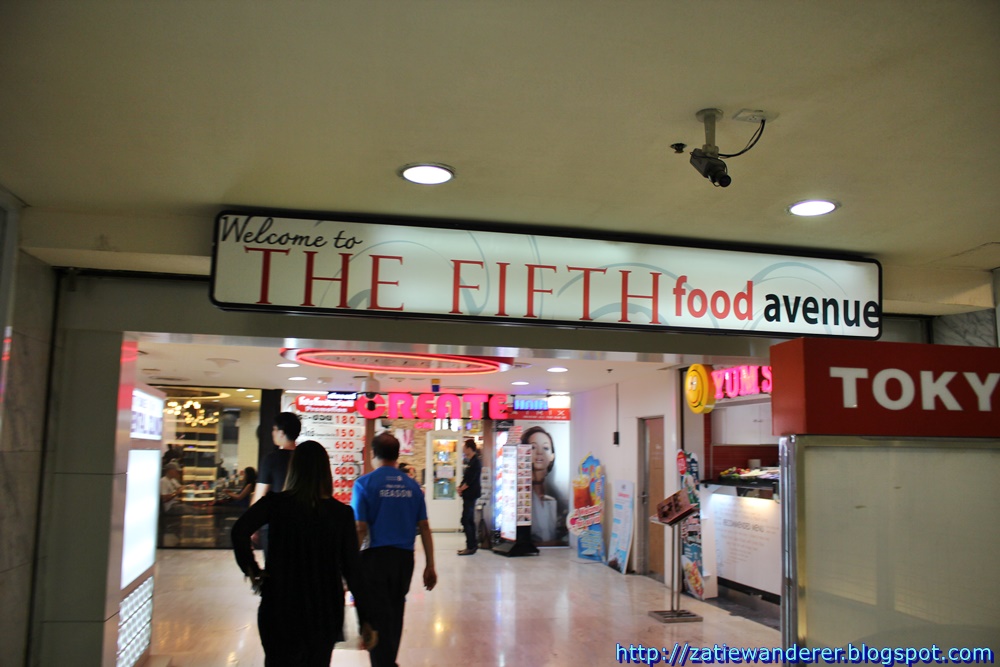 Guided by the information in google in a hurry and without planning, we went straight into The Fifth.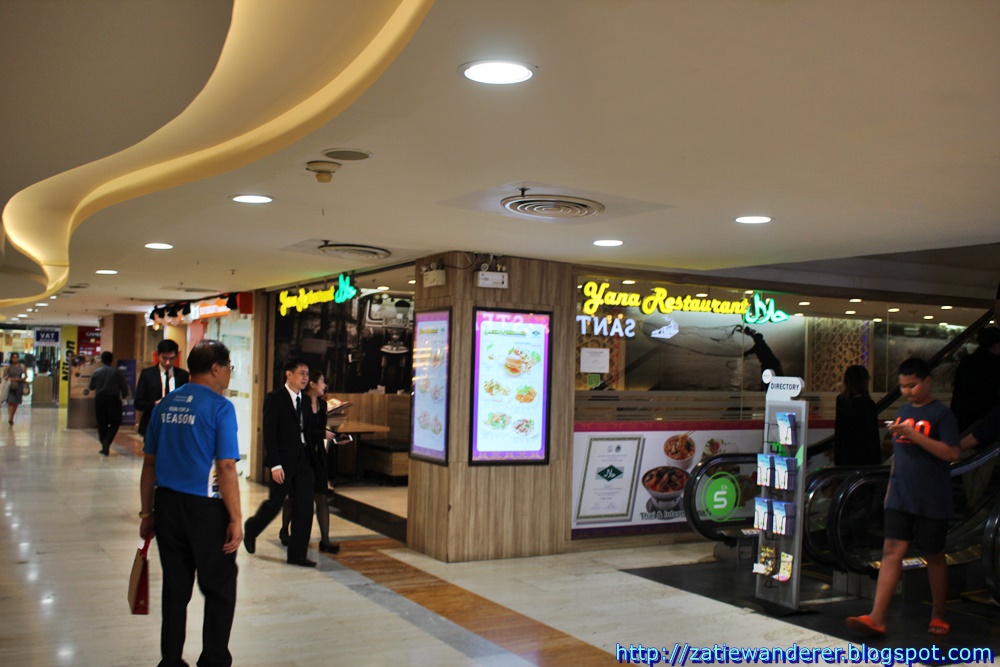 At first, we thought that this is the famous place to eat that is always mentioned by Malaysians.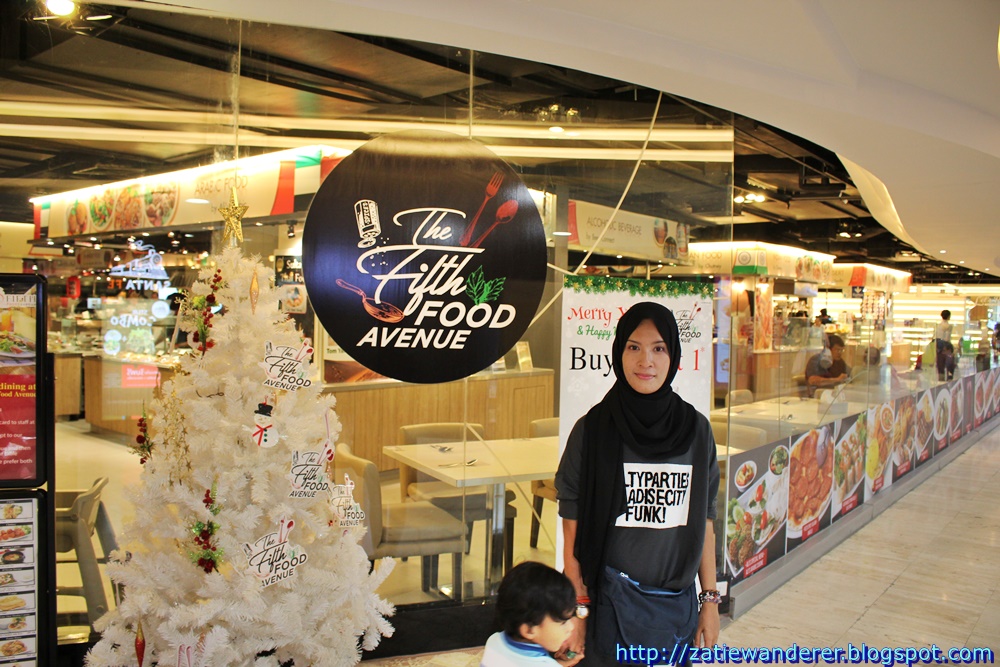 This food court is located in its own area. There is only one entrance and exit. After entering, you will be given this RFID card which acts as a receipt to make payment when you leave later.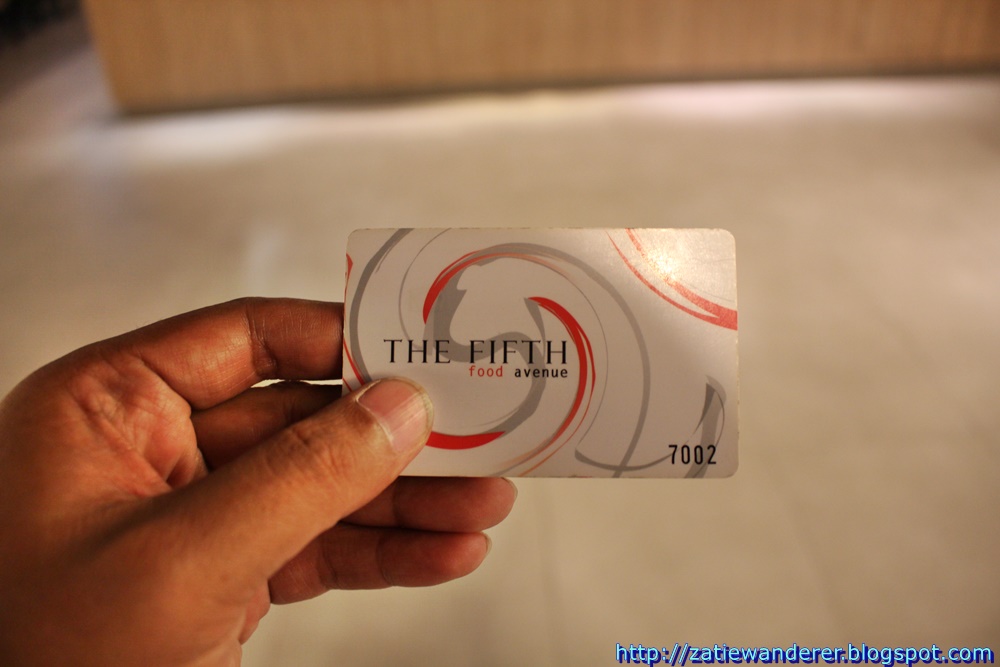 Many halal foods sold here are from the middle east, Pakistan and Bangladesh. There are also food vendors here who wave at us to buy food there. Why only a few customers in this place?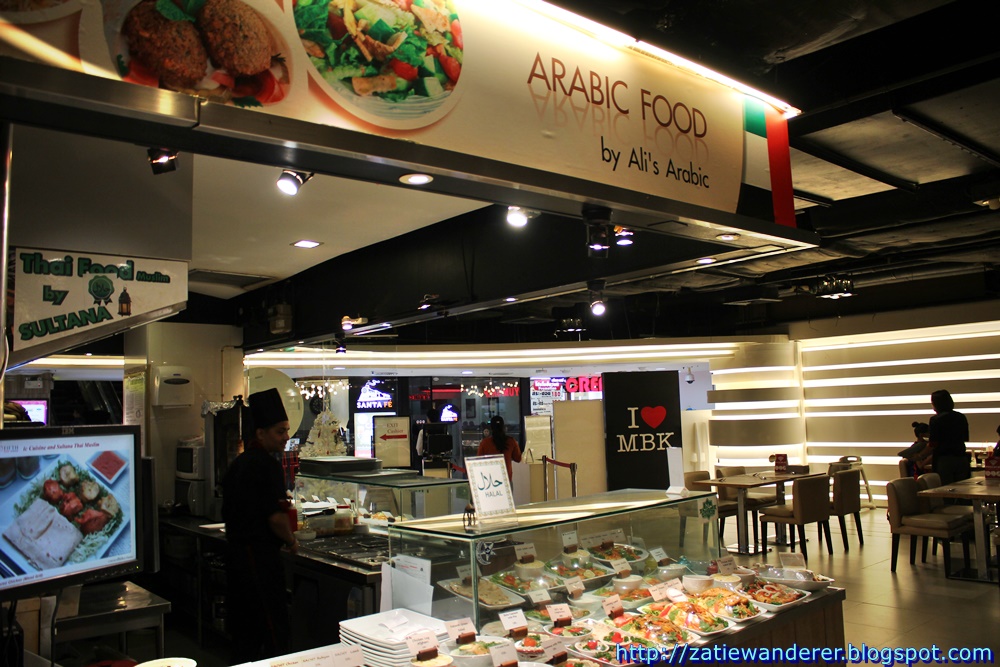 This is the reason …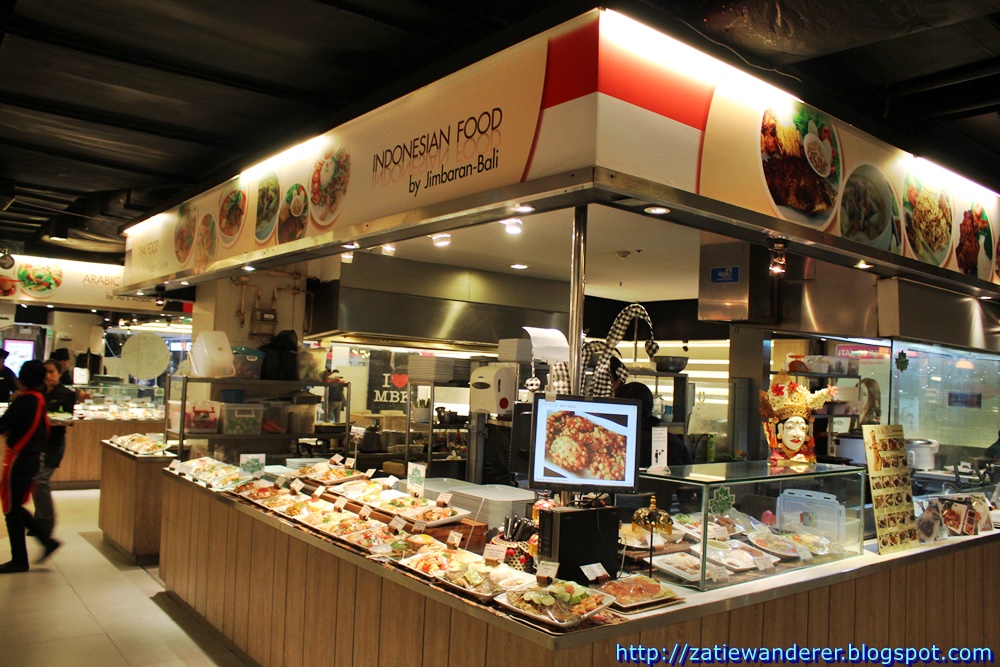 We spun around here many times. Many people say the food here is cheap, but why does a meal of plate cost up to THB400? Luckily our appetite could still be controlled, so we left this place and went through the exit without paying anything (the RFID card had to be returned). If you like an exclusive food menu, you can come to The Fifth. But if you want food from Thailand at an affordable price, I will explain below.
We took a picture here. Meanwhile, I asked people around. I'm sure there are other food courts because the picture of The Fifth is not the same as the one shown by my FB friends.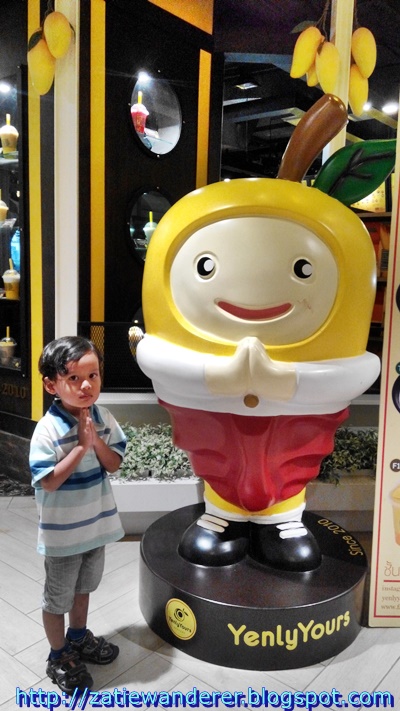 Behind Aqif there is actually another path leading to another section. We tried to go to other sections while looking for a food court. MBK Center is actually big.
After getting the information, this is the food court we were looking for. Without waiting any longer, we headed to level 6.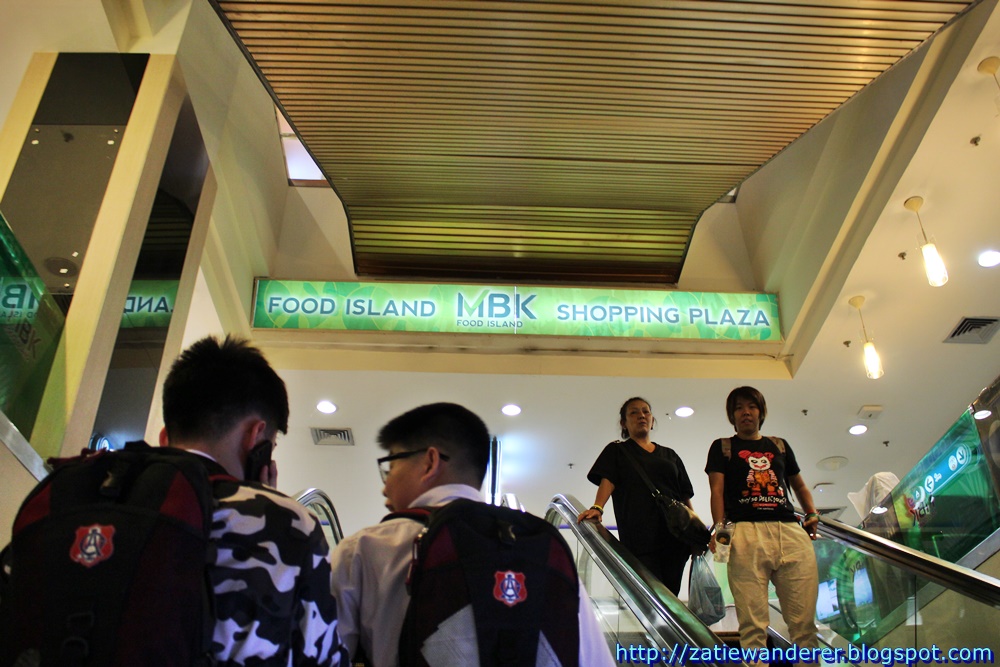 MBK Food Island …. please take a note. It is located on the 6th floor.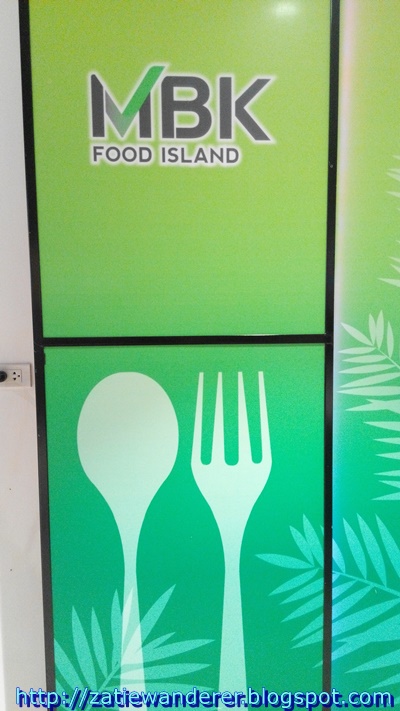 This is a food court with reasonable prices and has a wide selection of local cuisine. Then I saw a lot of people and just the same as in my friend's photos. Most here are locals. I don't see any foreigners here either.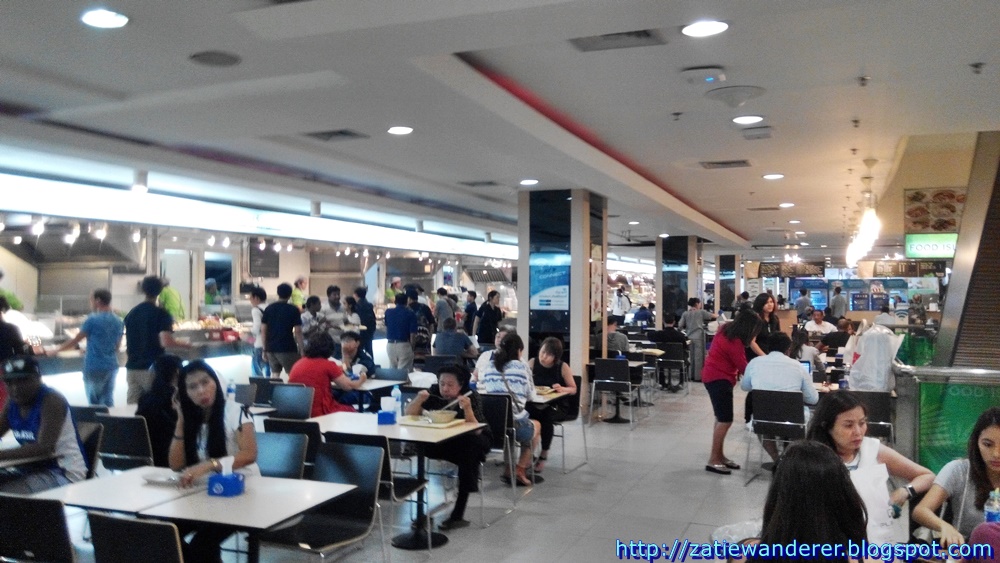 The price of a plate of food also makes sense with a price between MYR4 to MYR7. Where do we buy halal food? Refer to the two pictures above and head towards the far right stall. We ordered chicken rice but the rice was yellow and not the same as the usual white color in Malaysia. In that bowl, maybe chicken soup.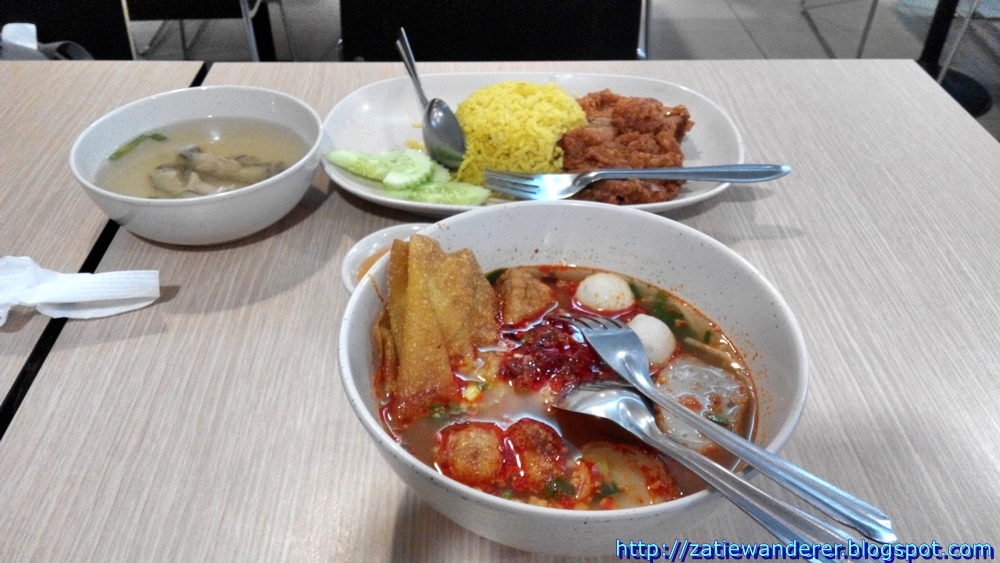 After eating, we headed outside the MBK area. The day has already started to get dark and by this time it is 6.30pm. The decoration of the booth here is beautiful.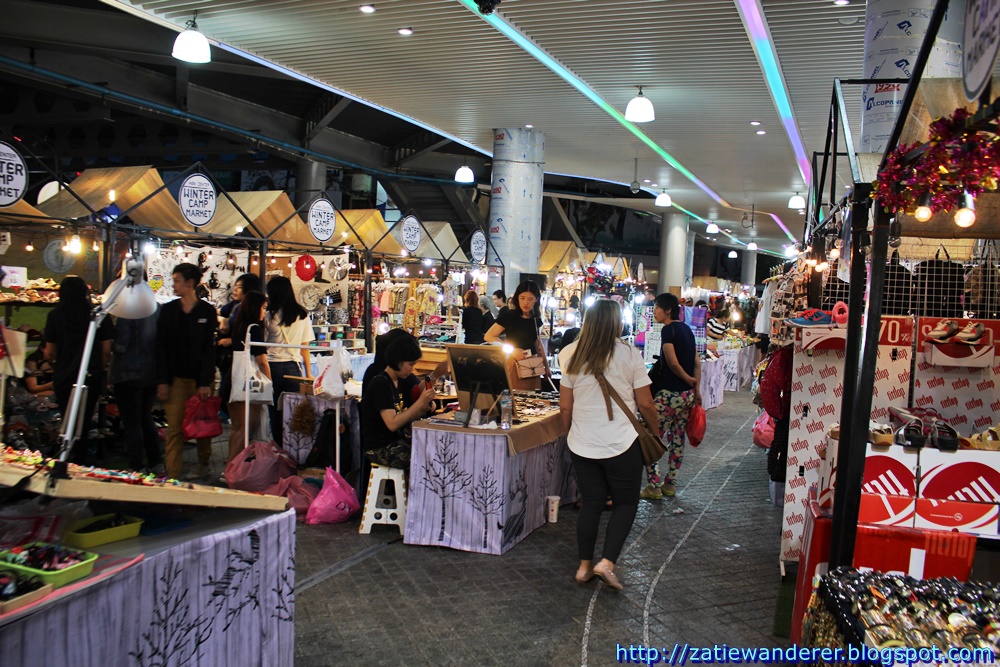 If in Hua Hin there are many booths selling women's jewelry, here are even more. But the price is also a little expensive.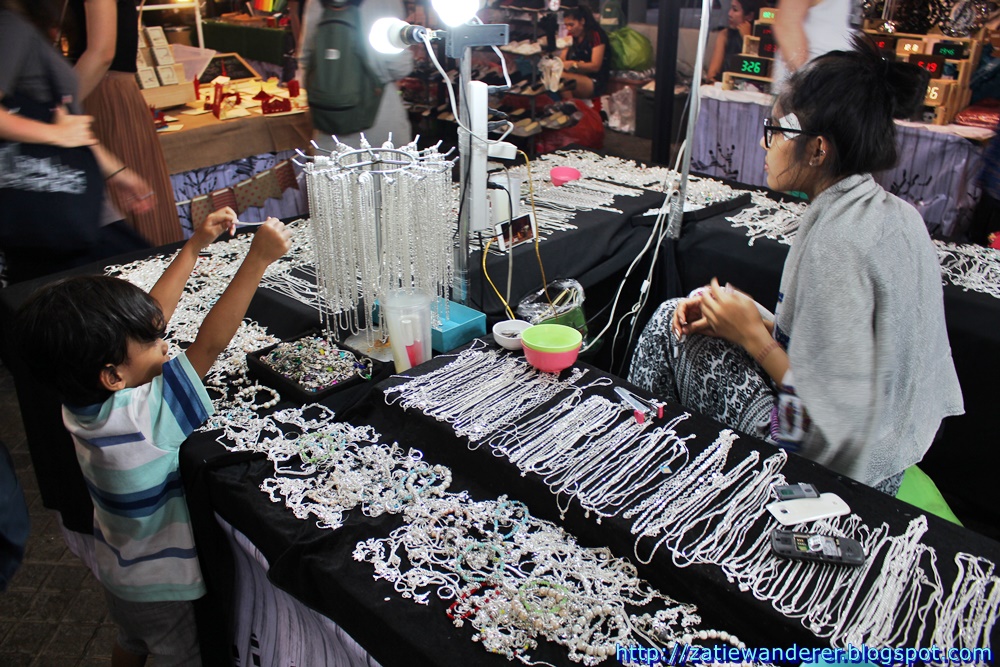 The atmosphere around here. Seen many foreign tourists including us who came from Malaysia.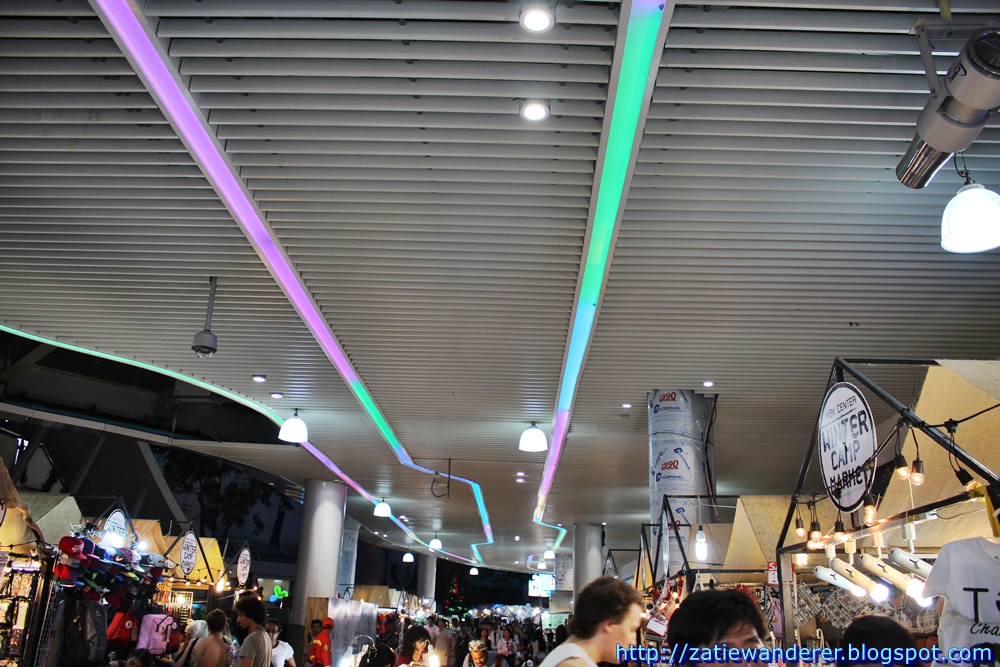 There are also foreigners from the middle east. Maybe he's interested in buying a handbag. As far as I remember, this handbag is made locally. Various types of buyers temperament from abroad, every time they want to buy something, will definitely open the calculator on the phone. In the old days, it was more humorous. They would bring a big calculator.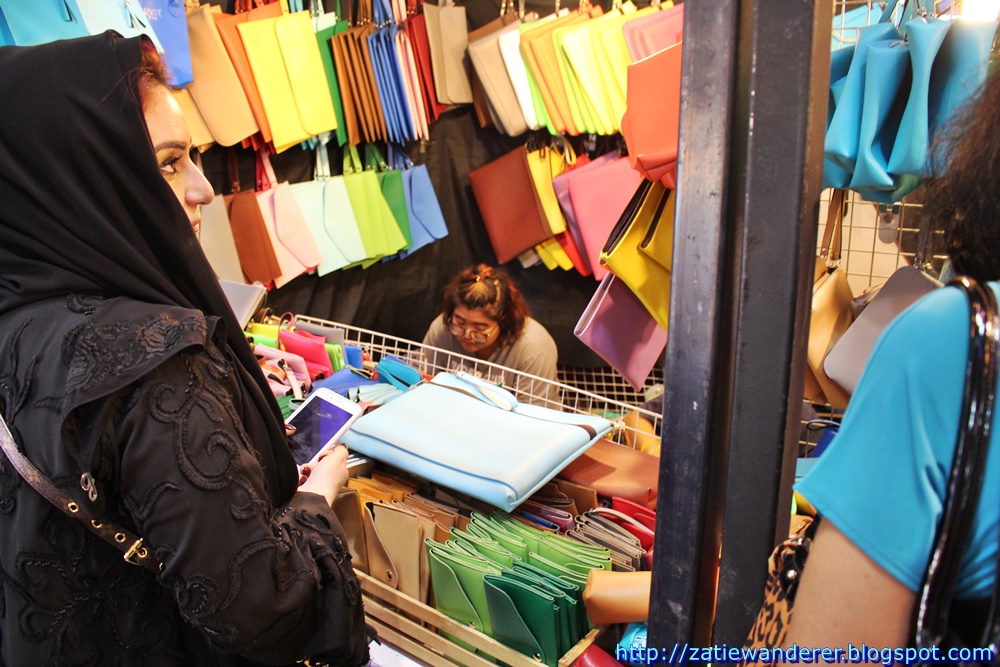 What about me? Follow the value that I set in my head, for example, if THB100 is equal to MYR12, if there is a multiple like THB200, I just multiply MYR12 x 2. THB150? MYR12 x 1.5. It's easy. As a traveler, you have to be alert to the surrounding area. Don't let the bad eyes see your busyness. One hand holds the child's hand, the other hand holds the calculator because he is busy counting. As a result of being busy, the items in the backpack were stolen by a pickpocket. But Alhamdulillah, such cases rarely exist in Thailand and most countries in South East Asia, only in Europe.
I think the outdoor area where there are a lot of booths is called the "Market". So, there are many events according to the current theme. Pictured here is beautiful in terms of lighting, but it is mandatory to use a camera with a large sensor.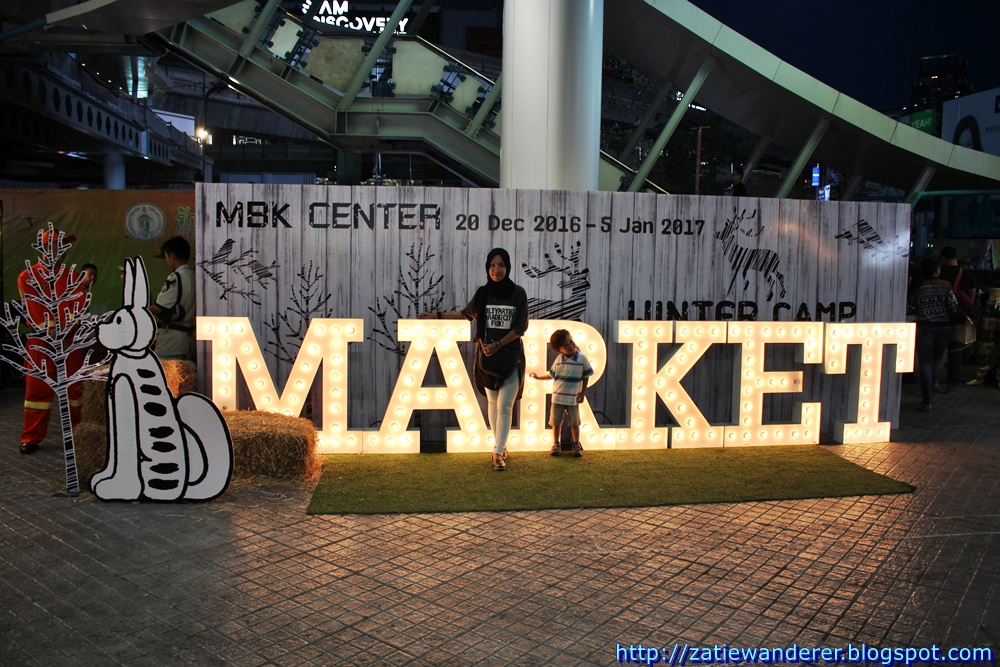 The price of goods sold here is not expensive including clothes. Maybe the women's jewelry items were specifically made, such as silver, which is sold at a relatively expensive price.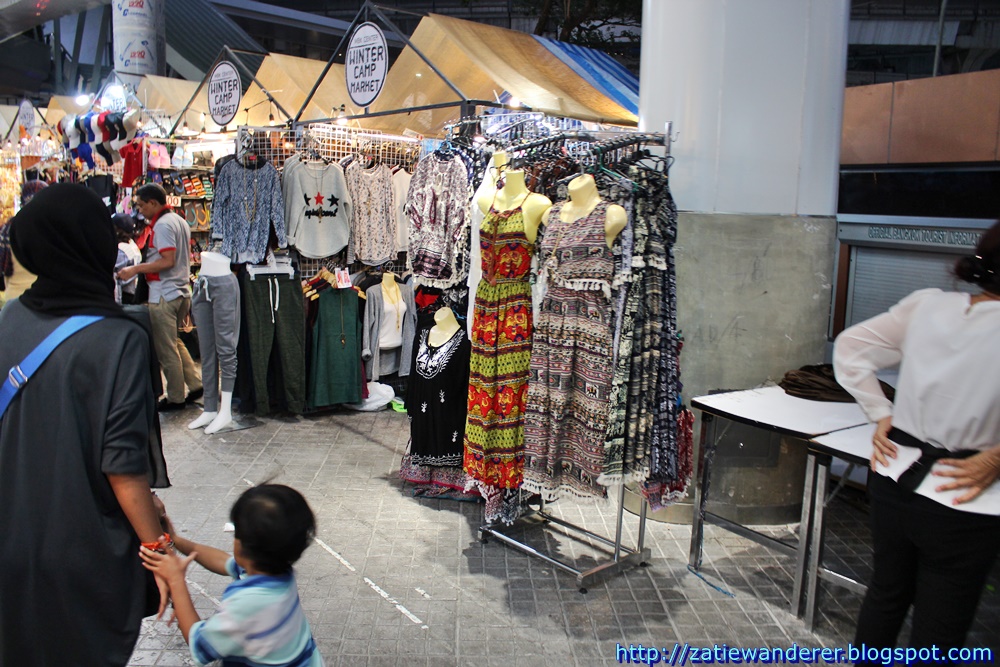 There was nothing more to see at the MBK Center, so we headed to Chatuchak Park by Skytrain. To your knowledge, the Skytrain is a train that is high above the ground while the MRT is underground. It is different in Kuala Lumpur or other cities where the MRT is located above. Skytrain is also called BTS (Bangkok Mass Transit System). BTS (Bangtan Boys) is not referring to the K-Pop group from South Korea.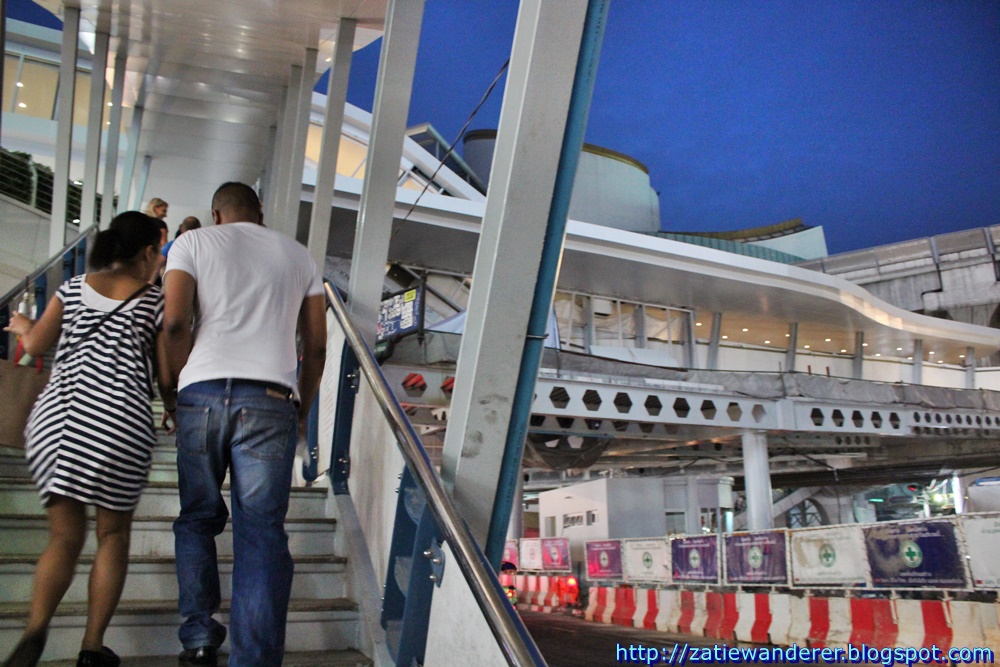 To board the Skytrain, we had to walk back to the route that we came earlier. Wow, beautiful light decoration on the Christmas tree.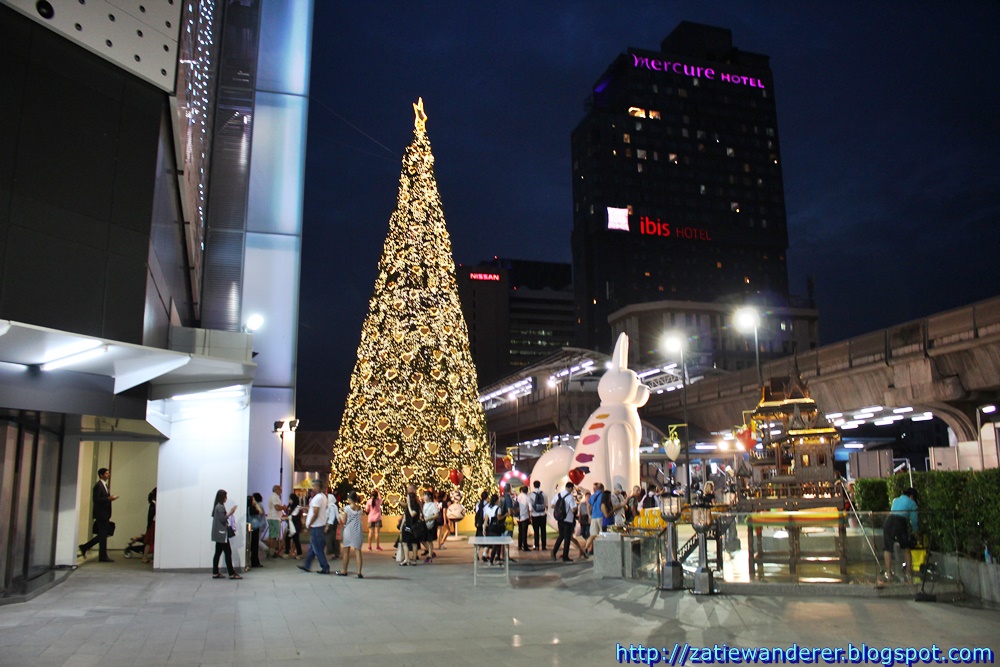 While passing through here, there is also a replica of a small house. I'm not sure whose house is the replica is.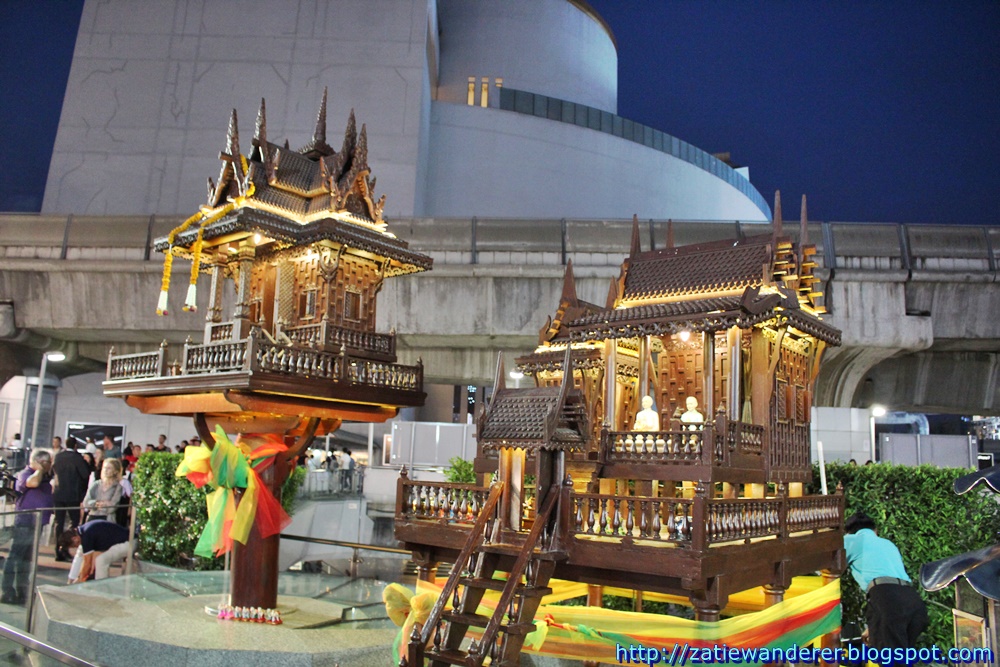 If you want to go to MBK Center, you have to stop at the National Stadium station. I was also looking around, curious about the location of the actual stadium but couldn't find it. After we returned back to Malaysia and looked at Google Maps, then I saw a stadium behind the MBK Center. No wonder it is called the National Stadium station.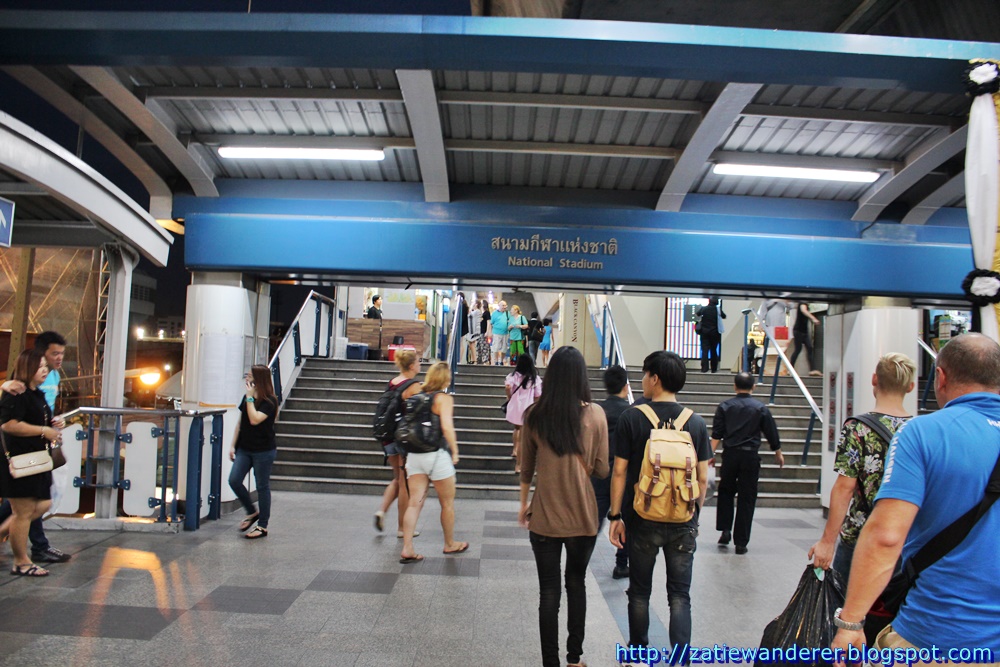 Starting from the picture above, this is actually the first time we used light rail transportation in the city of Bangkok.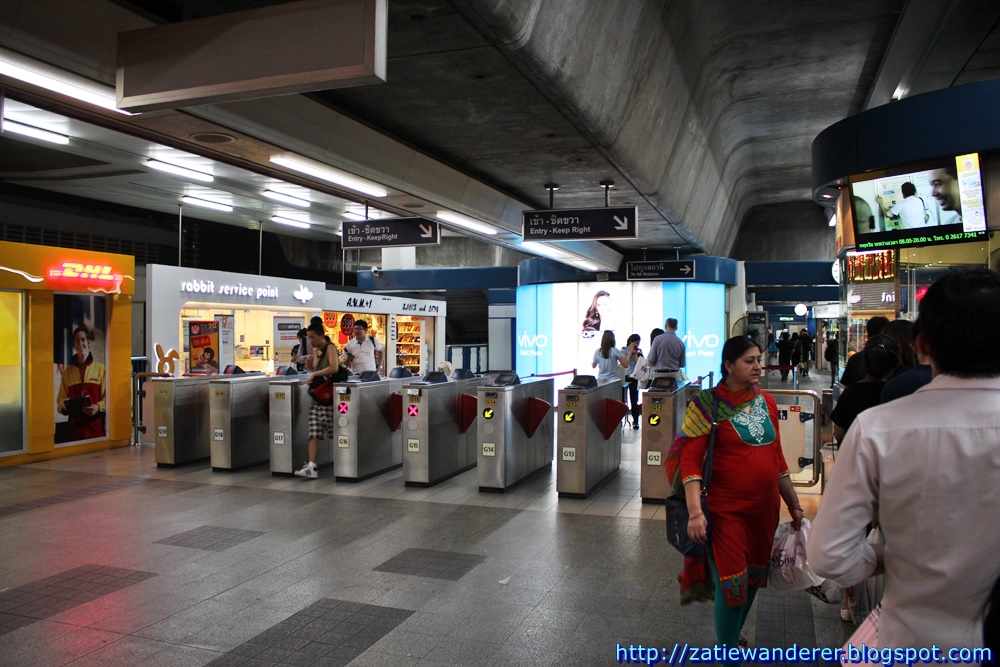 At first, I didn't know how to buy a train ticket. Machines and ticket counters are not hard to find here. All I need is to get confirmation of the station name that we need to get off to get to Chatuchak Park. It's not that I didn't do research first, but because our presence in Bangkok is only for a moment. So we just follow the tourists who were at the counter to buy tickets.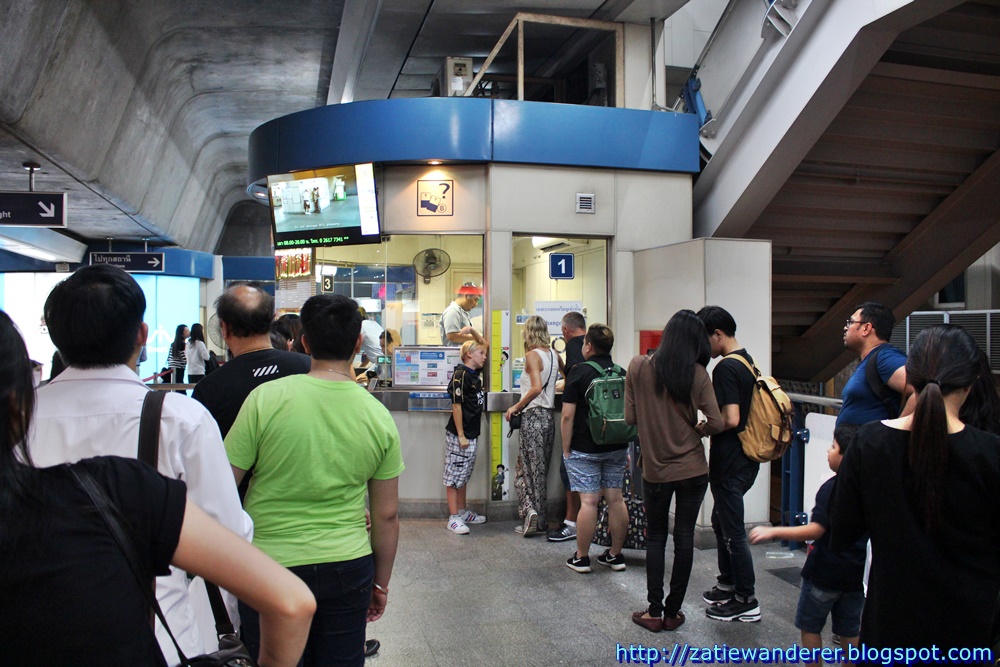 While at the counter, the ticket officer was very friendly and earnestly explained to me which autogate we should enter and which station to stop, and it was Mo Chit. Luckily we only had to board one train and did not need to transit with other trains.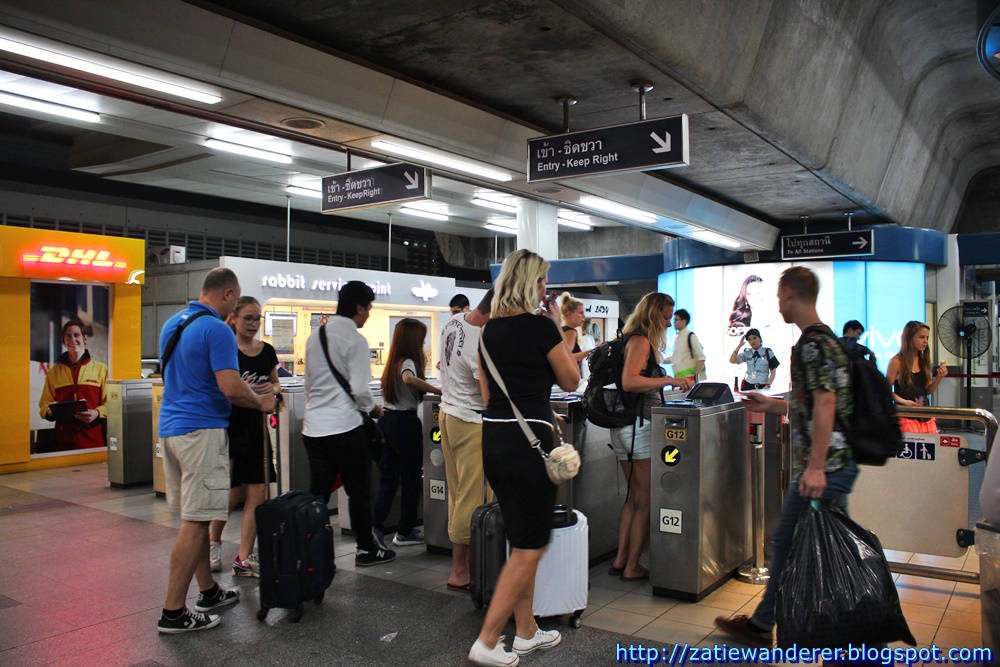 Now we are in the inner station area after going through the autogate.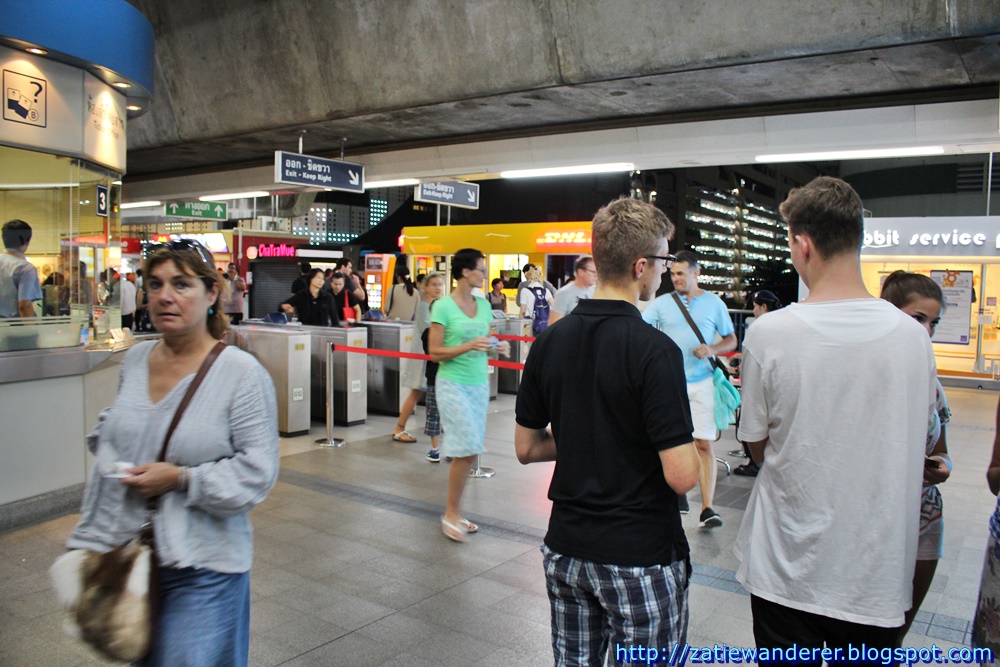 Inside the MRT train from National Stadium station to Mo Chit. Tatie was a bit tired because she had to carry Aqif, so I carried two bags. I don't care what people around me want to say if my way is weird in their eyes. It's full of people at this time, probably because office hours are over.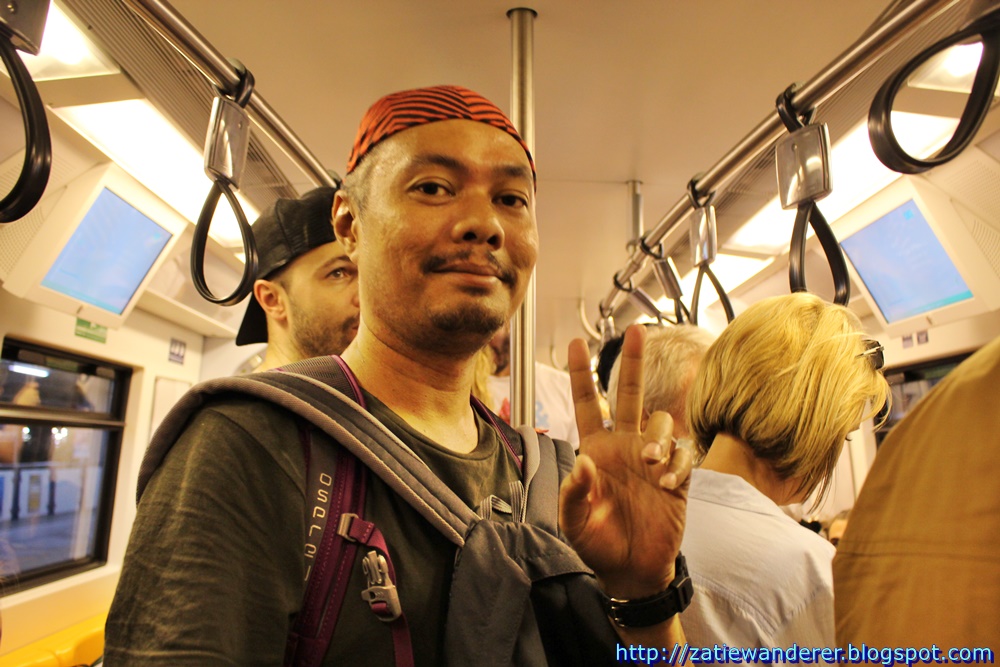 To take the MRT train in Bangkok is not very difficult because the display uses two languages, Thai and English.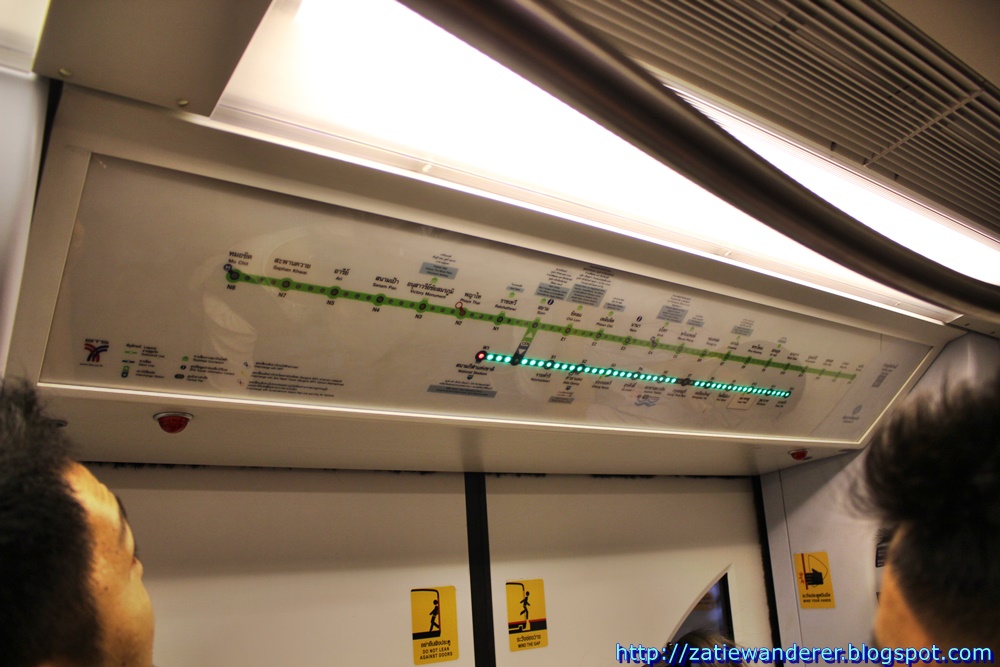 While riding the MRT, I had a chat with a Bangkok teenager. He said he had traveled alone to Central Europe a year before, both with his girlfriend. Whether the story is true or he lied to me, I'm not sure. Feels like he is very young, he is only a teenager (under 18) and travels everywhere with his partner.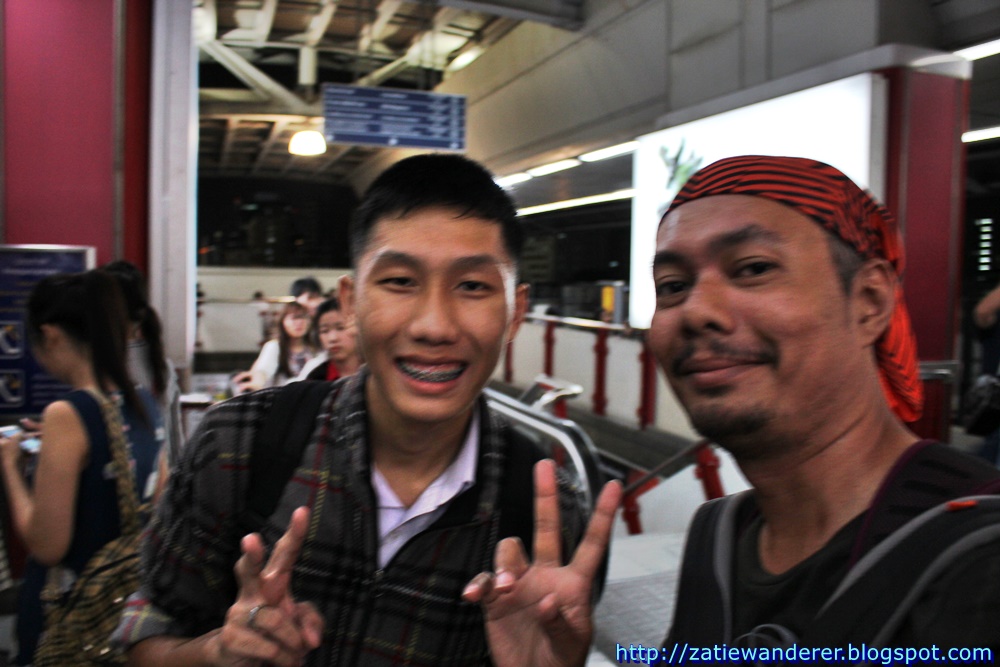 We also talked about the tourism industry and comparisons between tourism in Malaysia and Thailand. I admit to him, this industry is even more vibrant in Thailand.
Then, we arrived at Mo Chit station with joy to head to Chatuchak Market even though we were tired of going through the crowds coming home from work. Outside the station, there was a lot of vandalism.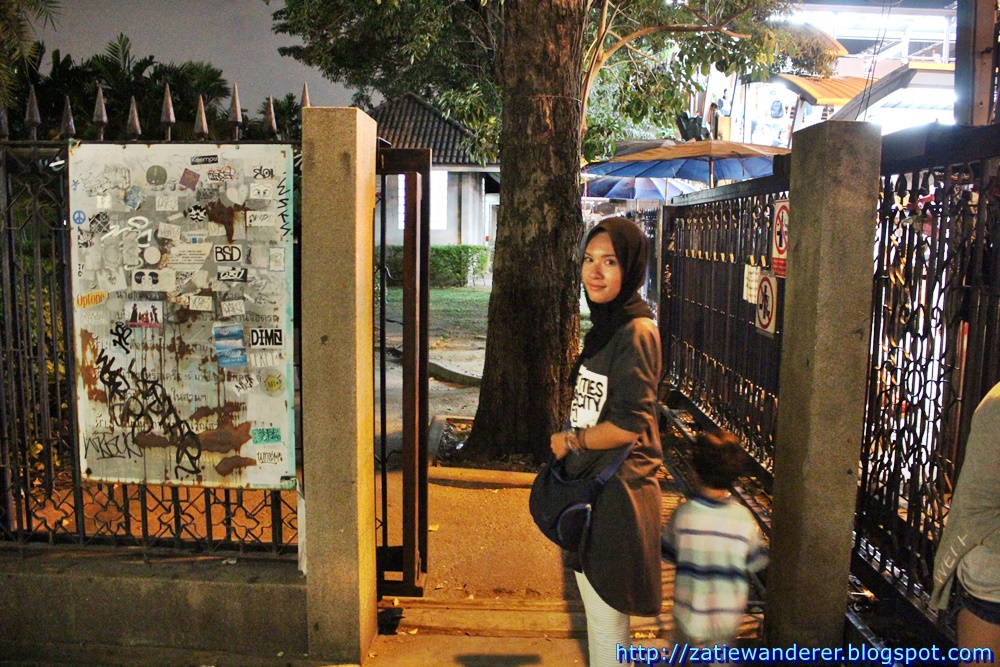 Hope to visit the famous Chatuchak Market which is colorful as in the picture above and is the largest in Southeast Asia. In the end … failed! There is a reason why it is called "Chatuchak Weekend Market" because it is open only on weekends. We stepped quite a distance and asked a couple of vendors at the roadside shop house, he said on the day we were there, it was CLOSED!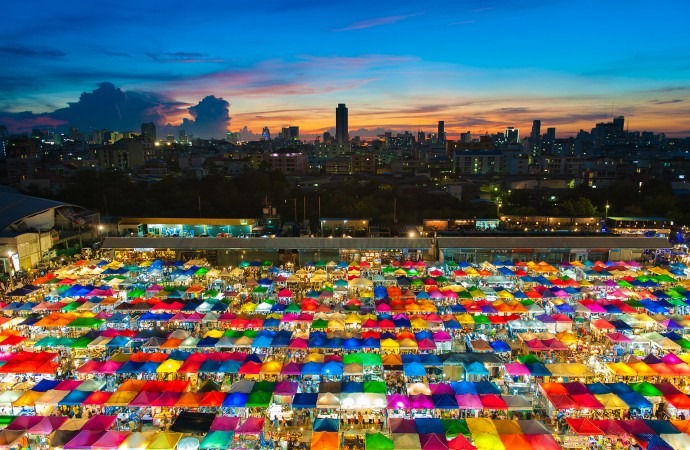 We have no other plans as a backup. Luckily there is a special lake next to Mo Chit station for joggers as well as a park where we can hang out for a while.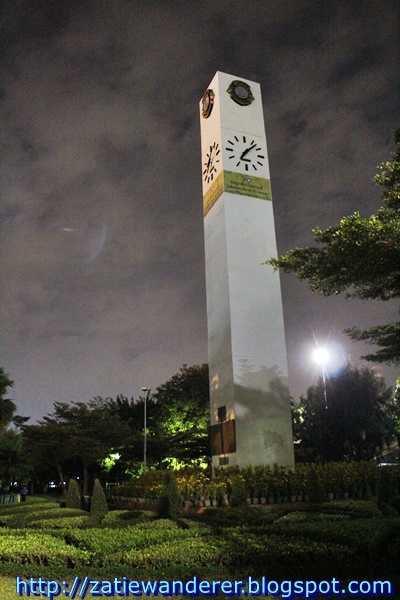 The lake here is not big, enough for jogging during the day for 5-6 rounds until sweating.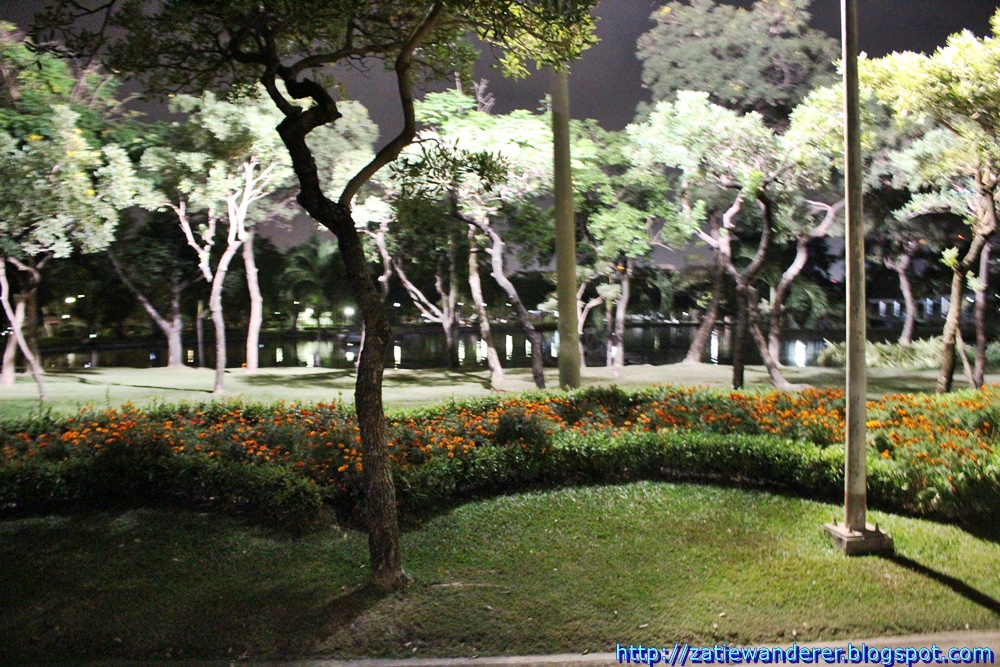 The atmosphere looks like 10.00 pm, even though it is only 7.00 pm. There are still 5 hours before midnight.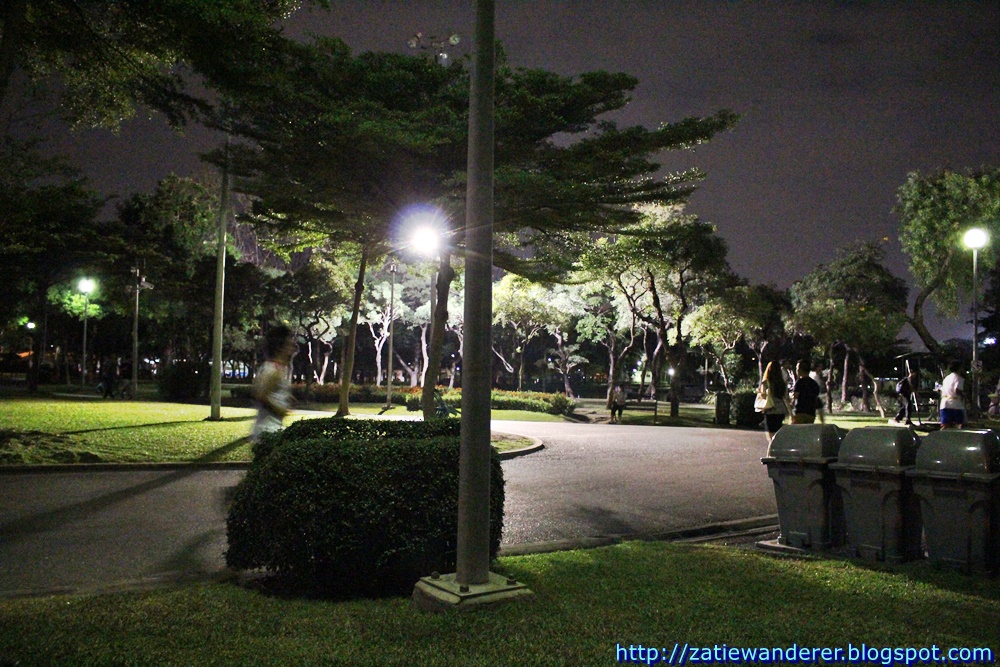 We sat on a small hill and anchored for half an hour. Then I saw a woman sitting on a bench. Her style of dress is like that of an office worker. Maybe this is how people here relieve stress. Or maybe she's waiting for her boyfriend, I'm not sure ..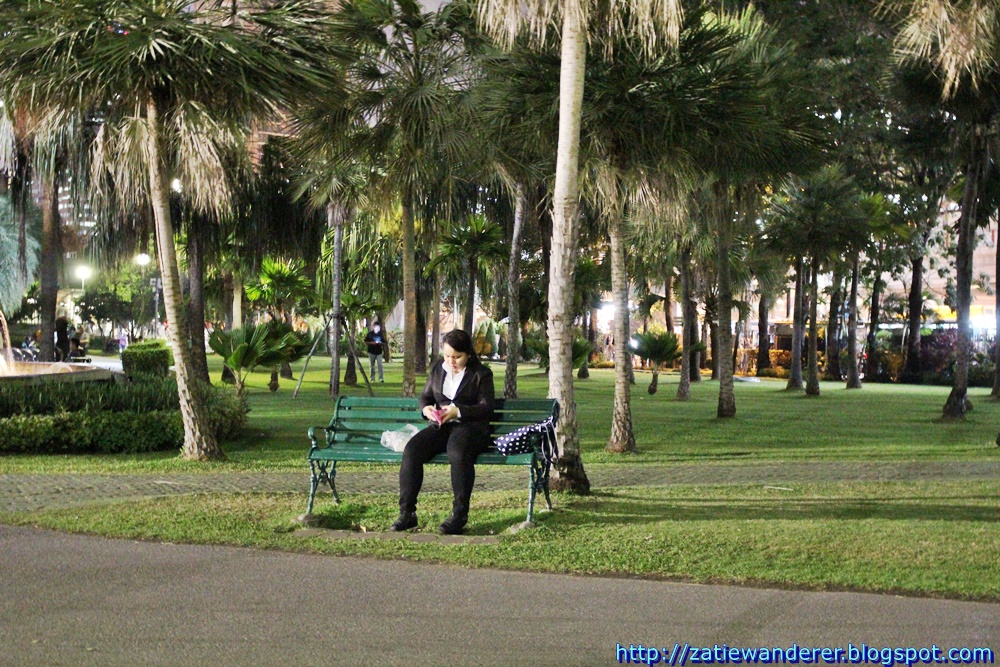 Then we stepped back to Mo Chit Skytrain station to take the train back to Khao San Road.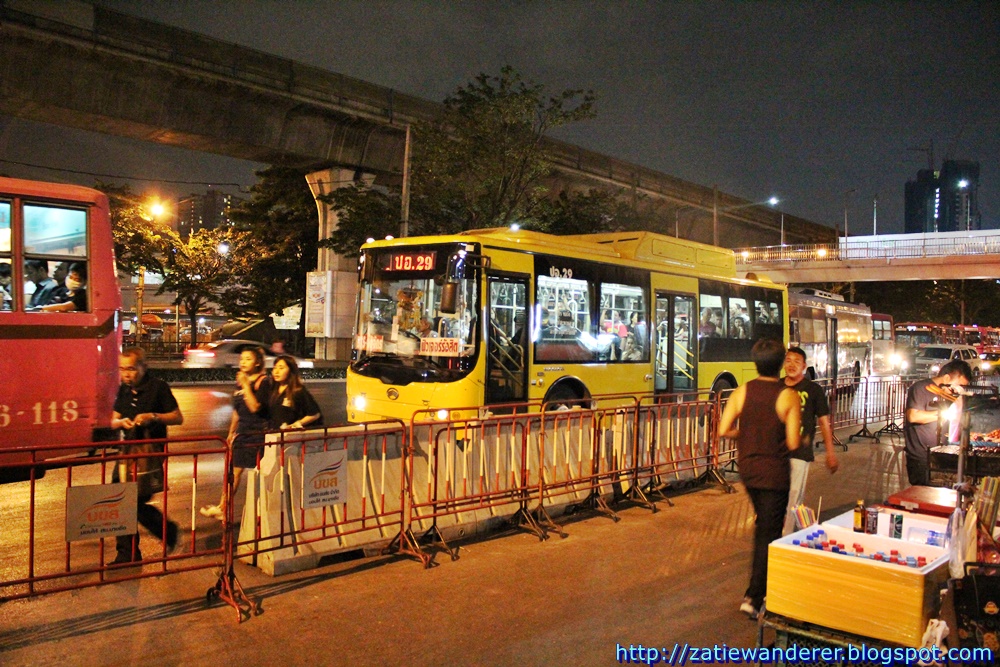 On our first day in Bangkok, we were still not efficient enough to take the public bus. We will try tomorrow. And the flyover leads to the Skytrain station (just mention the BTS station is also acceptable if want to ask directions from locals).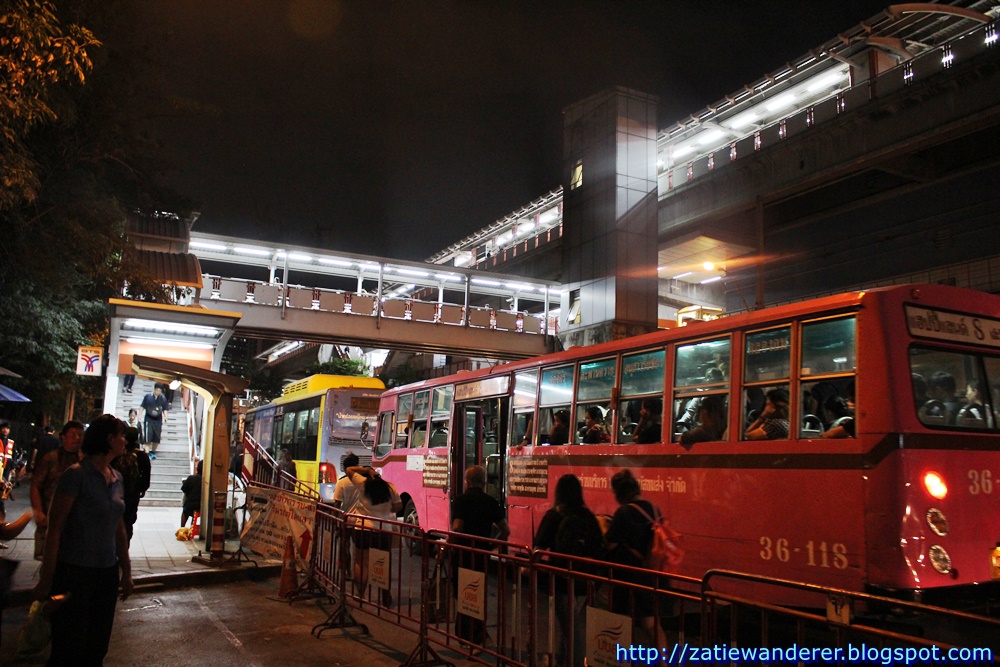 Suddenly on the left, I saw another station heading underground. Wow … there are three types of transportation here. Continue to the next post.