Continued from Thailand – Laos: Day 4 – Part 4 – Review of Maggie Guesthouse and Journey to Hua Hin. For pre-travel, please refer here.
Upon entering Hua Hin city, it was already 3.00 pm. I'm still looking for a suitable location to stop. Although I've informed the minibus driver to drop us at the Hua Hin Clock Tower, my target was a place full of affordable hotels.
It turns out that from the beginning of entering the city to the clock tower, there are no cheap hotels. As soon as we arrived in front of the clock tower, we had to get off and our minibus driver dropped us off there. Only the three of us got off. If we continue further forward, there are no attractions or rows of hotels based on the map. To your knowledge, the road that we stepped our feet for the first time in Hua Hin is indeed a highway. Their 'Phetkasem Rd' highway is similar to the old road between Bentong and Raub (a small town in Malaysia). It is compulsory to enter the middle of the town first before exiting and re-entering the highway.
The location where we stopped, click here.
We rested for a while by the side of the road and put our backpacks in the corridor of the shophouse. Wow …. there is CIMB Bank (the leading bank in Malaysia) at the end of the shophouse. This is great! Coincidentally, we have only half of our money left. But not now, maybe later.
At this time, I did not have time to take any pictures because I was looking at the surrounding situation and any shophouse with a 'hotel' signboard. In fact, our location is the most ideal because there is Hua Hin Night Market next to CIMB Bank. Also visible are rows of hotels and there are many blocks of shophouses to explore. Unlike at the beginning when just entering the city of Hua Hin in the southern part, there are only luxury places such as hotels, shopping malls, and shophouses consisting of only one block/row and others.
After looking around for 5 minutes, we begin carrying our backpacks. I followed in my footsteps and walked on instinct. Arriving on a relatively inland street after going through a few blocks of shophouses, I asked some of them whose job was to promote city taxis. I mentioned a famous phrase that many know, which is 'cheap hotel'! Luckily they are pretty fluent in English. One of them pointed to a hallway leading to a hotel called 'Tong Mee'. It sounds like a garbage can full of noodles referring to the Malay language (Tong = garbage and Mee = noodle).
This is the hallway to the hotel they pointed out. Before entering this hallway, we asked for rates of a few hotels/hostels there, such as Les Bobos Home/Hostel, but all are fully booked. In Thailand, hotels tucked in between these alleys are common. So you don't have to worry, especially when it's late at night because there are no drug addicts and so on. That's what I respect about Thailand.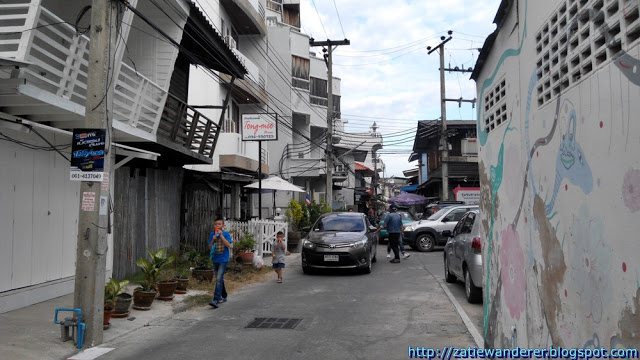 Tatie took the photo. Coincidentally there was a motorcyclist passing by here.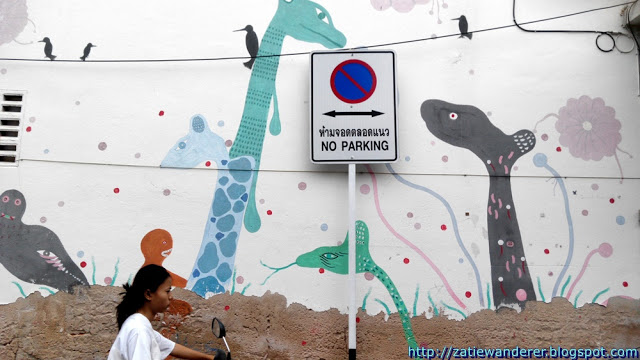 We walked forward and also took pictures of the exterior and entrance to Tong Mee Hotel. At the end of the road, you can go straight to the beach. Unfortunately, we did not have time to enter that alley to go to the beach during our stay here.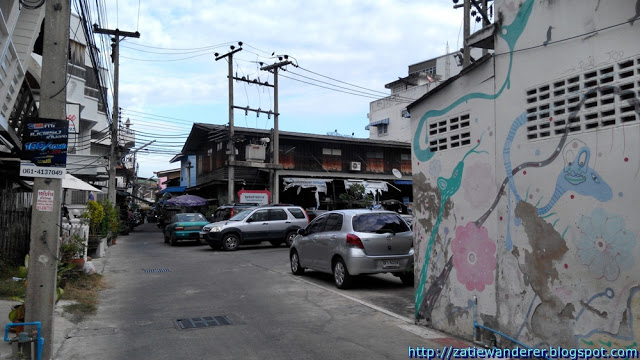 Location of Tong Mee Hotel (Tong Mee House), click here. (UPDATE January 19th, 2023, the hotel is still operating).
Arriving at the hotel, we saw the interior was lovely. And only the reception counter seemed a bit simple. There was a Thai woman on duty and she was very kind and served us warmly. I asked if a room with a queen-size bed if available. We were lucky because the requested room was available, but the price was THB700. Before this, I checked on Agoda and the rate was more or less the same, which was THB650 and above. Probably because of the 2017 new year holidays. I thought, maybe we will stay for just one night only. According to the plan, we will stay for two nights in Hua Hin. So, after checking in and putting all our stuff into the room, we wanted to find out again if there was still a cheap hotel in Hua Hin that is available at an affordable rate while strolling around the city later in the afternoon.
I handed over THB1000 at the reception, but she didn't have enough money to exchange. I only have THB500 in my wallet. So she asked me to give her THB500 by today and I was considered to owe her THB200 and I could pay the balance the next day during check out.
Note: I will do a review of Hotel Tong Mee later.
With the clothes still worn, we headed back out into town. I can't wait to explore. See the signboard above? The hotel's name is Les Bobos Home/Hostel. The place is beautiful and modern but fully booked. Great for solo backpackers.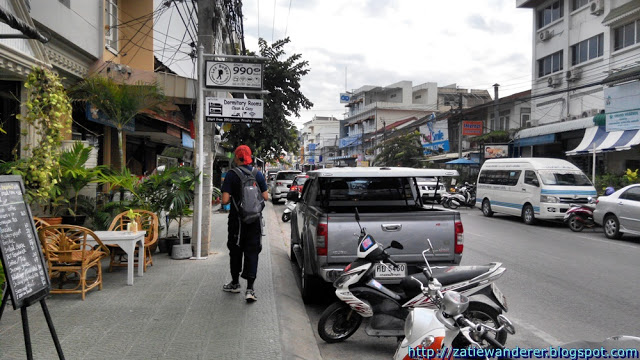 In front of Les Bobos, three women (or shemales) are dancing outside their massage shop. Various types of marketing strategies are available here solely for the profit of the business. Behind us, there was a bar and there were a few western tourists were drinking while entertaining themselves with dances from the three women. If I came solo, those dancers would tweet at me.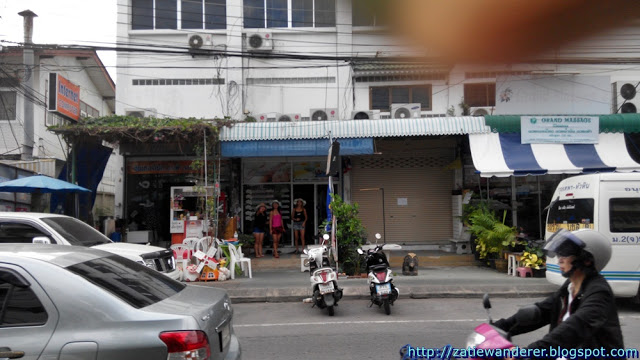 We walked and turned back to where our minibus stopped just now. The reason is to find a halal stall that is said to be located in the Night Market. But on the way, we came across a Muslim stall selling various types of bread such as banana bread, butter and others. We didn't buy anything and just asked about the operating hours of her stall. We haven't had lunch yet and are very anxious to find rice.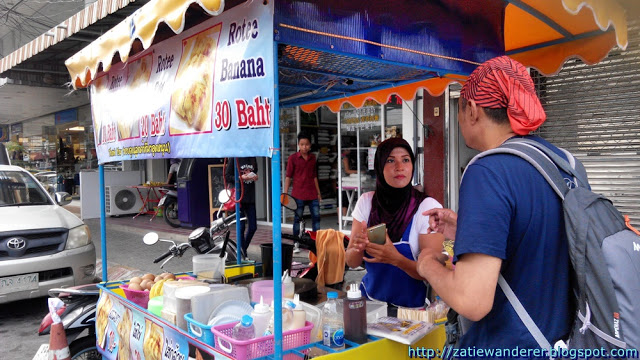 We kept walking forward. From a distance, I saw the red signboard of CIMB Bank. Meanwhile, there are also promotions made by city taxis. So I think the rate is relatively high as well, which is between THB400 to THB800.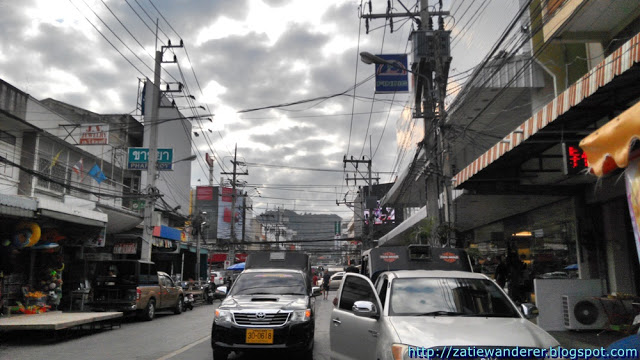 Husband and wife.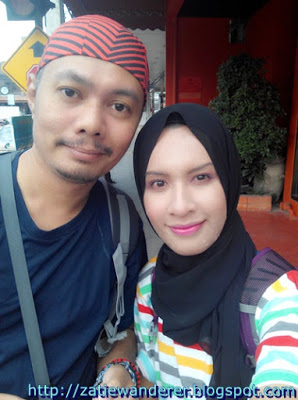 Across the street, there are a lot of cheap items on sale. Because of hunger, everything seen had to be ignored by us. Imagine, this morning we only ate a simple breakfast and in the afternoon at Prachuap Khiri Khan, we ate nothing at all. On Facebook, I found that some backpackers don't care about what or when to eat during travel. My advice, if you are a solo traveler, that should not be a problem. What if there are dependents that need to be feed? Who is willing to let them starve. For me, if I travel solo, of course, I don't care about food. Simple as long as there is little food to be eaten.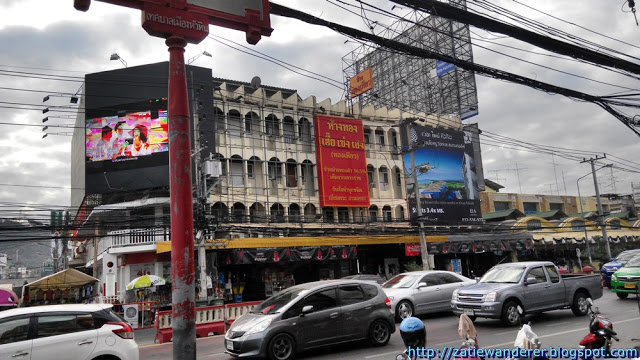 Front entrance to the Night Market, click here.
I stepped forward first. My eyes were searching for halal symbols.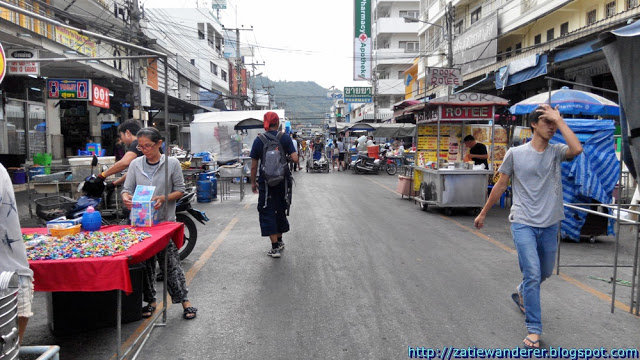 The time is not yet 4.00 pm. So, there are many more stalls in the Night Market that have not yet opened.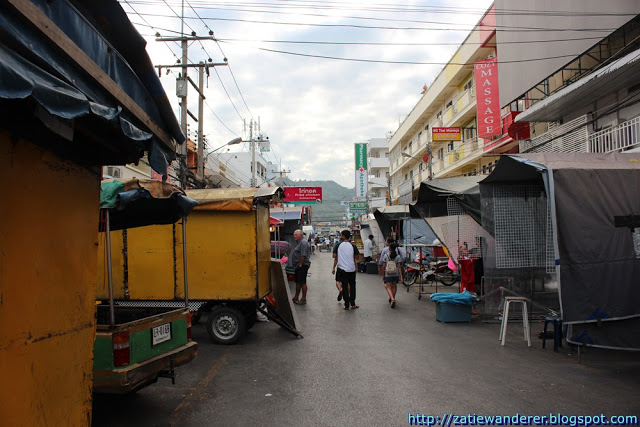 There are many small toys. So we had to calm down Aqif, who had started to behave because of the toys.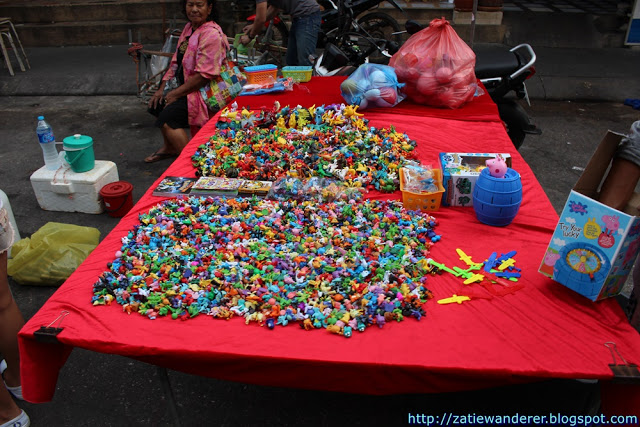 In the middle of the Night Market, there are also toilet facilities.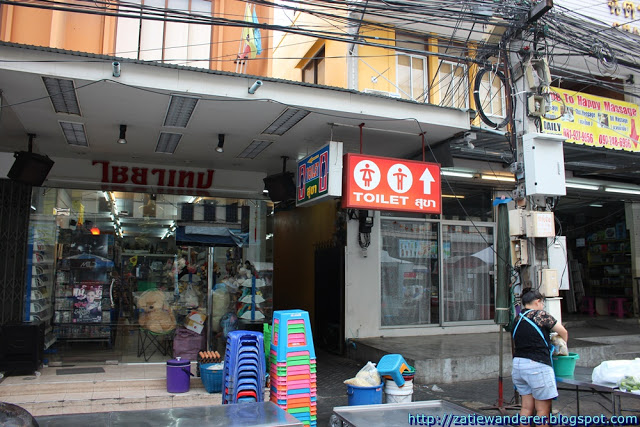 Seafood! Supposedly we can eat seafood because most of it is halal except for those that live in two types of nature. Maybe you can ask the seafood seller to cook or boil the seafood without any gravy, sauce and other things that are a bit dubious. Then go to 7-Eleven and buy sauce.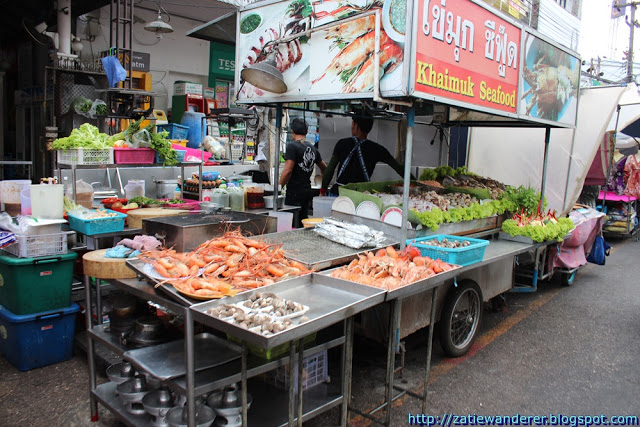 Various types of shrimp, snails and others. The price alone is quite pricey. Next to it, there are also fruits for sale. This can also be eaten as a starter before eating heavy meals.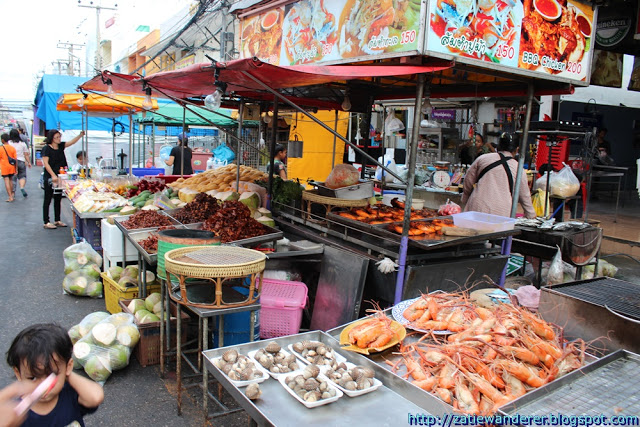 Tips for non-Muslim countries for Asean travelers: After finishing the Thailand-Laos trip, I think it is unnecessary to look for rice alone when it comes to eating. Whatever you find, eat as long as you feel full, for example, fruits, bread, seafood, western (fish and chips), grilled fish (even if the nets used to grill fish are also shared with other meats such as pork) and canned foods such as tuna or sardines. For those who come to travel with family, eat (for example) fruit until full.
I'm also interested in that traditional hat. I also forgot to ask about the price. There is nothing wrong with those who want to get attention by carrying a backpack while wearing a hat.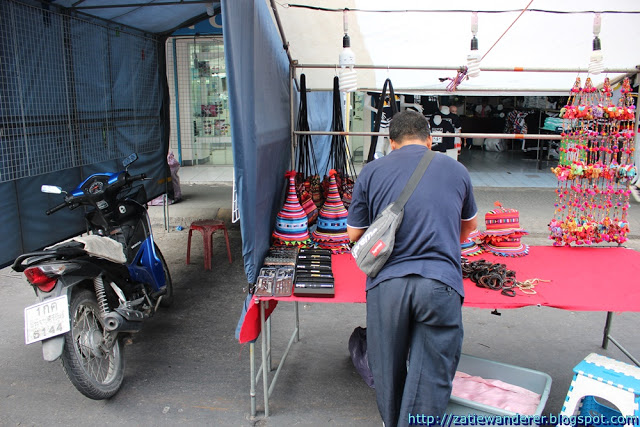 It looks similar to pelikat or batik cloth folded into square-shaped and wrapped as in Malaysia or Indonesia.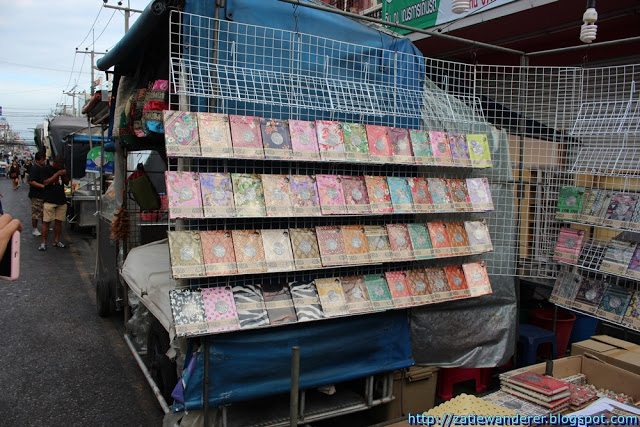 "Give way, please!" His face looked serious. Why am I standing in the middle of the street?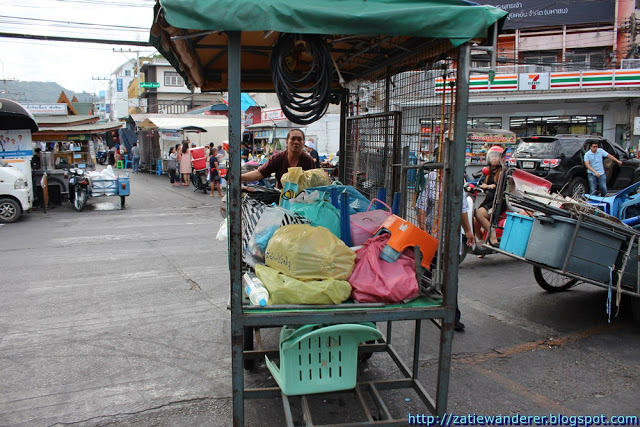 7-Eleven in Thailand grows like a mushroom everywhere like crazy. Ironically, a row of shophouses can have up to two 7Es! Not far, only 200 meters away from each other.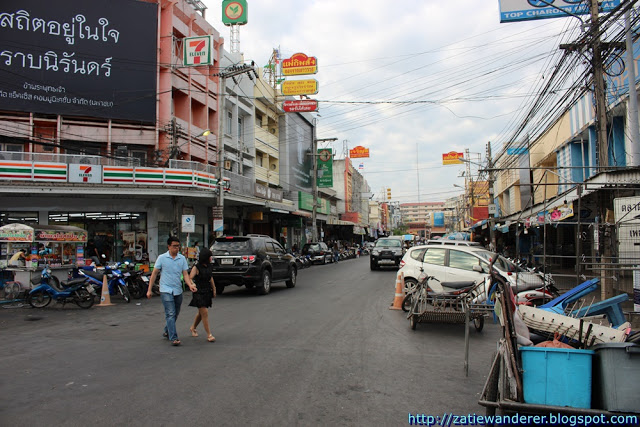 Night Market is divided into two parts. So now we are in the second part. For your information, in the middle of this is where many tuktuks will pass and stop. They will not pass in front of the clock tower. Most tuktuk routes come from the south of Hua Hin.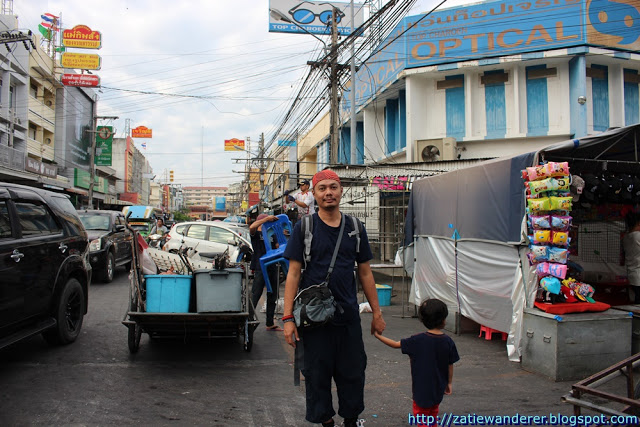 After crossing, we will enter the 2nd part of the Night Market, the street on the left of the picture.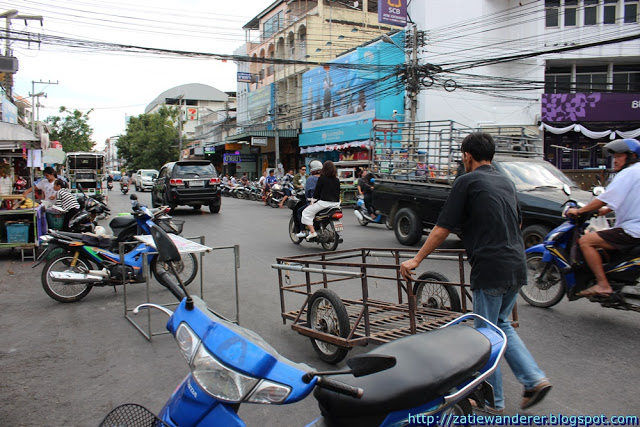 At the beginning of this 2nd part, there are many massage parlors.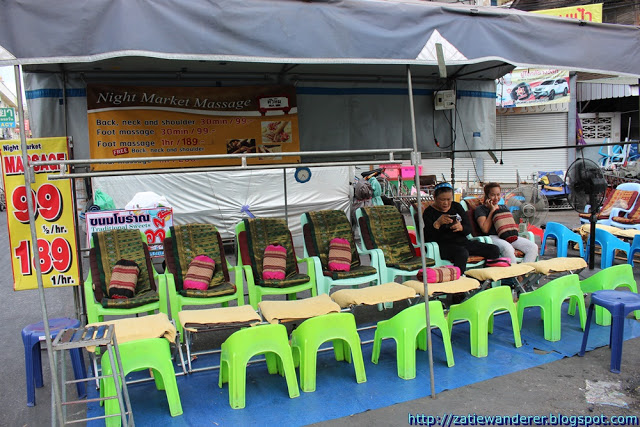 The second part is a bit narrow, unlike the first part. Look, there is my favorite bag for sale, Fjallraven Kanken. The price for the original bag is MYR300. I don't know how much this fake one costs. Interested, but not suitable for daypack use during travel because its shoulder strap, even the original version, is too thin and will hurt the shoulders.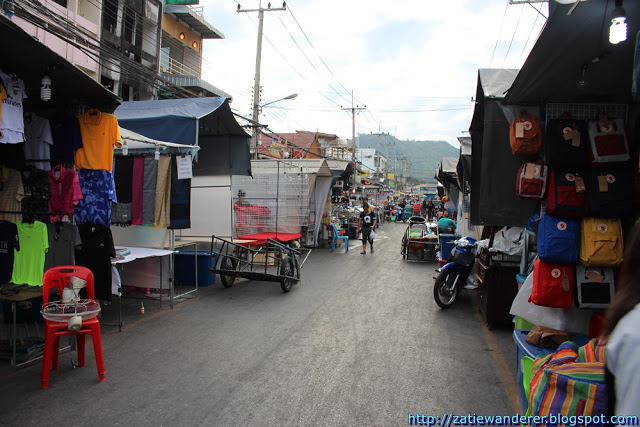 The seafood here is getting bigger. I can't imagine the price of that lobster.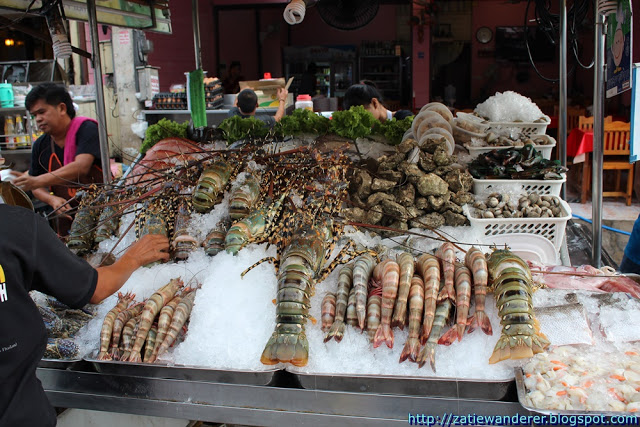 These are one of the bars that I think will enliven this place at night and are filled with outside tourists. Hua Hin city is categorized as an entertainment place. It is not a place to relax like Cha-am or Prachuap Khiri Khan. For example, Genting Highland (entertaining) vs. Cameron Highland (relaxing) in Malaysia. That's why I like Prachuap. But on this trip, we had to skip the town of Cha-am because thinking the place might and surrounding conditions might be the same as here and the location is in Hua Hin district.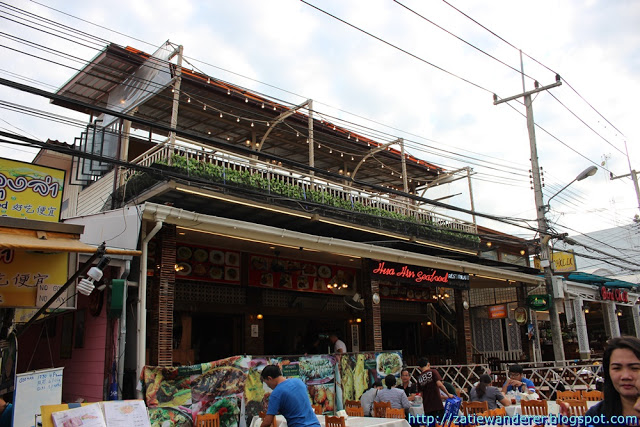 Various types of Tattoo patterns to choose from.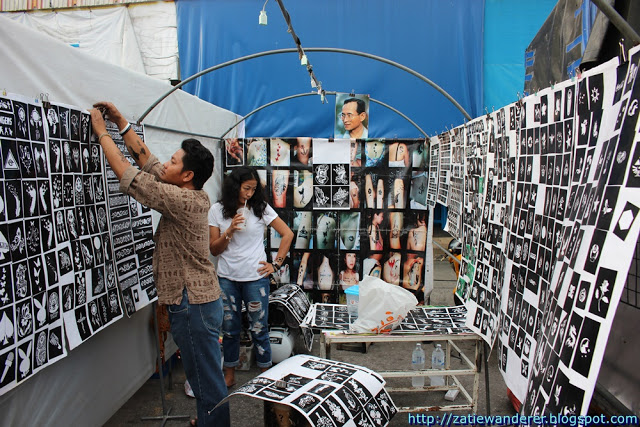 Many handicrafts or mini/small wood-based products. I am very interested in mini snooker tables. But, even if it's cheap, how can we take it home? Our backpacks are getting crowded and there are a lot of things to carry on hand.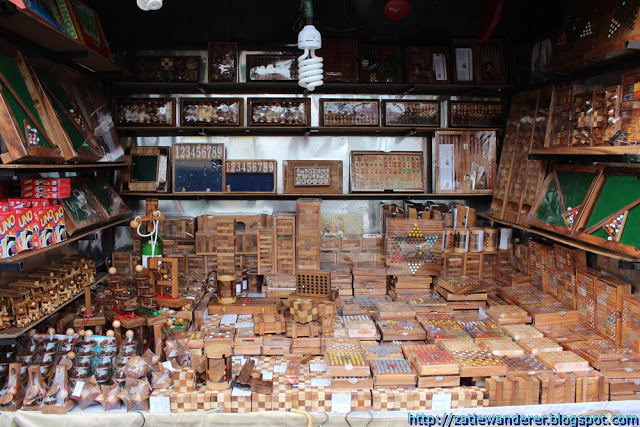 I'm not sure what kind of snail this is.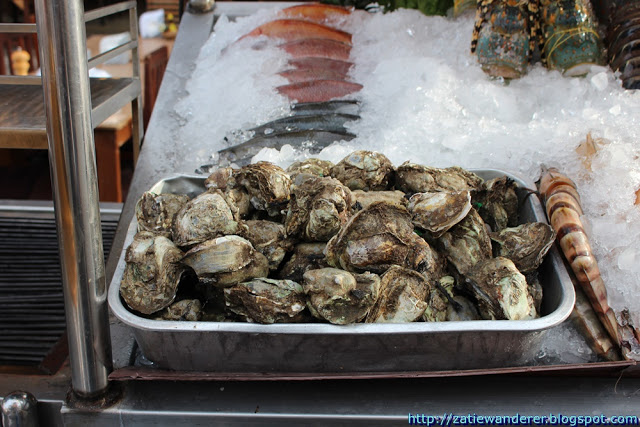 This shop sells souvenirs. As a result of the "look first, later we will look elsewhere that may be cheaper", we have bought a magnetic fridge in other stalls that are pretty expensive. It feels cheaper here.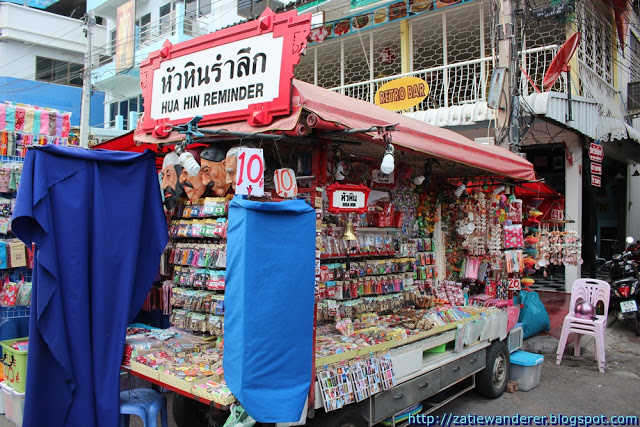 The toys that drove Aqif crazy. We also managed to buy a palm hand-sized toy car, it looks good. The car door can be opened and it is made of iron. We attempted many times to bargain but can only be reduced as low as THB300.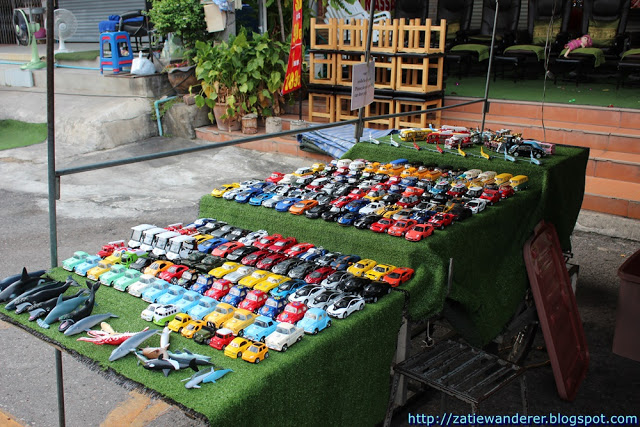 A Hua Hin baby.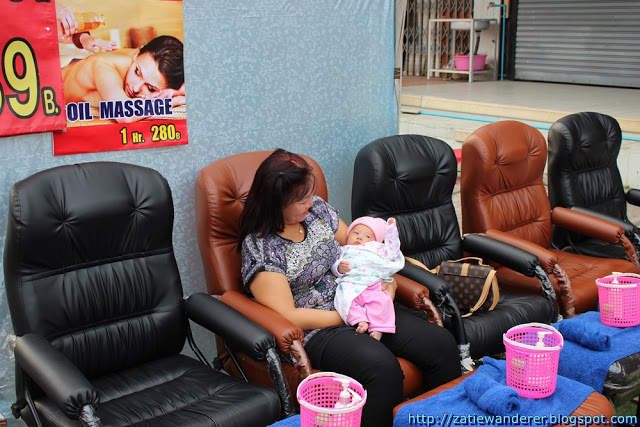 Presumably, it is a work of art that uses candles. Luckily there is no middle finger, hahaha! I think this stall is already at the end of the 2nd part of Night Market street.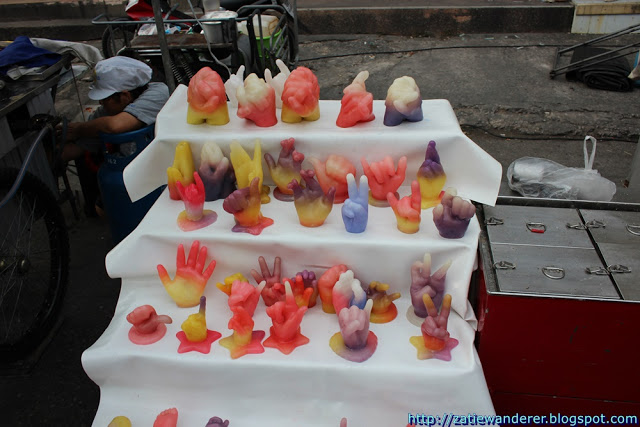 I'm still looking for a Muslim food stall, but it doesn't seem to be there. Coincidentally, at the end of the road, we came across two veiled women passing by. I also asked in sign language. Unfortunately, they don't seem to understand my sign language. Meanwhile, an uncle reprimanded us and showed us his stall.
Without a second thought, we rushed there. I noticed it at first but ignored it because the woman selling at the stall was not wearing a hijab. It doesn't matter. As long as there are halal symbols and the writings of Allah and Muhammad, it is okay. We will keep looking for halal food only for as long as possible. If we are about to look elsewhere, we probably won't find any.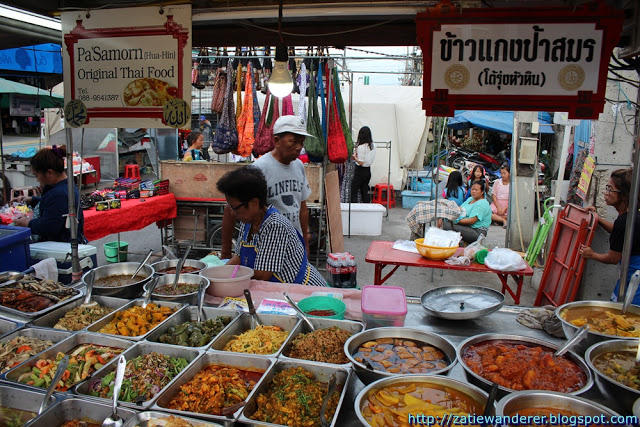 Among the side dishes that we ordered here. If you keep walking on the road behind Tatie, you will meet Hua Hin train station.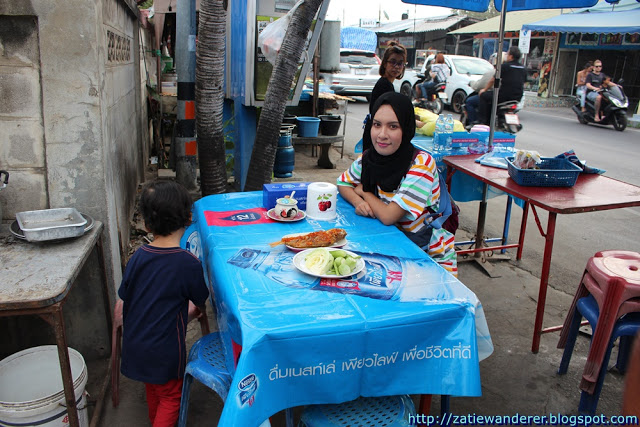 Various types of side dishes are available. Not bad. The side dishes we ordered were also delicious, probably because we were hungry. After eating, I paid but forgot the price. As far as I remember, it was only THB200.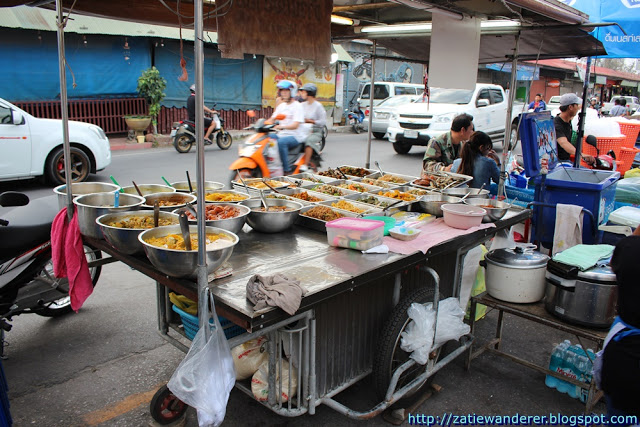 GPS location for the Muslim stalls above, click here.
We had to face the Night Market again and step back to the main entrance on the next trip. After all, nothing is interesting other than the Hua Hin train station at the main road's back of the 2nd section.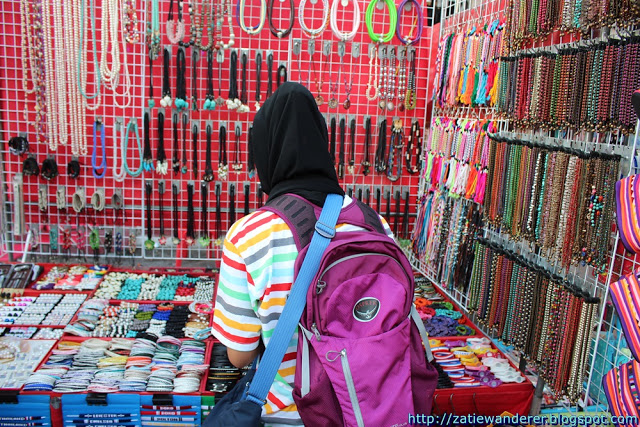 Time for shopping for light and easy-to-carry items. Tatie came across a shop selling earrings and bracelets. As for the pictures below, it is for reference for female travelers reading this blog. If you want to buy, bargain as much as you can. But after bargaining, do not reject the offer and stepped away. It's quite rude.
While I was waiting for Tatie at the store, of course, as a man, I wasn't interested in all these earrings and bracelets. So I tried to entertain myself and invited Aqif to look at the shop next door.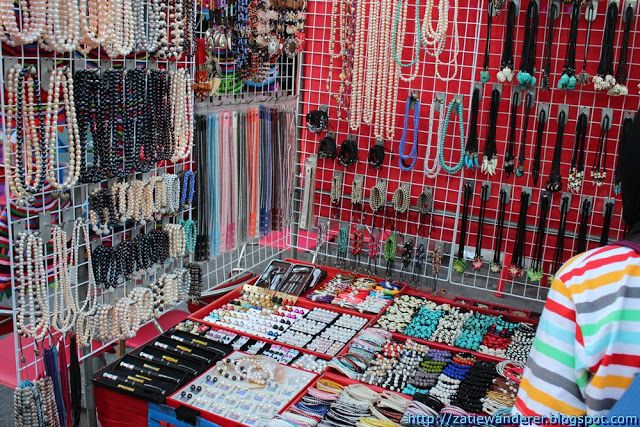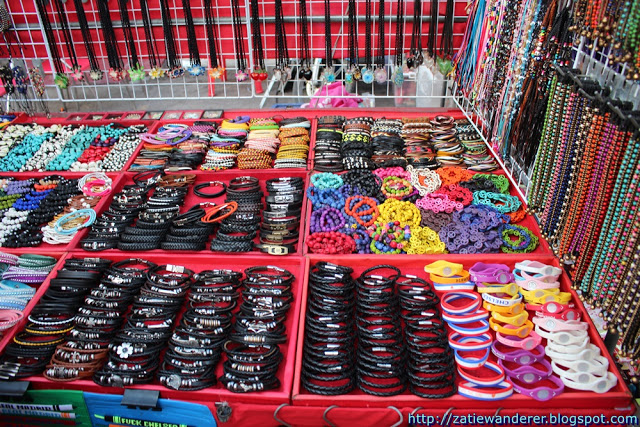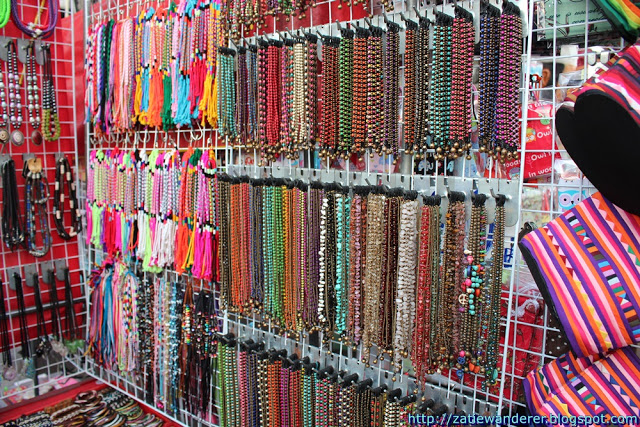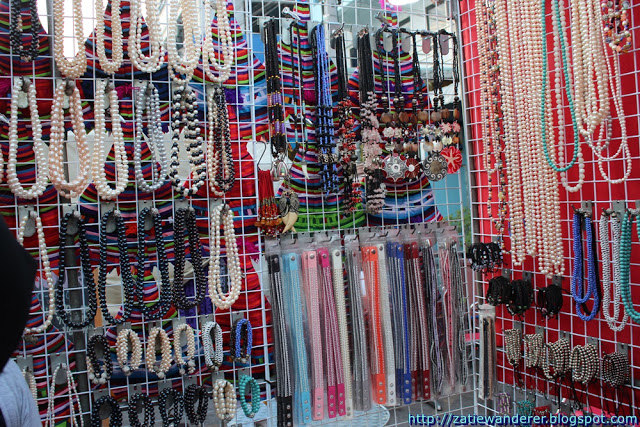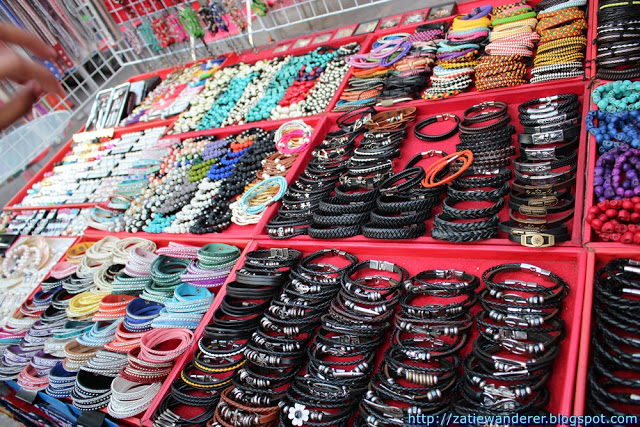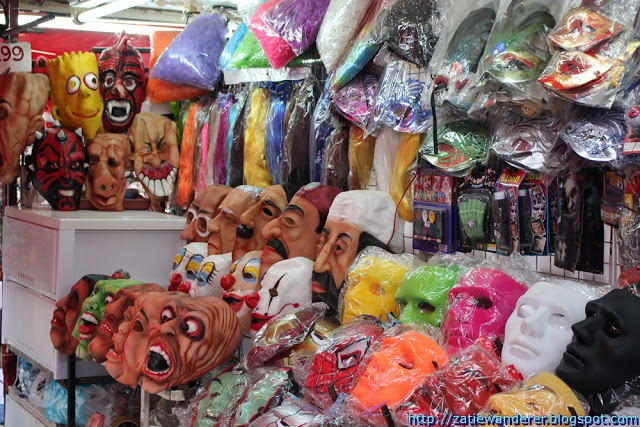 Haha, scary! I'm also surprised that Aqif is not afraid. Hardcore bandits definitely love this mask.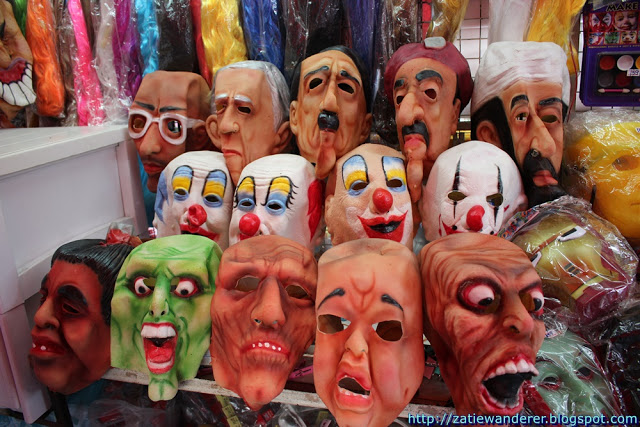 Eh! Look like a shit. Indeed it's shit. It also has replicas, not just motorcycles and cars that have replicas. But please do not make it a display item in the living room at home.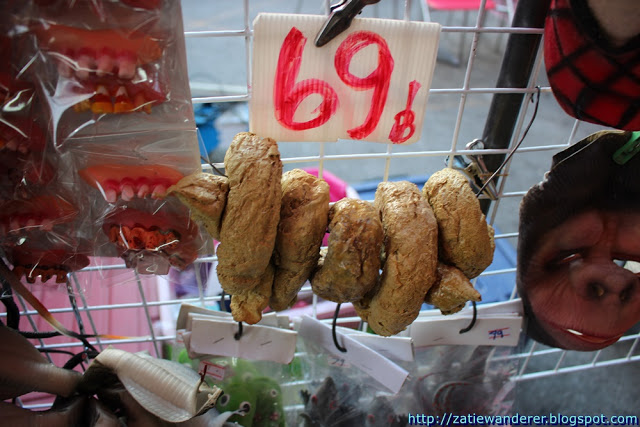 Who is this guy? A smiling face because he already filled his stomach with food.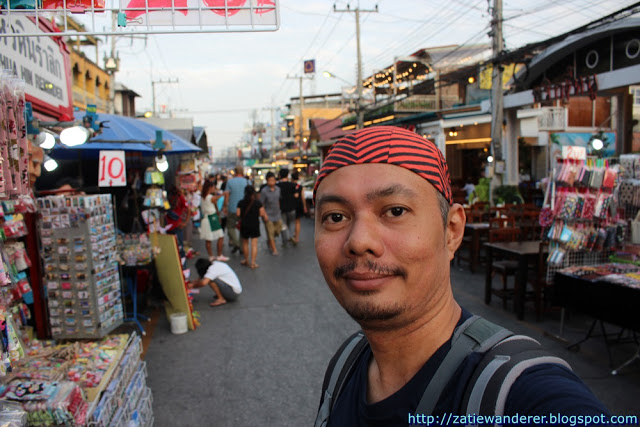 I like to see people from Asian countries carrying babies from the back, especially in Laos, Cambodia and Indonesia.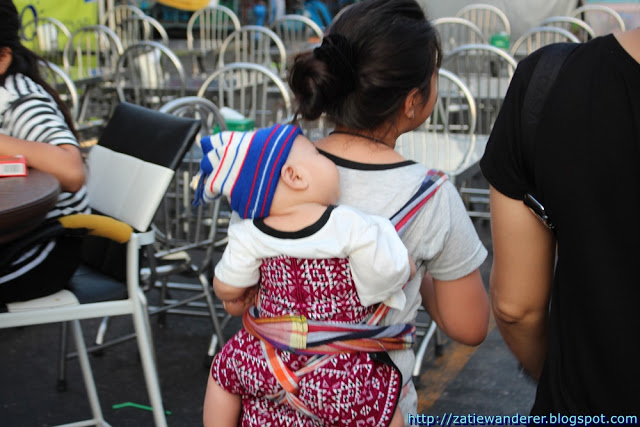 As soon as we stepped to the end of the first section, heading to the main road that we entered at the beginning, we came across this Muslim stall. How did we not notice at first? I think maybe that time hasn't opened yet. And for those of you who are looking for this stall, from the main road (Phetkasem Rd), step in within 50 meters and look to the right. I think the best time it opens is 5.30 pm onwards.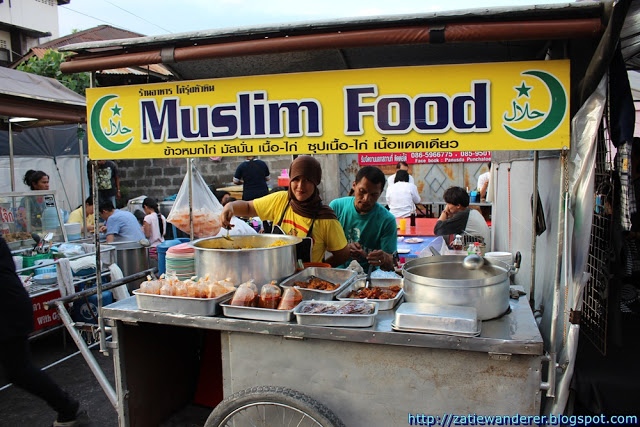 This is the grilled fish I said earlier. If you find it challenging to find halal food, you can also eat this grilled fish as long as you do not ask for gravy, sauce, or seasoning. We don't even know what the seasoning contains, right? Of course, there will be issues like, "isn't the same BBQ used to grill pork?". If it's an emergency, think for yourself ….. hehe.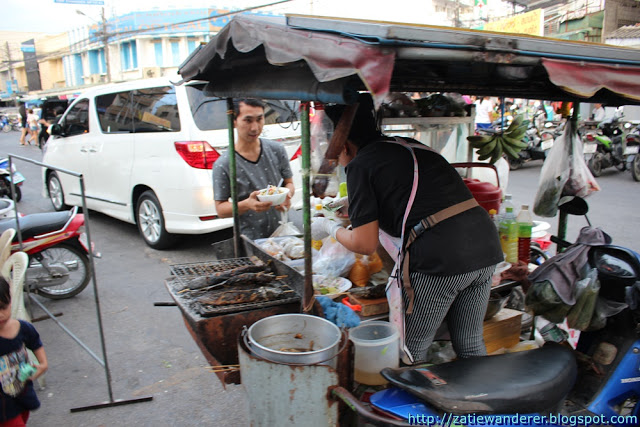 Next, we went back to CIMB Bank, thinking about what activities to do next. Ok, I got the idea for us to ​​walk along the main road (Phetkasem Rd) while looking for cheaper hotels to stay on the 2nd night later.
Walking…
Walking again …
And left Tatie and Aqif at the edge of the corridor…
As I stepped into the hotels and asked…
What is the rate? Most of the hotels we found were all priced at a minimum of THB890 per night! I checked Agoda and Booking. It's the same as the minimum price of THB650 and above. It seems that we have to continue one more night at Hotel Tong Mee.
Where do our feet walk after this? Continued to next entry… Thailand – Laos: Day 4 – Part 6 – Pone Kingpeth Park and Bluport Shopping Mall in Hua Hin.