Continued from Thailand – Laos: Day 12 – Part 2 – Unique Architecture At Buddha Park. For pre-travel, please refer here.
The trip to Laos became bland after a case of almost a fight with a tuktuk rider.
This blog post is on the 13th day. The previous day which was the 12th day, after returning from Buddha Park and boarding a bus heading to Vientiane bus terminal, we stopped at the side of the main road as the bus did not enter the area inside Khua Din bus terminal which is considered the main bus terminal for Vientiane.
With the absence of a Laos sim card, didn't exchange the money and only very limited baht money left and did not book any hotel yet, suddenly we were a bit stuck. We put the backpack on the side of the road first and started thinking of a solution. What is our destination after this? I only expect HERE Maps and MAPS.ME only. Luckily, I have downloaded the offline version first. However, not all locations are updated and it is not easy to find because the names of places here are mostly in Laotian writing.
The location of the bus stops and drops off passengers. Image source from Google.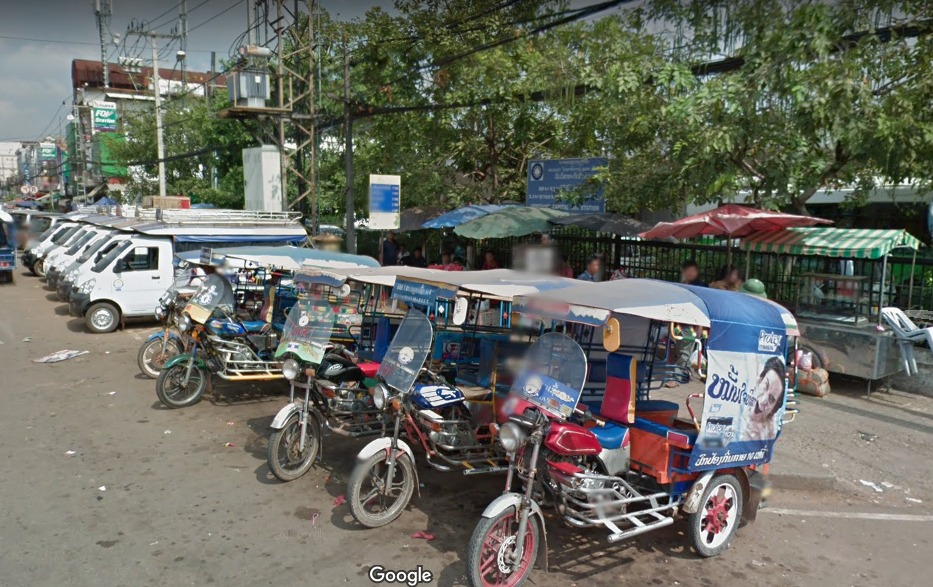 From a distance, I saw a motorcycle tuktuk across the street. I crossed the street while my family was waiting by the backpack. I also asked about the price from here to the location where I think there are many rows of hotels. More precisely close to Chao Anouvong Park which is always held a night market.
The distance is only 1.3 km. I also asked, how much does it cost for the whole family. He answered clearly "fifteen thousand kips". I made the mistake of not taking out the phone and typed the number 15 on the calculator as confirmation. Then I agreed and we went to Dhaka Restaurant which he said serves Muslim food.
Arriving there, suddenly "fifteen" turned into "fifty". I got furious. According to the current exchange, 15 thousand kips is equivalent to MYR7.30 and 50 thousand kips is MYR24. Wow, the difference is almost MYR17 for a 1.3km journey only! I started to speak louder with him and just like about to do a fight. He thought that I did not dare, but I deliberately stood nose to nose with a distance of only 10cm. My voice began to grow louder as three western tourists who were hanging out drinking outside the restaurant looked at me. He was not satisfied until he waved to his tuktuk gang who were hanging out in the next alley to join our quarrel.
Fortunately, the tuktuk driver in the alley didn't care. He was speechless and I was silent for a moment. I kept quiet because I was tired, not because I was scared. Long story short, I took out the remaining baht balance equal to MYR15. I just give it to him and say this is all I have. Eventually, he agreed. After taking the money and walking away, he suddenly turned around, greeted and apologized.
We lifted our backpacks and went into the Dhaka Restaurant. Meanwhile, I also explain to the western tourist who was watching just now about the incident that happened. They also understand.
I will tell the story of the situation in Dhaka Restaurant later as we have dined here for the second time. The first time, of course, there was no mood to take pictures and so on. After all, we were very hungry.
The second story is, after leaving the Dhaka restaurant, we slowly went looking for a hotel. We also walked quite a distance from a regular hotel to a boutique-style hotel including a 3-star hotel.
As far as I remember, after finding the 4th hotel, then the price was quite attractive. I forgot the price but not more than MYR30/night. I will tell you about the hotel later, the condition looks like an old palace as if it has been abandoned for a long time.
The third story, I have a fever! Somehow, that evening my body started to feel unwell. I suspect two causes i.e. very frequent sunbathing under scorching and hot weather or maybe because of roasted bananas bought at Buddha Park. But Tatie and Aqif did not suffer from any health problems despite eating the same roasted bananas. So, maybe because of the hot temperature.
From evening until tomorrow morning, my body became very, very weak. I had diarrhea a few times. And unfortunately, that night my family couldn't have dinner. Luckily there are instant Maggi noodles and a water heater kettle. That night, Tatie and Aqif went down to the shop downstairs to buy some snacks. Poor them.
I should have gone to the hospital because according to information on Google, my condition led to dehydration and the need to insert an IV drip needle through my hand. Sudden lack of water can be fatal. This is not mean lack of water due to lack of drinking, but the water that is in the blood cells. By the power of God, the condition of my body gradually improved. Probably because I forced myself to drink a lot of water that night and forced myself to eat as much plain bread as possible as well as take ORS (Oral Rehydration Salt, refer to the last picture in this post).
But… when I Google, oh my god, it's similar to the cholera symptoms…
Ok, this is the story on the 13th day. That morning I was still weak and if I was forced to walk, I might faint or be like a person with sudden low blood pressure. We rested again in the hotel room until 11.30 am.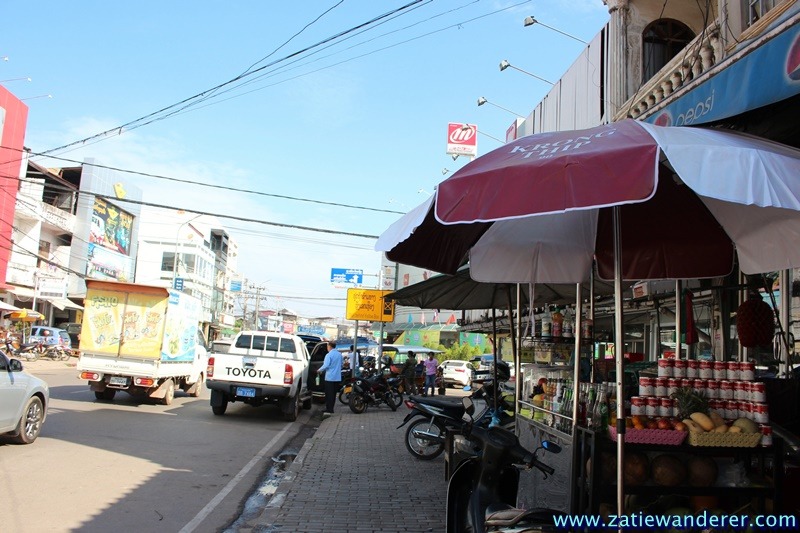 Because I felt sorry for my family who didn't have dinner last night, I managed to get out of the hotel even though I wasn't in the mood. Stepping slowly to find an available restaurant.
Then we came across a fruit stall. When our body has health problems, it is obligatory to eat fruit.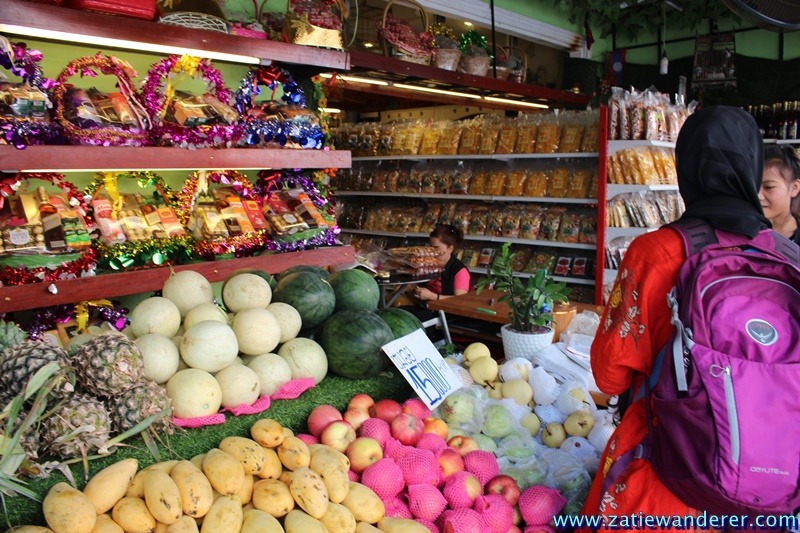 Several types of fruits at reasonable prices. The price of 25k kip is equivalent to MYR12. Quite cheap also for a kilo of apples. Arrangements for fruit as gifts are also available here.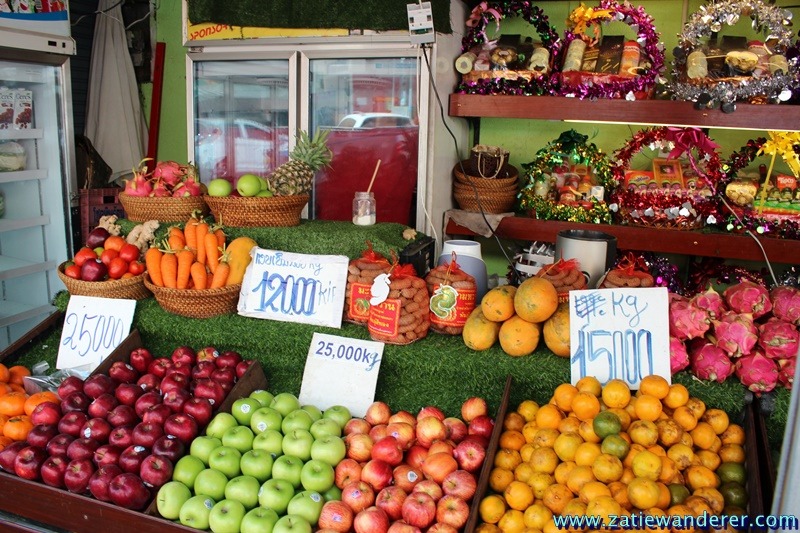 Here, we only buy fruit. All the chips here were not bought because of doubts about their contents.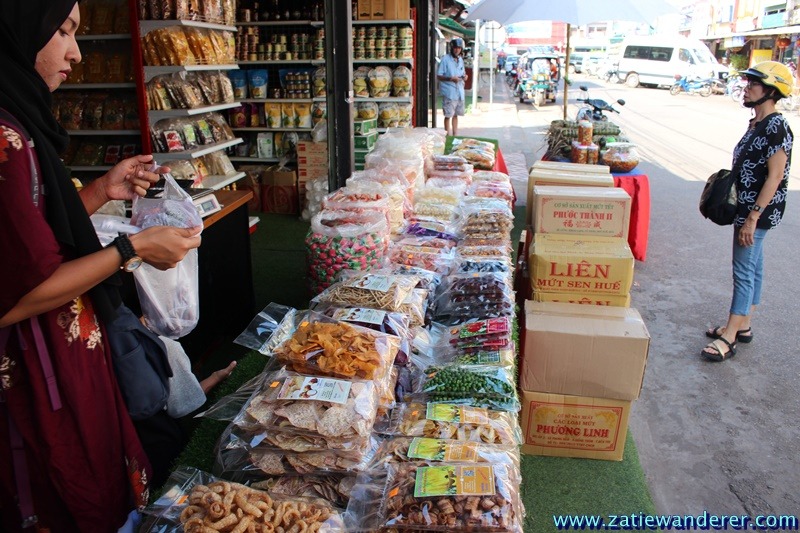 Meanwhile, I checked the GPS to see if there were any interesting attractions here. Our activities here are very limited for me but not for Tatie and Aqif.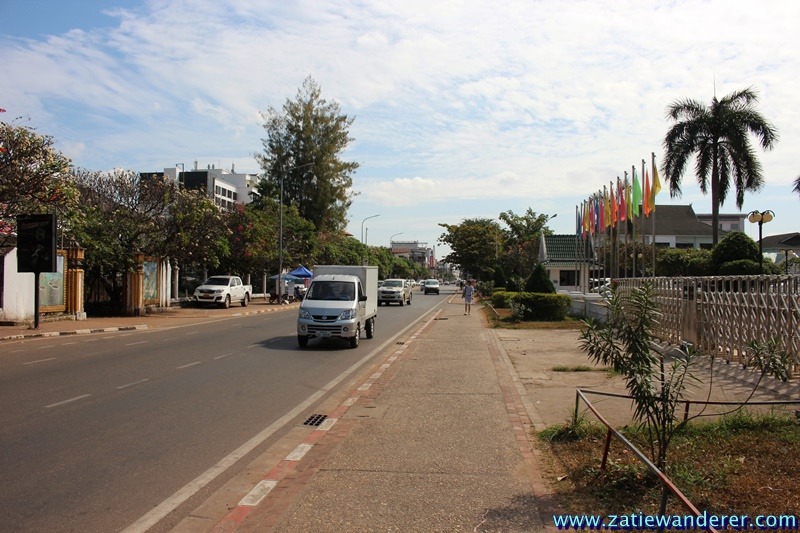 We continued walking while eating towards a building.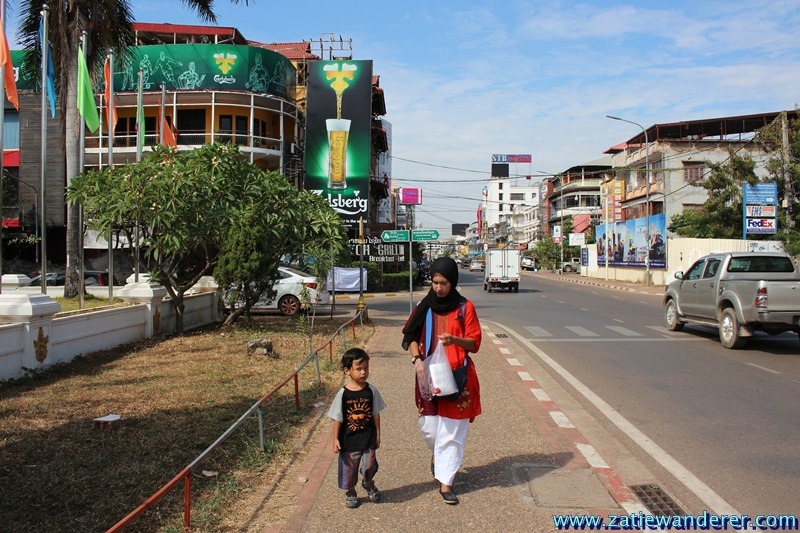 This is the building of the Lao National Cultural Council. Nothing is interesting here and we didn't go inside. Yeah, my face is out of the mood.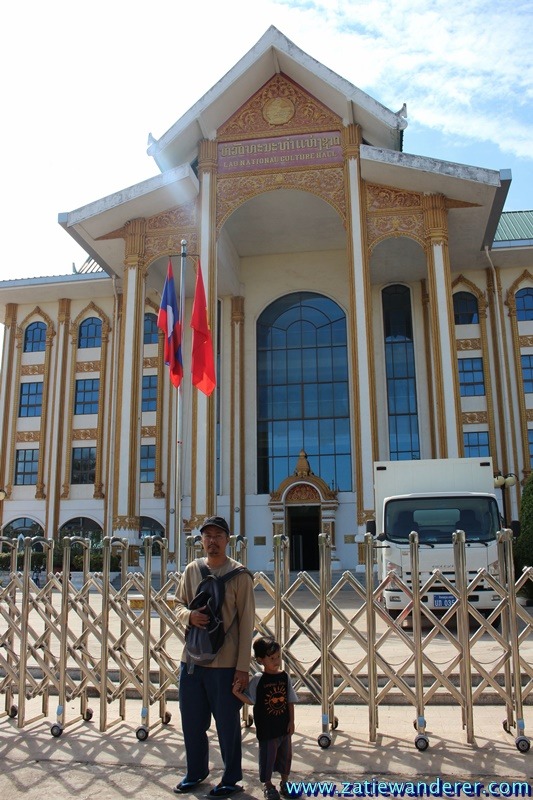 GPS location for Lao National Culture Hall.
Later, I found out that the nearest attraction here is the Lao National Museum. Once we get into this area, oh God! It still uses a red dirt road. This is a national museum, the same standard as the National Museum of Malaysia. Not a town or county-level museum. That's how poor Laos is.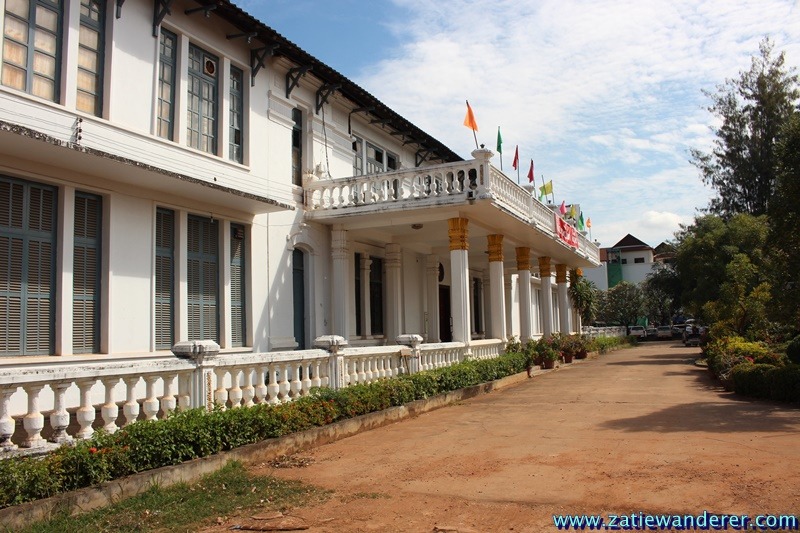 Pictured memories at the main entrance of the Lao National Museum.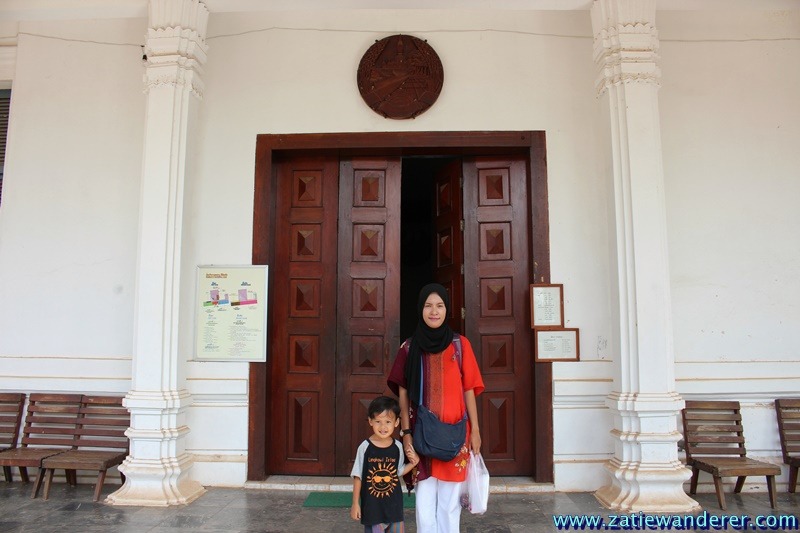 This is the reason why we just hang out and take pictures outside. We arrived here during lunch hour which is 12.00 pm to 1.00 pm and the museum is closed for a while. It is different in Malaysia where lunchtime is from 1.00-2.00pm. Not wanting to wait long, we just paced the outside.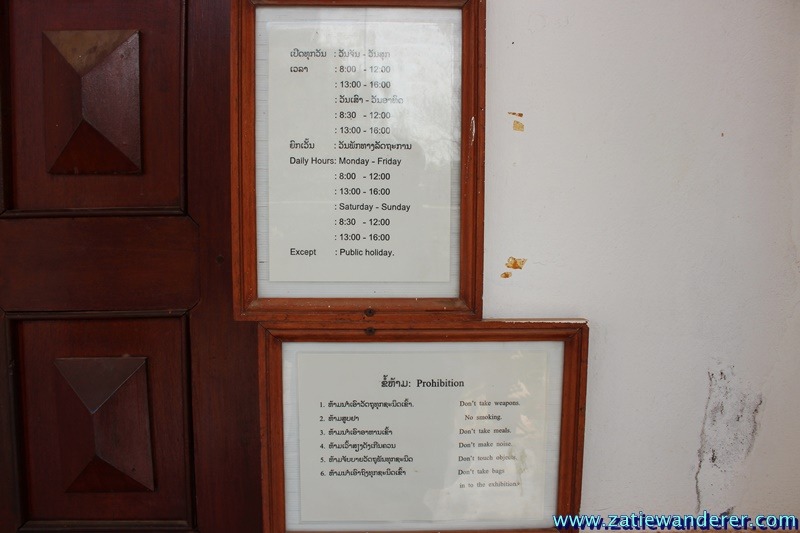 There is no charge to enter this museum.
The museum has two floors from prehistoric exhibits, ancient to modern.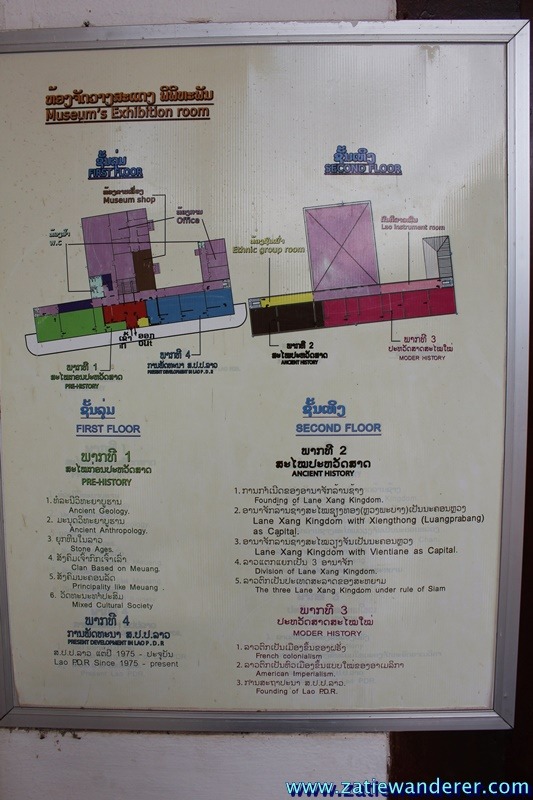 On the outside, we came across a rather unique exhibition of wood carvings that may have been made from a large piece of tree.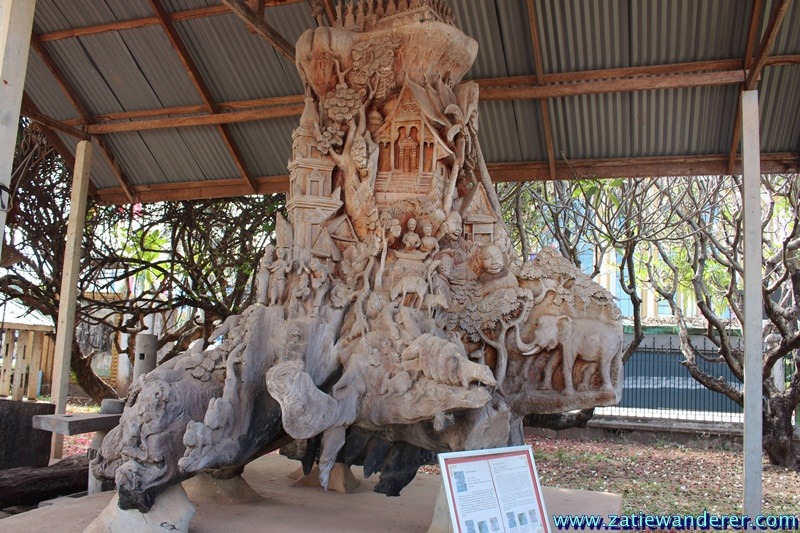 If seen at the bottom, there are creeping roots that are also carved.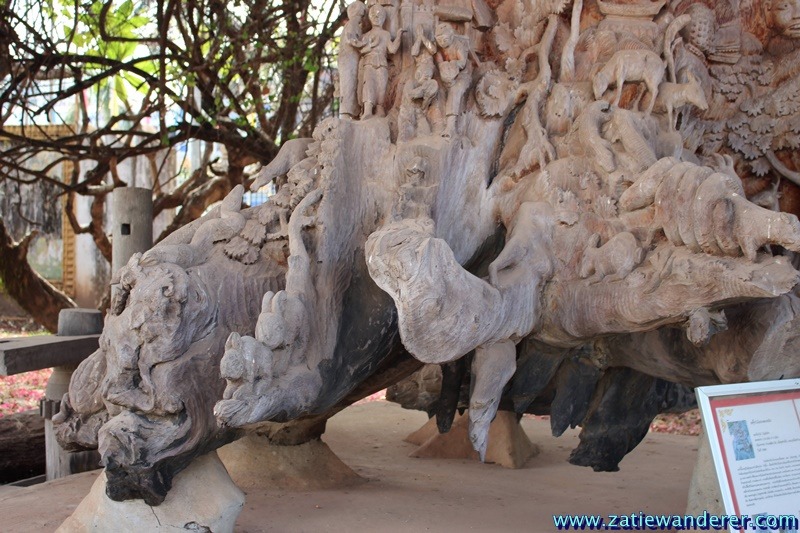 According to information, this wood was completed carved in 1999 and originated from Lak Sao Village, Khamkert district, Bolikhamxay province. The sculptures were made by all the teachers who teach at the Lao National Institute of Art.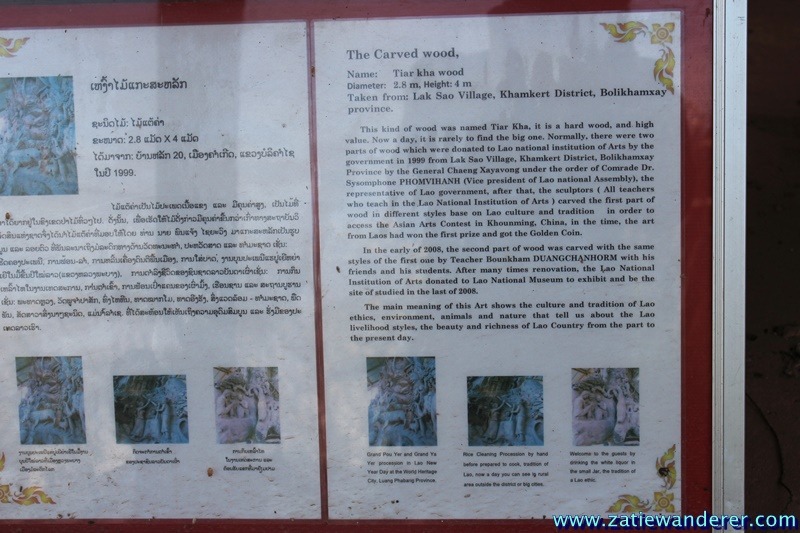 The main purpose of this sculpture is to show the art, culture, ethics, atmosphere, animals and nature of Laos as a whole.
From the bottom reaching up, it looks like an old castle.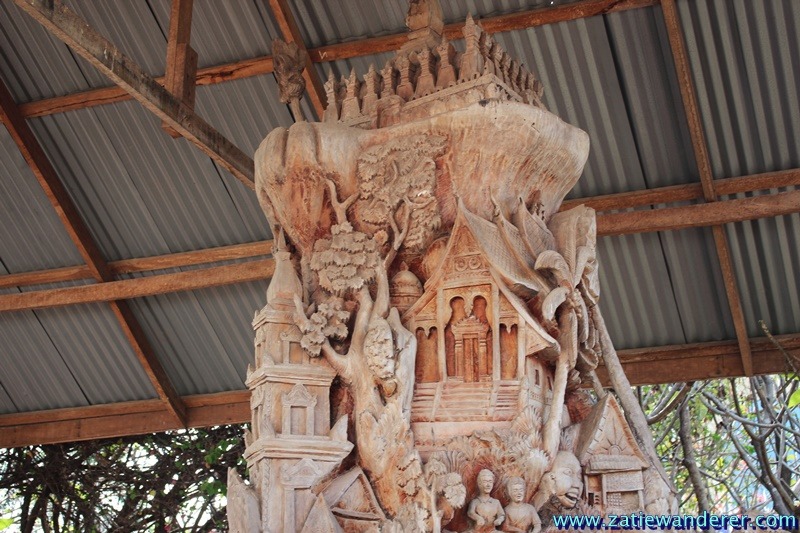 On the right are more carvings.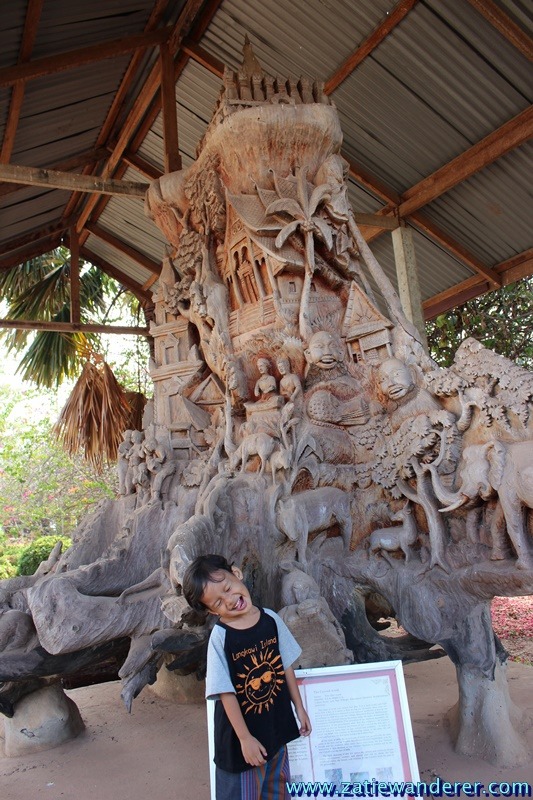 This is on the back of the wood. Farmers are seen working while carrying children and also wild animals found in Laos.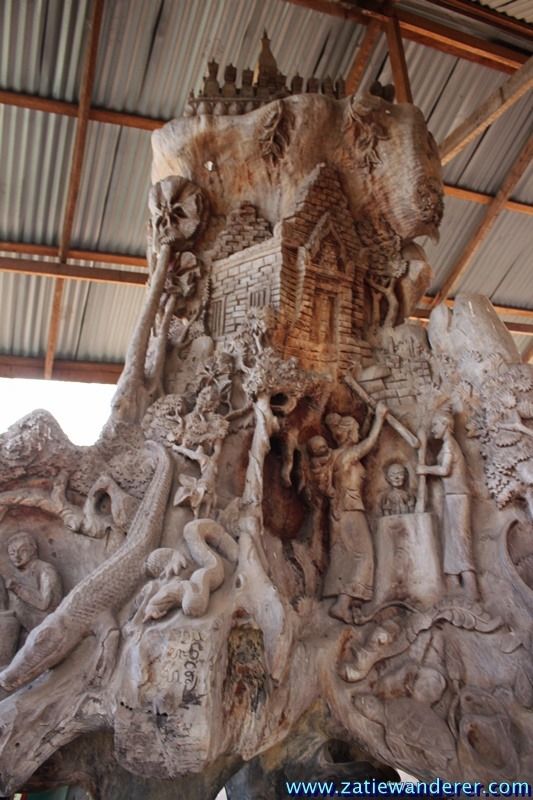 The left corner section is more detailed.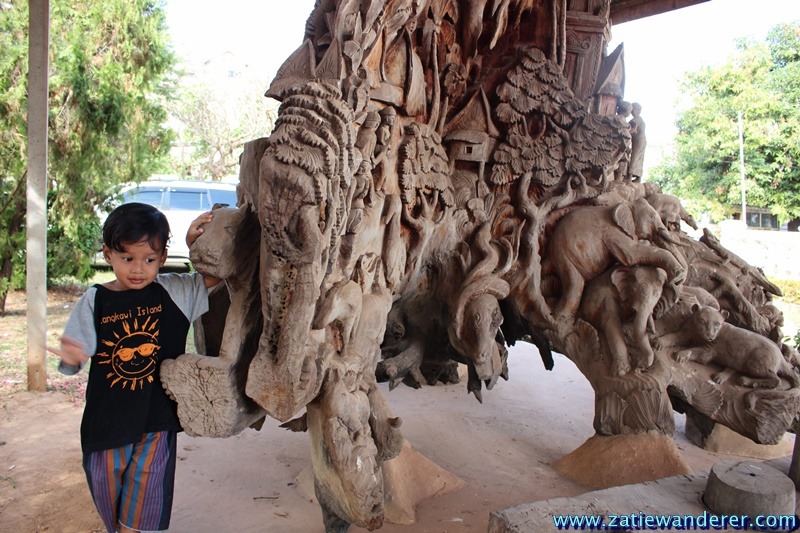 When I looked at this picture again, I just noticed that there were three old cylinder jars. Maybe this was a bomb dropped on Laos during the earlier Vietnam war. Did you know, the number of bombs dropped around Laos is the highest in the world at 270 million bombs!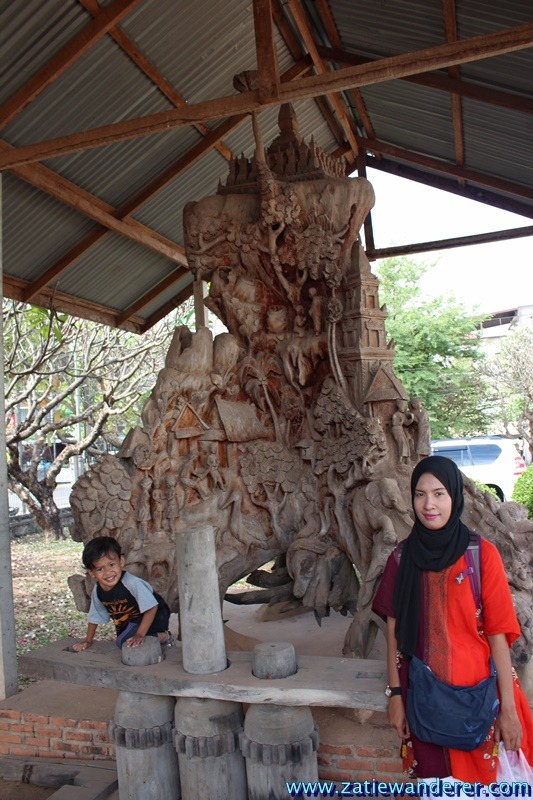 Although 40-50 years have passed, to this day there are still old bombs that are active and still claim the lives of some locals. Most locations can be found in Phonsavan.
Oh, God! When I look back at Google Maps, it looks like it's not the Lao National Museum, but the Lao Cultural Museum! My mistakes. Fortunately, I've realized it earlier.
The actual location of the Lao National Museum is on the map above.
As promised, this is the ORS medication I told you about earlier. It's the one on the most right in the picture with orange writing. I ate 2 packets during that time.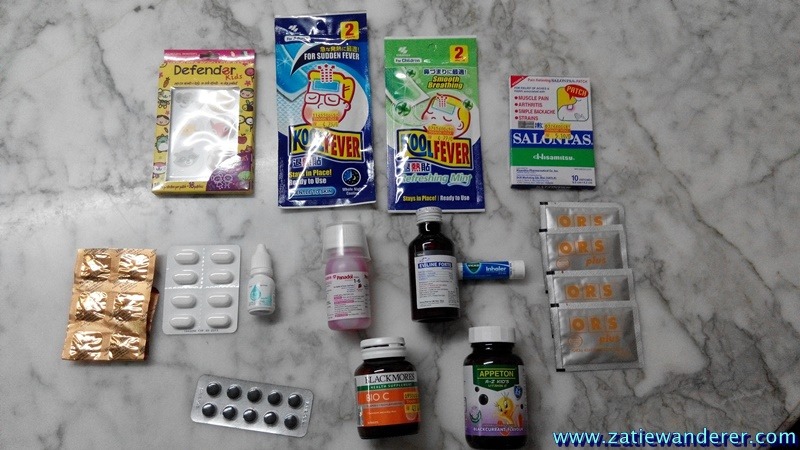 Continue to the next blog post, Thailand-Laos Travel: Day 13-Part 2-The Only Mosque in Vientiane & Wat Inpeng.