Continued from Thailand – Laos Travel: Day 13 – Part 2 – The Only Mosque in Vientiane & Wat Inpeng. For pre-travel, please refer here.
9.40 am…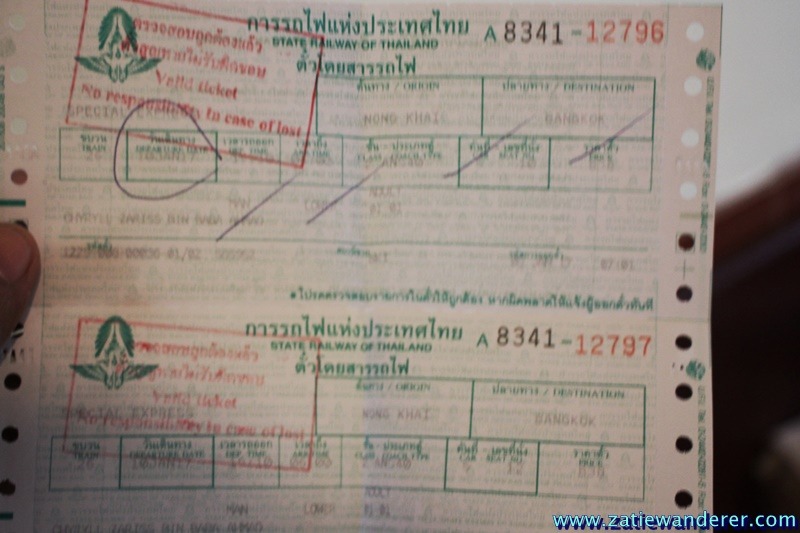 Waking up this morning I felt the fever subsiding and had half the strength to step back to Thailand. Without further ado, I checked the train schedule to return to Bangkok today. We will depart from Nong Khai at 6.10pm and arrive at 6.00am, the next day.
God, when we enter the year 2020, I just want to review Chindamay Hotel, but it suddenly disappeared from Google Maps. This hotel is really 'haunted'.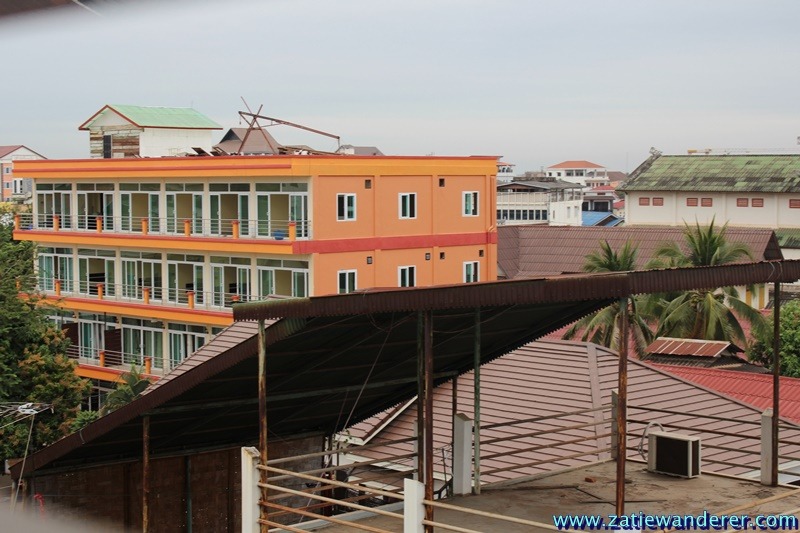 Luckily I was able to find it. Its name has now been changed from Chindamay Hotel (Guesthouse) to Intouch Guesthouse.
Location for Chindamay or Intouch Guesthouse. But, are you willing to stay here? Read the hotel's story below before planning your stay.
Empty, weak, tired, hopeless when looking at the state of the scenery around the exterior of the hotel.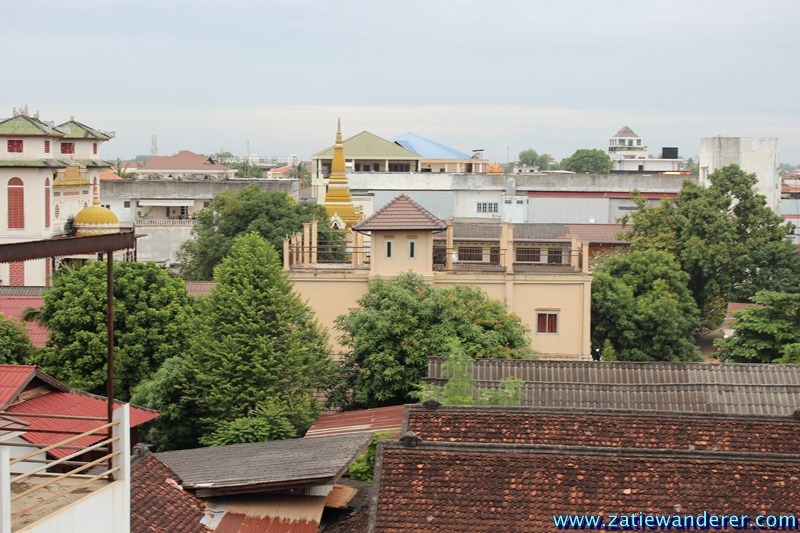 It's as if we came here just for a fever, rested and wait until healed and then set off out of here.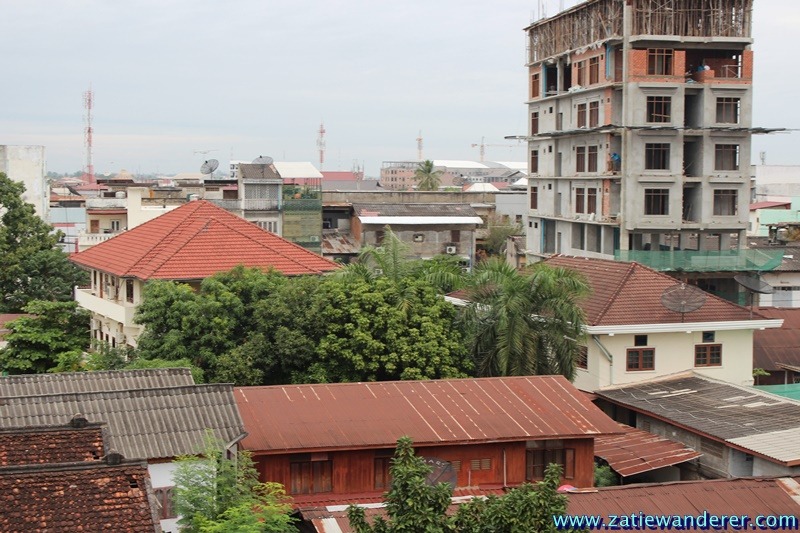 I'd rather have a fever at home. Wasting time only when fever during travel. But things have happened, right? What to do.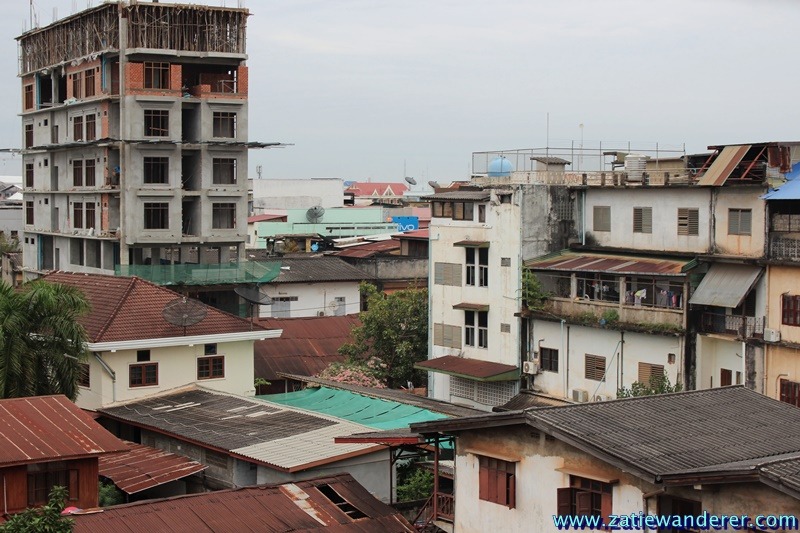 Right behind the hotel, there are all kinds of sights. Everything is a 3rd world country view. We can accept because it is not the purpose of coming here for luxury, diva or the like.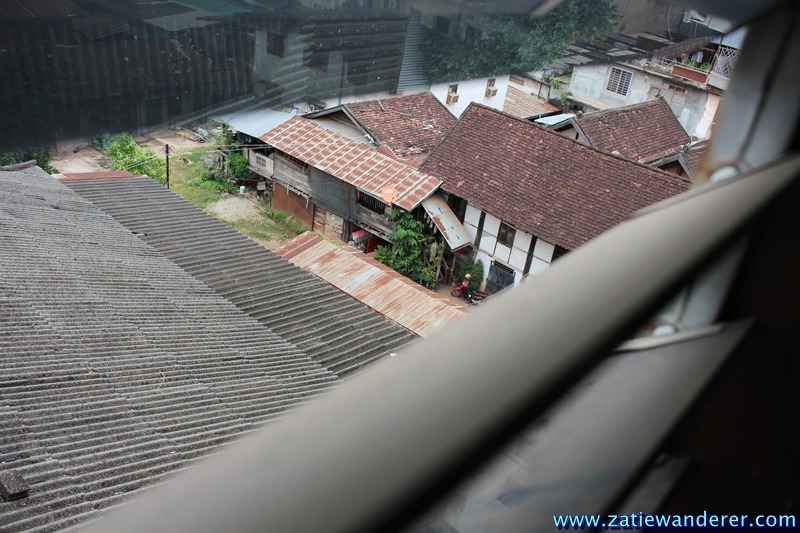 The hotel features 70s fans and ceiling light reflectors based on woven mats. Ok, there are variations and I can accept. But, the hotel management should be aware, the woven leaves if been exposed for a long time to the heat of the bulbs, can cause fire.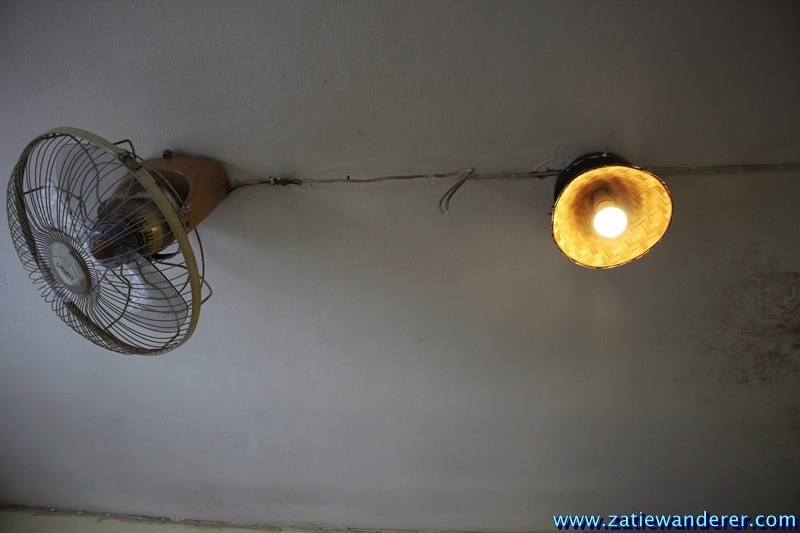 The fan is also problematic. The 360-degree rotation takes quite a long time to complete. The weather here is hot, just like in Malaysia at noon. Since it was still morning, it didn't feel very hot.
Our room was a bit cluttered as we finished picking up all the items we were worried might be hidden in the crevices of the blankets and pillows. It's time to start the journey back to Thailand.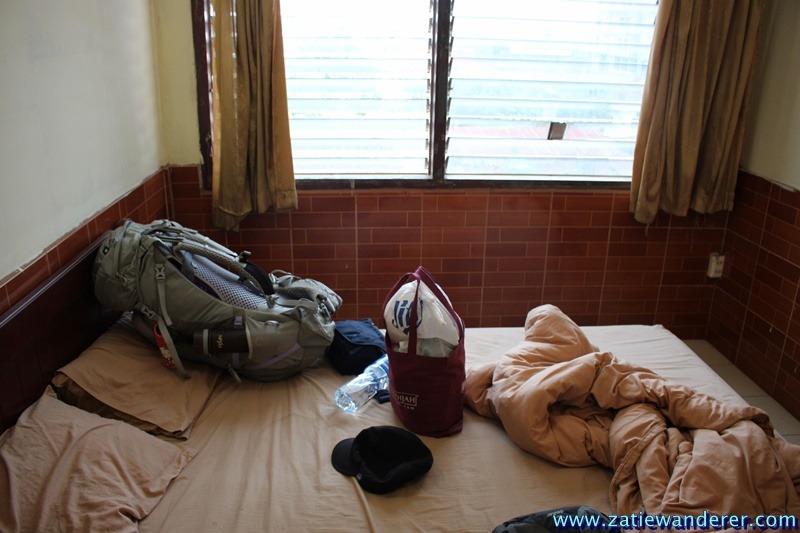 Room 407 has memories which if changed to the title of the song will read: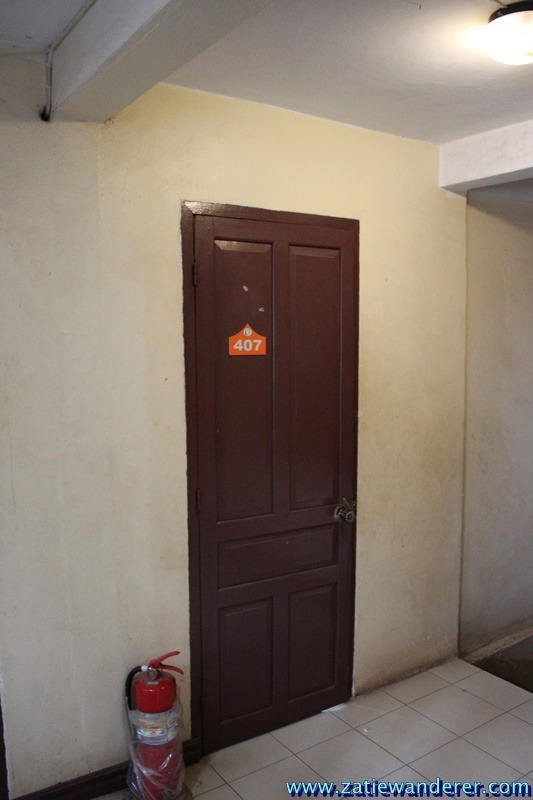 "I Hide a Memory: 407"
or
"My Diarrhea Left Behind: 407"
or
"Dipping Feet at Vientiane, I Insert a Grief"
Hello readers! It's like you've never had diarrhea in your life?
Opss… next to our room there is room 404. I remember the 90s movie called Block 404. Luckily there was no paranormal disturbance in the middle of the night.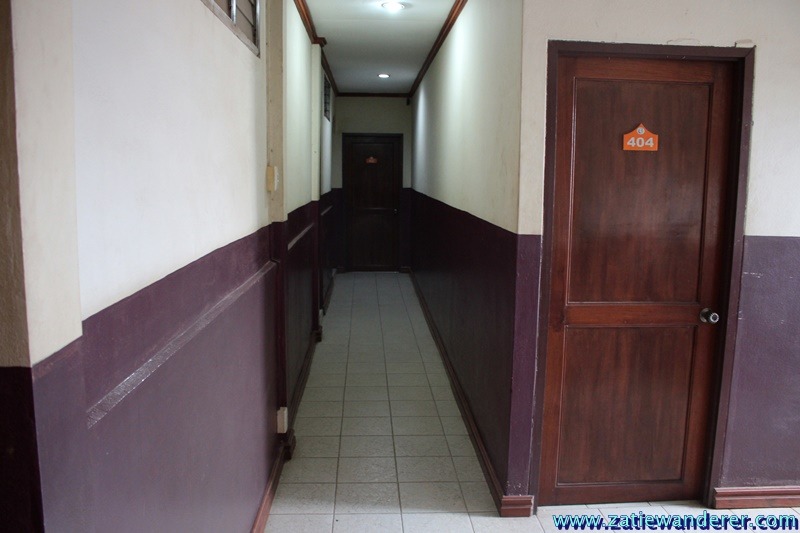 This is an adventure trip, the result of a combination of backpacking and hiking up to level 4. Slowly we went down the stairs.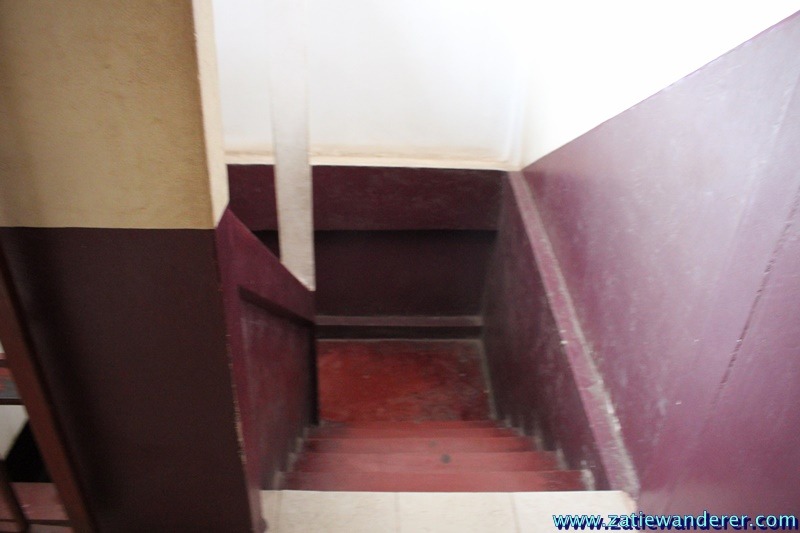 This is the situation at Chindamay Hotel. Great hotel name, but the interior is not that great.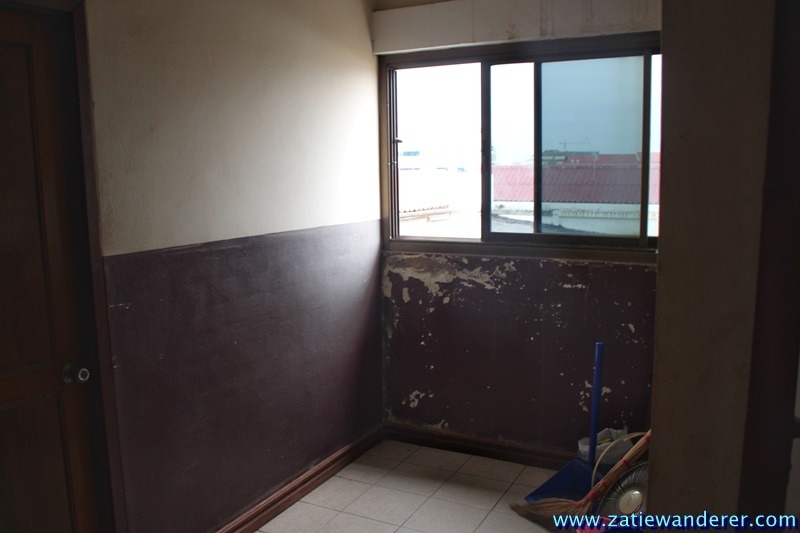 As we felt the 'adventure' of the activity down the stairs, it looked like a steep iron staircase but the grill fence was closed.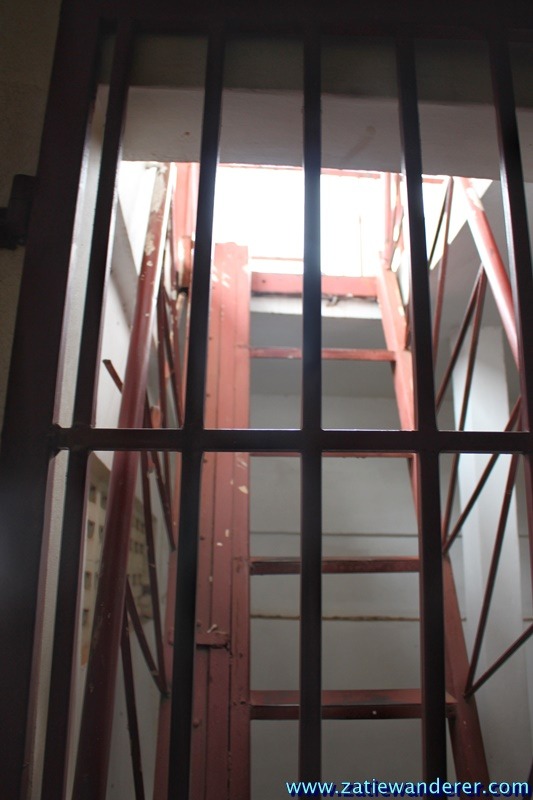 Last memories at Chindamay Hotel. Of course, we will never step our foot here again. To the right of the picture, there is a very convenient grocery store to buy any snacks or semi-cooked like instant noodles and others.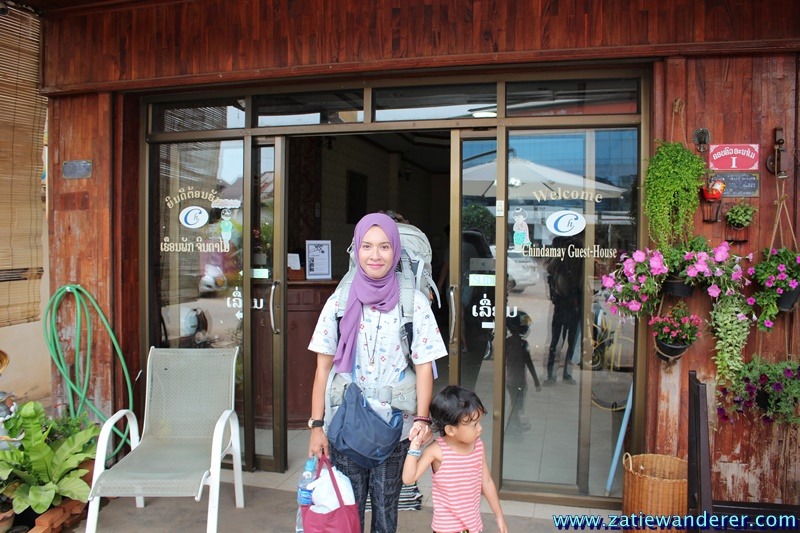 In conclusion….
Pros:
Easy access to several important places in Vientiane on foot.
There is a grocery store next door.
Quiet and privacy.
Friendly receptionist.
Cons:
Medium-speed water pipes.
No air-cond.
No TV.
No free Wifi.
No lift – we got a room on the 4th floor.
There are no basic amenities such as soap, shampoo and others in the toilet.
The toilet is ok, but the 80s -like atmosphere sometimes seems disturbing.
What is the rate per night? Less than MYR30.
What is the rating? Tripadvisor gives 3/5. And the rating from me is 2/5.
Disclaimer: The above ratings, pros and cons are for Chindamay only and do not involve Intouch Guesthouse which is new management and maybe better than before.
Actually, we stayed here for free only. How can it be free? At checkout, we pay the balance. Since I was still using Baht money (100% accepted here), somehow the male staff at the reception returned the deposit to me in the amount of value which when recalculated, there was a surplus. Meaning, we sit here for free only! After being on the train to Bangkok, I just realized about this. Impossible for us to turn back and return the extra money.
At that time, my head was about to recover from the fever and I didn't want to have a headache with the calculation of the remaining money, I just accepted how much he gave. Apparently, he was confused and miscalculated as a result of the exchange of Kip and Baht.
We checked out at 10.07 am. Let's go to Patuxay!