Continued from Thailand – Laos Travel: Day 5 – Part 4 – Hua Hin Market Village. For pre-travel, please refer here.
If you take a one-way tuktuk in the city, the charge is the same as THB20/person for an adult. Children don't have to pay anything. At first, I thought the tuktuk would stop right in front of the Hua Hin Clock Tower, but it didn't.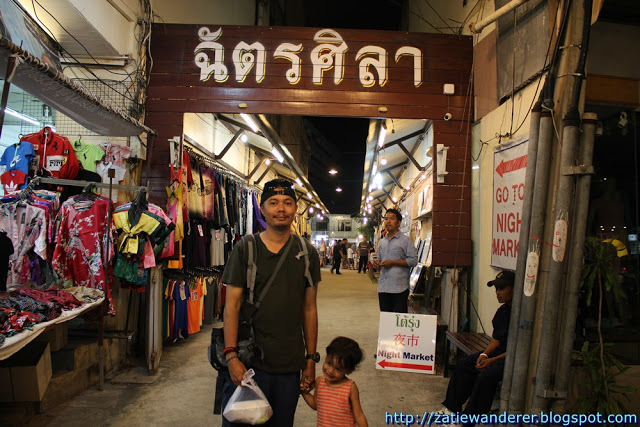 It will stop at the other side of the road that still leads to the north of the city, just near the central area of Hua Hin Night Market.
Because we were tired of entering the middle of the night market like last night which had to be passed to return to the hotel, so we stopped at the Pone Kingpeth Park area. After getting off there, we followed the main road of Hua Hin city to the clock tower.
Suddenly there was a guard at the entrance of an alley waving at us and inviting us to enter the alley. If in Chinese, he will definitely say "Lai …. lai ….". But in Thailand, I'm not sure.
We felt suspicious as well for suddenly inviting to enter the back alley.
Hmmm … apparently there's the best shopping place back there. Tatie's eyes are starting to open wide, hahaha.
Where is the entrance to here? GPS: 12.570552, 99.956972
Seen from the outside, this alley looks small, right? Let's go inside first …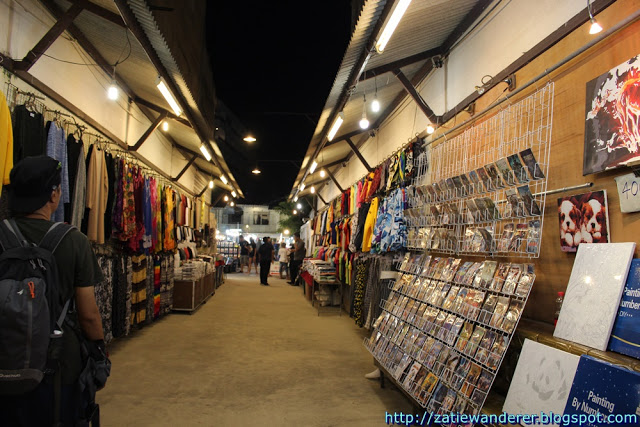 Various types of magazines are sold here.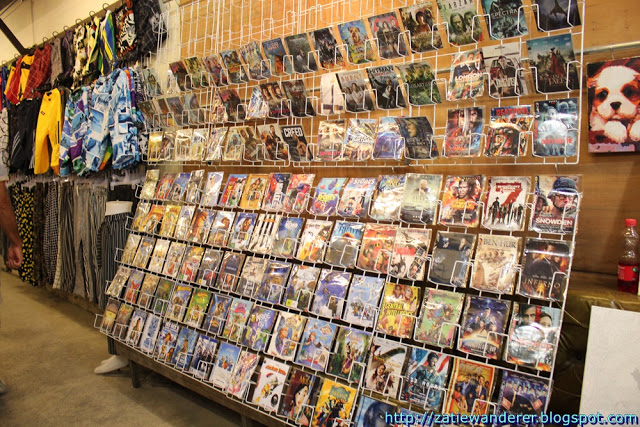 Here we are just looking around. I suggest not buying anything here because there is so much more if going further inside.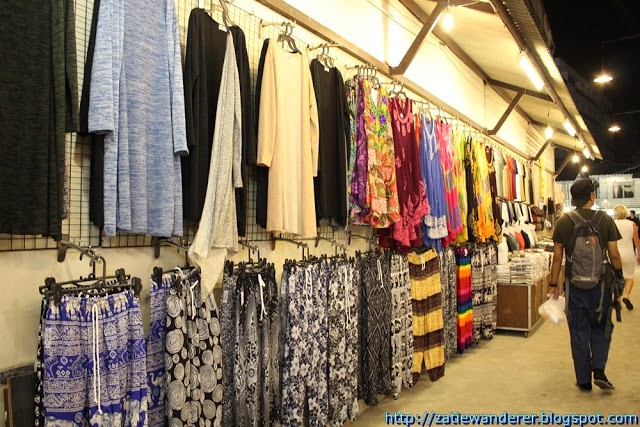 Indeed I am very interested in short pants that go a little below knee level. It's very difficult to find. But because I don't want to thicken the backpack, so I just ignore the purchase.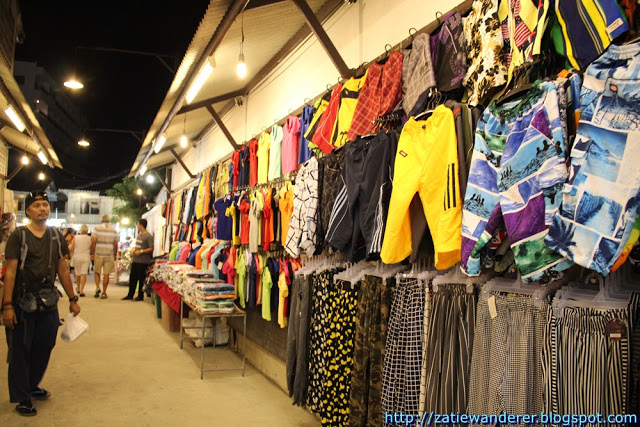 Tatie is trying on imitation sunglasses here. Since we had already bought in Hat Yai, we just looking around here.

The price is THB100 and a bit cheap. If in Hat Yai, the price is between THB100 to 200. In my opinion, most of the cities bordering the country's entrance and exit are usually expensive. For example, when Singapore tourists come to Johor Bahru (Malaysia), most retail prices become expensive. So, the same goes for Malaysians who come to Hat Yai.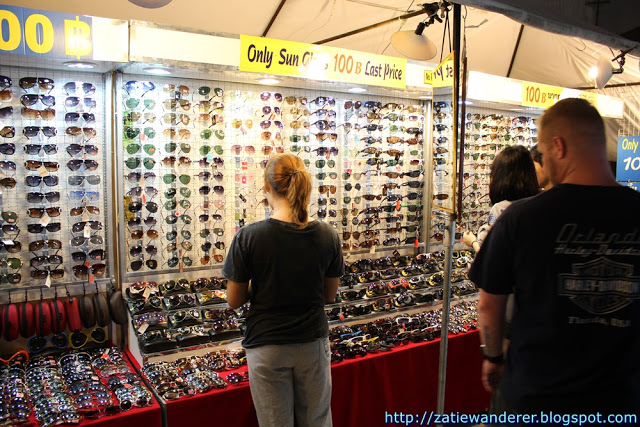 Beautiful decoration using bamboo sticks in the back there.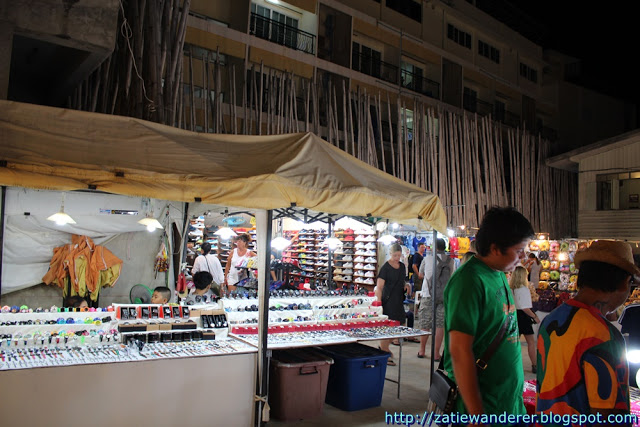 This place is big as it stretches up until Hua Hin Night Market. What do I like here? The place is less crowded, not many tourists know the location, a bit peaceful compared to Hua Hin Night Market and the category of goods for sale is not mixed. That is, the place here only sells clothes and non-food items. If in the market, of course, it is mixed with food and drinks, seafood and various massage places.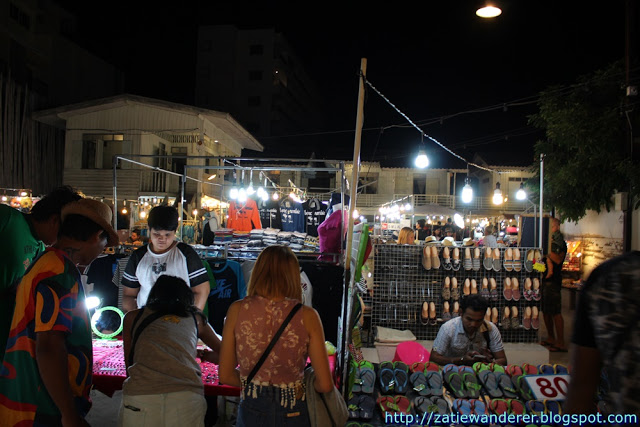 These shoes are only THB80. Here there are also branded shoes that are not original but AAA grade. The price is attractive which is half the price of the original. I felt like buying it just to replace my Brooke shoes that were torn at the sole of the shoe and happened earlier this afternoon.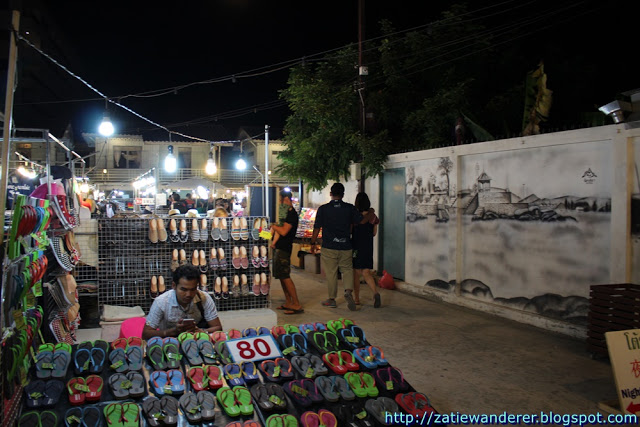 In my mind ….. it's okay, later we'll buy it in Bangkok or elsewhere. Until the end of this trip, I still did not buy new shoes and still wear Fipper slippers. Yes, the Fipper company should sponsor me for my next adventure. Backpacking to two countries with thousands of kilometers, these Fipper slippers are durable and rugged.
For your information, I glued my Brooke's shoes with elephant glue and lasted until Vientiane, Laos! The durability of the glues ends there.
I noticed that in Thailand, a lot of colorful water like this is sold. I don't know what the content and flavor are.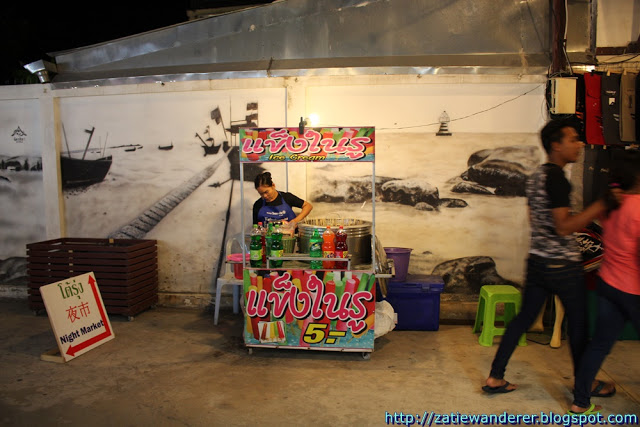 Tatie tests again sunglasses. This time in another store.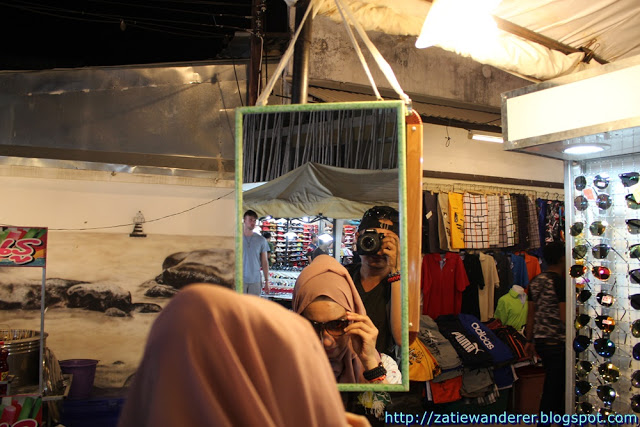 Apart from the bamboo sticks, the shops here were also built-in two-story and made of wood.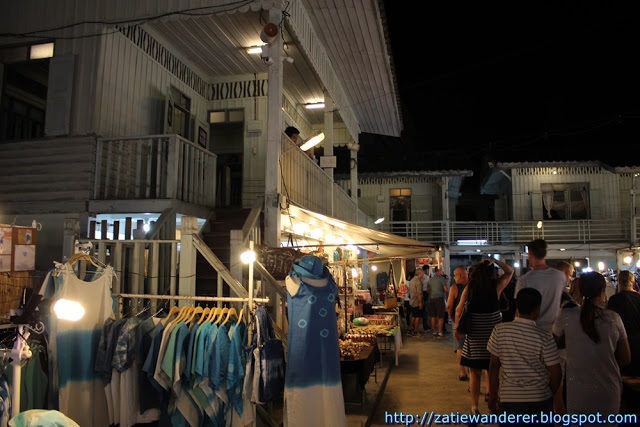 The whole wooden house. Aihh, I just noticed that the stairs are also provided to go upstairs. Unfortunately, we did not go up.

It's cute … I don't know how much the price is.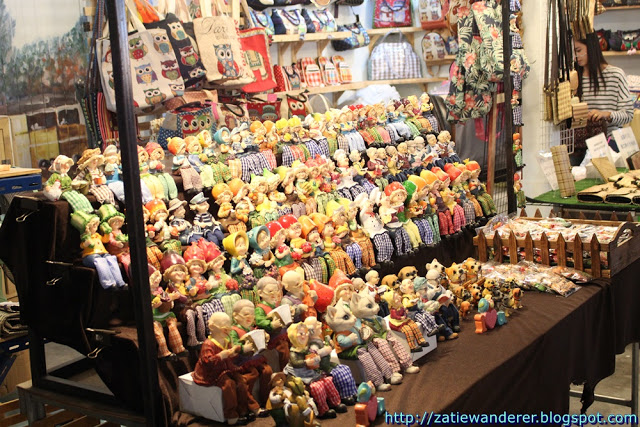 Local brand handbags.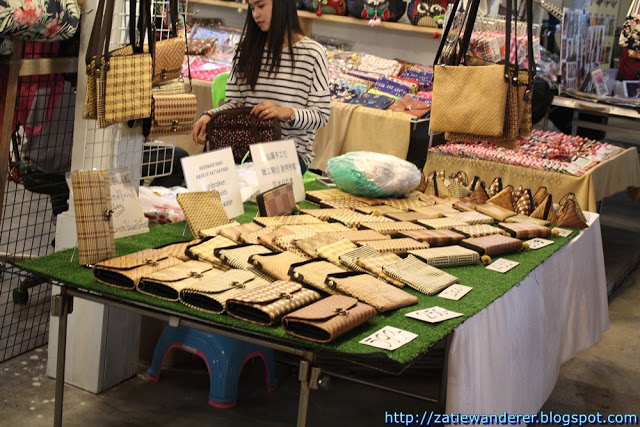 More locally-made bags. Designed as a souvenir.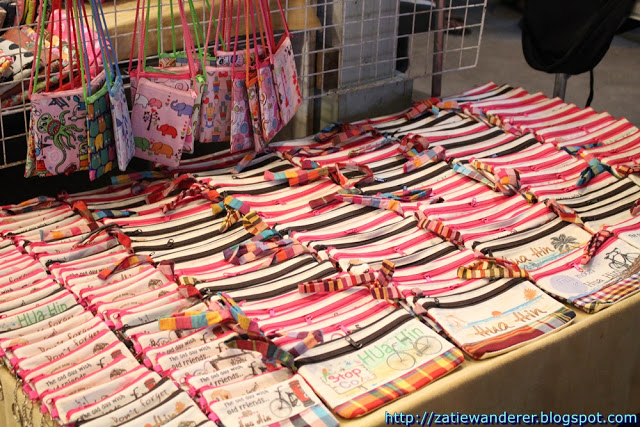 After passing through the middle section, we headed to the back section.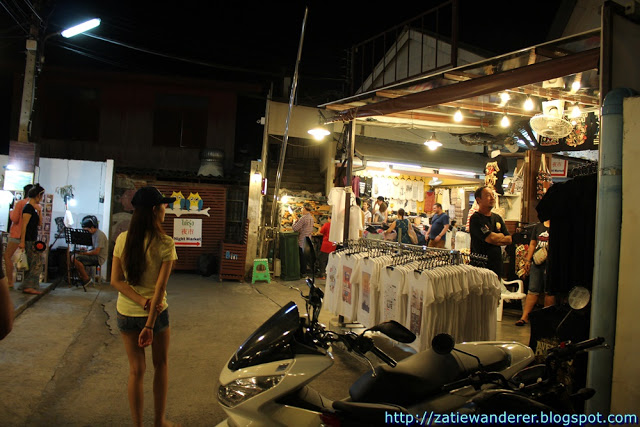 Ops, wait a moment. Tatie stopped here for a moment to look at the earrings, bracelets and chains.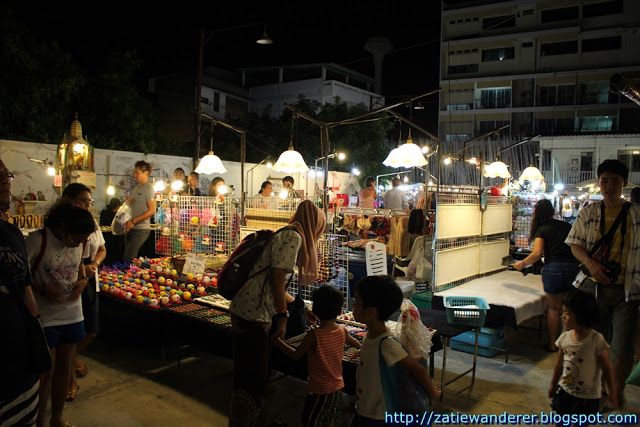 The second floor of the wooden house. The lighting here is beautiful. Concise but interesting.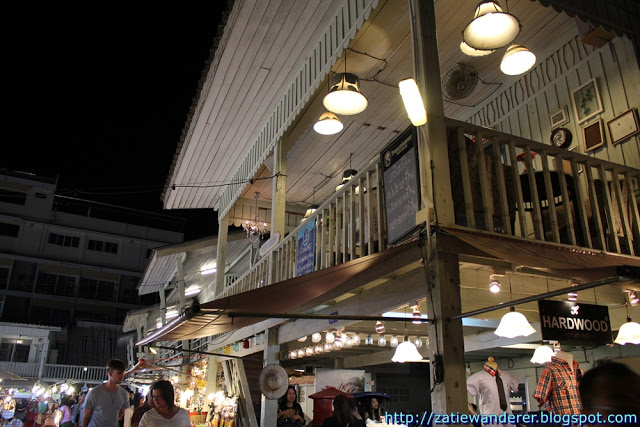 Only minion heads are there. Its whole body is gone.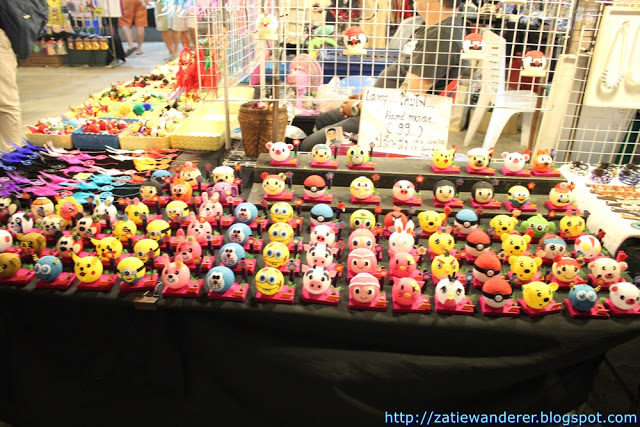 The shop sells crockery.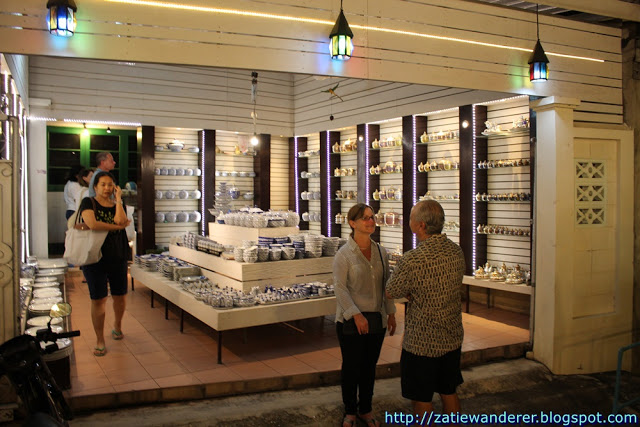 The stuff that is the craze of all women.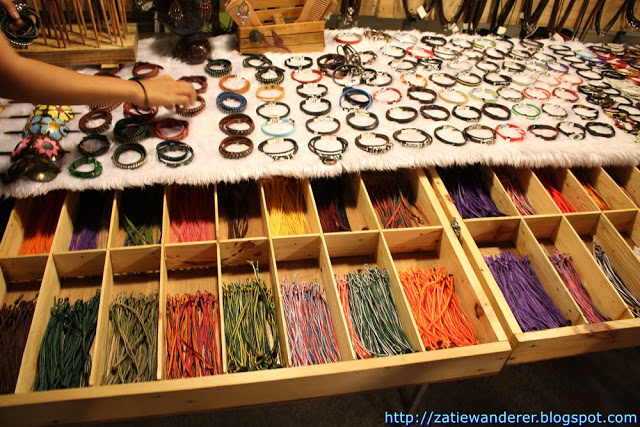 More women's stuff …

While Tatie was looking and surveying the stuff, Aqif and I hung out for a while in one of the corners. There are various behaviors of Aqif when playing with Thai children.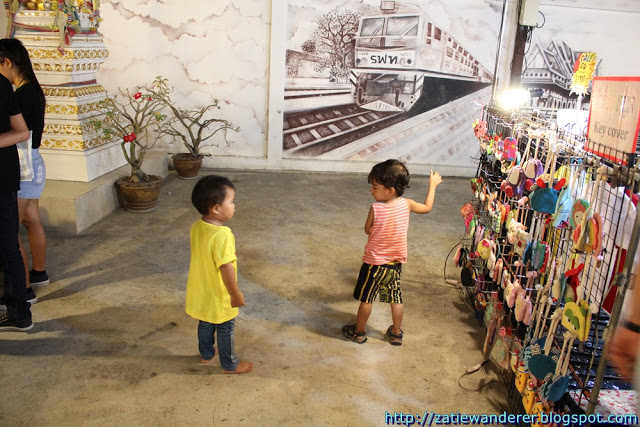 Rifles and wooden pistols according to actual size. Although wood, for me it is still wrong if it is brought back to my country, Malaysia.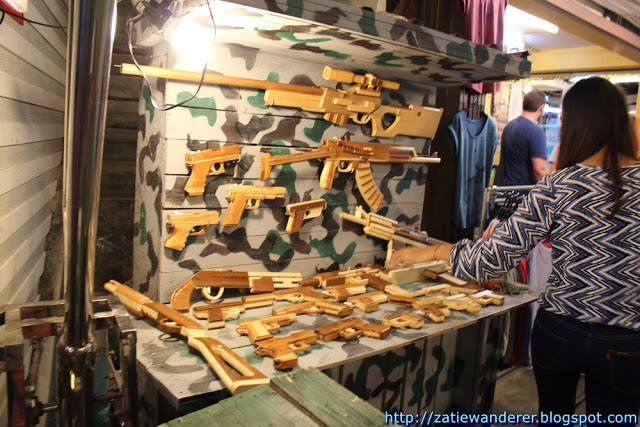 Ok, we've got to a deeper area.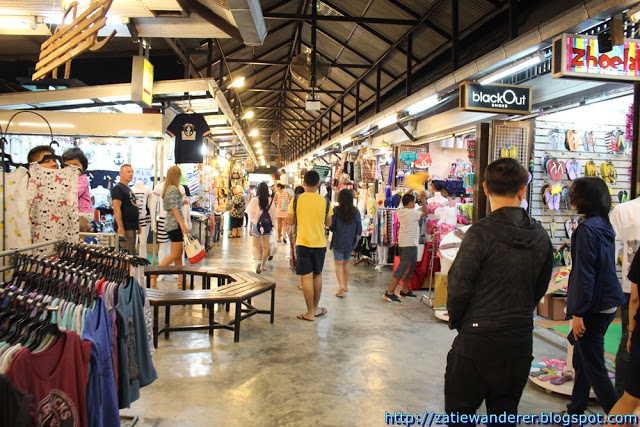 Many small fish are sold here as a collection at home. It was from here that I found out that Aqif became interested in fish.

More scenery in the deeper area and quite large as well and still 'peaceful' compared to the Night Market.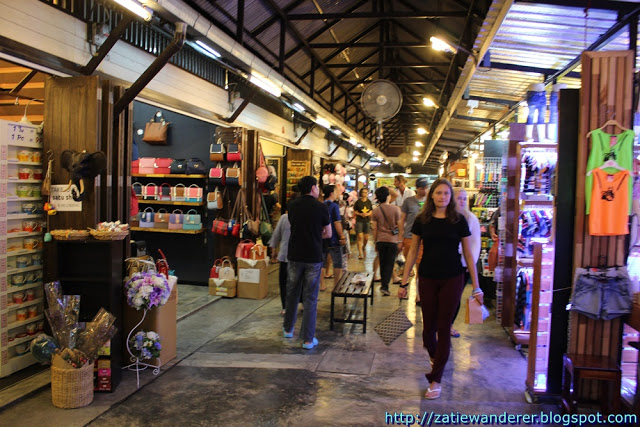 Children's clothes here are cheap too. We bought one for Aqif.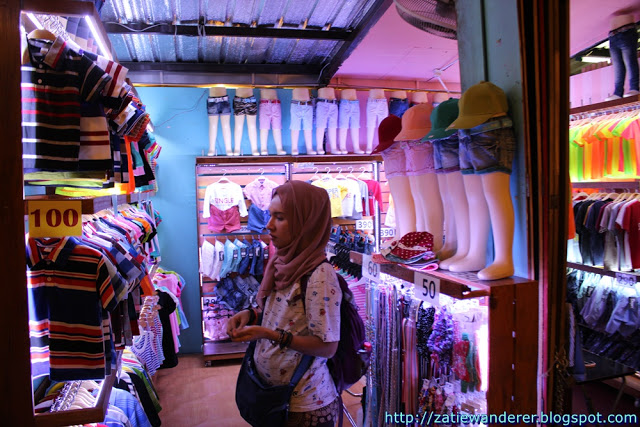 Some friends say it's a bit expensive. But for me, priority is given to items that are 'Made in Thailand' and these clothes meet our criteria. Just know that most of today's products are made in China.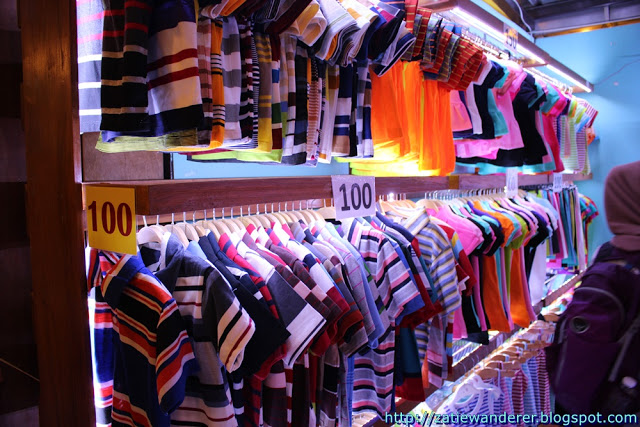 Whose slippers are these? Very large.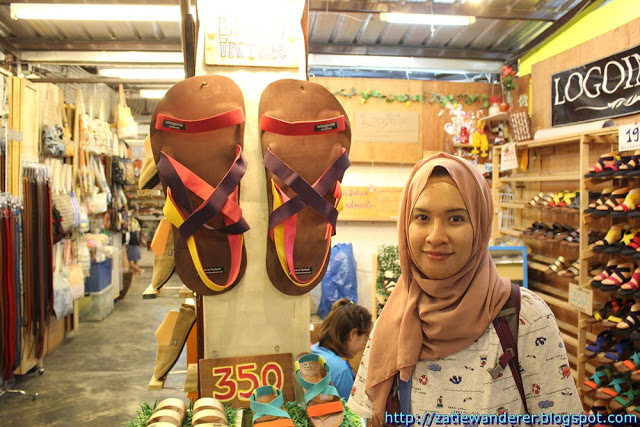 The pillow on the left that I'm interested in…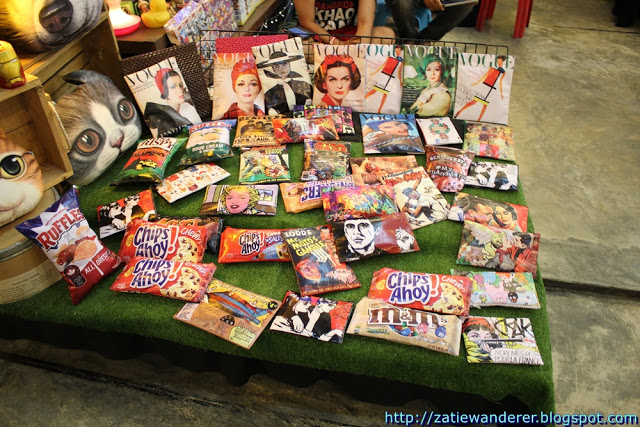 There are all kinds of sweets … from cotton to marshmallows.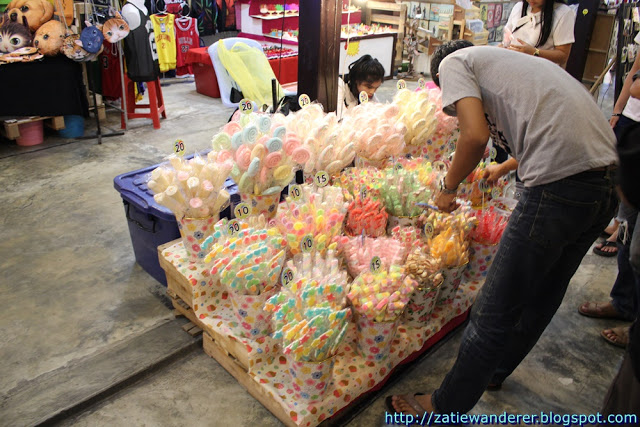 We feel like just wanting to hang out here but canceled because we're all tired. Only able to walk through near it.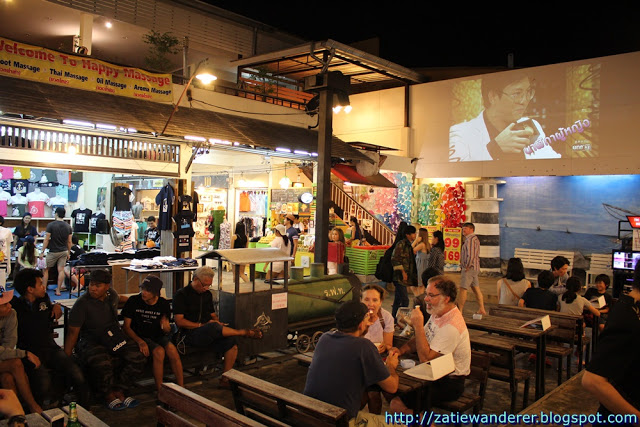 Unique. The handiwork of local people.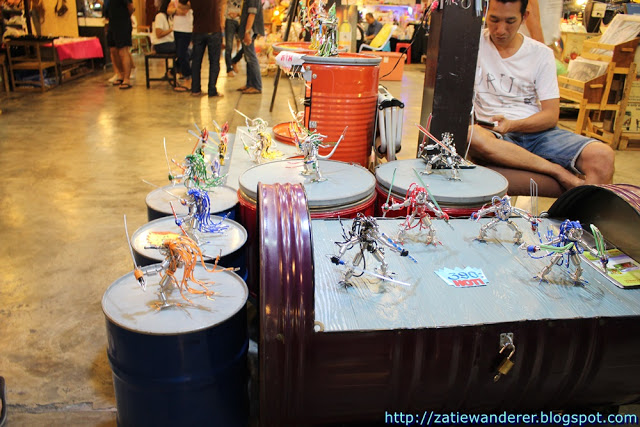 Here there is also a massage parlor as it is getting closer to the Night Market.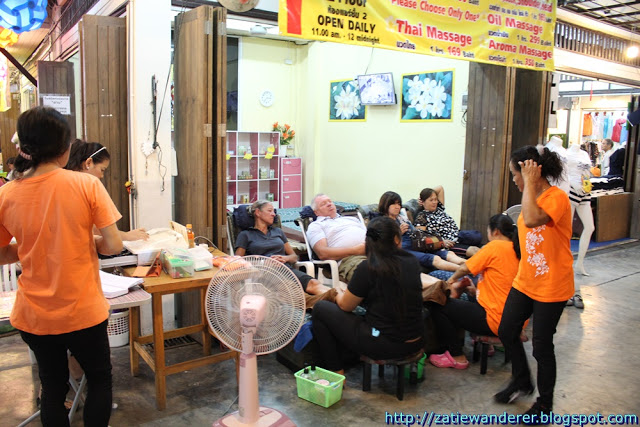 'U-turn' again in the alley here.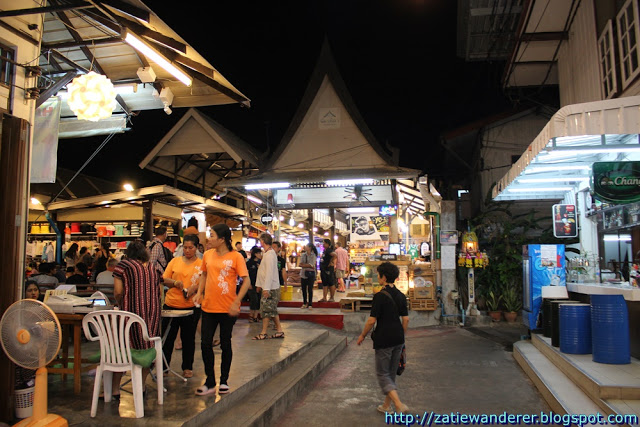 This inner area is divided into two, one in the left lane, the other in the right lane. For example, have you ever seen a 400 meters sports track? So it is the same here. Select any lane and u-turn back when reaching the end. Currently, we're in the second part of Chatsila Night Market.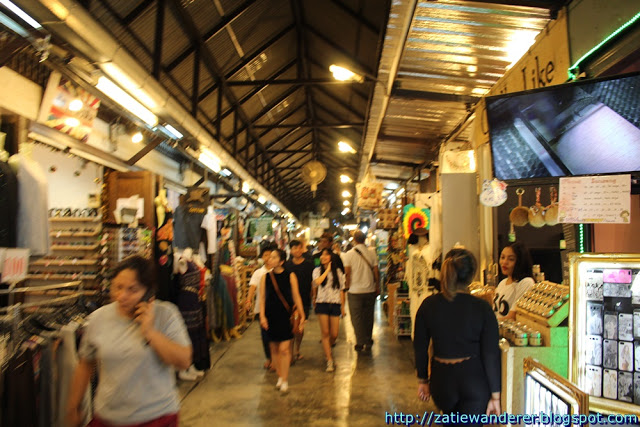 Creative results. Just by using a drink cup and a light in it.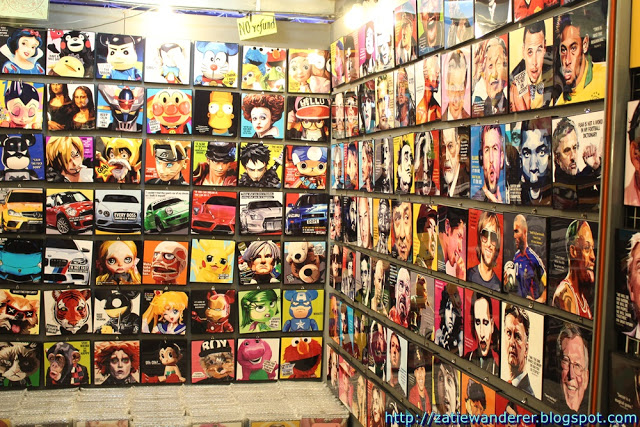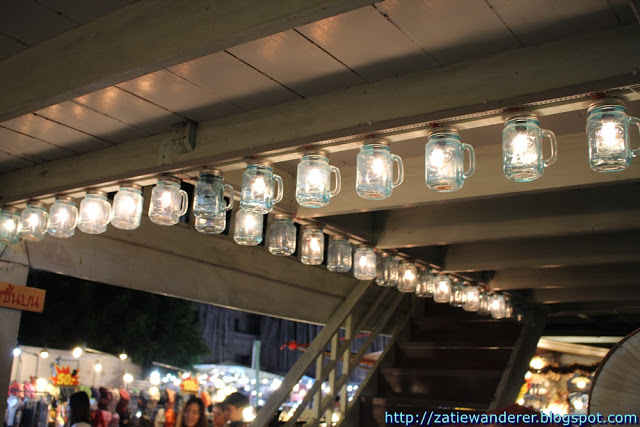 Right now, Tatie is rummaging through clothes. Plus the salesgirl who is absent here. So, we waited. Because Aqif could not sit still, so I took him in the other direction and suddenly came across this family whose father worked at the payment counter of the toilet. He also provide a mat on the side for his son and placed a lot of toys.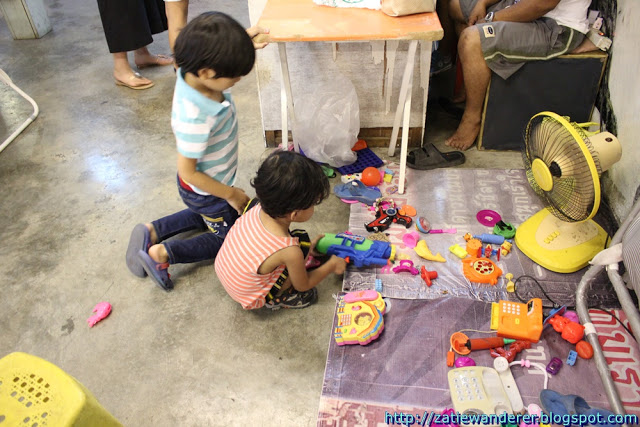 I let Aqif play there for a while. Let him mix with all sorts of people from all sorts of races. That is our goal.
We have been tired of walking all day. So, we decided it was time to go back to Hotel Tong Mee. Coincidentally, I came across a crescent moon located at "The Moon Hostel".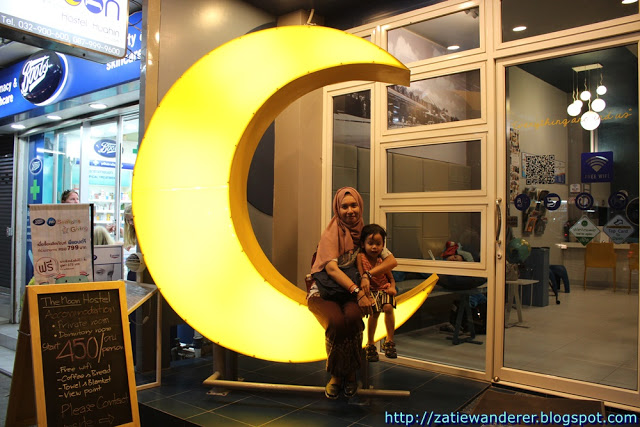 The atmosphere of a restaurant as we crossed the street.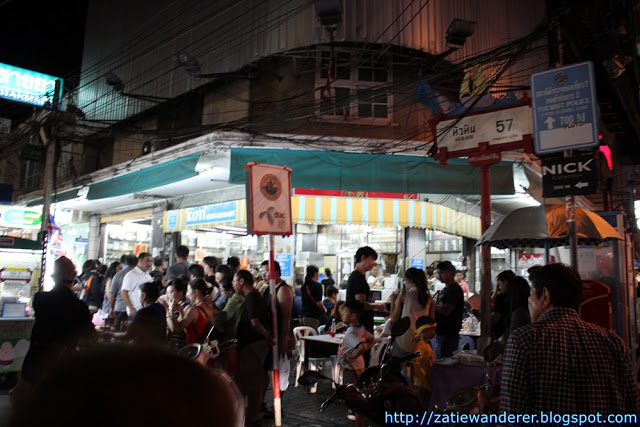 This Mata Pita store is listed on Tripadvisor. If I'm not mistaken, the product is a fragrance using natural ingredients. But we didn't even go in, just enough to take a picture on the outside.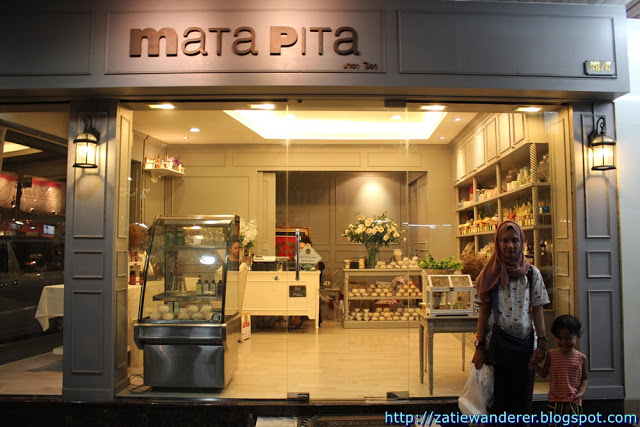 At first, I was posing with the style of stepping on this old Jeep. Apparently, Aqif also wanted to imitate the same style. Hahaha.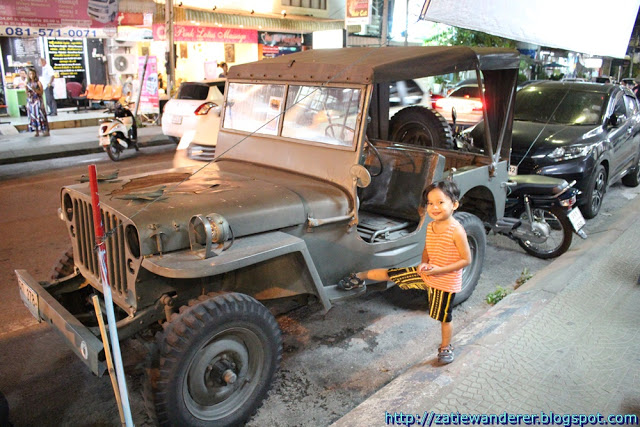 Pictured at Hotel Tong Mee, this time at night. After all, tomorrow we will leave for another city. My advice, staying 3 days 2 nights in Hua Hin is not enough! We regret not exploring the northern part of Hua Hin and up to Cha-am.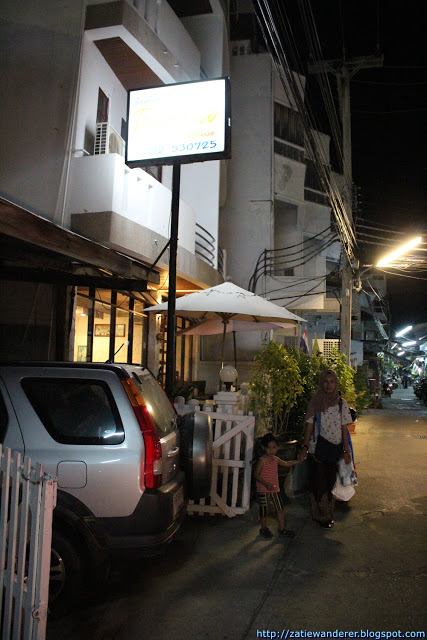 What am I trying to show you? Guess what? Electrical switch on the inside of the toilet! That's dangerous.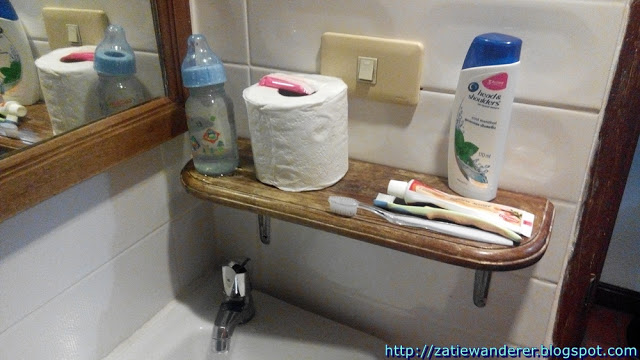 We finished our sightseeing on our 5th day in Thailand. Tomorrow at 5.00 am, we will leave for Samut Songkhram to head to Maeklong Railway Market. It is 2 hours away. Hopefully, tickets are available for the 3rd class tomorrow morning.
Did you know, Maeklong is the most dangerous market in the world?