For the Malay language, click here.
Continued from the entry Thailand – Laos Tour: Day 2 – Part 3 – Kim Yong Market and Reviews About Park Hotel. For pre-travel, please refer here.
Location: Hat Yai, Thailand
Salma Restaurant
After spending a half-hour at Park Hotel, we started carrying our backpacks and walked to a restaurant that we saw last night, Salma Restaurant. I initially knew this place from reading on the BackpackerBusuk blog. The restaurant is located next to Lee Garden Plaza. A few weeks before I started this journey, I had a conversation with Fatt via Facebook (founder of BackpackerBusuk) and tried to get information about Thailand. For your information, her blog is among the earliest referral sites for many new or long-running backpackers but have not yet set foot in Thailand (or Indochina). She likes sharing knowledge and welcomes those interested in traveling, especially since childhood, such as our children, Aqif.
We felt very far when walking to Salma Restaurant with a heavy backpack, but it's only 450 meters away. Do you want GPS coordinates for Salma Restaurant? Click here. (UPDATE January 17th, 2023: Salma Restaurant has closed, probably because it could not last long due to the burden of Covid-19)
While walking next to Lee Garden Plaza, I looked around and came across Hamid's Restaurant. We then crossed the road to get there and looked at the menu shown outside the restaurant. Oh my, the price is very high. About 2 to 2.5 times more expensive than Salma Restaurant. As always, I then hint at Tatie … "let's get out of here!" … hehe. But if you still want to eat here, the location is right in front of Lee Garden Plaza.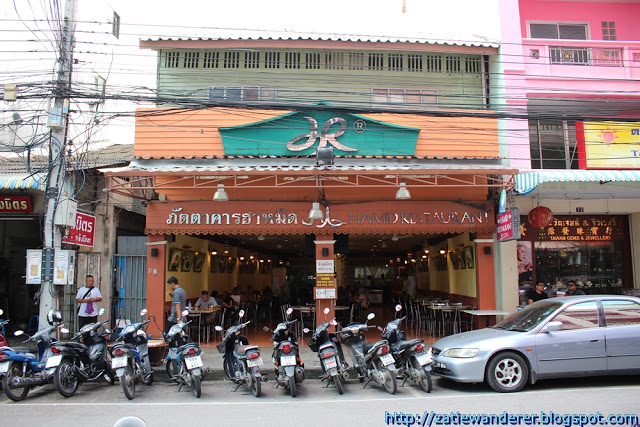 Haa … we've finally arrived here. When entering the restaurant, as always, the way the customers looked at us is pretty weird. Not because of our appearance, maybe because of the big backpack that we're carrying. Luckily the waiter here is friendly and loves to treat Aqif. First of all, I reached the menu list. Prices are very cheap, just like the prices in local Malaysian restaurants. Otherwise, the price for a single plate of fried rice reaches MYR15 in other restaurants in Hat Yai. Don't expect us to drop into an expensive restaurant like that. There are many more ways to save expenses.
UPDATE January 17th, 2023: Hamid Restaurant is still open. Click here for the location map.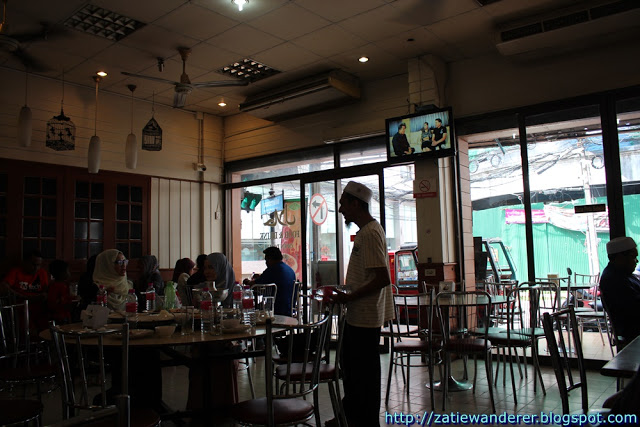 Pondered face!! There are 10 more cities in Thailand until Laos that we will explore. But deep in my mind, can we achieve that mission? I rest my faith in God. We sit right in front of the counter. This time, I feel a bit tired.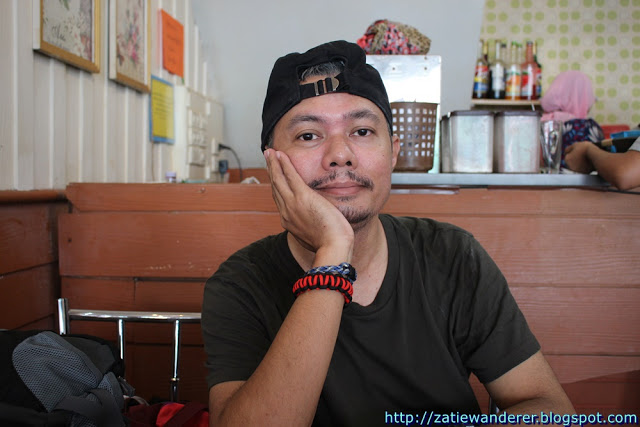 I want to show the paracord on my wrist. We created it ourself and Tatie has created a more beautiful paracord. She converts the paracord into a wristband for the watch! Paracord is ideal for rugged activities like backpacking, hiking, jungle trekking and others. For the next trip, we intend to buy a Mi Band 2 watch to track the number of steps, calories and heartbeat during travel.
A little while waiting for food to arrive. I didn't care how slow the chef was to cook our food because there is a balance of 2.5-hour to go before our train arrives. We order regular fried rice for two people. We did not order drinking water, just sip from mineral water bottles that we bought. Aqif can't wait to eat because he's hungry.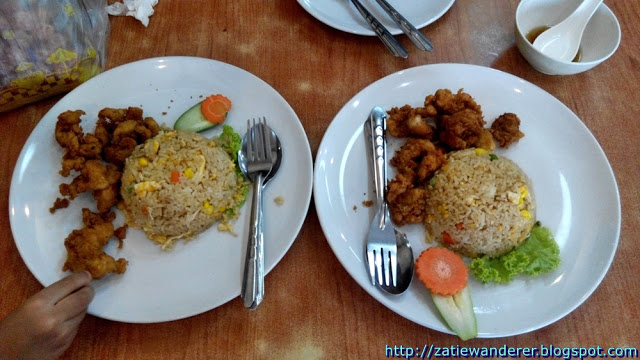 Before moving on to Hat Yai Railway Station, we ordered an extra two packs of chicken fried rice and another packet of food which I can't remember its name while writing this blog. The purpose is to be served as a dinner on the train later. Look at some of the food packages we put on the table. It's a lot .. including a snack and fruit bought at Kim Yong Market earlier. Then, 10 meters from Salma Restaurant, there is a 7E shop. As always, we bought two large bottles of mineral water as a supply. A 1.5-liter bottle is priced at THB13. Eh, uh … cheap, is it? If we convert the money, it's only worth MYR1.50. This is pure mineral water instead of RO water.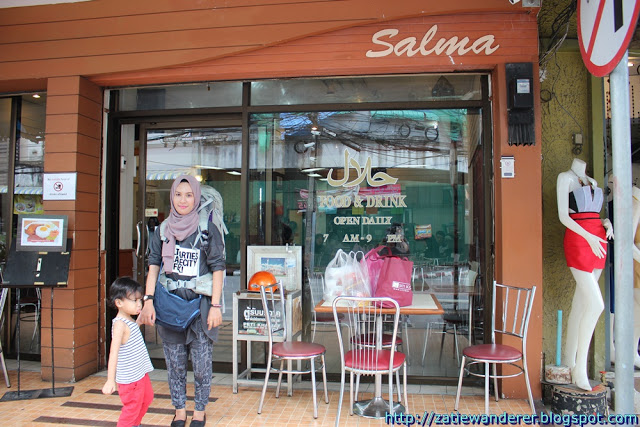 Actually, after arriving at Prachuap Khiri Khan, I accidentally threw away the train tickets and supposedly should keep them for our expenses record. So, when I'm writing this blog, I forgot when we left Hat Yai and arrived in Prachuap Khiri Khan. And I have to refer to the "Date Taken" in the photo. So, I estimate the departure time at 4.30 pm and arrive at Prachuap Khiri Khan at 4.55 am. It's a 12 hours journey. I'll tell you more about the train.
Ok …. from the 7E store, we were supposed to walk to Hat Yai Railway Station. Our load at that time is getting heavier, coupled with plastic bags in both hands. Tatie did not hold anything because she needed to standby if Aqif did not want to walk and be carried. Just about 100 meters away, I began to felt a heavy burden. So I asked the driver of a tuk-tuk in front of Lee Garden Plaza . The actual price of the fares is THB100. I tried to bargain and got as low as THB80. Hmmm … we don't care to pay for it because it is vital to riding the tuk-tuk.
Tips for you. Foods such as fruits, rice noodles, snacks and more like Maggi (instant noodles) and biscuits, if possible, don't put them all in the backpack. Instead, find plastic and carry it by hand. Because when you're tired, the plastic can be placed temporarily at the edge of the road to rest your hands. At least, the shoulder and waist are not painful and the legs are not nauseated because the backpack is a bit lightweight. It was a lesson on the street we got.
Journey to Prachuap Khiri Khan
We just arrived at Hat Yai Railway Station. Behind my back was a Thai couple. Both are handsome and beautiful. The station with white, blue and red building colors is a landmark or trademark for Hat Yai city. Many travelers know this color from a distance. Aish … I'm still gathering this night's writing mood. Please show up … because my writing sounds so formal.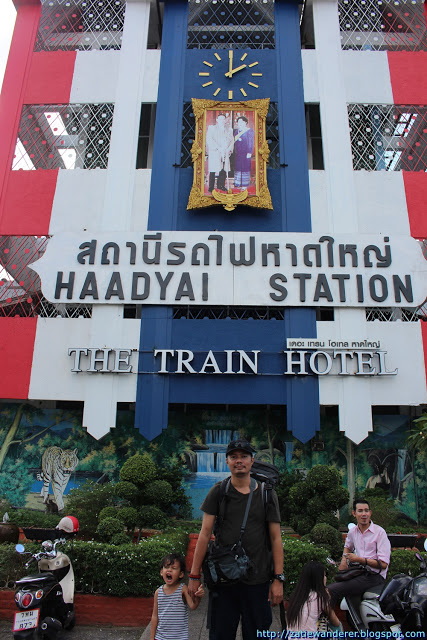 After entering the station building, as usual, it is necessary to scan the backpack through the X-Ray machine and all kinds of bags carried. Then we all went to the toilet. Well, we need to be in front of the runway half an hour before the train arrived.
Eh … the train has arrived! Nah, just kidding. Not yet. That is a 3rd class shuttle train from Padang Besar (Perlis). The train system in Thailand is the first time for me. So, many things are confused about which platforms, which runway, and to look for the train number. There's a piece of information printed on the ticket, but there is no signboard on the platform side.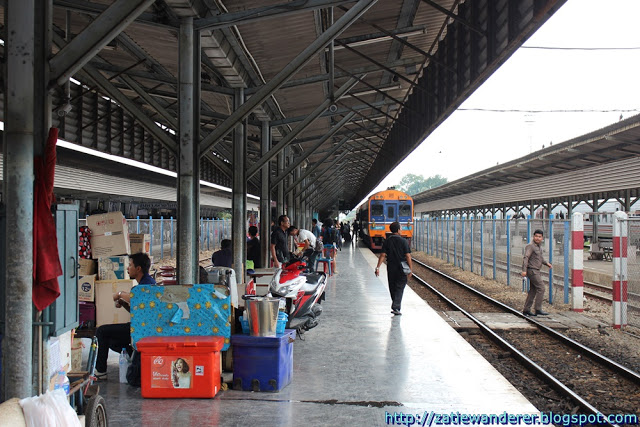 I asked a question almost twice to the guards there to satisfy my extreme anxiety. Try to see the picture above. There are three rails, right? That's why I'm diligent in asking which one. Imagine, in the middle, there is a train from the other direction stop there and the real rail that we have to wait is at the far right one. The train has arrived and you are standing in the middle. The train carriages in the middle are very long. How do you want to cross to the right? LOL. You can cross to the right … just climb the train on the central rail and jump to the other side.
We sat briefly next to a Thai couple. There are lots of items brought by the local people. Just look behind Tatie and Aqif. As I said, two rails can make you confused. Advice for my readers, check exactly where you should wait.

Suddenly, I just remembered. Oops! I have not yet filled the mineral water in our water bottle. Soon I filled it up, hoping that "the train should not yet arrive". Being a father, I should be prepared for any circumstances from the front, back, left and right. I need to look at my child, our backpacks and much more that we need to be aware of.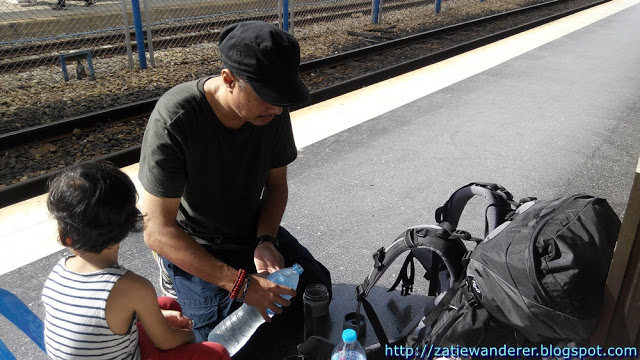 Look how heavy my backpack is. We're still in Hat Yai and not yet finish traveling to 10 more cities. I guess, when we arrived at the 11th city, the backpack might look like a 'belacan' (something thick and viscous similar to a baby puree). I just bought this backpack that I used mainly for this trip. I believe in the brand of Deuter because I used to wear it during my travel to London in 2009. So be sure to buy the original Deuter brand!
Waiting again …………… where is our train located now? As such, I treat boredom by pretending to be a professional photographer. There is also a time in which I observe the activities and behaviors of the Thai people here.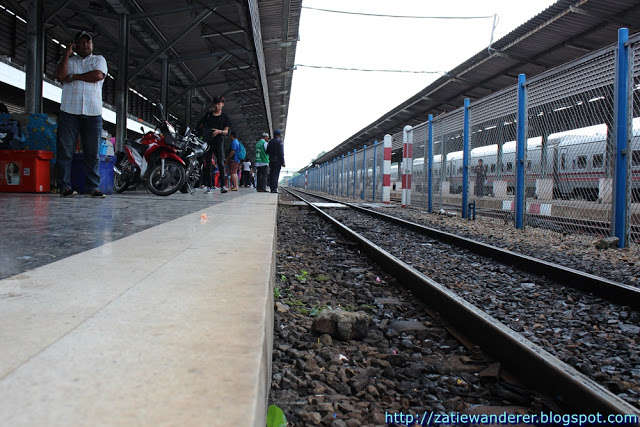 From a distance, there is a train approaching. Is that a train that we are going to ride? Closer, closer and closer. That's right! It seems that all the passengers have begun to lift their bags. The seller who sold the food on a train was also preparing to board it.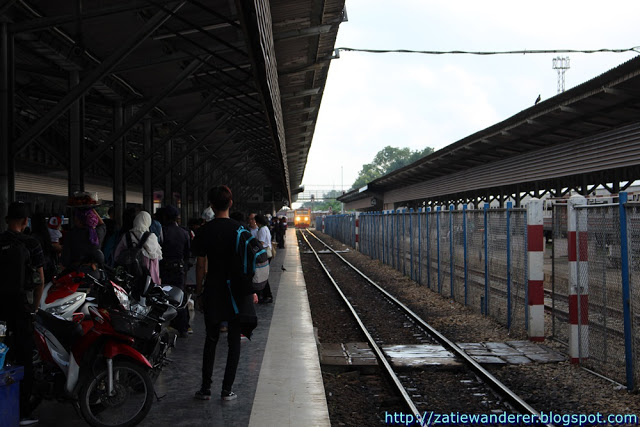 Once inside the train, our sleeper berth is located in the third row from the entrance. We put our backpacks and other items. For those who read my previous post, we booked a side-by-side bed. Fortunately, no one was sitting in front of us, either me or Tatie. Shortly in between 6.30 pm and 7.00 pm, the train assistant will come to transform the seat into a bed.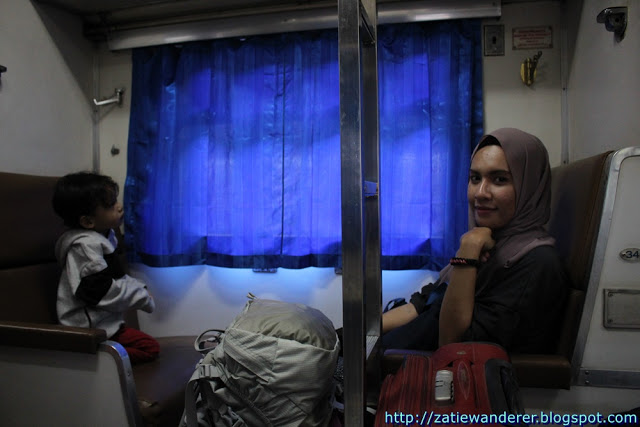 Off course! I didn't want to miss taking photos here. This is my first time boarding a train with a sleeper berth.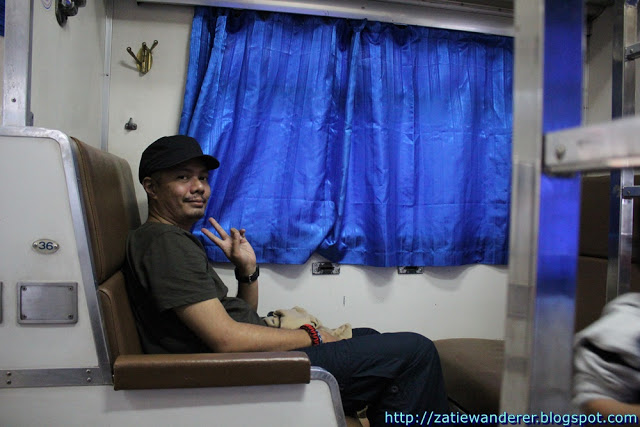 Aqif is excited to be able to ride the train!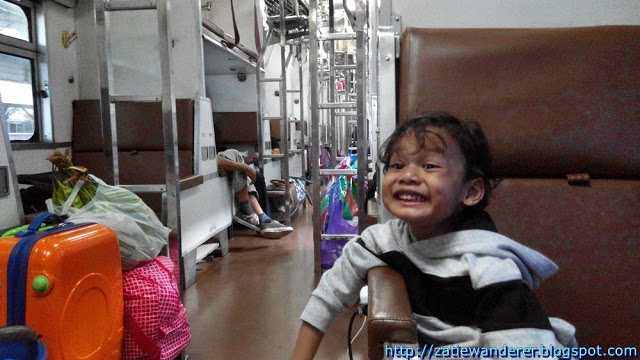 See how many bags are arranged on the edges of the bed? If anyone stumbles the bag, they can fall. So, if you board into this type of train, be careful when stepping. There is no need to walk fast or run inside the train unless you're in a hurry to throw your poop in the toilet. Then, there is nothing to be pursued and your time inside the train is a very long journey. Another thing, the bag arrangement here is quite cluttered. Some people intentionally place their bags on other passenger's shelves even though the shelves to put the bags are not located next to their beds. Let it be, as long as they are happy. And you don't have to worry about it as you're on holiday and just enjoy yourself here. If you're trying to fight for such a simple thing, it'll be complicated and you will spoil your mood.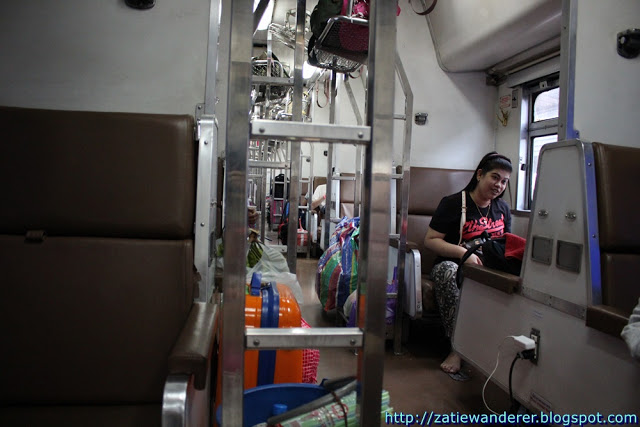 Here's some tip: Actually, you can put your backpack on the bed and it's safer. The nearest point is near to your foot. At first, I did not know about this. But, when we boarded the train from Ayutthaya to Nong Khai, then we knew it.
Look at the electrical socket in the picture above. Only two sockets are available to be shared with 4 other beds. So, bring your powerbank (power pack). While inside the train, it is unnecessary to constantly switch on your phone to 3G/4G as not all areas have coverage. Set to 2G mode to save battery and only use 3G/4G when needed.
The train started to glide from slow to moderate speed. The speed is not as fast as the ETS train in Malaysia but just nice because we can enjoy the outdoor scenery. I started to pretend to be a professional photographer by taking a picture of this child who was in a dilemma to close his eyes and sleep or staying awake.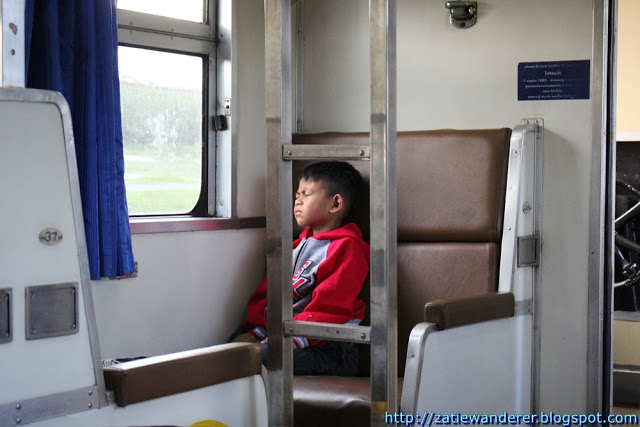 His mother sat opposite of him. They are Thai Moslems. I guess their destination is heading to Bangkok. At first, the boy slept for 1-2 hours. Then, when Aqif started to play with him, the environment started to become noisy.
At first, I just took pictures from the side of the train. However, the scenery of paddy fields has begun to mature and will turn into rice soon.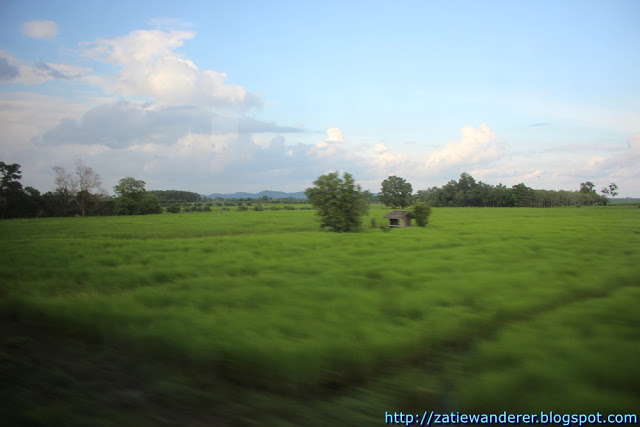 Then, I started a walking session from carriage to carriage. Finally, I passed all my valuable items to Tatie to be guarded because Aqif suddenly fell asleep.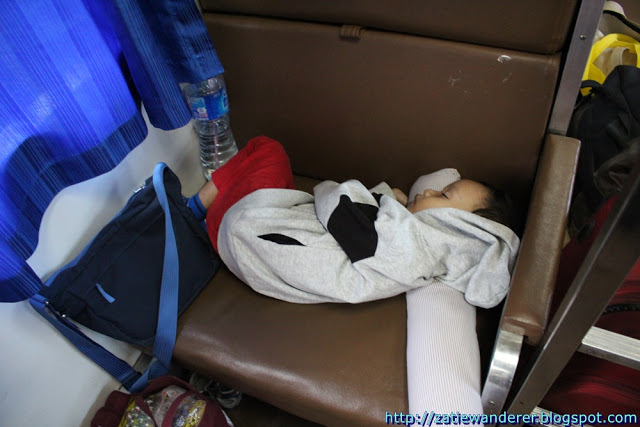 These are the picture where I stand near the carriage door and the view of the atmosphere inside. If I'm not mistaken, we have already been on this train for an hour since boarding the train at 5.38 pm.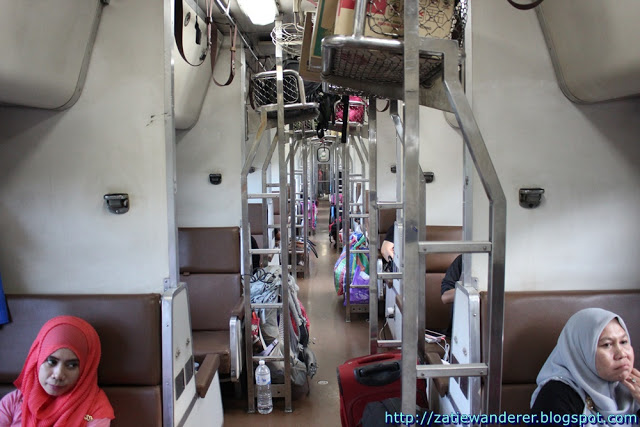 This is a problem when using a DSLR to take a selfie picture. The background behind me looks blurry.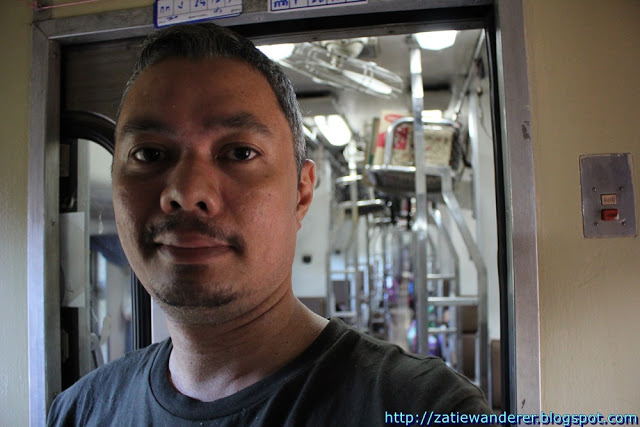 I looked at the pantry side. For those who want to wash hands and face, yes, you can. But don't use it to clean the baby's urine and poop here. Again, bad habits when viewed by people.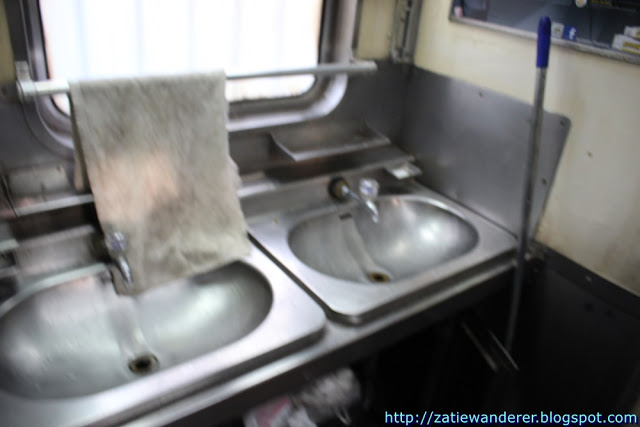 These are another part of the train carriage. To walk from one carriage to another, it's a little bit 'horror'. With a roar due to the friction of carriage wheels on the iron rails, Aqif is afraid to cross from carriage to carriage. It does not matter if the train type is ETS because of its modern and silent sounds.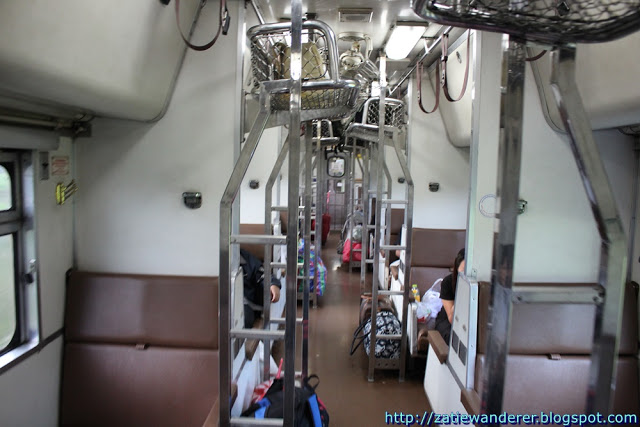 Now, I can start 'real' photography without any windows as a barrier. Coincidentally the door of the carriage on the outside is open. From Google Maps, I find that the hills are located in the Phattalung area. It is a province or district (but from the map, it looks like a states rather than a district) located between Songkhla and Nakhon Si Thammarat.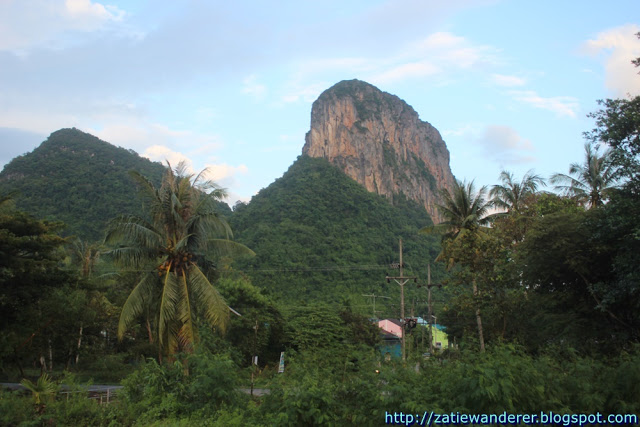 Speaking of Nakhon Si Thammarat's, we were supposedly going to stop and spent the night there. But since it is located far from the train station area and it takes an hour to get there by minibus plus the news says there is a bad flood (monsoon season during December), we have to cancel and continue our journey to Prachuap Khiri Khan. What is interesting in Nakhon Si Thammarat is that it is the site of the old kingdom of Ligor (part of the Old Kingdom of Kedah). So, many historical sites are built based on Malay architecture.
The blue dots markers are probably where our train was right now. Look at the big lake beside the blue dots. Do you know how big the lake is? I've tried to measure the length and it's about 55km. The size is almost half of the famous Tonle Sap lake in Cambodia! If I have more time, I want to explore the lake to see what's around it.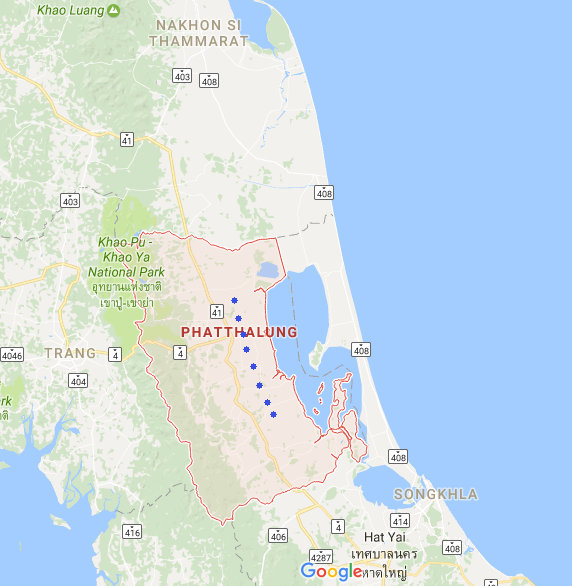 Ok, starting from the below post, I have some scenic pictures of hills in Phattalung. Let the picture speak for itself.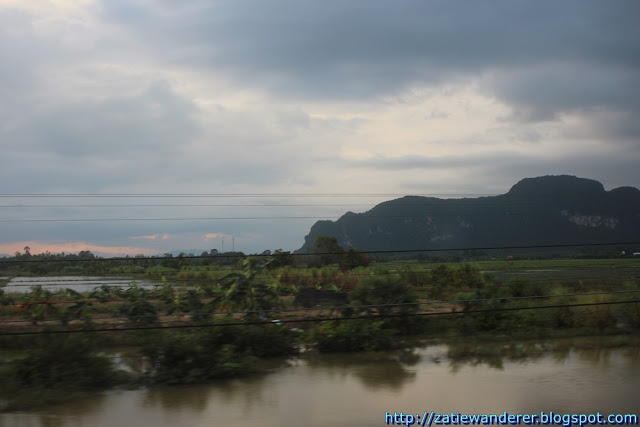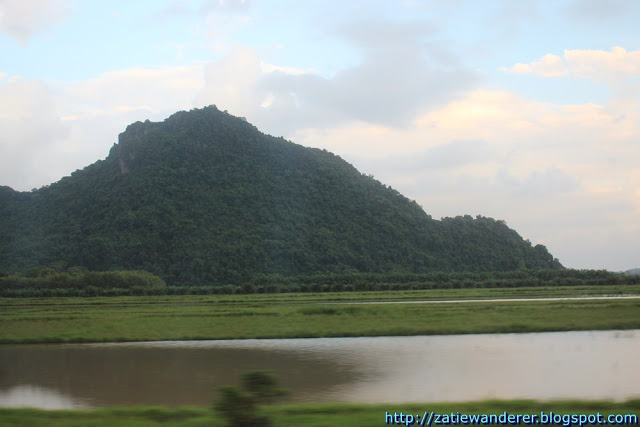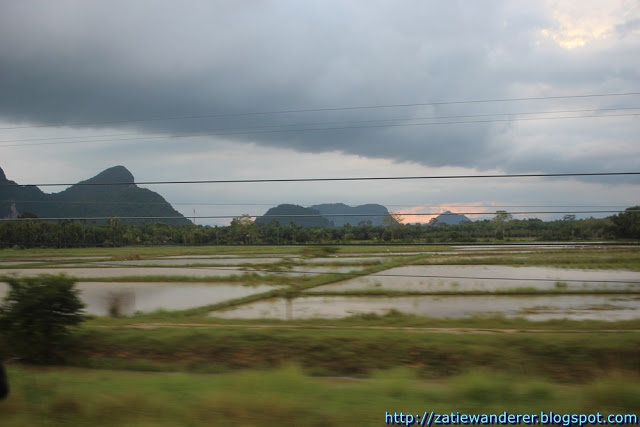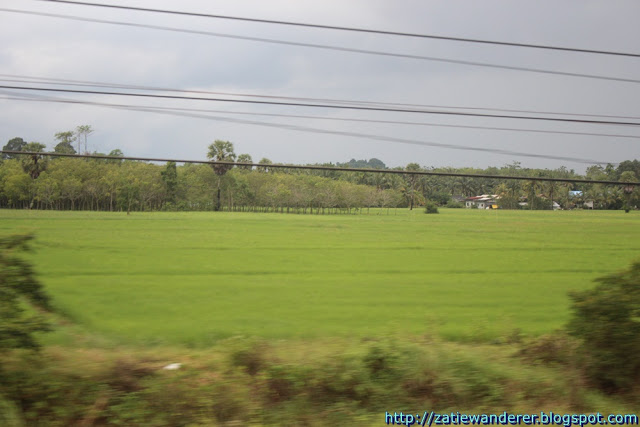 It looks like a cave. Or maybe the government tore down the trails so the vehicle could pass through it.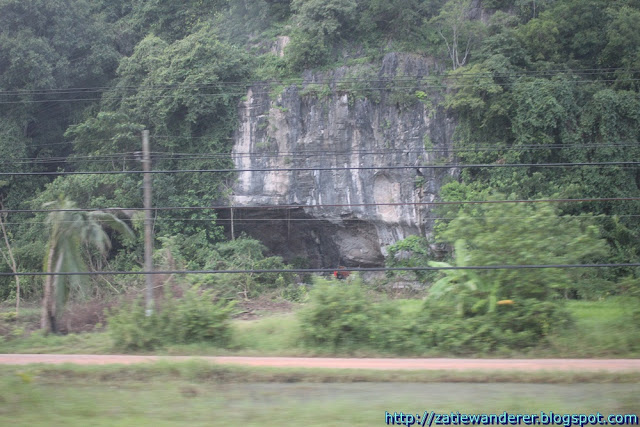 The neighbors behind my sleeper berth are young Thai women. She also helped us on how to convert from seat to sleeper berth. She said that we need to request it from the train assistant and he will come up and assist us. The reason is, not all passengers were willing to lie in bed while the clock is still early, at 7.00 pm. Some may start sleeping at 10.00 pm and during that time, it will be suitable to convert it into a seat. I have the video taken. You can see for yourself how the seat turns into a sleeper berth. The coach assistant took only 3 minutes to prepare a bed.
The night began to appear. Looking at the scenery out there, there is nothing we can see. Oh, Aqif woke up already. Perhaps awake when the train assistant came to transform the seat into a bed. Time for dinner.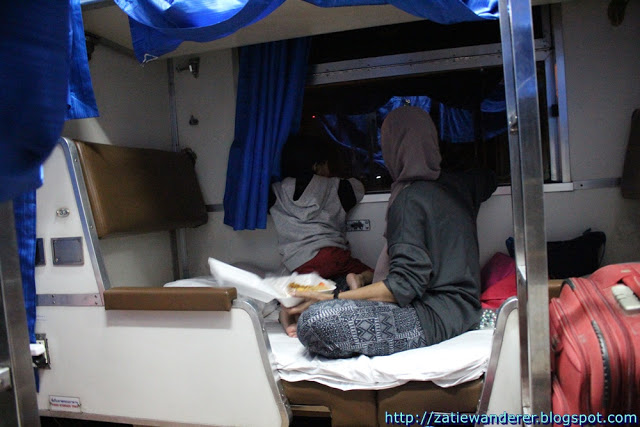 After eating, Aqif was bathed by Tatie. I'm purposely lurking at Aqif from outside the toilet. It's funny because he's afraid of the toilet hole. You can see the ground and the stone on the rail through the hole.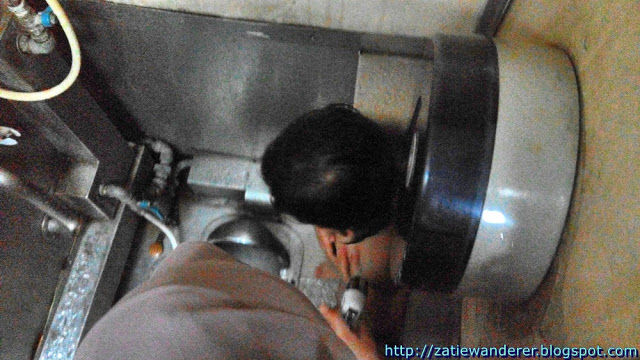 I just want to show you how I chain the backpack to the poles. Everything is done for our backpack safety. I don't care if anyone criticized my way. This type of train is not as modern as the ETS train with a complete CCTV camera on the front and rear. I use a wire type of chain commonly used on bicycles that use a combination number. Cheap and less than MYR10 if you buy from Mr. DIY store (a retail chain that sells DIY items in Malaysia). Very light and it weighs less than 100gm. Thieves can simply cut our backpack straps and escape with a bag. But at least this method can delay their work until they get caught red-handed.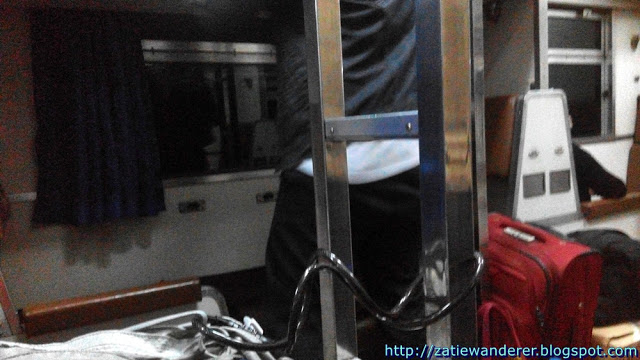 While on the train, I got acquainted with three Pakistani and their style looks like coming from an urban area in Pakistan. They boarded the train from Surat Thani and told me they had just attended a full moon party in Koh Samui. Among the three, only one can speak English. He likes to joke with Aqif until 1.00 am until our son sleeps. They also can't sleep because feeling too hungry, maybe in a rush to catch the train and not have enough time to buy the packed food. So I took out biscuits and snacks, including dates and gave them. One of his friends also borrowed my powerbank because the electric socket was full. That's all I can do to help.
We treat each other well. I also talked about Pakistani leaders like Pervez Musharraf and Muhammad Zia Ul-Haq, who were very intimate with Tun Mahathir to help Mujahidin fighters during the war with Russia. He said that only his fingers were found and planted in graves because President Zia was killed in an air crash (believed to be sabotaged or bombarded by ground-to-air missiles). But, unfortunately, I forgot to take pictures with them as a memory till we meet my Pakistani friends again!
Finally, I can feel the 'sleeper berth' experience. In Malaysia, 'sleeper berth' type train is no longer available and replaced by ETS. Except for Ekspres Pantai Timur (East Coast Express) which is the route from Gemas (Negeri Sembilan) to Tumpat (Kelantan). It's pretty funny to see Aqif's behavior. At first, he slept on Tatie's bed, and later, he climbed into my bed as long as you're happy, my son.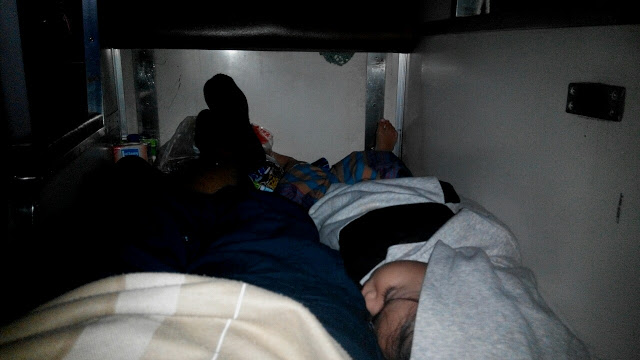 Tips: As the head of the household and the head of travel, as usual, it will be difficult to sleep on the train because worry if missed the station that we're supposed to get off. I share a bit of info, especially for those who have children under 4 years of age. Why under 4 years old is ideal for this tip? Because a kid at this age has a small body size. It is also possible for those ages 5-6 to follow this tip as long as their body looks small.
So, if you buy a sleeper berth ticket, you don't have to buy for three people, for example, a husband, wife, and a child. Just buy tickets for husband and wife only. So, you can save money there. Make sure the child sleeps at the edge of the window just as in this picture; me and Aqif.
And MUST take lower berth and not upper berth. Because the train is rocking and a child can suddenly fall from above. There is no railing that acts as a buffer on the upper bed and that's very dangerous.
Okay… I continued my writing in Thailand – Laos: Day 3 – Part 1 – Good Morning Prachuap Khiri Khan.