For the Malay language, click here.
Continued from the entry Thailand – Laos: Day 2 – Part 4 – Salma Restaurant and Trip to Prachuap Khiri Khan. For pre-travel, please refer here.
Date: 30 December 2016
Day: 3
Location: Prachuap Khiri Khan, Thailand
Starting from this post, I will use an acronym for Prachuap Khiri Khan, that is, "PKK". Do not be confused with Prachuap Khiri Khan Town and Prachuap Khiri Khan Province. PKK town is the capital of PKK Province. The famous Hua Hin town is one of the areas under the PKK Province.
The PKK town placed the headquarters of the Royal Thai Air Force and was the gateway to the Japanese occupation on December 8, 1941, during World War II (The Battle of Prachuap Khiri Khan). Remembrance Day is held annually in December to commemorate 38 Thai air forces and civilians killed during the opposition to the 143rd Japanese infantry regiment.
For the history of the PKK Province, it started with the name Muang Na Rang. After the city was abandoned due to the collapse of the Ayutthaya government in 1767, the town of Muang Na Rang was rebuilt and was named Prachuap Khiri Khan, which means "city in the mountains". PKK town became a seaside resort during the reign of King Rama V.
Upon arriving at the PKK train station, only we were the train passengers who stopped there. Most passengers will stop at Hua Hin or Bangkok. So, 20 minutes before arriving at PKK, the railway officer came to wake us up from sleep. We are already awake because we can't sleep very much. He told us to get ready as soon as possible because the train would only stop for 3 minutes. So, without further ado, we immediately put on Aqif shoes and packed other items. Our fate is good because the newly known Pakistani friend helped Aqif to wear shoes.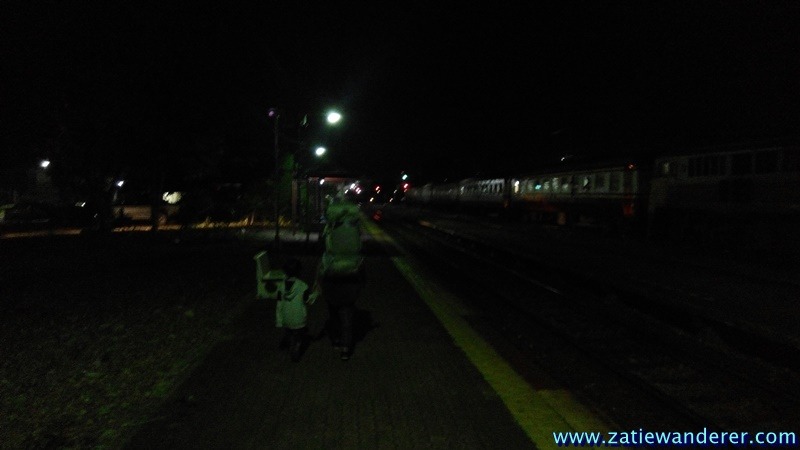 Tip: If you ride the train at night, do not worry if falling asleep. Indeed, train staff will carry paper lists of passengers who need to get off at each station and wake them from sleep. For them, passengers who missed the station were more problematic. Imagine if there were passengers who are already booking our beds on the next stops? Of course, there will be a problem. But, do not rely heavily on the officer to come to wake you up from sleep.
When arriving at the station, the clock is 4.41 am. We have not updated the latest plan yet. Considering that if we can get a hotel, the check-in time is only at noon. The situation was dark at the station. For your knowledge, the original plan for traveling to Prachuap Khiri Khan Town is in just one day. We plan to place a backpack at the Left Luggage Office at the PKK railway station. Then from there, we will visit some famous tourist areas or destinations here. But because I was still exhausted due to the lack of sleep and so on, we decided to stay only one night, which eventually made me choose PKK as the top number one destination compared to all the 11 cities we visited. Continue reading about PKK …
We took pictures in front of the PKK train station while thinking of the idea for the next plan. To your knowledge, this adventure mission is indeed trying to sit at the highest level of confidence. That is to surrender and let God determine where we are going and whose people will be moved by Him to help us or what and how He drives us to ask anyone for directions.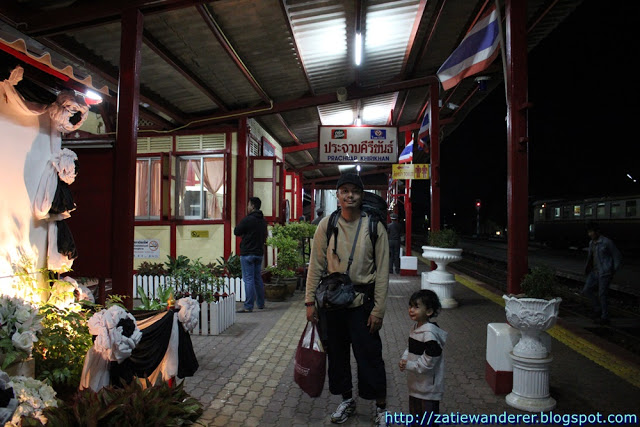 Thailand-Laos journey is not just about getting the "cheapskate" results or trying to ride the popularity of being a genuine backpacker. Backpacking is nothing new to me (except the wife and children). The only submission to God is more important.
The clock was not yet 5.00 am, so we sat down for a while.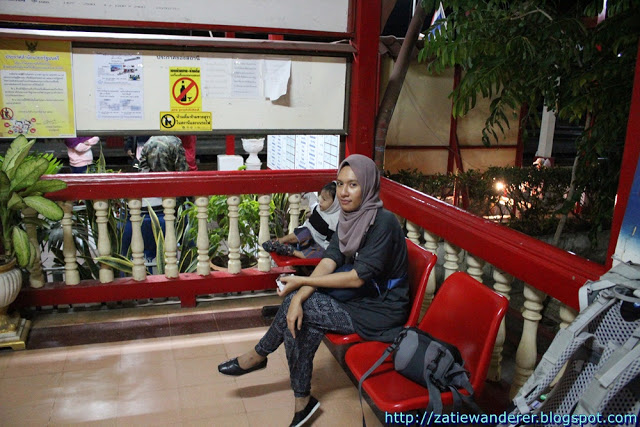 I was taking a picture on the edge of the ticket sales counter. In Thailand, ticket counters are open 24 hours.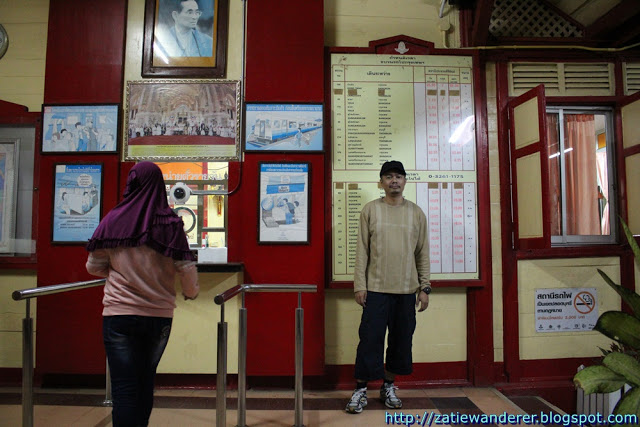 Train schedule for all types of classes that are updated daily.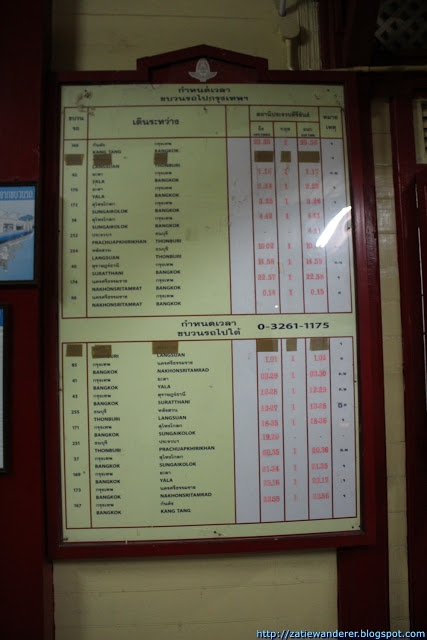 At this station, somehow 3 people are waiting for a train. A man at the age of 50s who knows only a little Malay language (for your knowledge, almost 80% of the local people we meet don't know how to speak English). I asked him how to get to the PKK coast, which is located near the central city. Then a hijab woman who initially bought a ticket when I pictured the counter came to the man. When I knew they were Muslims, I asked if there were Muslim restaurants nearby. The older man seemed to want to help us earnestly. Then he called his friend who sent him to the station earlier to help take us to a Muslim restaurant. His friend is riding a three-wheeled motorcycle that I think might carry vegetables or other business usages.
Many times I refused because I did not want to bother his friend. But they both still invited us to ride on the motorcycle. So we all ride a bike that carrying a vegetable including with our backpack. Wow, the side spaces were enough when everyone gets in, hehe. Several times his motorcycle tire hit the hole and made the motorcycle less stable. I was feeling anxious and nervous. Not to think negatively, but if the motorbike is overturned because of the hole, everyone will be bounce off without a helmet. However, I'm still confident (in my heart, this is the last one and will not repeat in the future). As a human being, it is common to have fear.
His friend took us almost to the whole area of PKK Town and even to the main highway that many Malaysian motorcyclists used to travel to Bangkok. But, unfortunately, there is no Muslim restaurant that is still open during that hour.
Before that, the motorbike we rode had bypassed a 7E shop in PKK, so I asked him to leave us there. We boarded his motorcycle for nearly 20-25 minutes, so we felt like a temporary fever caused by a relatively cold morning wind. The city is also near the beach. Thank you to those who helped us that morning. I forgot to take a picture of them, enough video above as our memories with them.
I asked Tatie and Aqif to go to the 7E store in front of us to buy some snacks for breakfast. Meanwhile, we put a backpack on the edge of a shophouse that has not been opened yet. I watched the clock and it was almost 6 am. So I asked Tatie to buy food at the 7E store because I needed to guard two heavy backpacks.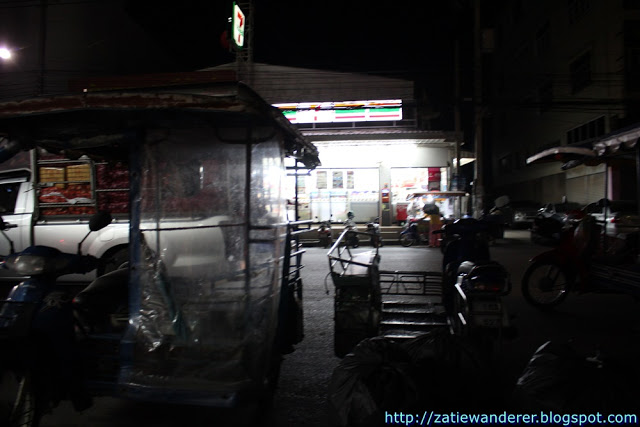 I purposely photographed a video of the 7E store in PKK to be kept as memories…
After Tatie had finished buying some food, we ate a few biscuits and looking around the shophouses, especially the hallway leading into the morning market.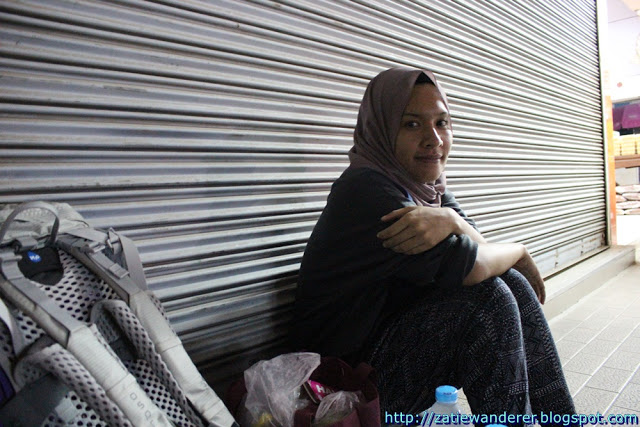 It seems that the public has begun to come to the morning market and many of the sales items are being pulled down from the truck. The store next to us has just opened and they sell bread and biscuits.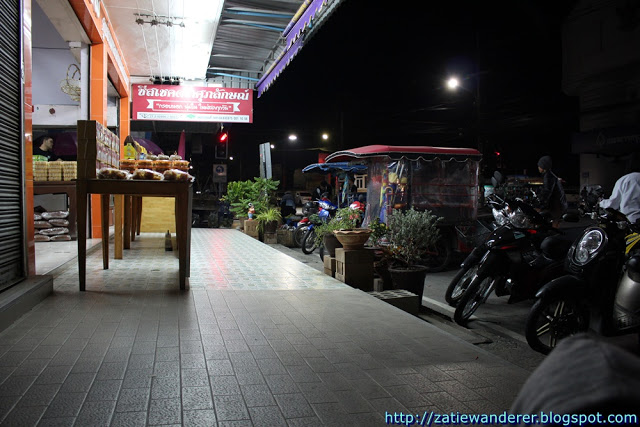 I advised Aqif not to play with the toy car on the floor because it was dirty, but he insisted on playing. In the case of "a lone ranger" type family like us, we have no effort to trivial things but other more important things.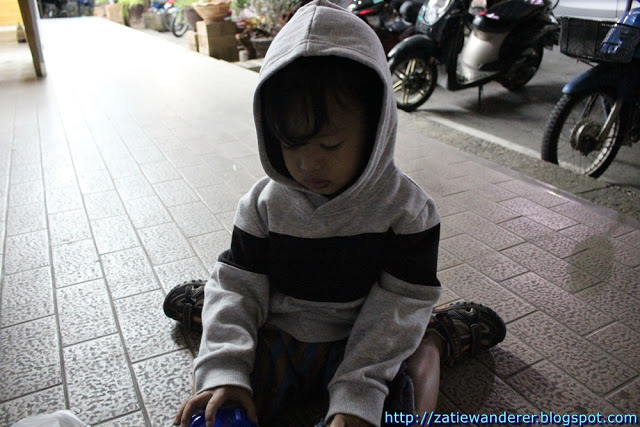 7-Eleven store location at PKK Town: 11.804186, 99.797239
Next, we are guided by Google Maps to the coast and through the market halls that are already busy with morning sales activities. There are various items sold here, but we have no mood to appreciate the atmosphere of the morning market because of thinking about other things to come.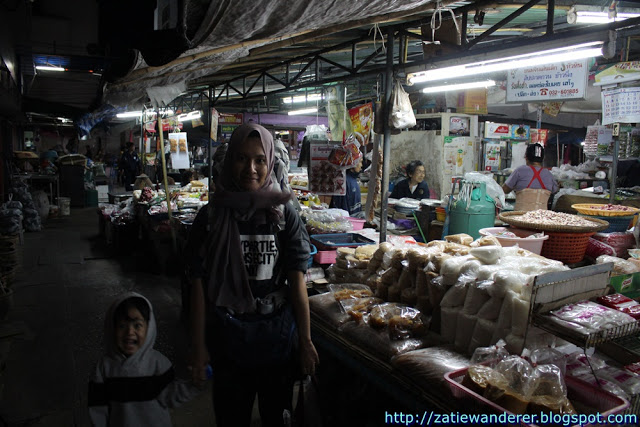 At the front of the market, I had to ask a woman who is a seller there. As always, communication is like chicken and ducks because they do not know English. I had to open the 'Google Translate' app and type "beach" and translate it into Thai. The seller understands and shows me the way. We depended on Google Maps , but my GPS phone is less sensitive to the satellite at this time.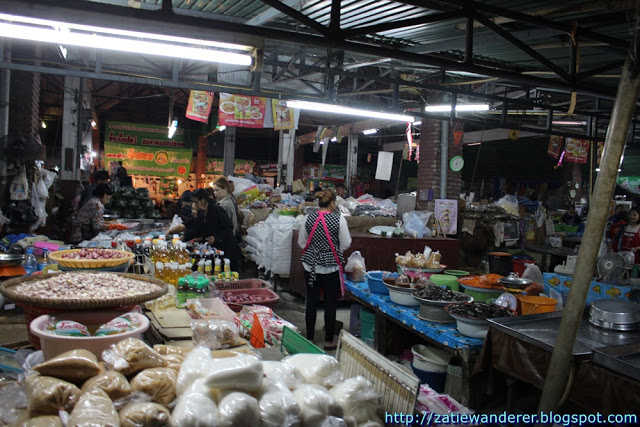 Many of them are staring at us, probably because there are fewer foreign tourists in a time like this. And maybe PKK Town does not have many tourists from abroad. Or maybe in their minds, "What happened to these two adults who carry a huge backpack? Where are they heading? Are they war refugees?" But best of all, they all treat us well and show directions to the beach.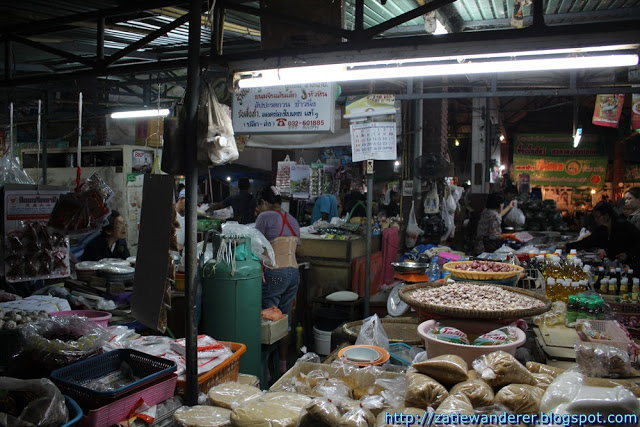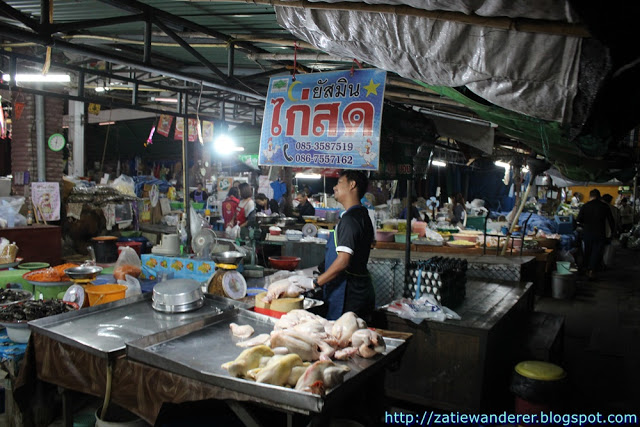 At the end of the hallway to the right, we had to go to a darker aisle before arriving at another morning market facing another road. So even though the hall was dark, we went and walked through it.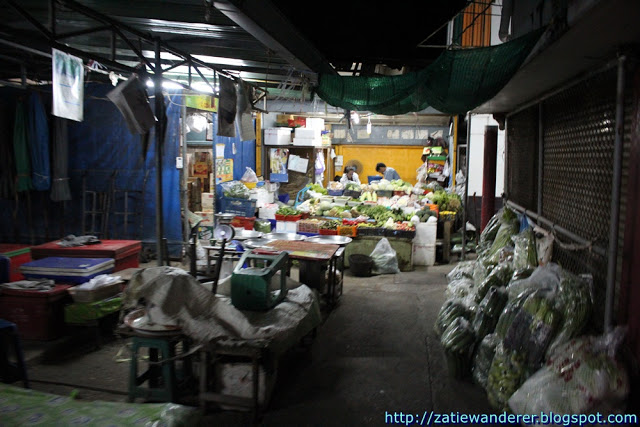 These are the morning market of the section overlooking the other road.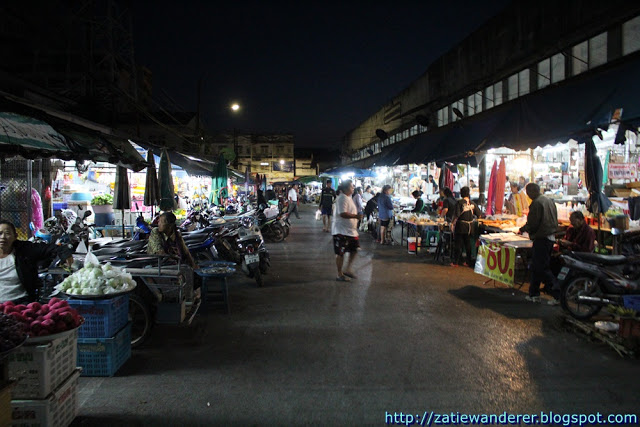 Here, there are many items sold such as fruits, vegetables and flowers for religious purposes. However, I noticed that the morning market in PKK is indeed no sellers from the Muslim community. Perhaps starting from Thailand province that is approaching Bangkok, the existence of Muslims is getting smaller.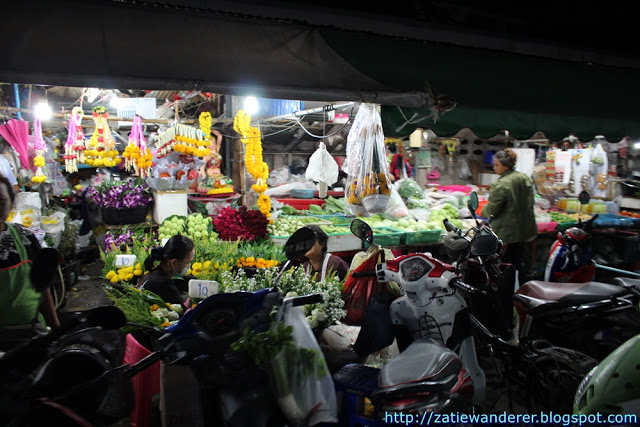 Good Morning Prachuap Khiri Khan
When we arrived at the beach … hmmm, what should we do here? The sky is still dark. There is only a barrier to protect the town from a large wave similar to Padang Kota, Penang. We waited …. waited for 10 minutes. Finally, the scene became apparent when the sun began to show a little of its rays.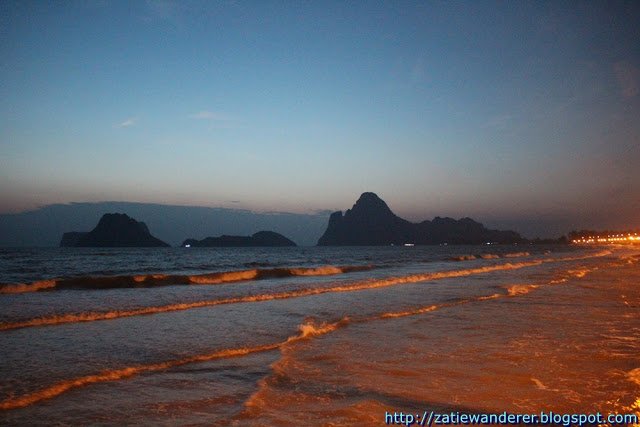 When you surrender to God and don't make any plans or reservations, suddenly God gives a nature scenery like this … WOW !! It's a magnificent view. We stand here longer than expected because of the beauty of nature. I started removing the Micro SD card from the SLR camera to transfer the picture into the phone to be shared with my Facebook friends. Why share a photo? Because we are stunned to see the beauty of nature in front of us. Many of these views can be seen on Thailand's west coast, Krabi, Ao Nang and Phuket. And we've never been to the west coast of Thailand.
Our face was cold as it was hit by the wind from the Gulf of Thailand . While enjoying the beauty of the beach, I started to imagine… "straight in front of us, can reach up to Cambodia and Vietnam ….. and if you walk through these beaches, you can reach the beaches of Kelantan, Terengganu and Kuantan in Malaysia".
After that, we've been feeling cool. I discussed with Tatie where to go next. We saw a relatively old foreign tourist standing behind the fence of a hostel for travelers (or guesthouse) from our location. Then we went straight toward him to aim to relax and warm up for a moment in the hostel's garage. But it's grieving because we are treated like a homeless by him who often says that the guesthouse is full, full and full.
Okay, we ignore the man and I recommend to Tatie that we head back towards the main street in the middle of the town, aiming to take shelter from the cooling breeze. From one hotel to another hotel, we walked in asking the hotel rate, indeed expensive. So, we were sitting beside the hotel parking area and I was moved to ask the parking guard if there was a "cheap hotel" everywhere, but I was forced to use Google Translate when talking with them. Luckily, he knows. He told me to look for Maggie Guesthouse (MG), just 300 meters away from us.
When we arrived at MG, I often shouted hello, hello and hello, but no one responded. MG is a community-style guest house, so be sure to take care of the place. It's already past 7.00 am and maybe all its residents are still not getting up from sleep. At the reception, there is a phone number to be contacted. I tried to contact …. but no one answered. (regarding the review of this MG place, later I will tell in the next post).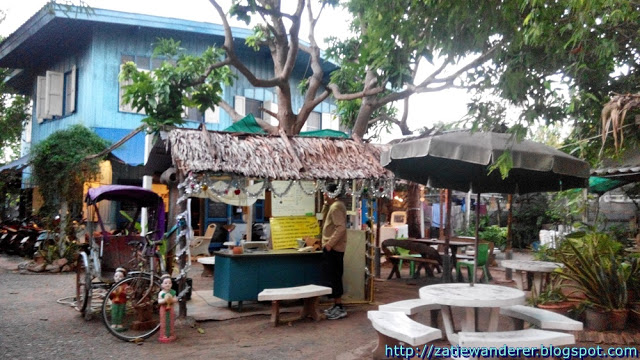 Location of Maggie Guesthouse. GPS coordinates: 11.805752, 99.797933. Very close to the beach, right?
Outdoor kitchen areas at MG are used by the backpacker's community here. Facilities here are free and accessible.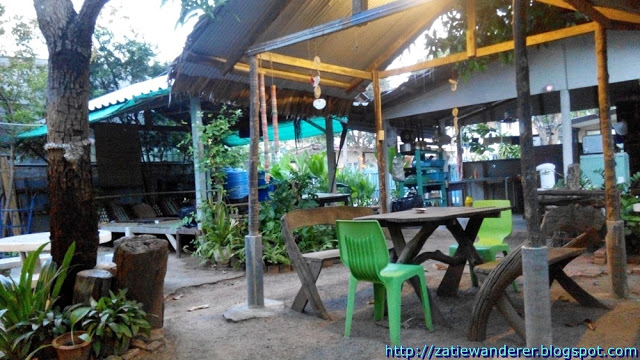 We sat on MG's sofa, almost an hour. Still no one. Mosquitoes are so many, so we decided to go back to the beach looking for a suitable place to cook Maggi (instant noodle). You might ask … "Cook Maggi? How the hell do you cook Maggi ???" Hehe…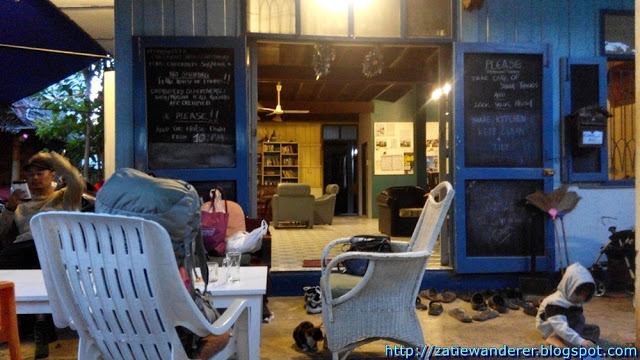 We searched for a suitable place. Suddenly we found a small temple and we hung out next to it and ignored the people who passed by around here. Without delay, we start cooking Maggi while making a shameless face, and … who knows us here? No one. Here is the advantage. Our style is similar to the homeless … hahaha. These are a valuable experience … pre Street Smart education for my kid on the survival technique. Undoubtedly, halal restaurants are indeed tough to find in PKK.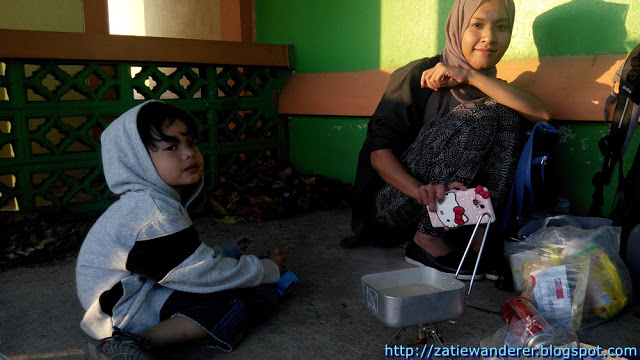 It is fun when the backpacking style is combined with a camping style. Did you think that we did not bring a butane stove with mini gas barrels? Hehehe … But in all the tools in the picture above, I like Mess Tin the most. I purchased it from the same company that supplied the "Mess Tin" for the Malaysian Armed Forces. There is durability and quality.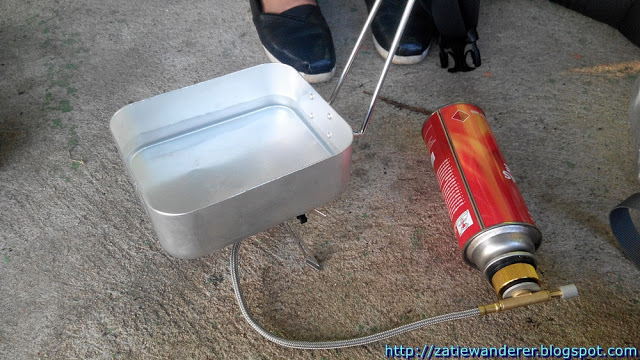 As Tatie cooks, I noticed the sun is rising. WOW! Views look even more beautiful of the hills on the coast at present. It's stunning. Our effort since the early morning is worth it.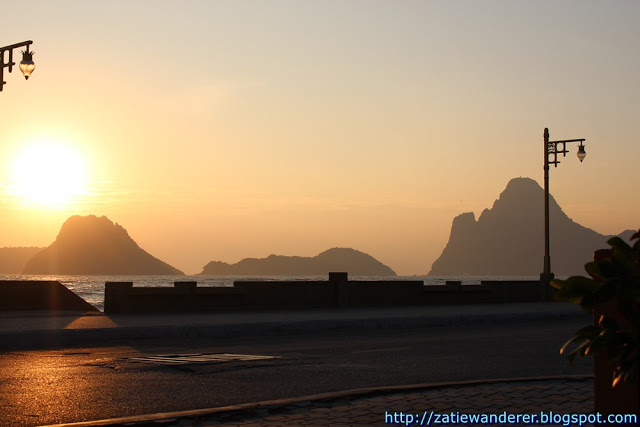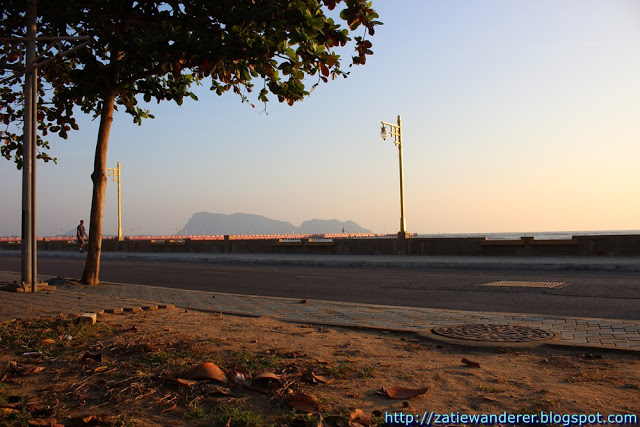 Then on our left, we saw a Wat on the hill. At first, I thought it was a bungalow house or something. It's a temple. Look at the picture above, and the hill is relatively high. I felt a Deja Vu as in my dream, with the same scene and surroundings. We did hike the next day and I'll tell you in the next post.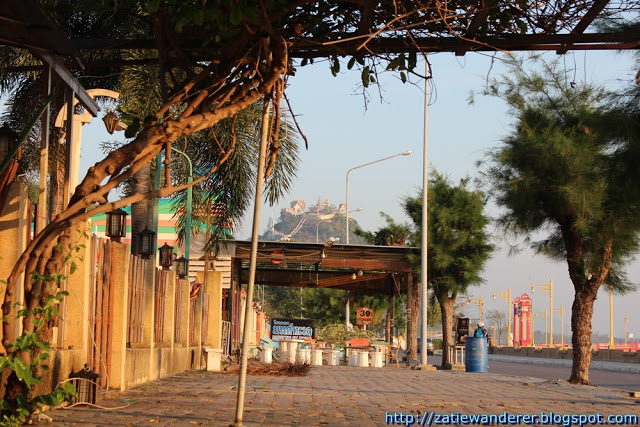 After packing and cleaning the side of the temple, we went back to MG with the hope that the receptionist would arrive there. Hmmm … same, still no one. There is only a slightly older French traveler who approached me for a chat. He was like trying to help us. Actually, he was just started to leave the guest house to go to the beach for a bike ride but came across us. He said the owner sometimes came late and we were chatting about some exciting places in PKK Town.
After chatting, my eyes can't last much longer and I was asleep more than an hour on the sofa at MG. Fortunately, Tatie already slept well on the train and she helped to keep an eye on our backpack.
While sleeping soundly, Tatie suddenly came and wake me up, saying that Maggie had arrived. She introduced herself as Nok, a niece to the MG owner (Maggie). We talk about looking for a room. Then, she asked, at what time did we arrive this morning? We said that we got off the train at 4.40 am. She checked the room and luckily, there was a vacant room at THB500 per night.
The cost for the train's sleeper berth (THB500) was planned to be used to pay for Aqif's bed yesterday but not required for small children. And, we used it to rent at MG for one night. So, our actual budget is still sufficient. Anyway, THB500 is still expensive because the rates here in Agoda, lowest (except hostels/dorms), is MYR58 (USD 15). Moreover, the distance from MG to the beach is just 150 meters away.
Ok, we agree. We got a private room with a bathroom, air-conditioner and high-speed wifi, faster than UNIFI in my place! With our pity face look, I told Nok that we did not have enough sleep. She then allowed us to check-in at 9.00 am. It was a relief for us.
As soon as I entered the room, I sat down on the bed and fell asleep again.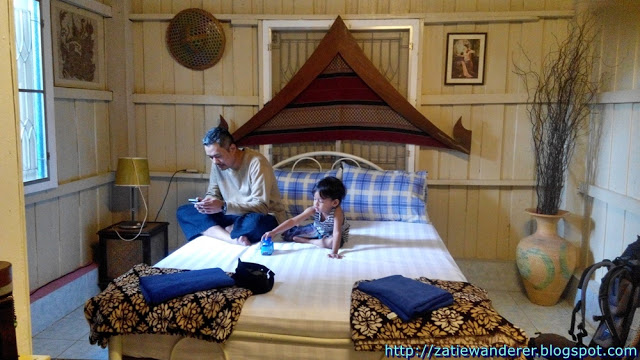 Being the head of the travel group, I need to check out the situation in the room, bed, toilet, and others. Who knows, there may be a python. Not to think negatively, but there have been many cases in which the python loves to hide in the toilet holes in Thailand. Oh yes, the extension plug here looks similar to the USB extension port. To your knowledge, though I've been to a far country, Thailand is a new country for all of us. So, the "never seen something new" level is so high. Please note.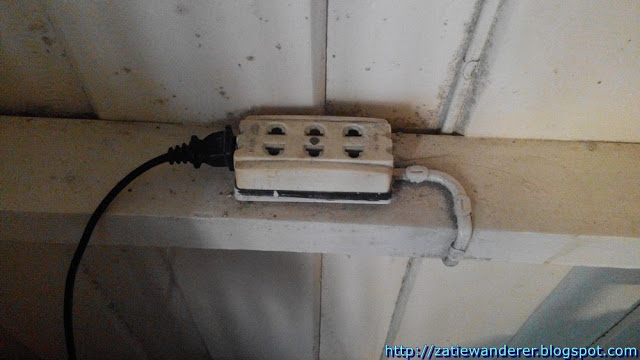 Tatie finished washing all dirty clothes before we all went to bed until 2 pm. We only carry a few clothes and will rotate the same clothes day after day. Soaps are also easy to carry, it is cut into half to reduce the weight. Thanks to my wife! The more we save, the further we travel.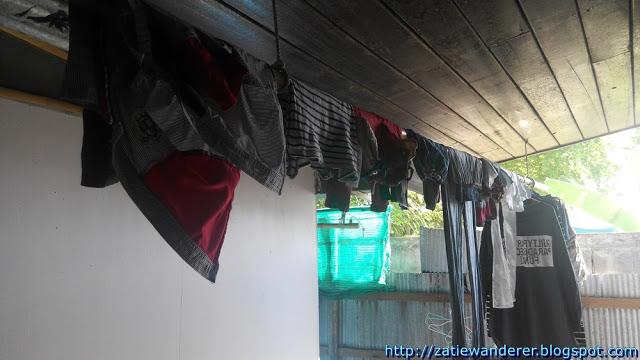 Regarding the beach of Ao Manao and Wing 5, which was supposed to be told in this post, I will continue on the next post… Thailand – Laos: Day 3 – Part 2 – Wing 5 and Ao Manao Beach.