For the Malay language, click here.
Continued from the entry Thailand – Laos: Day 3 – Part 1 – Good Morning Prachuap Khiri Khan. For pre-travel, please refer here.
Location: Prachuap Khiri Khan, Thailand
We woke up at 2.00 pm. It's a bit too late. Please refer to my previous blog post of the cause and why we got up late for those who just read the post. Not intentional, but because we felt very drowsy! As soon as we got up, we are ready to spend the day before the darkness begins at 6 pm. Ok, after getting ready, we left Maggie Guesthouse (MG) at 3.30 pm. Upon the front of the guest house, Nok was seen at the counter. She asked us, "where are you going?" I told her that we plan to go to Wing 5 and Ao Manao Beach (Ao Manao Beach or AMB). Then he telephoned a tuk-tuk motorcyclist (TM) to take us there. Our guide was riding full-time, but at the same time, he was also a tourist guide.

In less than 10 minutes, our tour guide arrives. I told him about our plans to go to some places. As always, they are not fluent in English (except Nok), so it's hard to tell about these two locations. Our tour guide took a while to understand, apparently it was my fault. The reason is that I thought Wing 5 and Ao Manao's beaches are far apart, which are actually located in the same area. Here, Wing 5 is the English name for the Royal Thai Air Force Base, while Ao Manao Beach is a beach located within its area.
I just realized that we were going to hire the tour guide for the day, considering that to go to Wing 5, we require a TM because it is located in the Royal Thai Airforce base. After all, there is rarely any visible TM there. A one-way cost for TM is THB100 (3 persons). So, the two-way cost will be THB200. At PKK, the transportation system is only a TM type. I did not even see any lorry or van in the form of a tuk-tuk. There are no taxis as well.
Tip: If you want to go somewhere rare and hard to go, it is better to hire a return trip. There are also cases where TM rarely goes to where you want to go, making existing TMs that are already available there to charge more expensive because they feel that you are in desperate need of transport back to your hotel.
The first time I got to know about these two places is through Tripadvisor. And I see there are not many or even no backpackers from Malaysia who have come here. So, this is a good opportunity for me to be popular in the "Backpackers Buddies Malaysia" group, "Malaysian Backpackers Club" or Thevocket.com. Hahahaha … just kidding. I am not desperate to gain popularity. After all, I have my own blog and there is no need to get popular in any other blog. Unless if this blog does not exist…
Aqif is already excited. He first chose to sit in front of TM. We are also worried and fortunately, there is a protective metal bar to avoid falling.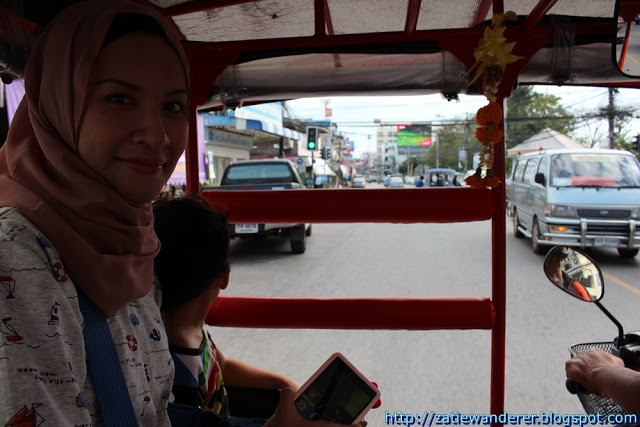 It is also fun to ride this type of tuk-tuk motorcycle. It looks small but can fit 3 adults and 1-2 young children, excluding the riders.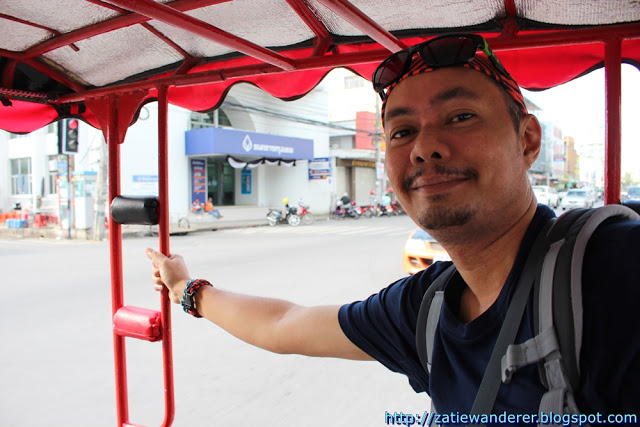 For your knowledge, though Prachuap Khiri Khan (PKK) is only small, it is a state and Hua Hin and Cha-am are under its jurisdiction. In terms of entertainment and the speed of town development, Hua Hin is more prominent, while Cha-am is ideal for leisure activities as well as on the beach. Shopping and entertainment? Hua Hin is perfect.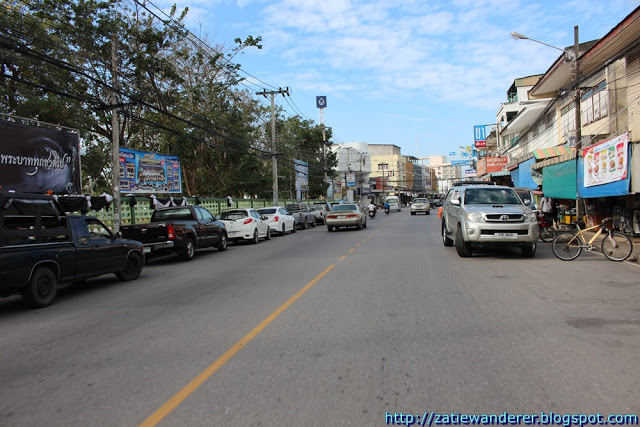 It looks like a Thai secondary school. There may be no holidays in December as in Malaysia, although it has been near the new year of 2017.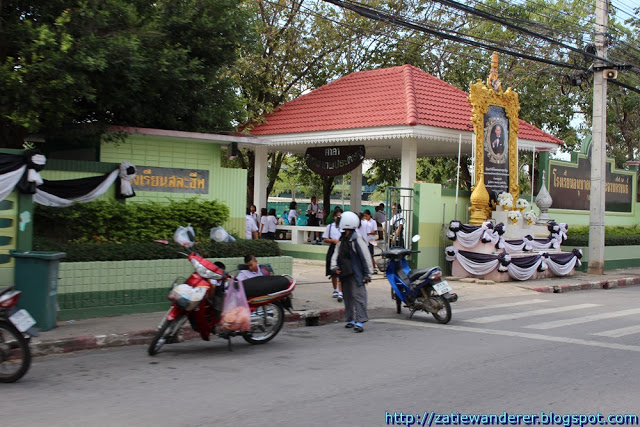 I took the video around PKK City.
Wing 5
Upon arrival at Wing 5, there is a gate with the sign of Royal Thai Airforce. Getting into the military base is not very strict because it is located within the tourist area.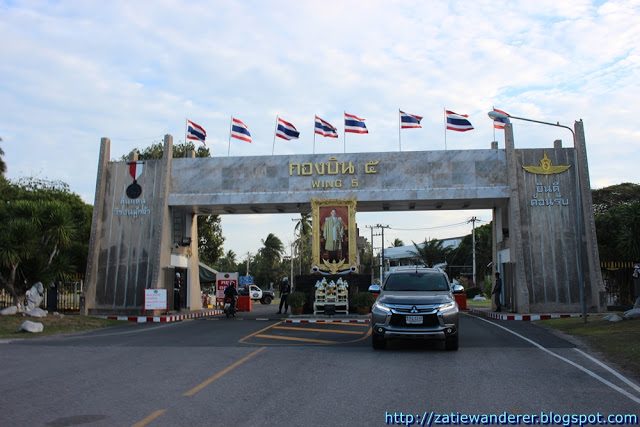 After entering the gate, TM will stop and we are directed to show passports and write down some of our details. No need to pay any entrance fees, all for free. If you bring a family, it's only enough for a husband to show his passport. But do not worry, army officers here are good and very helpful. On the edge of the guardhouse, there was an old military airplane. It's not a proper guardhouse but more like a big canvas tent.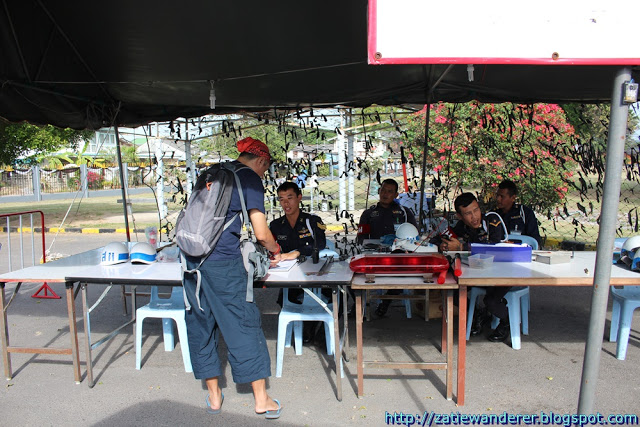 These are the old airplane I mentioned earlier. Traveling to AMB beach in the Wing 5 area is about 3 to 4km away from the main gate. Fortunately, the weather is perfect that day. Interestingly, on the way there, we crossed an airplane runway! Very unique, we have never had such experiences before.

AMB beach location. For GPS position: 11.772626, 99.795617
On our way inside, I snap some pictures. It looks like a children's playground. There may be government quarters here.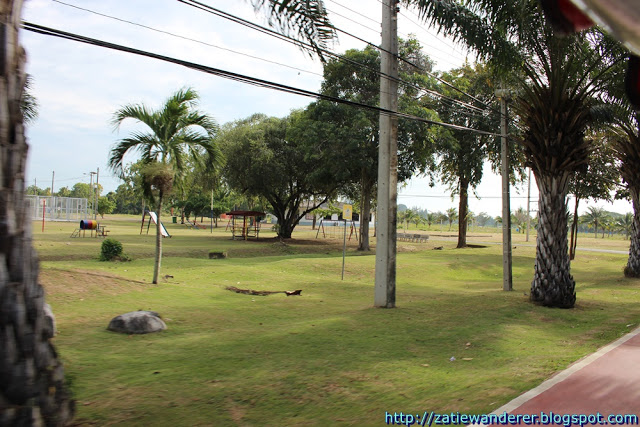 Remember the pictures of the hills that I snap in the early dawn? These are the hill from close range.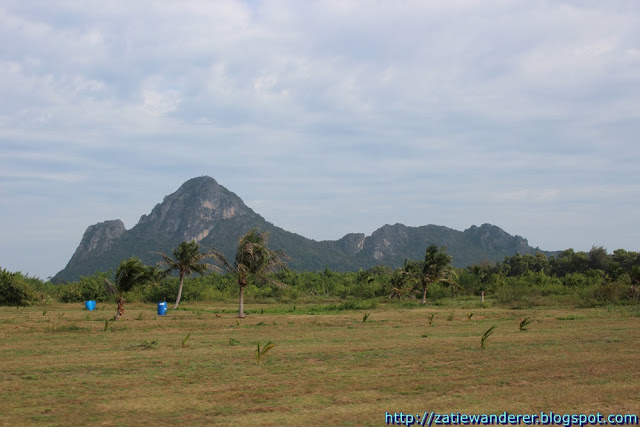 Haa … this is one of the unique experiences in Wing 5. We need to cross the runway! We can find nothing similar in Malaysia.

View of the runway to our right. There is no structure here. There are only open spaces and grassy grounds. No one wants to build a house beside the runway. Only crazy people will build it.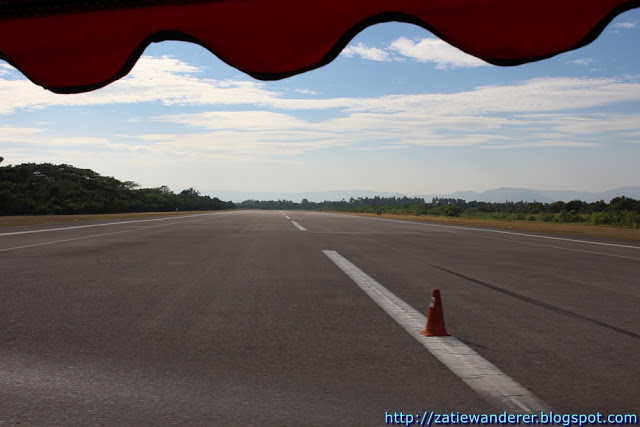 There is a lake here. But we didn't stop because the scenery here was just ordinary.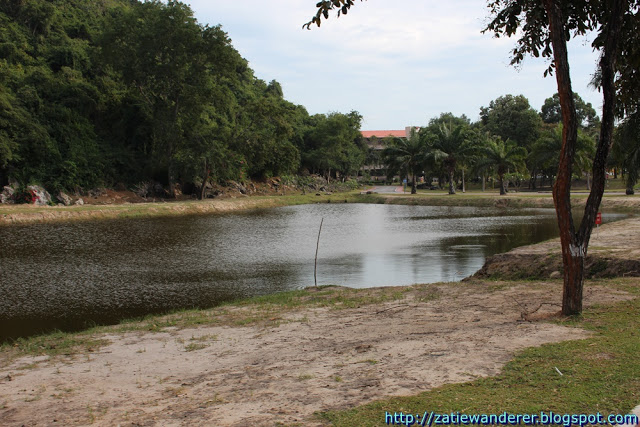 I assume this is a department and training ground for a military dog or "K9 unit". The building looks hidden from the outside, probably deep into the lane on the right.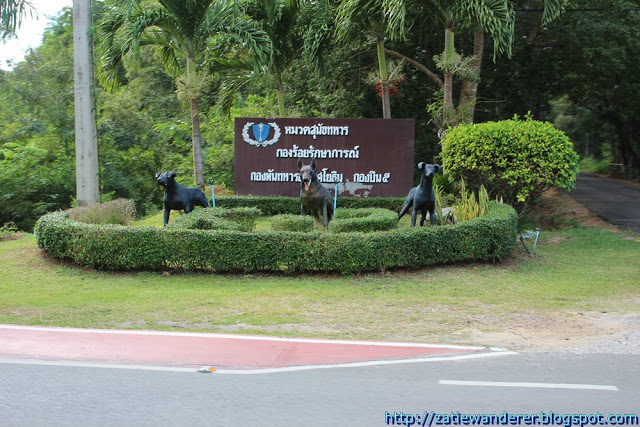 Army quarters in Wing 5.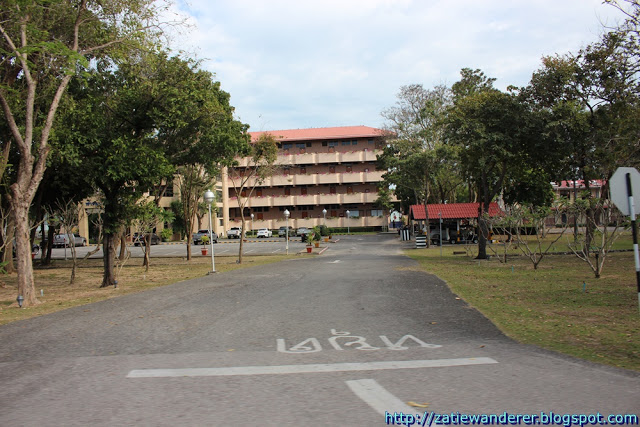 We're almost near the AMB beach. While here, we forgot to visit this playground as entertainment for Aqif to play, although we had already taken pictures of this area. Probably because our eyes are captivated by the beauty of the hills there.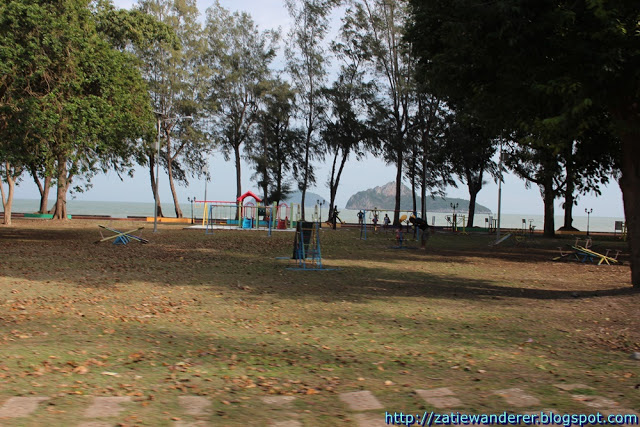 There are also many local tourists here. Foreign tourists are a bit here and maybe because they don't know this place or it is not so widely promoted.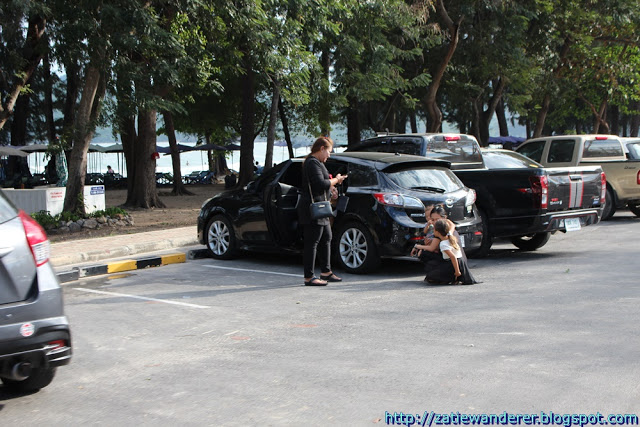 These are not a market but a food court. For Muslims, there is no halal food here and we have checked all over the place.

Here is an example of the type of TM we used to ride. See the yellow sign on the left? TM riders drop us off there. Then he asked how long we would be at the AMB beach and would we go for a swim on the beach? We said that we wouldn't swim and enjoy the scenery and an hour should be enough. So, at 5.00 pm, he would come back to that yellow sign to wait for us.

If you want to swim here, spending 2 hours here is enough. The sea is not so turbulent compared to the east coast of Peninsular Malaysia because it is located in a gulf link surrounded by hills and small islands in the middle of the sea.
Upon arriving at Ao Manao Beach, we are treated to a beautiful view of the landscape. WOW, the beauty of the panoramas is amazing. See, there are many tourists, especially locals.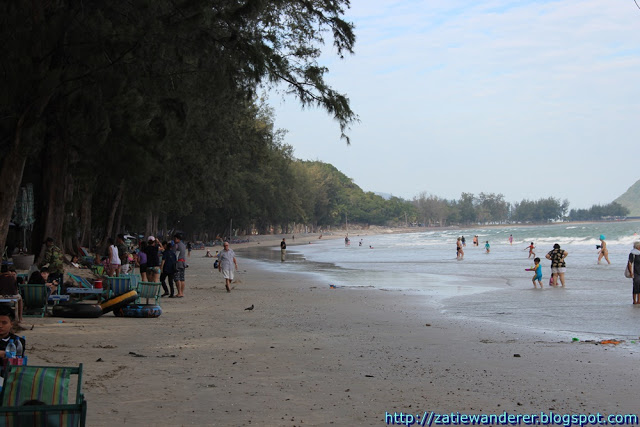 There, the view of the hills from behind. Soon I will show you the same picture, but this time it is almost evening and the sunlight is reflected on the hill's surface.

My position is to the right of the AMB beach. There are also many hills with a unique shape.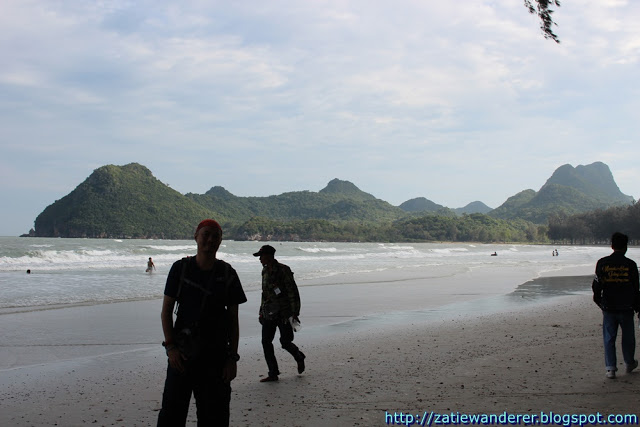 While we were taking pictures, Aqif played with the sand beaches here.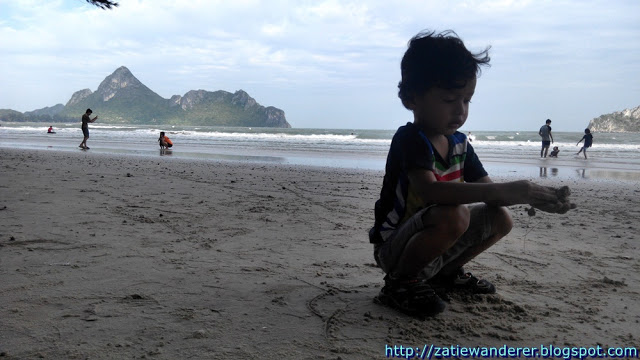 Taking a break for a while.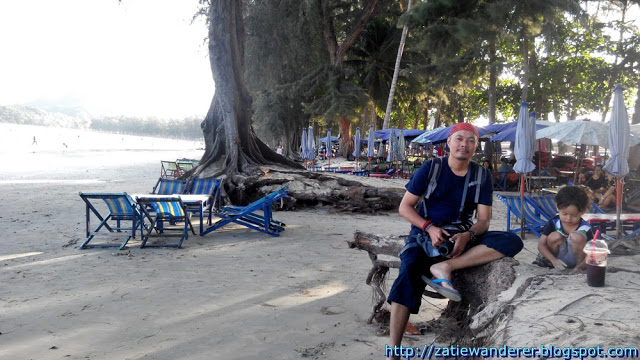 After the panoramic view, we headed to the food court.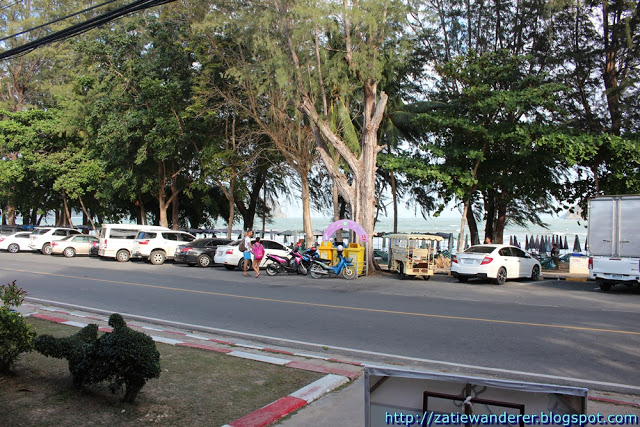 I forgot how much it cost is the entrance fee for the toilet. But don't worry, it's cheap.

An animal-shaped landscape in front of a public toilet.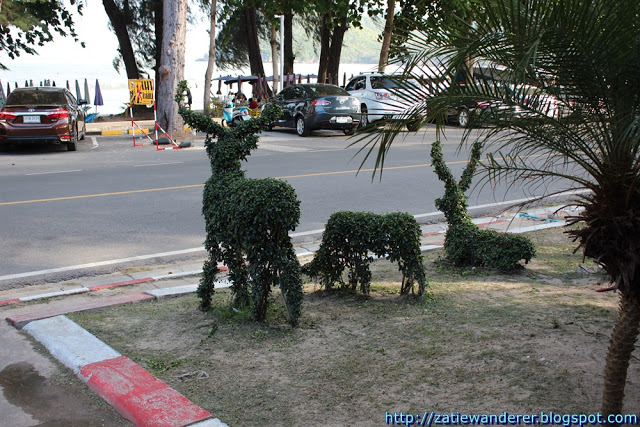 I purposedly stand in the middle of the street to take a picture of the atmosphere here. In front of me is the direction to return to PKK Town. I think we're at the end of the AMB beach here.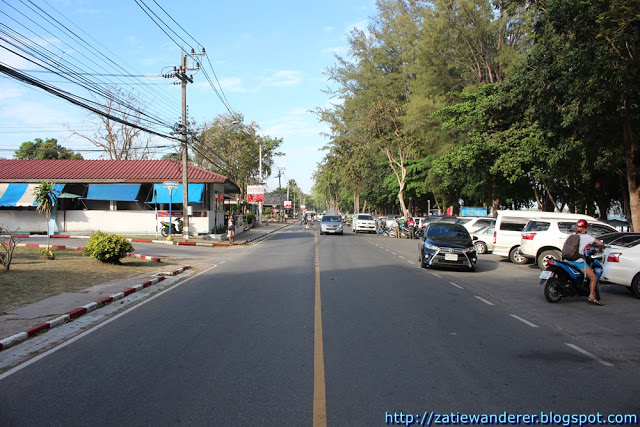 Our first food court is here. This place is more open-air and more lively, but unfortunately, no stall selling halal food.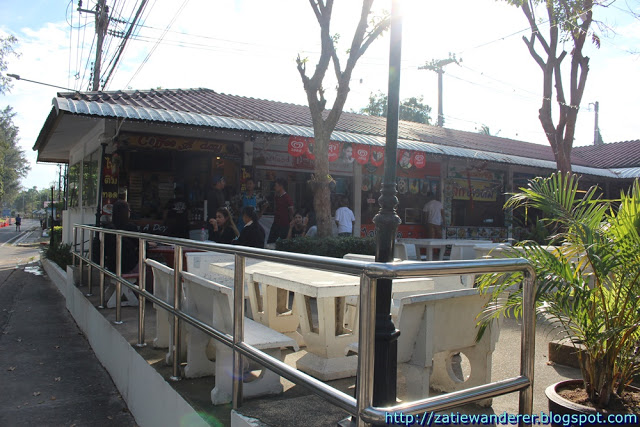 Since we hadn't eaten lunch yet, our stomachs were starting to ring. So, anything that we found here and suitable to eat, we'll then proceed. So, we ordered kiwi fruit and blueberries and ice cream.

This woman is preparing our juice. I guess all the food/drinks here are halal based on the content and ingredients sold.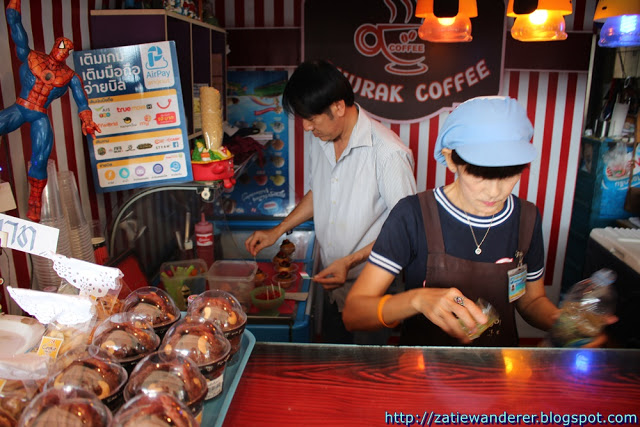 For those of you who want to know the location of this booth, use the above picture of the booth for guidance. The booth is referring to the three people standing there.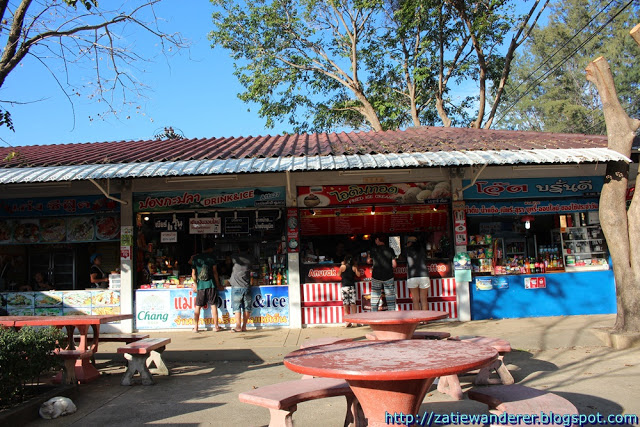 Aqif's face when eating ice cream!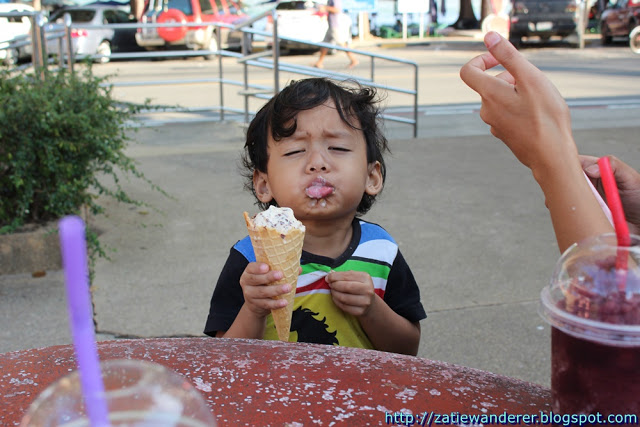 'Lunch'. Fortunately, I brought the fruit date I bought yesterday at Hat Yai. While I was looking around, I saw some westerners here too. Some of them rent large motorcycles like Harley Davidson. They just came, drank and ate fruit, enjoyed the scenery here without a word, and then gradually returned to their hotel.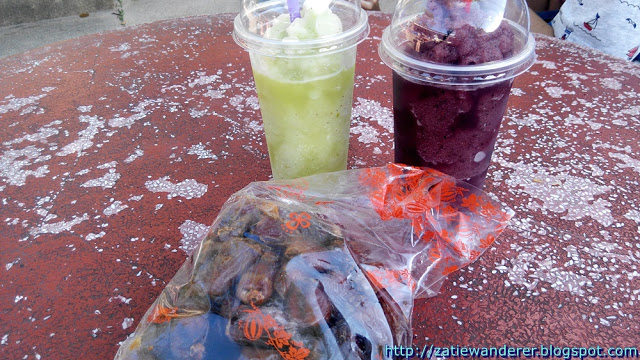 Forget to tell you that the price of juice drinks here is not high, only THB25.
After that, we headed to another booth in hopes of some halal food to eat. Suddenly I found an instant porridge. Porridge is usually halal. After all, it is just rice porridge and vegetables. But, suddenly, I saw a small icon shaped like a pig … so this is a pork-flavored porridge and I canceled my intention to buy it.

I assume that all the stalls selling food in AMB here are not 100% halal. So here's a tip for Muslims. Before you arrive, have lunch somewhere or bring a snack. Or do as we did by ordering only fruit juice and ice cream.
Since there was still time, we headed back to the beach. It's great here because the area is still not crowded with tourists. If you want to sit at the seashore tables, it is possible, but you need to order a drink. Not sure what type of drink was served there. But I saw a lot of soda drinks like Coke. Since I have a gastric ulcer, so we always avoid drinking sodas. But I think the drinks here might be a little expensive because at the same time we have to 'rent' the chairs and tables here.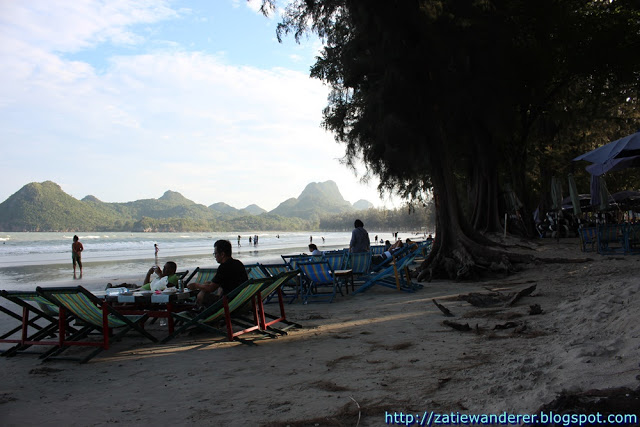 A picture of a table and chair by the beach.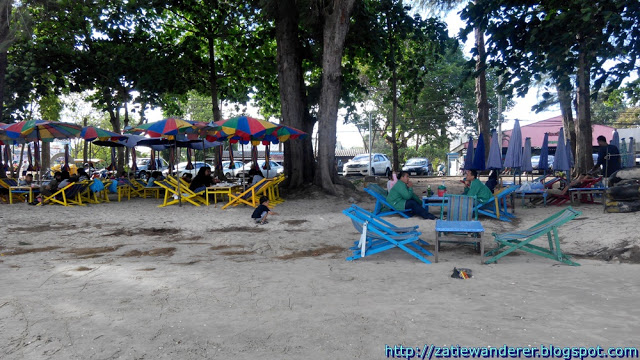 Suddenly I got excited for the second time. Look at that! The scene is the same, but it is more spectacular than before. So, my suggestion is, if you want to come here, the best time is between 4 pm-5 pm as the sun is starting to set. So, the reflection of the light will hit the hills in the middle of the sea and the scenery is even more spectacular. Well, I'll show you some more pictures …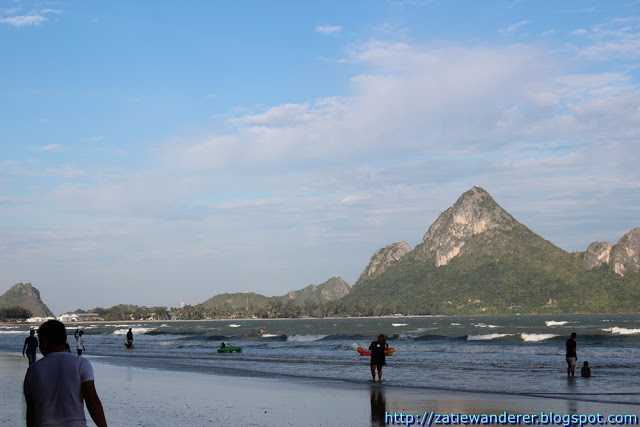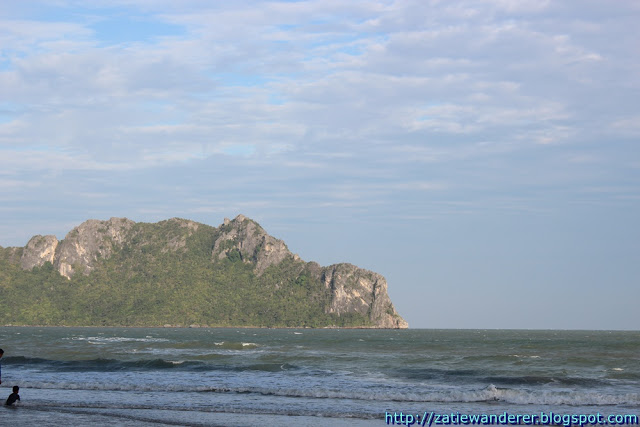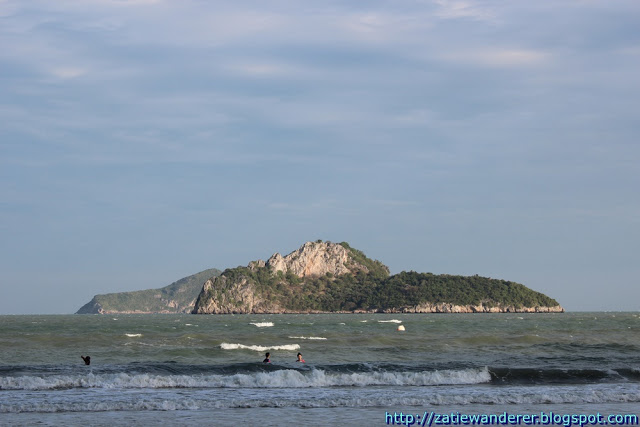 It is not certain whether this is a type of mangrove tree or a common tree that shows off its roots because of the erosion of the ocean waves. Regardless, the root form is very interesting. At 5.00 pm, we headed back to where we arrived earlier, that is the yellow signboard beside the main road. When we get there, the TM riders have already arrived! One of the things I love about Thai culture is that they value time and keep their promises.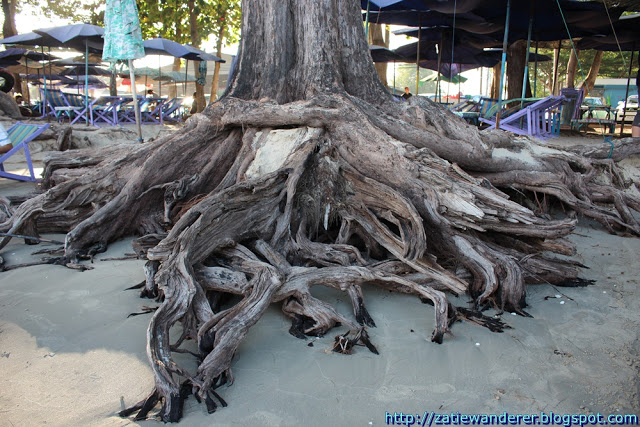 Videos around Ao Manao beach taken by Tatie.
TM riders suggested that we go to Wat Ao Noi, a very interesting Wat located near a beach. I asked for the price and the fare is the same as the Wing 5 which is THB100 one way, so the round trip amount is THB200. It is 8km from AMB beach. Since it was still an hour before dark, I agreed to go there by adding THB200.
Why do I like PKK Town? Because here is the only bay on the east coast of southern Thailand.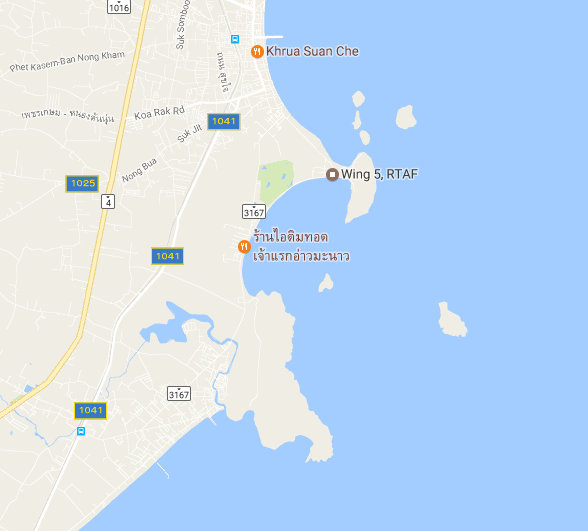 Note: After returning from travel, I noticed that Wing 5 has its own location and beaches. At first, I thought that the beach in Wing 5 referring to Ao Manao beach. So if you decide to visit here, try to ask for more information from the tuktuk.
We continue our story in another post, Thailand Travel – Laos: Day 3 – Part 3 – Wat Ao Noi.