Continued from Thailand – Laos Travel: Day 7 – Part 3 – Muslim Restaurant and Memorial Monument in Kanchanaburi. For pre-travel, please refer here.
If you walk from the Memorial Monument towards the War Cemetary, I think it's a bit far, about 3km. If you are energetic, you can walk.

So, we wait for the motorcycle tuktuk if there is one available in front of us. After 10 minutes, it was quite difficult to see the tuktuk here. For some reason, I feel that Kanchanaburi is not as lively as in other areas of Thailand although here is full of world-famous historical places.
While waiting by the roadside, I also managed to take a picture of a shophouse that has become like a haunted house because there are no occupants and it is full of creeping plants.
Lazy to wait, we continued walking while inquiring tuktuk driver who was resting on the side of the road. Finally, he's willing to send us to our destination but the price offered is quite high which is THB100. With the mind power of the JEDI hero from the Star Wars movie, I tried to influence him to accept only THB80. Several times negotiated and he agreed.
As we rode in his tuktuk, the rider's face looked like it was dissatisfied. His face looked like he had to help us that day. Sometimes I feel like transportation fares in Thailand are too expensive even though many Malaysians say the prices there are cheap. Imagine if I pay THB100 for a journey of 3km, it's the same as paying for a taxi with a fare of MYR12! In my place, I took an Uber with 3 passengers for 6.8km and the fare was only MYR7.80.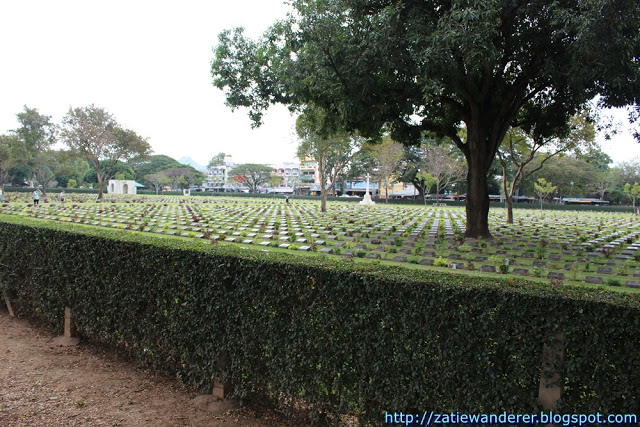 He sent us up to the side of the main road facing the entrance of War Cemetery. I actually misunderstood the pronunciation in his mouth earlier whether if he wanted to wait for us in the cemetery until our tour finished and hire him again for a trip to the next place. Furthermore, after he dropped us there, he was still there and not going anywhere.
So, from a distance, I watched to see if he was gone or still there. Fuh, luckily he's gone. Worried that he would chase after us and force us to pay extra money.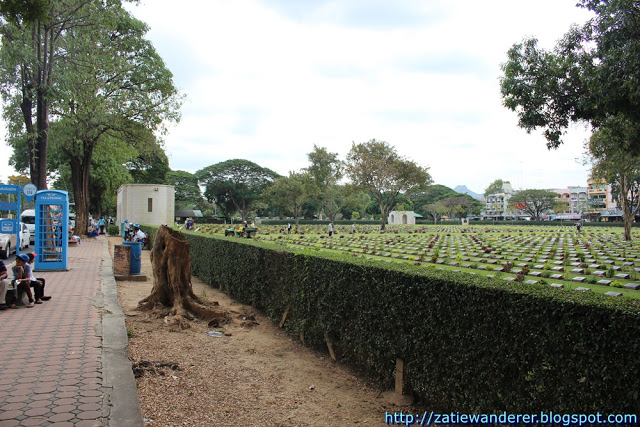 Finally, we arrived here which is a famous cemetery that houses Christian prisoners of war called Kanchanaburi War Cemetery. They were prisoners who served from 1939 to 1945.

The location of this cemetery is actually just opposite the Kanchanaburi railway station.
Here it is written: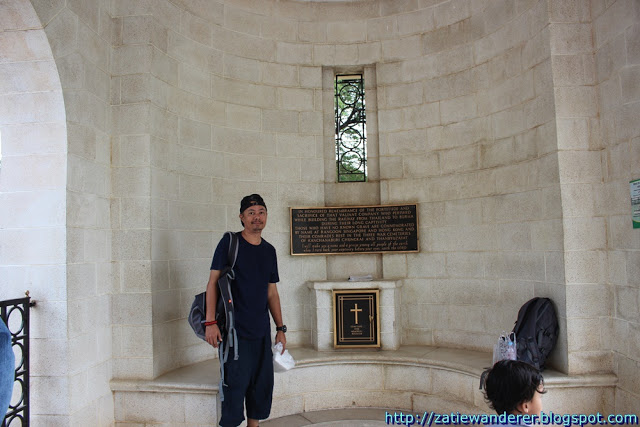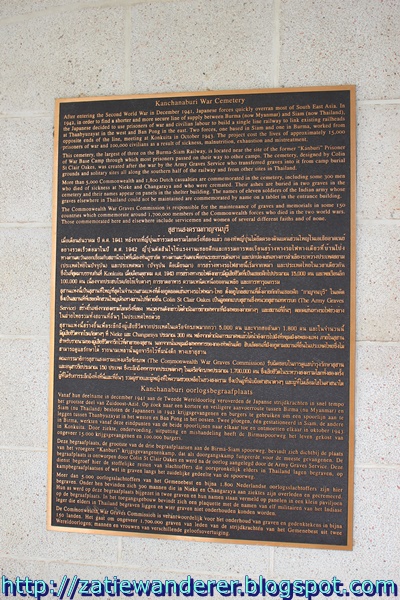 After entering the Second World War in December 1941, Japanese forces quickly overran most of South East Asia. In 1942, in order to find a shorter and more secure line of supply between Burma (now Myanmar) and Siam (now Thailand), the Japanese decided to use prisoners of war and civilian labor to build a single line railway to link existing railheads at Thanbyuzayat in the west and Ban Pong in the east. Two forces, one based in Siam and one in Burma, worked from opposite ends of the line, meeting at Konkuita in October 1943. The project cost the lives of approximately 15,000 prisoners of war and 100,000 civilians as a result of sickness, malnutrition, exhaustion and mistreatment.
This cemetery, the largest of three on the Burma-Siam Railway, is located near the site of the former "Kanburi" Prisoner of War Base Camp through which most prisoners passed on their way to other camps. The cemetery, designed by Colin St Clair Oakes , was created after the war by the Army Graves Service who transferred graves into it from camp burial grounds and solitary sites all along the southern half of the railway and other sites in Thailand.
More than 5,000 Commonwealth and 1,800 Dutch casualties are commemorated in the cemetery, including some 300 men who died of sickness at Nieke and Changaraya and who were cremated. Their ashes are buried in two graves in the cemetery and their names appear on panels in the shelter building. The names of eleven soldiers of the Indian army whose graves elsewhere in Thailand could not be maintained are commemorated by name on a tablet in the entrance building.
The Commonwealth War Graves Commission is responsible for the maintenance of graves and memorials in some 150 countries which commemorate around 1,700,000 members of the Commonwealth forces who died in the two world wars. Those commemorated here and elsewhere include servicemen and women of several different faiths and of none.
Ok, this is the story …. the Japanese forcibly deployed 15,000 prisoners of war from various countries and 100,000 workers from ordinary people. Because many died during forced labor, only the remains of 5,000 detainees as well as people from the Commonwealth countries and 1,800 Dutch nationals were successfully relocated to their cemeteries here. It also houses 300 patients from Nieke and Changaraya who eventually died and are buried here.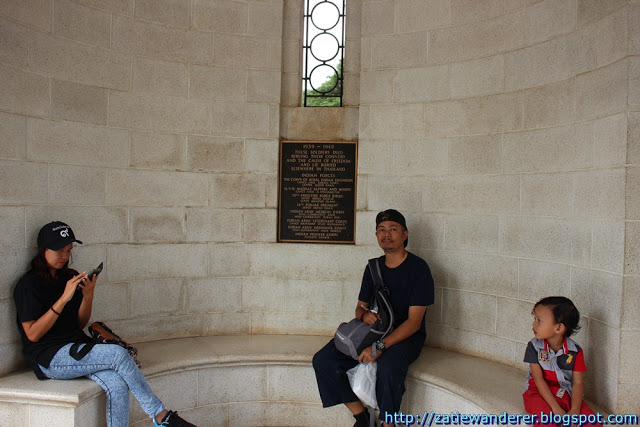 The sign says ….. this cemetery is a gift from the Thai people to the victims who died during the construction of the Death Railway. Those who remember the school days and learn about the history of this railway will probably be able to feel the atmosphere, conditions and emotions.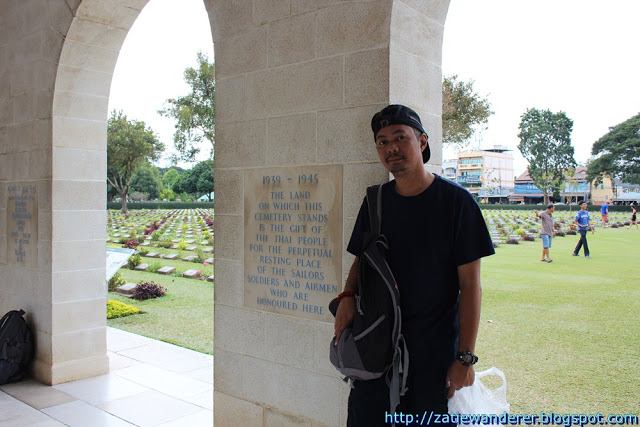 From the entrance building earlier, there is an information board before setting foot into the cemetery. CWGC stands for Commonwealth War Graves Commission.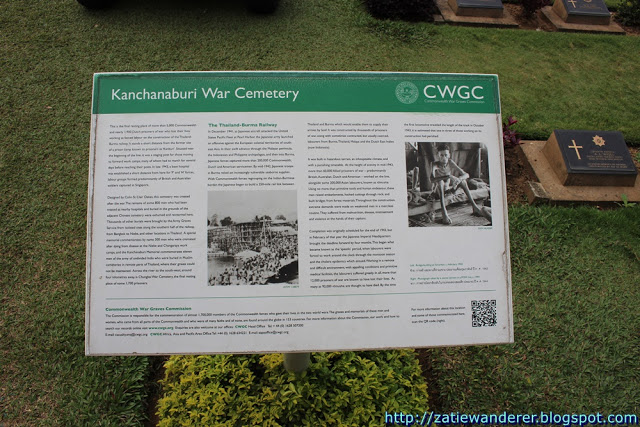 This place is found to be always maintained because it receives annual funding from the governments of the Commonwealth countries through the CWGC. On the side of this maintenance vehicle is the word CWGC. Aqif did not miss the opportunity to drive this mini-vehicle.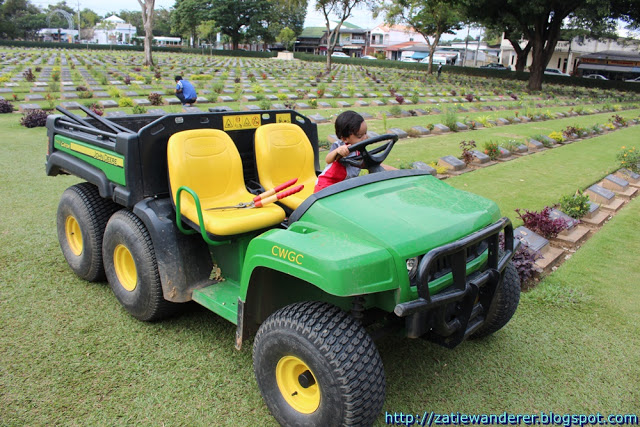 If you come here, don't miss the opportunity to take a picture in the middle here. Behind me was a pillar of the cross that I felt was quite large. Meaning here the majority are Christians. It is said that there are also other cemeteries nearby but here are more famous.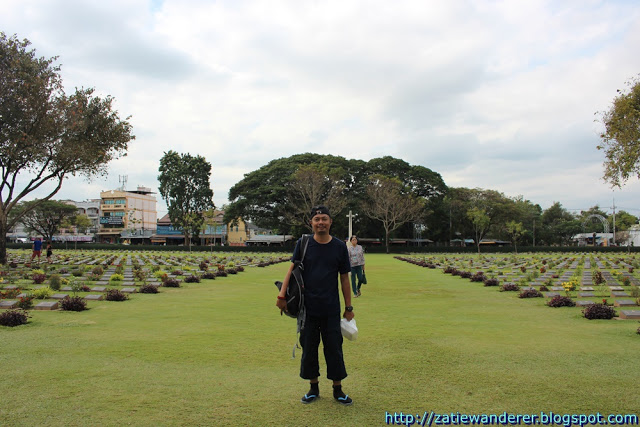 Looks like some foreign tourists like us are visiting here.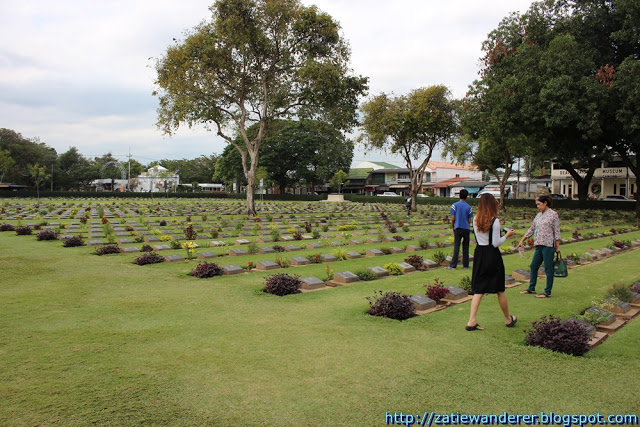 This is the corner of the left side. Back there was a small hut that I wasn't sure of its purpose and function because we were just focusing on the front section.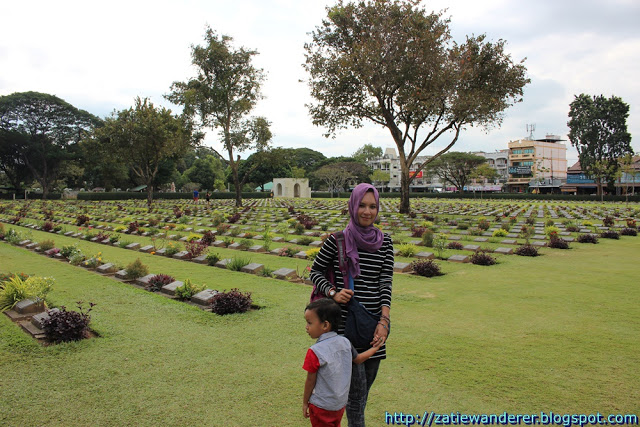 An example of one of the graves during the war. I'm not mistaken, his name may be from the Netherlands. He was quite young when he died at the age of 24 years old. Imagine how his parents felt for years not knowing the fate of their children because those times were quite difficult to get news updates. Suddenly, a letter arrived at their home saying their child has died. If combined with the picture, of course, the atmosphere is sadder because most of the victims at that time were in a state of emaciation, disease and neglected.

Next, we set foot back to Rainbow Guesthouse to check-out before noon. At this point, the time is 11.14am and there is still got an extra time.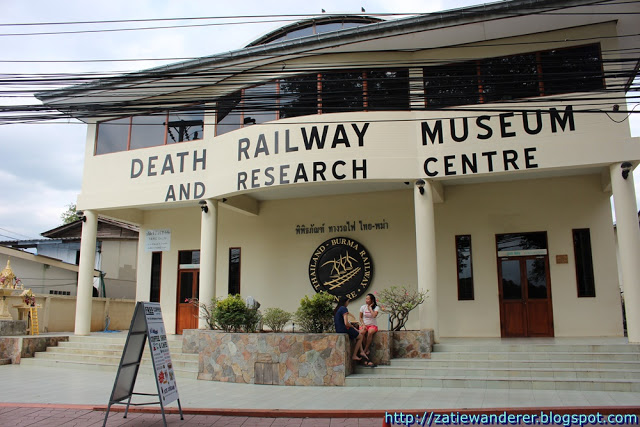 So we stopped for a while outside the Death Railway Museum and Research Center but didn't go inside.
Outside there is a well-maintained garden and a mini memorial monument.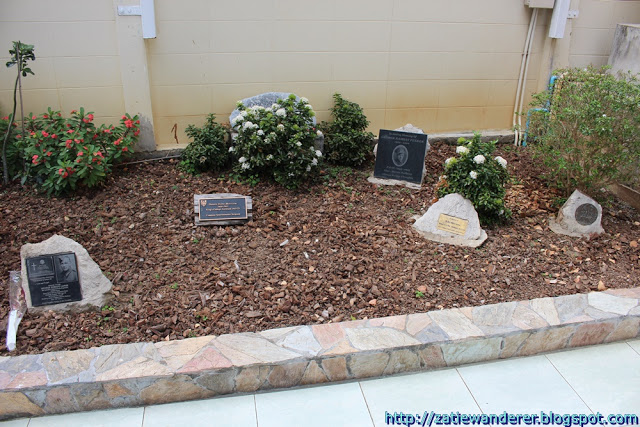 And I zoom in closer …

It's time to go back to Rainbow …. Thailand – Laos Travel: Day 7 – Part 5 – Relaxing at Rainbow Lodge and Journey to Bangkok.