Continued from Pre Thailand – Laos Travel.
Travel Date: December 28, 2016
Day: 1
Location: Kuala Lumpur and Padang Besar (Perlis, Malaysia)
On the night of December 27, we did not get enough sleep. There are two reasons. Firstly, this is the first time we traveled abroad as a family and secondly because worried if we missed the train.
The ETS train is too fast. The stop time at each station is only between 15-30 seconds except for a popular station like KL Sentral, Ipoh and Alor Setar.
Our backpack is packed with all the necessary items that were inserted a week ago. Each of our items weighted on a microweight. This is because all the bags we are carrying are in the form of a backpack, if it is getting heavy then it will be hard to carry if overloaded. Even the travel iron we carried is just a palm size!
At 3.00 am we got up. After we took a shower, it was Aqif's turn to get up and take a shower. He was so stunned to get up early, to where? If it's a travel thing, Aqif really likes it. He follows a hobby of adventure like his parents.
The ETS train departs at 6.29am and we need to be at the South Integrated Terminal (TBS – or Terminal Bersepadu Selatan in the Malay language) by 5.30am. To go to TBS station, we will take Uber at 5.00am from Bandar Sri Permaisuri. The terminal is not far and the fare is only MYR7.64. If our ETS is scheduled at 7 am and above, then we will walk to the South Salak LRT station and continue to the TBS station. Unfortunately, the LRT service is only open at 6.00am.
When we arrived at TBS, I was confused. What's more, when we asked the security guard for help and showing him the ETS tickets, he suggested us to go to the ticket counter. We went to the counter but all were reserved for the bus. Hmm, he gave me the wrong information. Ok, I then asked the information counter. Oh, we need to go to the special terminal for the train (which combines Commuter, ERL, LRT, and ETS). Wow, it's hard to walk to the special terminal especially with a heavy backpack, almost 300 meters (328 yards) including a few staircases! At the terminal, I was once again confused because there was no direct signpost showing specifically for the ETS, LRT, Commuter or ERL route. We asked another security guard for help and he told us to enter a platform which I had forgotten when writing this blog. We are allowed to enter the automatic door, only after 6.00 am. So, we waited a little while in about 20 minutes out there.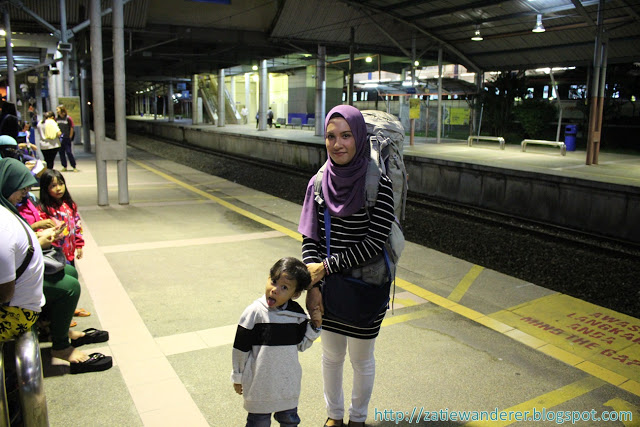 After descending to the bottom platform, I was looking for a people who can point out the real direction, either heading to the southbound or northbound. I looked for those who carried big bags because the rails are mixed with other types of train. There is a Chinese man going north as well and he verified the route. This is our first time on ETS train plus a security guard on the platform told us that, "when the train arrived, you need to move fast, many passengers have been abandoned by the ETS train just because of they late only for a few seconds". Oh my god, it's a great loss if anyone missed the train. A big loss to us who travels with families with the total amount of MYR200 worth of tickets if it happens!
The train arrives, quite late in 5-6 minutes. We board the train and looked for a seat. Because one row has only two seats, so Tatie and Aqif sat in one row, and I then sat in another row with a new acquaintance who boarded the train from Johor Bahru and he then transits at Gemas (Negeri Sembilan) to take the ETS train.
Here is the interior of the ETS train. Kids, as usual, would not sit still. Same goes to Aqif, that's what I'm worried about and both Tatie and I are sleepless. We are lucky because Aqif is not a whine type kid.
I can't sleep very well. You might be asking me, what are the pillow that I've used? This is Muji's pillow. It can be rolled into a U shape and also got a lock.
The sun is rising, we are presented with a very interesting outdoor scene.
This is what I'm looking forward to. If I'm not mistaken, this is the Lake Raban area of Perak. The train seems to cut in the middle of the lake. If viewed from above, it may be more interesting because the train will be seen as in the middle of an ocean.
Here's how we put the backpack. We use Deuter Aircontact 55+10L (me) and Osprey Aura 50 AG (wife). We carry light bicycle locks but did not use here. In the ETS train, do not worry if you leave the bag (non-valuable items like clothes) and went to the cafeteria or toilets as each coach has a CCTV camera installed in two places or directions. As long as you are carrying your passport, money, phones and other valuable items with you, all will be good. About the bicycle lock, it's also important. We use to lock backpack when using the sleeper berth (Thailand old train) when traveling from Hat Yai to Prachuap Khiri Khan which takes around 12 hours. Indeed the thief can simply cut the backpack harness but at least will give them more time to be identified as a thief by the crowd, hehe.
The situation in the cafeteria. Through a chat with a new friend beside me, he said the waiting periods are almost half an hour! Maybe because only one ETS staff is on duty. The food price is similar as in the flight. Price for sandwich and coffee around MYR7.00. We did not buy any because already brought a ready food from home and for the sake of saving our pocket money. It is important to save money as there are 11 more cities we need to visit. Cash available in hand is more important.
The video I captured in the ETS train.
This is what I like, the view of Mount Keriang. That means the train has passed Alor Setar. Almost near to Padang Besar station, yeehaa !!
Because the passenger beside me stopped at Taiping station, I lay down for a while. Actually, he did not stop at Taiping station, but at Bukit Gantang station. Want to know why? Because the ETS train was too fast and stop for less than 15 seconds in Taiping station and he missed. So, you should not be late. Except for the last station such as Padang Besar will stop longer for sure.
For your information, air-conditioners in ETS train are so cool. I can not help myself. There are a few old men who were walking from coach to coach because they can't sit long, too cold. We almost open our Naturehike LW180 Sleeping Bag but felt lazy because of the need to fold and roll it back when the train arrived at Padang Besar station in less than 30 minutes. It's good to wear long stockings, shoes, and thick clothes.
We have arrived at Padang Besar station in Perlis! We were so excited that this was the first time we came here although I am from the north (Penang) which is quite close to Perlis. Before this, we often did a carpacking. And now, we have completed the entire states in Peninsular Malaysia. Only Sabah and Sarawak have not been visited yet, maybe next time.
Beginning with this paragraph, I'm going to tell you about the "Manual" border crossing between Padang Besar (PB) and Thailand borders. Usually, when crossing from PB to Thailand, Malaysians (or travelers from Malaysia to Thailand) will usually take a shuttle train from PB to Hat Yai. However, the ETS train schedule is sometimes not in line with the shuttle train schedule. Must wait until 3 hours for the next schedule of shuttle train. Often, some traveler missed boarding the shuttle train.
Schedule for shuttle train from PB to Hat Yai only available two times a day (Malaysian time) at 9.55am and 3.40pm. Although there is a schedule in the morning, it should be noted that ETS train, especially from southern states, KL and the central peninsular Malaysia, will take ETS early in the morning at 6.30am from KL (for example). So, when arriving at 12.10pm at the PB, for sure will miss the shuttle train in the morning. And have to wait for the next schedule at 3.40pm.
Are you lazy to wait? Feeling diligent? Still full of energy? Wants more? Let us cross the border "manually" and abandon the shuttle train. After all, the fare per person for a shuttle train is THB80/person and the fare of "manual crossing" is only THB50 by public bus to Hat Yai. Best of all, children do not have to pay for the bus fares. In contrast to the shuttle train, the children were charged. Can save time from having to wait 3 hours and 30 minutes. Follow the description in each of the pictures below and ideally suited for the first time.
After exiting the ETS train, just follow the crowd and go upstairs (above picture).
After climbing the stairs, you will pass through this small gate. Here is also a shuttle train waiting area which will go directly to Hat Yai. There is also a Malaysia immigration over there.
Then look for a pedestrian bridge shaped like a tunnel. It's not hard, you'll see it as soon as you passed the little fence.
And keep walking on the long pedestrian bridge. Seriously, the distance is too far!
Did you see the downstairs with the blue roof? Ignore it and move on to the other stairs.
In the meantime, enjoy the scenery around the pedestrian bridge.
After stepping down from the pedestrian bridge stairs, ignore all middlemen. 80% of them are scammers. Some of them offered up to MYR300 for a taxi ride to Hat Yai!! In short, all prices are ridiculous. Continue walking to the pedestrian lane on the left.
Go to the booth in front of you. For your information, this is a Malaysian immigration.
This is the same booth … there are a few people here as most of them travel by cars.
Once out of the immigration booth, keep moving forward. Just follow the road to the right to go to Thailand's immigration. Not far, just within 650 meters (710 yards). What? 650 meters with a heavy backpack?????
At first, we felt tired. But given that there is a Chinese family and among them are a strong old woman walking, our spirits are constantly burning to continue walking. They carried a wheeled luggage while we carried a backpack. You need a strong foot.
Arrived! Picture first.
Photoshoot again. Ok, this is important. Do not be like us. We went to the wrong side of the lane for "Thailand to Malaysia". Supposedly, the lane from "Malaysia to Thailand" is on the right side referring to my right shoulder as in the picture above.
Fill in all the arrival cards. Not booking any hotel and want to challenge yourself like us? Don't worry, use Agoda or Booking app, choose any hotel name and address. Thailand immigration will not call the hotel and check your booking with them.
Then queue up here. Ignore the middleman who offers MYR15/person allegedly to speed up the deal with the immigration insider. In fact, we line up for less than 10 minutes. Do not forget to insert MYR1.00 into the passport. It's not appropriate and doesn't ask why. Thailand immigration is very good and nothing is trivial.
Taking a photo in front of the Thailand Immigration building. When we arrived here, as usual for a married couple, we would shake hands and congratulates each other and "high five" together. Just like a friend, right? Yeah, she's my wife and she's also my best friend.
Outside of Thailand Immigration, turn to the right and walk slightly will see a bus stand with a blue roof. So, wait for a public bus to Hat Yai there. Fares of THB50/person. It's very good to take a public bus as it is more challenging, closer to local people, can sightseeing around Padang Besar, Sadao town and then to Hat Yai city. The trip takes around 1.5 hours, including the heavy traffic that has to be pass in Hat Yai.
Continue to the next entry….. Thailand – Laos Travel: Day 1 – Part 2 – Journey By Bus to Hat Yai, around Hat Yai and Lee Garden Plaza.