Over the last 2-3 years, our blog has gotten the most hits for information about Thailand. So, I will continue to share any more information available for the readers of this blog. This is a summary or wraps up based on our experience of the Thailand-Laos Journey which was implemented from December 2016 to January 2017.
The purpose of this entry is to share a summary of our experience of being in 10 famous cities in Thailand as well as the shortcomings found there as well as our mistakes that can be improved by other potential travelers.
The second purpose was because I got a question from one of our followers who asked to suggest 2 or 3 best cities in Thailand that I think he might visit after the MCO (Movement Control Order due to the worldwide Covid-19 pandemic).
This is a list of the top 10 cities in Thailand we've visited. Vientiane (Laos) is excluded in this summary:
Hat Yai (Thailand)
Prachuap Khiri Khan (Thailand)
Hua Hin (Thailand)
Samut Songkhram (

Maeklong Railway Market

) (Thailand)
Nakhon Pathom (Thailand)
Kanchanaburi (Thailand)
Bangkok (Thailand)
Lopburi (Thailand)
Ayutthaya (Thailand)
Nong Khai (Thailand)
Vientiane (Laos)
Hat Yai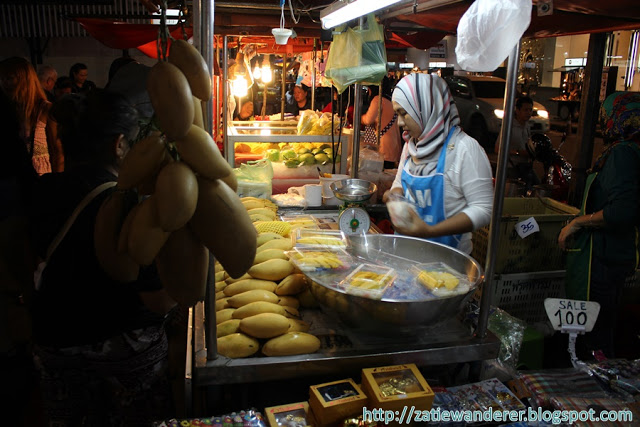 Everyone knows that Hat Yai is a food paradise for Malaysians. Full of halal food. It is also the fastest and most satisfying destination or 'getaway' as the location is only 60km from Padang Besar in Perlis. Just one day can complete a tour of the whole city. Attractions include nature, Thailand's largest reclining Buddha statue, a zoo and more. Most of the Malays here can still speak the Kelantan dialect. The city is clean, orderly, not too crowded like the city of Georgetown in Penang. Floating market here is the best of all. Prices of goods and food are a little cheaper than in Malaysia.
Disadvantages: 70-80% of people passing by, in restaurants and other places are Malaysians. No view looks like "this is Thailand". The weekend is too crowded with Malaysians. There are some places or transports that scam Malaysians with relatively high fares. A city that is always being the talk of Malaysians and always becomes the location of choice when going to Thailand. The price of hotel accommodation is quite expensive the same as in Johor Bahru because it receives many tourists from Singapore.
Suggestions for future visits: Don't make it just a transit city for trains to northern Thailand alone. We were supposed to stay for 3 days 2 nights here. There are too many attractions to visit such as Samila Beach in Songkhla (the famous Mermaid statue), Khlong Hae Floating Market and Hat Yai Municipal Park.
Interested in Hat Yai? Start reading from here…
Prachuap Khiri Khan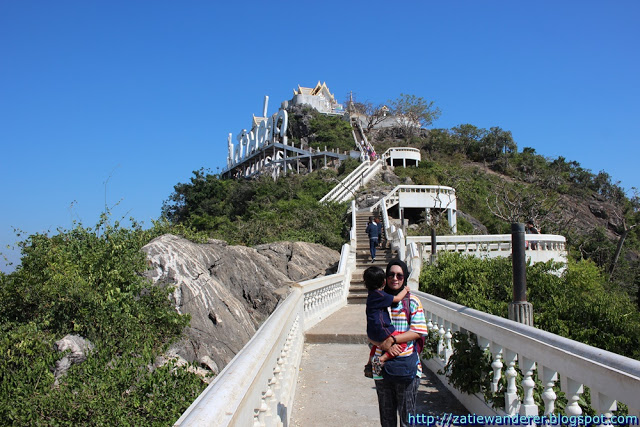 This is the best choice city of all the cities we visited. No regrets if you repeat here twice. Having a Wat on a hill and can be climbed, it also serves as a tourist attraction who want to see the whole city from above. Has the lively and longest night market in all the cities we traveled to (except in Bangkok like Chatuchak Night Market). Halal food is in certain locations but easy to find and most are in the night market. Quiet and relaxing city. Suitable for middle-aged and above. The closest city to the Myanmar border is through the Maw-daung gate. It also has a beautiful and clean beach. Here, it is not crowded with tourists and locals also rarely meet foreign tourists. Transportation costs here are relatively cheap and worth it, probably due to the lack of tourists.
Disadvantages: The farther from Hat Yai and towards the north of Thailand, the less fluent the Kelantan Malay dialect is. Not an entertaining place for young people. Halal food during the day is a bit difficult. Hotels or resorts are very limited and the prices are almost as expensive as in Hat Yai.
Suggestions for future visits: Must stay at least 3 days 2 nights. Due to time constraints, we also did not go up to the top of Wat as in the picture above to see the view behind the hill. Probably going for a picnic and swimming at Ao Manao Beach.
Interested in Prachuap Khiri Khan? Start reading from here…
Hua Hin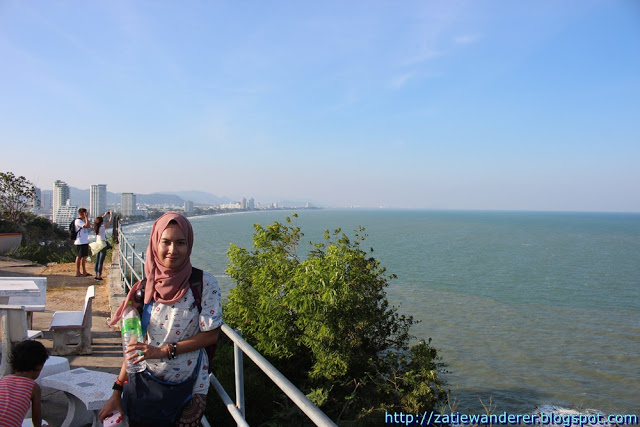 Best for holidays for young people as well as those the same age as us. Full of interesting shopping malls. Halal food at stalls and roadside stalls is easily available, including at the night market. Shopping paradise after Bangkok. Most tourist attractions in Thailand after Bangkok such as Santorini Park and others. The view of the coastline from the top of the hill of Wat Khao Takiab is like taking a picture of Miami's long coastline in the US. AirAsia also landed here.
Disadvantages: Full of relatively open sex service attractions including eye-catching dances in the corridors of shop houses even in broad daylight. Competitive hotel prices due to a lot of competition. It is the 2nd most visited city in Thailand after Bangkok. The city is almost 70% stressful as in Bangkok.
Suggestions for future visits: We felt a 3-day 2-night stay here was like a bit of a rush and the holiday period was a bit short (only suitable for solo travelers). Probably because half the day was spent in Prachuap Khiri Khan before leaving for Hua Hin. If married and have small children, it is recommended for 4 days 3 nights. There are many more attractions in the north of Hua Hin (if taking the Clock Tower as the central landmark) that we did not have time to visit. Spend more about 1.5 times the existing budget because there are a variety of items to buy. Would like to swim on any beach in Hua Hin.
Interested in Hua Hin? Start reading from here…
Samut Songkhram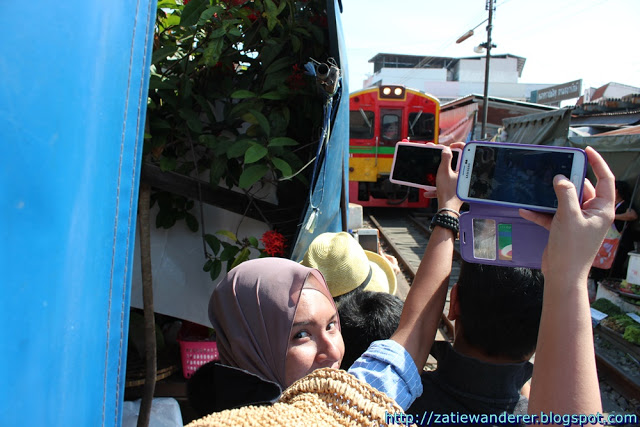 There is the most dangerous market in the world here and the famous floating market in Thailand (apart from in Hat Yai).
Disadvantages: Halal food is extremely difficult or almost non -existent! Not worth an overnight stay here. There are no additional attractions here. Only a typical city/town like in Malaysia which 90% is not for tourism.
Suggestions for future visits: Would try to return to Bangkok via train from Mae Klong station.
Interested in Samut Songkhram? Start reading from here…
Nakhon Pathom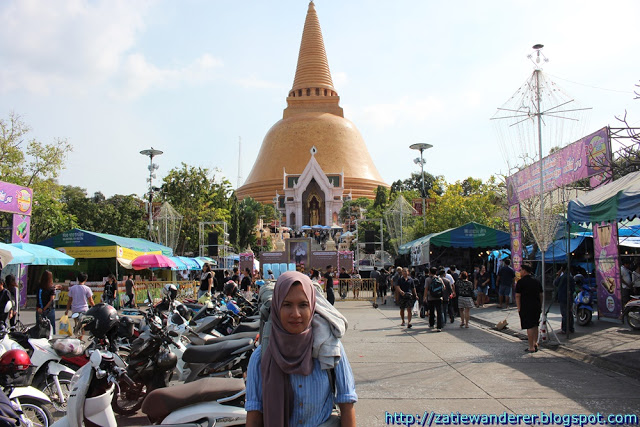 Can visit the largest stupa in the world after India and Myanmar. Many monuments and facilities are categorized as historical places.
Disadvantages: Not worth staying here. There are no attractions other than stupas and historical monuments. Halal food was not found by us at all.
Suggestions for future visits: None.
Interested in Nakhon Pathom? Start reading from here…
Kanchanaburi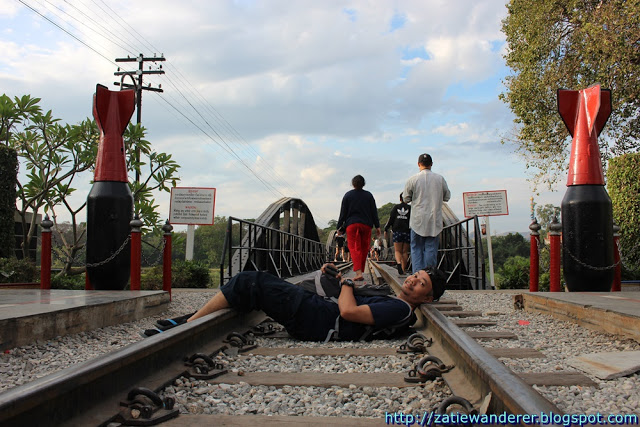 A modern historical city famous all over the world. Historical sites that are in a nearby location. Can visit up to the furthest and last railway line during the conscription of forced labor by the Japanese army a long time ago.
Disadvantages: Only two halal food locations were found, one at the night market near the train station and the other at a restaurant near the Death Railway Bridge. Hotels or resorts by the river are very limited. Confusion to find the location for the real city center. The city becomes dead after 7pm (except for the night market near the train station). The tuktuk driver demand too much for the fares. Not worth it to extend the stay until the 2nd night as many historical places can be visited in just one day. Many historical sites that charge an entrance fee are more business or profit-oriented.
Suggestions for future visits: Probably will reorganize the time with a stay period of 3 days 2 nights and add activities to ride the old historical train up to the last station in Nam Tok. From Nam Tok, take a taxi to Hellfire Pass, Tham Krasae Bridge and jungle activities in Erawan National Park.
Interested in Kanchanaburi? Start reading from here…
Bangkok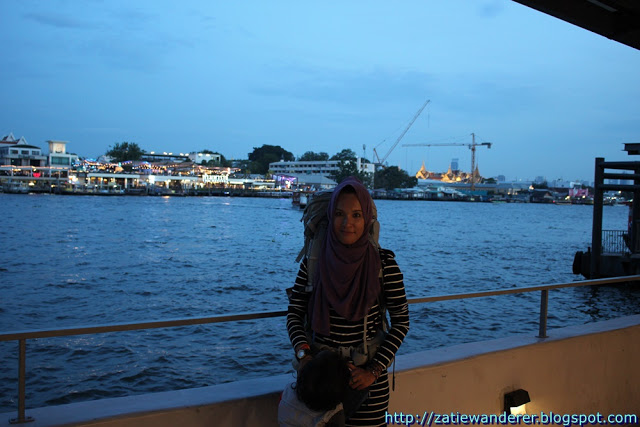 There is no need for me to share anything because everyone already knows that it is the capital of Thailand. Of course, all sorts of attractions are available here.
Suggestions for future visits: Bangkok is a big city and should allocate at least 4 days 3 nights here (but for us, really hope to stay longer i.e. for 7-10 days. Too many interesting places in Bangkok!)
Interested in Bangkok? Start reading from here…
Lopburi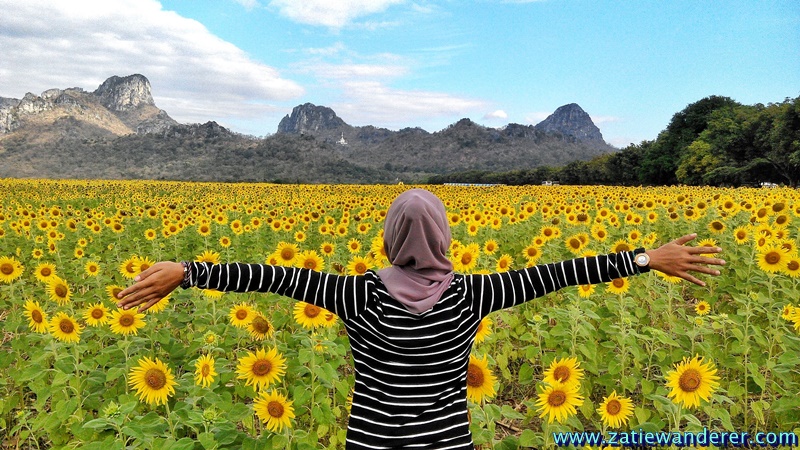 The popular city for access to the largest Sunflower field farm in Thailand! Many historical places are similar to those in Ayutthaya and all are centered in the heart of the city.
Disadvantages: Not worth it to stay even one night because all places can be visited in 4-5 hours only (including Sunflower field). Only one halal restaurant was found, even with the help of a rental car driver on the way to Sunflower Field. Otherwise, it will be difficult to find because it is located in a village area. The biggest attraction is just the Sunflower field.
Suggestions for future visits: None.
Interested in Lopburi? Start reading from here…
Ayutthaya

The city is very famous in the eyes of the world as a historical place comparable to Angkor Wat in Cambodia and has become the craze of ancient historians. The city has the most Muslim halal stalls at the night market here compared to other cities in Thailand. Worth it if you want to stay for 2 days 1 night. Historic place centered in the heart of the city and not scattered. The best tourist information center. There are many hotels either near the train station or in the city center. Can be visited in just one day by leaving your bags at the Left Luggage Office at the train station and renting a bicycle. Famous for the Buddha Head or Buddha Face trapped in the crevices of tree roots for hundreds of years.
Disadvantages: Over time it will be boring because all historical places are the same shape and will cause boredom for those who are not interested in history. Not because we are more interested in the history of our own religion and less interested in the history of other religious nations, but history itself as a whole.
Suggestions for future visits: None.
Interested in Ayutthaya? Start reading from here…
Nong Khai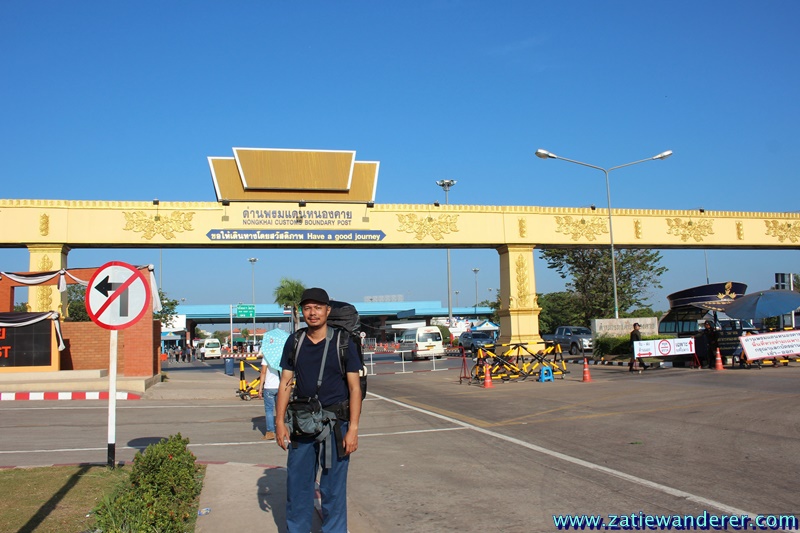 It is the last northernmost railway line in Thailand and the only city bordering Laos. Those who are interested to travel via overland must ride the train until here to go to the capital of Laos, Vientiane. While crossing the border, will also pass the Friendship Bridge and also see the great Mekong River.
Disadvantages: Nothing is here if just wanted to rush crossing the border. Unless you spend the night here and visit the famous aquarium here and dip your feet into the water on the banks of the Mekong river. Only one halal restaurant was found.
Suggestions for future visits: At least spend just 1 night here and enjoy leisure on the banks of the Mekong River. Then revisit Vientiane and head north to Phonsavan, Vang Vieng, Luang Prabang and back to Thailand via Chiang Rai (by riding a "slow boat"). Or continue to Hanoi, Vietnam by bus.
Interested in Nong Khai? Start reading from here…
*****
Completed the summary post for all 10 cities in Thailand that we have visited. So, in order, which city is the top? This is based on our liking (other people may have different interests):
Prachuap Khiri Khan (will repeat again)
Bangkok (will repeat again in near time)
Hua Hin (will repeat again)
Hat Yai (will repeat again)
Kanchanaburi (will repeat again in the next 5 years)
Lopburi
Ayutthaya
Samut Songkhram
Nakhon Pathom
Nong Khai (will repeat again for the "Trans Laos" project in the future)
Psst…. are there any "lack" in the context of the journey itself? If you are truly a traveler, the lacking issue does not exist. There is only adventure along the way. In fact, "future suggestions" also do not need to be improved because what is served in each trip is what is real (go with the flow). However, to meet the needs of those who work 9 to 5 pm every day and do not have enough leave, we provide this blog post for reference.
See also: