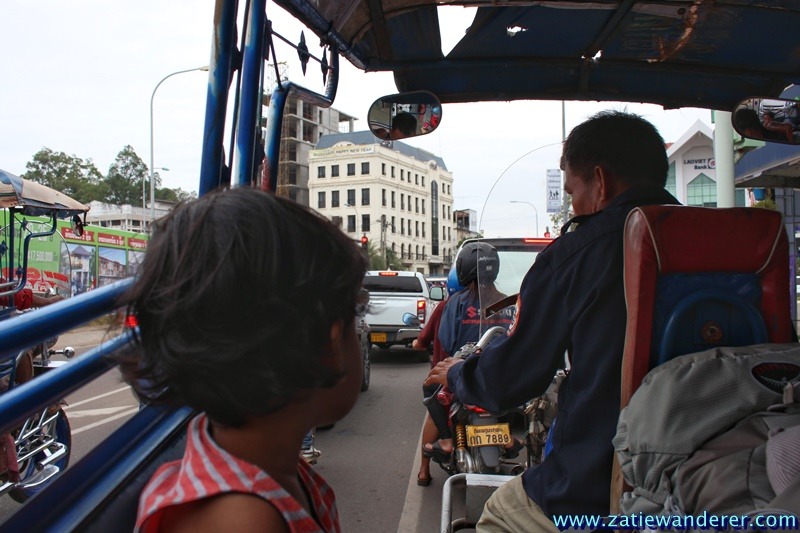 The total cost for the Thailand-Laos trip is broken down into districts or cities that we have visited and only involved costs for transportation and hotels. Expenses for food/drink, shopping and emergencies are not included.
Oh yes, this cost is only for one adult and not for the whole family.
Note 1: The currency exchange rate is based on October 6th, 2020
Note 2: The one labeled "estimated" is because I forgot the exact price or cost.
Note 3: Cost is based on travel dates between 28 December 2016 to 12 January 2017. Prices may change in 2020 but the places of attraction remain the same for reference.
KL to Padang Besar
Total = MYR77.00 (USD18.30)
Padang Besar to Hat Yai
Total = MYR9.30 (USD2.20)
Hat Yai
Total = MYR219.35 (USD52.00)
*Sim card with 1Gb data for 7 days.
** Hotel with 2 single beds.
*** THB150 for the tuktuk is very expensive because the journey is only 2km.
**** The travel distance from Hat Yai to Prachuap Khiri Khan is 650km.
Prachuap Khiri Khan
Total = MYR130.05 (USD30.85)
Hua Hin
Total = MYR220.80 (USD52.40)
*We were supposed to stop at Petchaburi but we stopped at a previous station which was Pak Tho as it was closer to Mae Klong Railway Market.
Pak Tho and Mae Klong Railway Market
Total = MYR13.25 (USD3.15)
Nakhon Pathom
Total = MYR8.00 (USD1.90)
Kanchanaburi
Total = MYR94.20 (USD22.35)
Bangkok
Total = MYR264.10 (USD62.65)
*Tuktuk from Thon Buri Railway Station to Prannok Pier is too expensive as the distance is only 1.2km.
Lopburi
Total = MYR73 (USD17.35)
Ayutthaya
Total = MYR216.55 (USD51.35)
Nong Khai
Total = MYR116.50 (USD27.65)
Vientiane, Laos
Total = MYR137.65 (USD32.65)
Nong Khai
Total = MYR13.25 (USD3.15)
Bangkok
Total = MYR361.90 (USD85.80)
Total Amount (per adult): MYR1954.90 (USD463.45)
Conclusions
The total expenditure of MYR1,954.90 (USD463.45) is for one adult only for 16 days in two countries, excluding food, drink and shopping.
I feel that some costs are almost the same as in Malaysia or a little higher (an additional of 10-20%). But, if not because of the high currency like now which used to be THB100 equivalent to MYR10 (USD0.30), is the THB150 tuktuk fare (MYR15 or USD4.45 according to the previous exchange) considered cheap for a journey of only 2km? In my opinion, no ..
Expenditure on food and drink there is more or less the same as in Malaysia.
Fares for underground train and BTS tickets in Bangkok are more expensive than in KL.
Between Thailand and Laos, we were scammed only in Laos.
Shopping in Laos is very cheap (except for Muslim restaurants).
Most Muslim restaurants in either Thailand or Laos are very expensive, except those found in night markets or roadside stalls.
When we came here, it was the new year's holiday of 2017. So, the hotel price was quite expensive. Our expectation for the price already paid for example MYR60/night (USD14.25/night) that is probably only MYR40 (USD9.50) but was dashed.
Improvements for those who want to travel solo there
We stayed at the hotel because we were a family. If you are a solo traveler, look for a cheap hostel between MYR15 to MYR25/night (USD3.55 to USD5.95/night).
There are unnecessary transportation costs for example that are only a distance between 1 to 3km because solo travelers are stronger to walk long distances than with families and small children.
Final wordings…
This is the last post for Thailand-Laos travel. We hope readers are entertained and useful with our family travel logs for 16 days covering 11 cities/districts. The memories of this trip are so beautiful for us and also proud because this is the only rugged backpacking trip of the whole family that was held for the first time perfectly. After all, after returning to Malaysia in January 2017, we are no longer going abroad due to business (throughout 2017), my wife is pregnant (2017-2018) and gave birth to our 2nd child (2018), raising our baby until completed all immunization (2019) and stagnated due to the Covid-19 problem throughout 2020. How come I didn't say it's the best trip ever done, right?
With this, the Thailand-Laos travel log is over and officially complete …. Alhamdulillah.
See also: