For the Malay Language, click here.
Continued from the entry Thailand – Laos Travel: Day 1 – Getting Started, ETS Train and Malaysia-Thailand Border. For pre-travel, please refer here.
Location: Padang Besar (Perlis) and Hat Yai (Thailand)
That's the blue-covered bus stop that I've mention in a previous post. There's a cottage or a barricade of soldiers at the front, and perhaps the purpose is for guarding the borders. But I did not take the picture, worried if they thought something terrible about me. When we arrived here, we were wondering and still confused about how to get a public bus. We wait for almost 10 minutes but still no sign of a bus. There are also 'tuktuk' drivers who stop and ask if we want to go to Hat Yai, but because I'm worried if accidentally involved with a border scam, I just show a "no" hand gesture to them. There is also a Thai-Malay man who supposedly wanted to send us for free to Hat Yai, but I did not believe him. He told us to ride with a taxi driver. Of course, we have to pay, right? From the deal, he will be able to earn a commission. Be careful. Who knows, right after the free taxi ride, he suddenly charges us RM300, that is wrong, right? Free taxi? Too good to be true.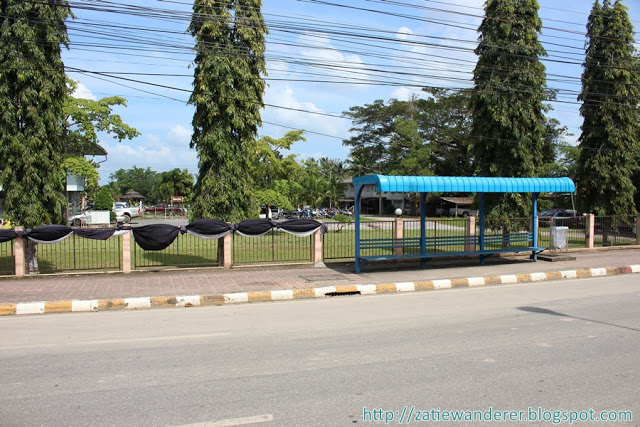 Our latest position and travel map view.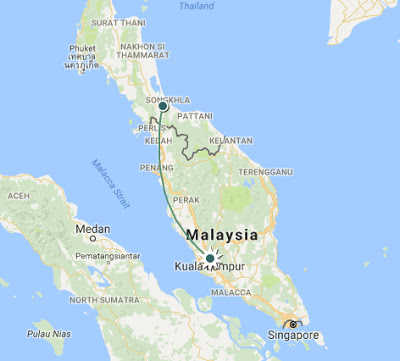 START FROM HERE … we changed the clock time from 2.16 pm to 1.16 pm. However, do not forget that Thailand is one hour late from Malaysia. So you might miss the bus schedule, train and so on in the next hour.
Need information for the bus stand location? I'll share the GPS coordinates, which are "6.664971, 100.328523" in the map above. The location is right next to Padang Besar Police Station. Then suddenly, I just realized something. Padang Besar's name is located in two different locations and is used by two countries, namely Malaysia and Thailand. So, there is Padang Besar in Perlis (Malaysia) and also Padang Besar in Thailand.
Suddenly there was a 'tuktuk', stopped near us and the driver said that he could take us to the minibus station in Sadao Town. We were excited to ride 'tuktuk' for the first time in Thailand and accept the offer without a long thought. As soon as 'tuktuk' moves for a distance of 2-3km, an aunt beside us shows us a public bus that will go straight to Hat Yai and is 300 meters behind us. When the 'tuktuk' driver stops at the side of the road for another passenger pickup, we knock on the middle window that separates us from the driver and asked him to wait for a moment as we would like to get off from the 'tuktuk'. We're lucky enough to pay only THB40. Children are free, and only adults are charged THB20/person.
It's the first time I pay using Thai money. And while paying with the Baht currency, I had to show a hand signal to the public bus driver behind us so he could wait for a while as I paid THB40 to the 'tuktuk' driver. Meanwhile, the bus driver asked Tatie and Aqif to board the bus first.
The bus driver is an older man and he was very friendly. He was always smiling when looking at us through the back mirror. After riding the bus, we saw many empty seats and sat in the front to watch the scenery. After a 10km trip, I was wondering … hmmm, where is the bus conductor? He was busy in the back, packing and sorting some boxes and other items. Then, he came to us and punched the ticket like the old bus ticketing method before 2000 in Malaysia. The bus fares are THB50/person while for children, it's free. Perhaps in our country, some rural areas might still be using this old ticketing system. His ticket box is attractive in the shape of an iron cylinder. I did not even have the opportunity to take pictures because I was busy watching the scenery. The weather was scorching. We even lowered the bus window down to the bottom.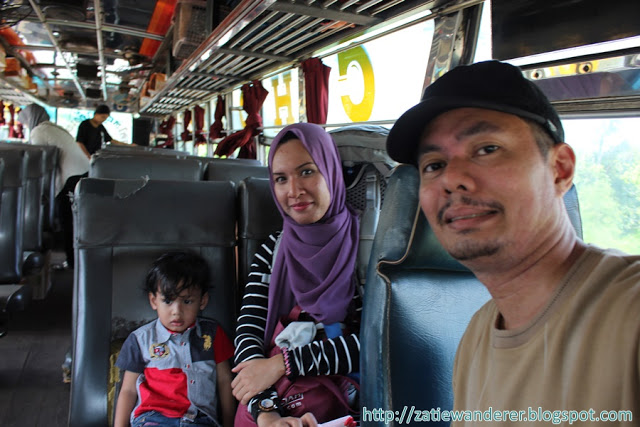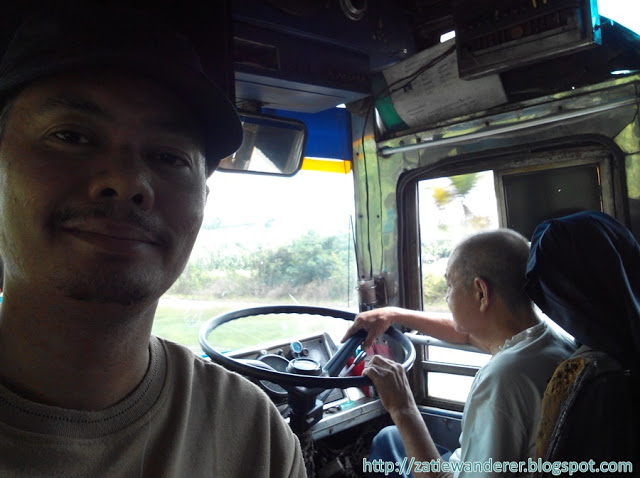 The journey will take a distance of 56km and started to make my eyes sleepy. Aqif just started to close his eyes. At this time, I look at the GPS and it says the distance we've traveled has reached 40km, but wrong as the distance is already 56km when I update the phone GPS near the bus windows. My backpack is on the front seat while Tatie is still carrying the backpack behind her and the situation in her seat becomes uncomfortable. I asked her to remove the backpack, but she did not want to, maybe because of worry if the backpack got snatch and stolen by someone. I put the backpack in the front seat, which is behind the driver because he told me to put it there. There was also a local man who was about to get out of the bus. He got up and sat in the seat next to my backpack. I started feeling insecure. In my head, I began to think negatively, "what if he snatches my backpack strap and jumps out of the bus, then how?". Ahh, I tried to forget the negative thoughts but remained in a state of preparedness. Perhaps my negative thoughts appear as this is the first time I set my foot on Thailand soil and have not been able to read the behavior and temperament of the locals.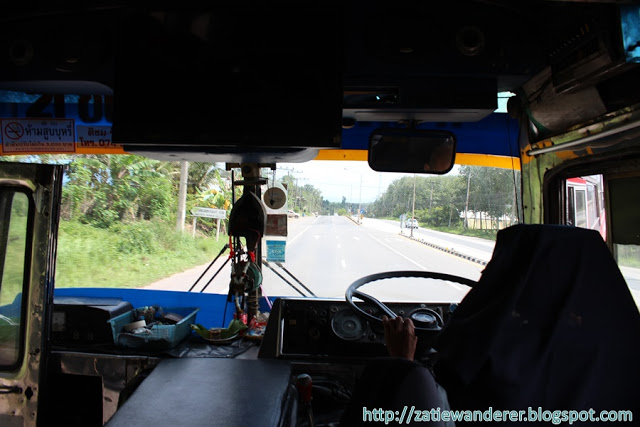 The bus seat is quite comfortable even though there is a section of the chair that is torn here and there. Only temperatures are pretty hot but are helped by strong winds from the outside of the windows. What's unique is that the bus uses a round fan that can rotate like the old days in Malaysia. It's the first time Aqif rode a bus in his life and his face was a little worried but excited. Luckily Aqif can sit quietly alone. However, I was worried if he suddenly began to whine and more. If that happens, my wife will find it difficult to carry him. Typically, children prefer their mother to carry them on the hip.
I'm sleepy, but I keep my eyes from falling asleep. When the bus arrives at a traffic light, Tatie asks me to take a picture of a shop located to the bus's right. Looks beautiful because there is a row of different kinds of local rice in a sack of different colors.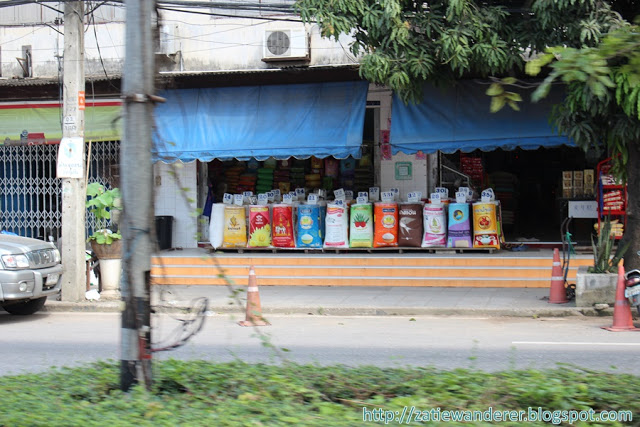 The bus arrived at Sadao Town (I just knew it was called Danok town by Malaysian). Here lies the junction to Phattalung, Hat Yai and Pattani. So the town must be passed by anyone who wants to go to Hat Yai. And supposedly, here is where we will stop if we ride the 'tuktuk' earlier and switch with a minibus if we want to go to Hat Yai. Sorry, I do not know how much the fares are for a minibus to Hat Yai.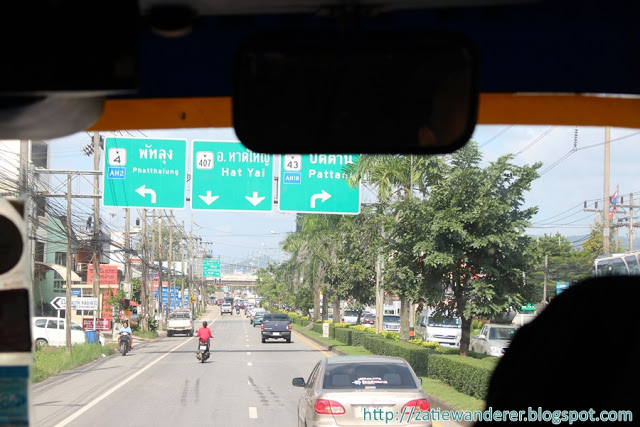 Here I shared a video that I recorded on the public bus. It is exciting because the bus is still using a round rotary fan.
Our travel route from the Malaysia-Thailand border to Hat Yai via Sadao town. Sadao's town is not much significant to tourist, much like the Tapah town in Perak or Rengit town in Johor.
The picture of the hill view I took from the town of Sadao. To your knowledge, the shuttle train will not pass through here except for crossing the border manually as we did now.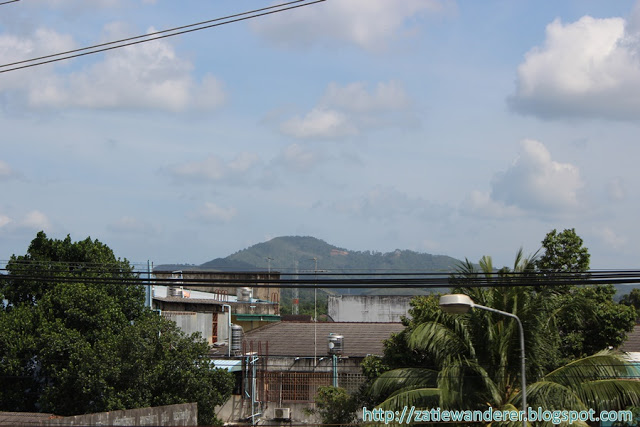 When we entered Hat Yai city, the bus conductor asked where we wanted to stop. It's interesting to be a tourist, and they will help. I do not know how to pronounce the word in Thai because I have not bought a SIM card yet and use the Google Translate app. The female conductor can't speak English. So our conversation is like chicken and duck because both languages are different. I asked the bus conductor to stop at Hat Yai Railway Station because I used sign language using a hand and show her a moving train with a 'tuttt tuttt' sound … too funny. Luckily the bus conductor understands and informs the driver.
Upon reaching the city center, the bus stops in front of a store, possibly an office for their bus company. Then the journey went on and we stopped for a long time, about 15 minutes on Phet Kasem Road. The conductor is loading the items in the box behind the bus. It turned out that when we boarded the bus, she was busy at the back of the bus arranging the packages. I guess their employers may not know. They use the company's bus facilities to transport stocks of goods or perhaps one of their businesses. Hopefully, there are no strange things, and you may understand what I mean. Indeed, we can not afford to wait a long time because the heat is starting to get into the bus, including heat from the bus engine. I do not know how many zillion times I open the HERE maps app to check the remaining distance. But finally, the bus sent us to the end of a roundabout at Phet Kasem Road because the actual bus route did not head to Hat Yai Railway Station.
We stopped here. Upon reaching here, suddenly, my mind became clogged. Do we have to walk 1.2km to the Railway Station? We sat at the side of the road. The purpose of getting to the railway station was to purchase early tickets to Prachuap Khiri Khan. For a sleeper berth ticket, we must buy it earlier. Worry that the train ticket will be sold out.
Because our stomach is empty, I intend to ask about a Muslim food stall from a worker in an electrical store that can speak English. Fortunately, he knows where the Muslim stalls are located. So he showed us his direction. Fuhhh, our fate is good because the stalls are very close at only 300m by foot. While walking, I asked Tatie to look for any store that sells a SIM card, but nothing. When we arrived at the Muslim stall, then there was a row of other halal stalls. I initially thought that only one booth was there but there's a lot, around 4-5 stalls.
Oh yes …. when it comes to Thailand, from the very beginning we had planned to eat Tomyam first (a Siamese local spicy soup). So it was funny when we started to order food. We thought the stall worker here knew at least a Kelantan language. But, apparently, she didn't know. So it takes us almost 5 minutes to figure out the menu that we want to order here. The reason is that we are excited to chat with her as a Thai-Malay stall worker and forget that they already translated the name of the food into Malay in the menu.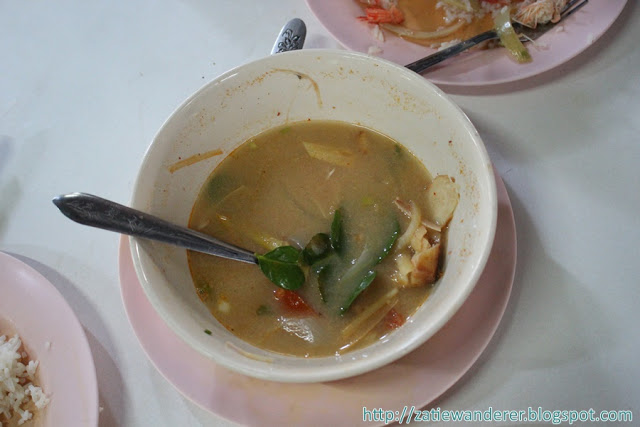 The menu. It's easy, right? But, of course, the excitement causes the delay in ordering food …. hahaha.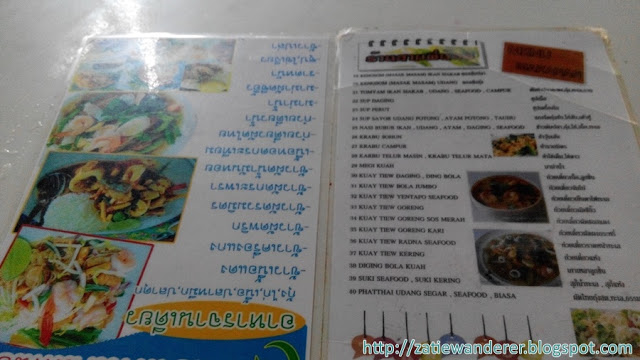 Stall worker. The place here is not under a stall category but similar to a food court. Only her stall is open at this hour.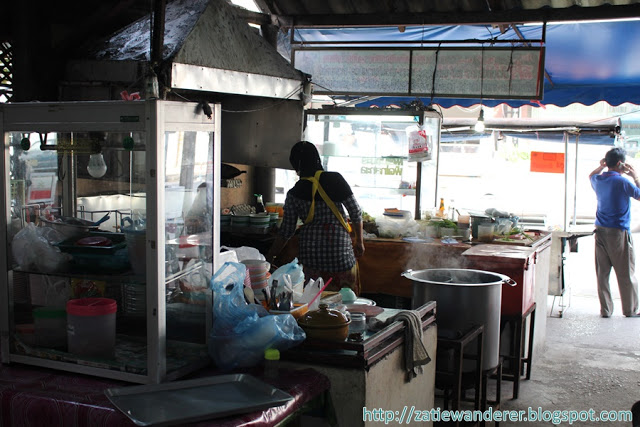 There is a celur-celur stall (also called as Yong Tau Foo in Malaysia).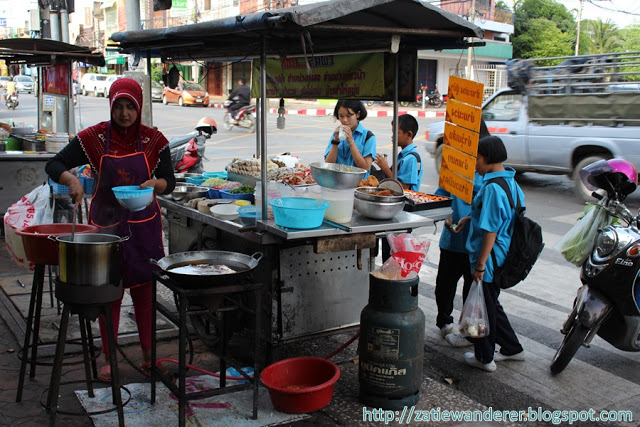 Well, I share here with you guys the location of these Muslim stalls. GPS "7.015298, 100.471071". Although the location is not a tourist destination, it can be a backup if lost here. For your information, here is also the location for a minibus or public bus ride to Samila Beach. Oh yes, the Tomyam we ate was only worth THB115, including a Tomyam soup and three white rice dishes.
After eating, we swirled around the food court, intentionally looking at other Muslim stall workers. Then we recall the quest to find a store selling SIM cards and move northward past the high school area. There, we ask school students if there is a store that sells SIM cards. They said the SIM card was available at 7-Eleven, located across the street. So, we cross and head over there. At the cashier counter of the 7-Eleven, she said that they only sell top-ups. Then, we decided to go back to the road where we first came.
When we were halfway, I suddenly felt weak and feeling like a person with low blood pressure. I suppose maybe not enough sleep and rest and empty stomachs, and suddenly food is inserted into the stomach. We even put on a backpack and sit right down the street. Some people are looking at us, but we do not care about it. After a short break, I decided to call a 'tuktuk' and ask the driver to take us to any cheap hotel around Lee Garden Plaza.
It is not worth it when having to pay THB100 because the destination was close enough within 1.5km. I do not know what to do, and my body is weak, my anxiety disorder is increasing, hesitate to take risks with this health problem. Before taking the 'tuktuk', I told the English-speaking driver to look for a cheap hotel, and he said 'ok'. But, it is also worthwhile to ride his 'tuktuk' because the hotel he proposed for us was very cheap, equipped with an airconditioner and deluxe bed. Our room is located on the 5th floor, but there are elevators and fast wifi and are very close to Lee Garden Plaza and Hat Yai Railway Station and facing Santisuk Market. The hotel's name is Park Hotel and only THB350/night.
After he dropped us in front of Park Hotel, we continued to walk in and ask for the room rate. But, of course, the 'tuktuk' driver did not take any commission with the hotel because he did not go inside and talk to the hotel counter staff.
We checked in at around 5.30 pm. After putting stuff in, I went downstairs to buy a SIM card. I feel unsure about purchasing the DTAC SIM card because the official website already stated a cheaper top-up, especially for data usage. However, the shopkeeper suggested buying the 'Tourist SIM Card' type. I started to confuse, walk away and plan to buy it later. After all, the hotel has free WiFi. I headed back to the hotel room and fell asleep. At night, we plan to take a walk around Lee Garden Plaza. Ops … the picture above is only allowed in this angle. The left corner is a restricted area, hehe. It's not a deluxe bed. Similar to what is usually done by a parent, by combining two single beds into one.

***
At 7.00 pm we got up. Almost at 8.00 pm, then we go out for a walk. We are supposed to go to Khlong Hae Floating Market. Then we asked a shop selling SIM cards located in front of our hotel. He said the floating market was only open on Friday, Saturday, and Sunday.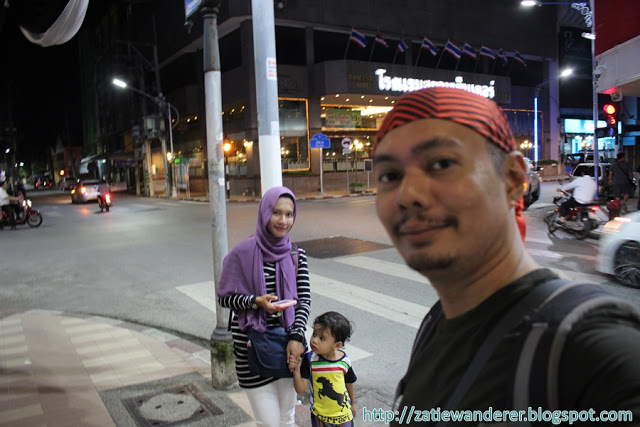 About SIM card: We have purchased two 'Happy Tourist DTAC' SIM cards for each person at THB49. Then I top-up THB200 for my SIM card to buy a 1GB bandwidth quota for 7 days worth THB199. For Tatie, we make a hotspot sharing on my phone and save us money for the internet on Tatie's phone. While writing for this post, I check once again the DTAC website. Now no more 1GB for 7 days. There is only 2.5GB for 10 days worth THB229 (as of November 17, 2018, data quota increases to 3Gb for 8 days worth THB299). Ok, there's plenty of quota for data even though it's a bit expensive. The shopkeeper calculates all our purchases for THB496. I ask, why so expensive? He said that he accidentally summed up all by including top-up data for Tatie's SIM card. It should be THB297 only. Okay, our fate is good because he has tolerated it. Mission accomplished.
After purchasing the SIM card, we head to Hat Yai Railway Station to buy a train ticket to Prachuap Khiri Khan for the next day. When arriving in front of the station, the interior was dark. Tatie said maybe the station is closed and only open during the day. There is also a nearby shop selling bus tickets. The shopkeeper tried to persuade me to buy a ticket. Price between THB800-1000 is expensive than a train ticket for a lower sleeper berth (THB835). Then, I asked him whether the ticket counter at the station was still open or not. He said the counter closed and thought that I might end up buying a bus ticket from him, just to deceive me. For your information, all train station counters in Thailand are open 24 hours for Advanced Booking except for the Third Class (Ordinary Train), which are cheaper and need to be purchased starting at 6.00 am every day. We were influenced by the fact that the counter was closed and I wanted to avoid him quickly, and we headed back to the front of our hotel again. "Tomorrow morning, we'll come again", I told Tatie. So we are forced to make the same style as the BackpackerBusuk blogger, surrendering to our destiny as long as we can.
The front of the hotel is the famous Santisuk Market in Hat Yai. It is among the many markets selling a variety of cheap items here. In addition, there's another Kim Yong Market, later I'll tell you in another post. So, these two markets are famous here. For your information, the markets here are mostly closed when the clock reaches 7.00 pm and above. If missed, just walk to Lee Garden Plaza or Khlong Hae Floating Market by taking a 'tuktuk'.
Lee Garden Plaza, a popular destination in Hat Yai, which I've always read in many blogs. So, finally, we arrived here too.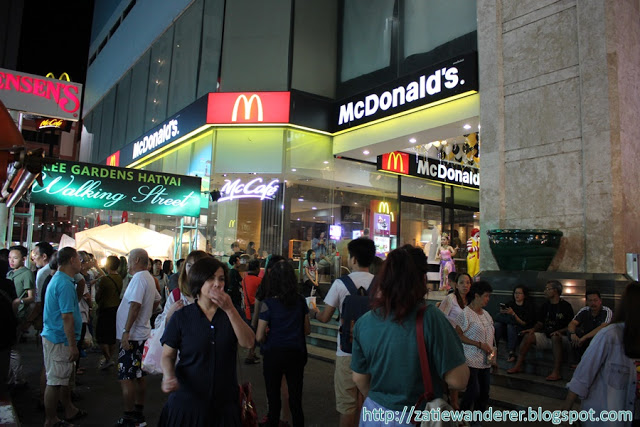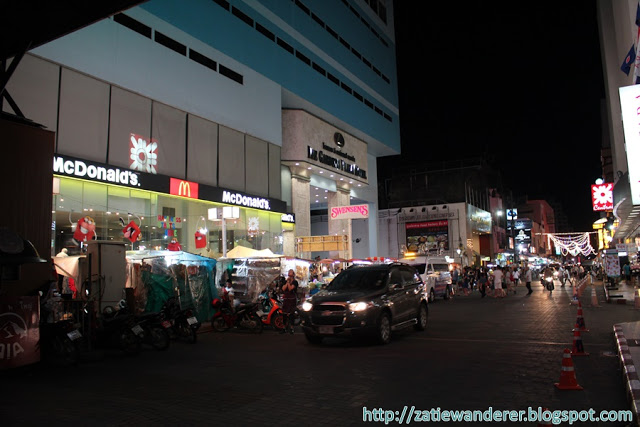 We keep going towards a store that sells pulut Mangga (mango with sticky rice). Indeed we have been planning early because pulut Mangga is very popular here. Two Muslim stalls are selling them here.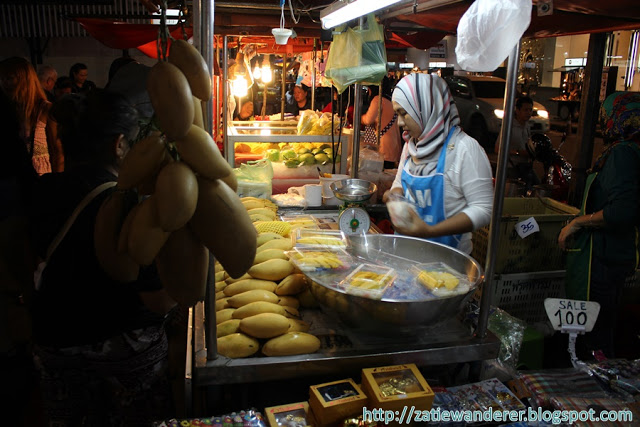 If you are in Lee Garden Plaza, look for the left side to taste the popular pulut Mangga. And the stall on the right of Lee Garden is also delicious, not bad and there are varieties of colorful sticky rice. In terms of taste? Both taste very similar.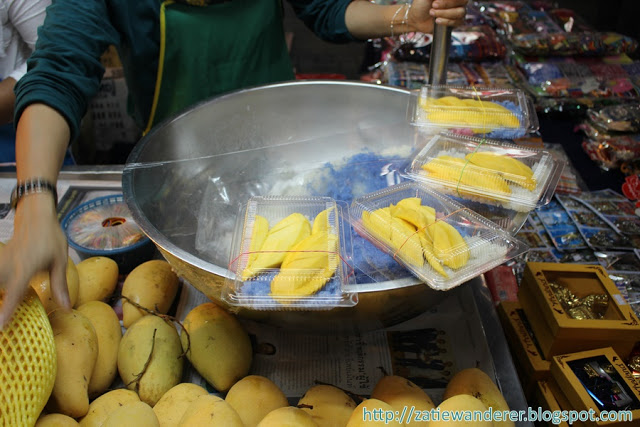 In front of Mcdonald's, there are traditional Thai dance performances by a kid. The purpose is to collect donations for their school funding. Our original plan here is to photograph Mcdonald's statue behind it. Do you see what's unique about the figure? His hands are placed in the center of the chest like 'sawadikap'. To me, this is a rare thing. That kind of hand formation is not available in Malaysia, right? Not even in other countries. But because there was a show there, I canceled the plan to take a closer picture of Ronald Mcdonald's and intend to look for another Mcdonald's. I can say that all Mcdonald's in Thailand have such hand formations.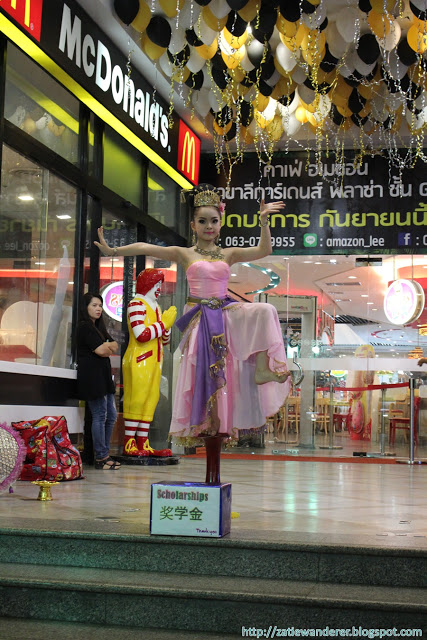 Traditional dance video that Tatie had recorded.
The surrounding night market is in front of Lee Garden Plaza. It only opens at 5.00 pm and above. There was nothing here if you came before that time, and the pulut Mangga stall had not yet opened. Although this place is fun, I'm also cautious. You know the incidents that took place in 2012 here (please Google it). But from my observation, the present situation is not the same as before. Various types of police and military vehicles and electronic equipment are used to record suspicious movements of the public here. So, the security here is guaranteed. So, just come here, do not worry. While walking through the night market, we spend hundreds of THB because Tatie is very interested in Korean clothes.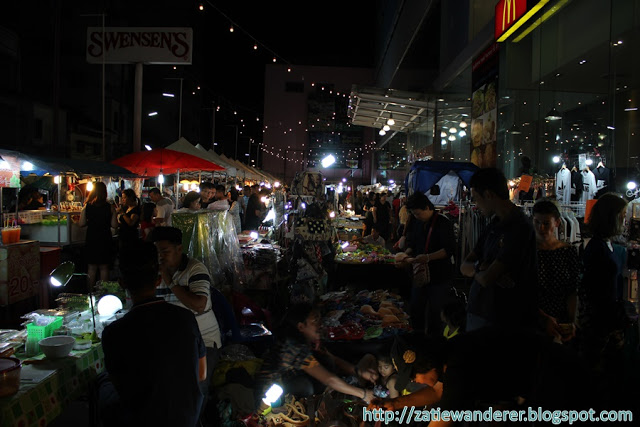 We also ordered some kebabs for a take-away as a 'backup' for dining at our hotel. The price is THB50, the package wraps are rather large and have lots of content inside it.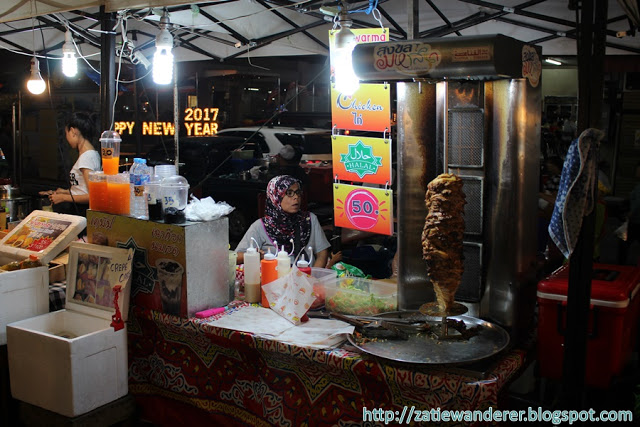 What is that? Items that are rarely seen should be taken in a photo. As a country with a Muslim majority, only a few people or stalls are selling openly in Malaysia. Pig burger, hehe. Do you want to order? Single, Double or Sets? Just kidding…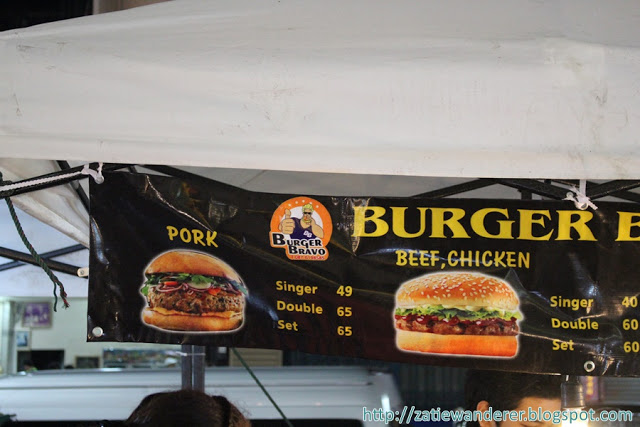 When I saw this stall, I began to think it was not worth it to buy the kebab earlier because I thought maybe there was no stall selling halal food in other parts of the market tonight. But, before this, I've also read in the backpacker's blog, the stalls in the picture above are well-known because they are cheap and there are various types of fried foods, seafood and others. So, without further ado, we also ordered but only a packet of omelets fried with mussels. It is delicious for me even when we're in other areas in Thailand, and I'm still looking for this food.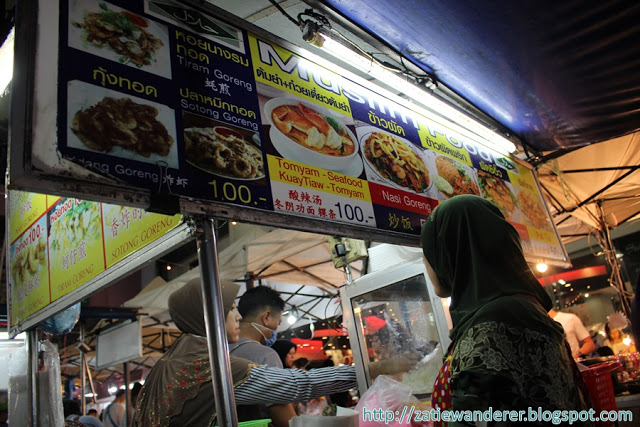 Back then, we stopped at 7-Eleven around there. We also saw other halal restaurants like Salma Restaurant and Hamid Restaurant and still open even at 9.00 pm. In 7-Eleven, I came across a Malaysian Chinese in the late '40s because he wore a Malaysian club shirt. I asked, "you are from Malaysia?" He replied, "yes, from KL". "Oh, we are the same", I replied. We even chat for a moment. He thought I was a big motorcycle rider because he saw the headcover that used to wore by a rider. When we split up, we both said "take care" because he knew that I would go to another 10 cities until Laos with my wife and child. At 7-Eleven, I bought two bottles of mineral water. Hmm .. cheap, cheaper than Malaysia. The price for a bottle of 1.5 liters is THB13.
Along the 7-Eleven corridor, there are many massage centers. But for Malaysians, the term 'masat' is more popular. While walking in the corridor, many salesgirls are promoting "masat… masat … masat" endlessly. If I walk alone, I feel that maybe 'masat' from the salesgirl will be a particular case, perhaps you understand …… For a suitable 'masat' type, there is a manicure, pedicure, head massage, shoulder, spine and foot reflexology. Prices vary from THB200 to THB500 per hour. For a 'non-halal type of 'masat', please don't ask me!! Hehe …
After finishing exploring Lee Garden Plaza, we returned to the hotel. We are so tired! We will continue on the next entry …. Thailand – Laos: Day 2 – Part 1 – Around the city of Hat Yai and Wat Hat Yai.