For the Malay Language, click here.
Continued from the entry Thailand – Laos Travel: Day 1 – Part 2 – Journey By Bus to Hat Yai, around Hat Yai and Lee Garden Plaza. For pre-travel, please refer here.
Date of Travel: December 29, 2016
Day: 2
Location: Hat Yai, Thailand
That morning after dawn, we all got up. That night we slept soundly. Once I woke up, it was morning. Fortunately, there is no interruption from Hat Yai's ghosts, hehe. Indeed, the hotel seemed quite old. When we got ready, we went downstairs to the ground-floor lobby. The clock shows 7.06 am and the weather is good. The road in Hat Yai city looks quiet in the morning. While outside the hotel, I wonder if we would come back to Hat Yai in the future by car. Where do I need to park? If not, the vehicle will be towed by the municipal council.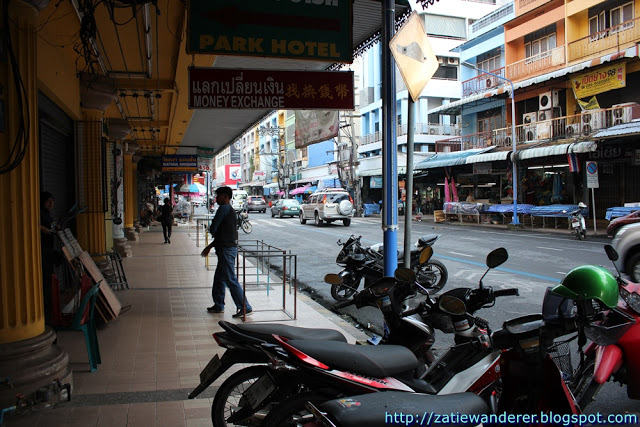 Outside the hotel, there seemed to be no vehicle parked on the roadside like in Malaysia. Perhaps we had to take another hotel with a suitable parking area. It's not our country, so we can't just put a car everywhere. Next visit, I plan to stay in the Songkhla area, near Samila Beach.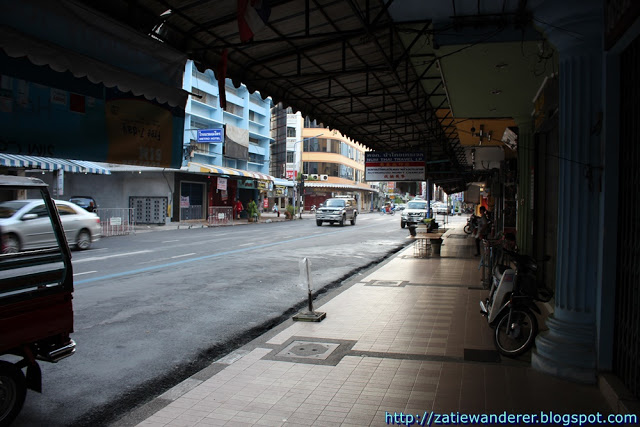 This is the entrance to the Park Hotel. It's just a shop that has been renovated, and there are 5 floors.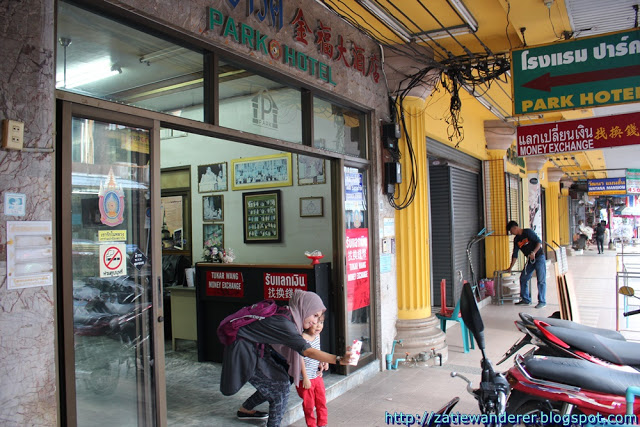 That morning we walked to Hat Yai Railway Station to complete the task that we did not finish last night. While walking, I said in my heart, "whatever happens, I need to get the train ticket by today." The distance between the hotel and the train station is approximately 300 meters. Therefore, it's not worth the extra time to stay one more day in Hat Yai, unless you want to do outdoor activities like riding an elephant, visiting Songkhla and others.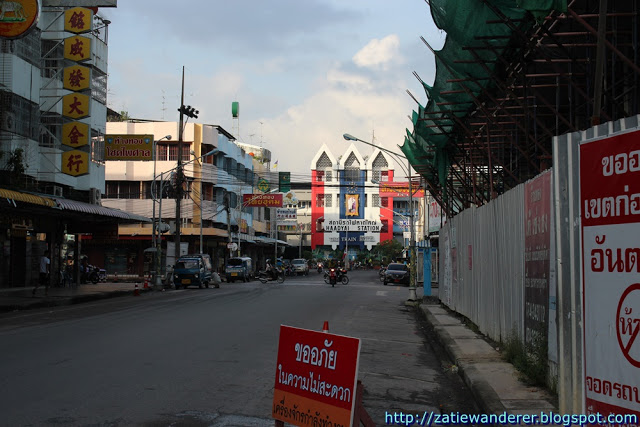 When we arrived at the station, we were pictured along with this mini train. Cute, even though it's just a replica.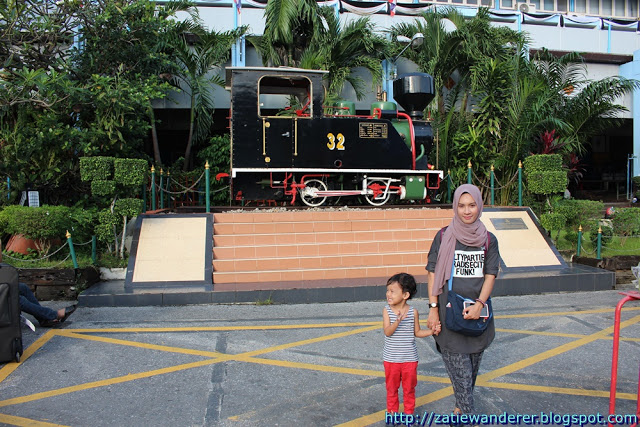 Before we step into the station, we are directed to scan our backpack first as police and soldiers control the entrance. It's a standard procedure here. However, at other stations, it is not mandatory to scan bags. The ticketing counter has not been opened yet. Tatie started to queue first. The counter is closed because not yet opened at 8:00 am.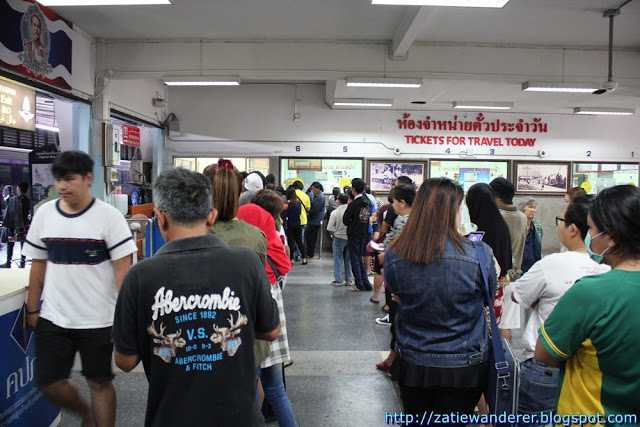 While waiting for the counter to open, I explored any exciting things around the station. It looks like an old and outdated train. I thought, "maybe this is the third class train." Its condition is a bit scary …. the next "Train to Busan" as in the movie? But, if this is the train that we need to board to Prachuap Khiri Khan, I don't care if the conditions seem scary. For those coming from the Padang Besar train station, this is where the shuttle train will stop.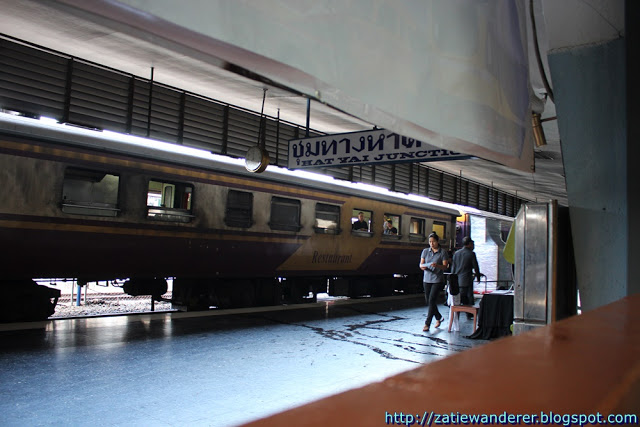 On that side, there is a wall. There's nothing I can do here, so I took a picture of rice and fried chicken placed there by the hawkers. Maybe they wait for another train to arrive and board inside to sell food. And because we haven't eaten any breakfast yet, so it looks delicious. If you are a Moslem, this food is not halal. I don't see any stray cats here like in Malaysia. Otherwise, the chicken sold by the hawker has long been eaten by them.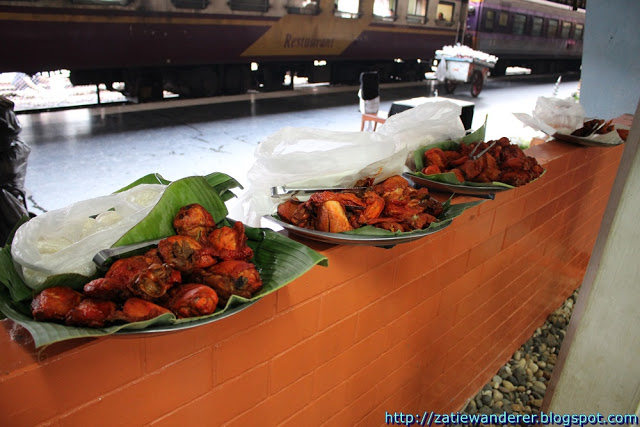 Aqif is already excited to see mini replicas of old trains. As usual, children will call it "Thomas". The title comes from the cartoon show "Thomas & Friends".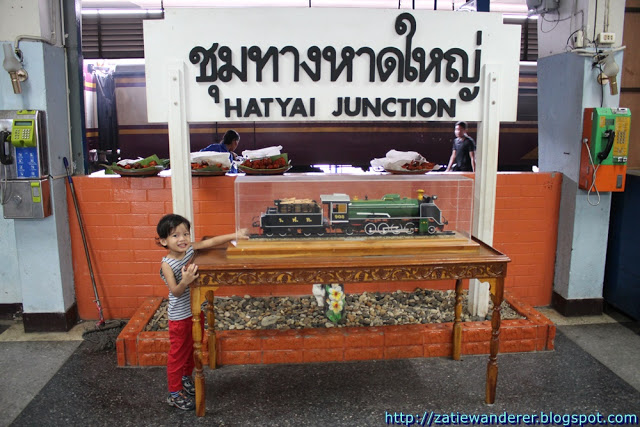 While waiting, I felt like something was wrong with the counters that Tatie was in a queue because there was another available counter on her right side and only a few people queued there. So I asked the guard here, and he said the counter on Tatie's right side is for passengers who wanted to make an advanced booking or purchase any tickets other than the 3rd class. While Tatie's current lineup is for Thai people to get a 3rd class train ticket. Why do I say 'get'? Because their government generously gave free train tickets to every citizen provided only a 3rd class trains is free even up to 1,000km until Chiangmai! Great, right? Psst … if in Malaysia, can it be proposed to the government? (the answer I know, but I'm lazy to talk about it because there will be an individual who will blend it with politics, hehe).
So the three of us went straight to the counter to the right to book a train ticket to Prachuap Khiri Khan for THB835/person for a lower berth bed. Children are free and do not have to pay if sharing a bed with their parents. So we got a side-by-side bed, both at lower berths. Fortunately, we got a ticket for that day without any middlemen or online booking, so take a deep breath …. fuhhh … congratulations …!
Information about lower berth beds: Maybe some of you will travel like us (husband and wife), right? Maybe you will ask, "If both beds are "lower berth" type, then your wife or husband will be sitting opposite of the other passenger. You might be worried because someone else who is sitting opposite your partner may have a variety of behaviors like winking to your wives or husbands … the third world war will take place there later." Ok, I explain how …. this technique is effective for those who board the train with a schedule approaching 7.00 pm. Why 7.00 pm? Because at that time, the chair will start being converted into a bed and the person sitting opposite your partner will go up to the upper berth bed. So after 7 o'clock, there's no need to sit opposite other people until the train reaches the destination. This technique will not work if the train schedule starts, for example at 12.00 pm and your partner will have to deal with the opposite passenger until 7.00 pm.
***
Supposedly, we planned to walk towards the hotel again and get a 'tuktuk' there to the Municipal Park. While walking, we found a halal restaurant called Maliam Restaurant. Without delay and not yet having breakfast, we went straight into the restaurant. The location is not too far from the station.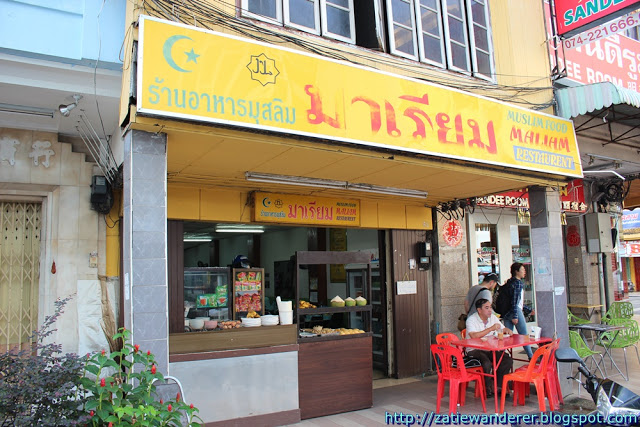 I read a review that says Hat Yai's halal food restaurant needs to be reviewed first because some are expensive. So, I told Tatie that we would first order a little bit to relieve our hungry stomach. After all, we rarely eat much during early in the morning.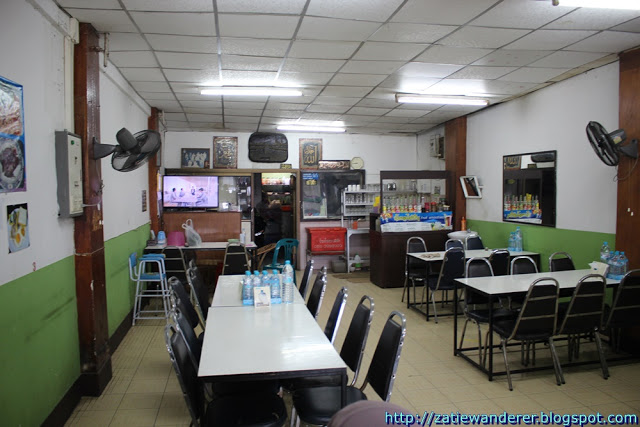 So, we order two rice plates, one 'half platter' rice (for Aqif) and two fried fish. It's a simple menu. We didn't order drinks and just drank from the bottle of mineral water that I had bought last night. How much is the cost of this 'simple menu' if you want to know? THB190, about MYR20. Expensive, right? We were fortunate enough to order only a few menus, whereas the 'tomyam' that we ate yesterday was even better and the price was only THB115.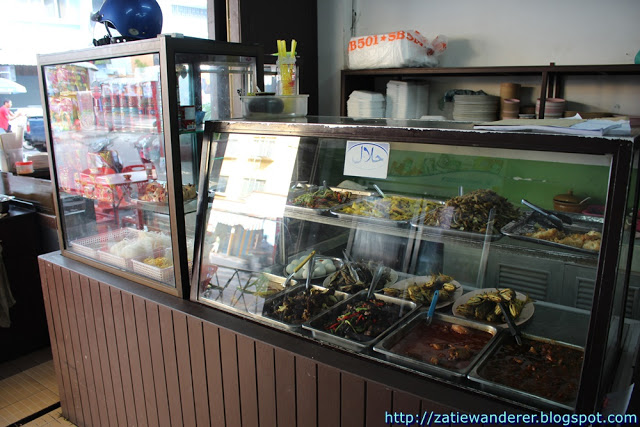 Here is the location in case you have to eat here. In addition, you can see Hat Yai Railway Station from a distance, which can be used as a landmark in searching.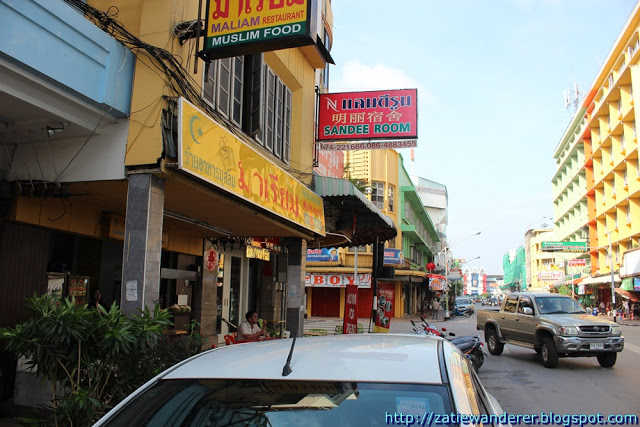 Still hard to find? Don't worry, and I included the GPS location of "7.004255, 100.470250". After eating, we went on surveying for a chartered 'tuktuk' price to the Municipal Park, which is just 8km away. The first driver offered us THB600 for a return trip and will wait for us there. We keep walking. Suddenly, a guy said he could take us there, shaking hands with me and saying "Assalamualaikum" (a Muslim greeting). He said he was also a Moslem. He can even send us to his friend who is also a Moslem by taxi because 'tuktuk' is not suitable because of the distance or probably a restriction by the municipal council. I'm okay because he adheres to the same religion as me. We then ride to go to his friend's place by riding his 'tuktuk'. After he talked with his so-called "Muslim friend", the fare price went up to THB700. Immediately, I jumped out of his 'tuktuk' and asked Tatie and Aqif to join the jump. I hated when things happened like this, using the name of a religion but the price charge is more expensive than the first 'tuktuk' driver. With the THB700 fares, we can fund an additional two nights stay at a cheap hotel (we got a cheap hotel with a private room in Bangkok for THB300/night).
Actually, I purposely planned this way. Get one-way transport to Hat Yai Municipal Park, 'tuktuk' or taxi does not have to wait for us there. And to go back to Hat Yai city center, we will look for other transport outside the "Municipal Park". This concept is much cheaper and not a tour-type fare. After all, Hat Yai is not located in the middle of a desert which is too difficult for us to find any transport facilities. Oh yeah, we also canceled the trip to Samila Beach because it was pretty far (the journey for one way took an hour to arrive there) and worried if it was not enough time.
Eventually, I told Tatie that I wanted to cancel our trip to "Municipal Park" to save our expenses as much as possible. So, I opened GPS to find more popular locations around here. Ok! Information has been obtained … we headed to Wat Hat Yai. The fare to ride 'Tuktuk' is only THB60 for a 4km journey for the entire family.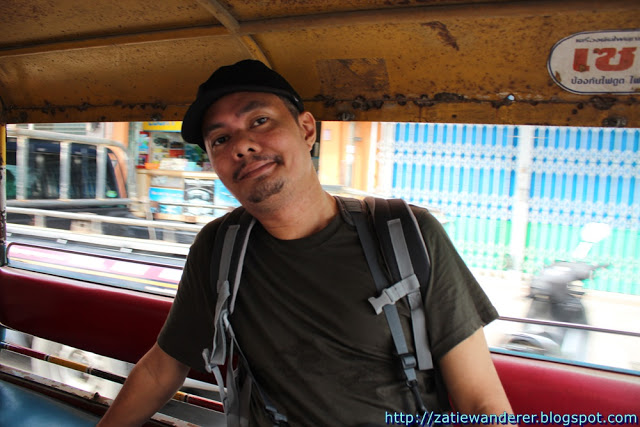 ***
The journey to Wat Hat Yai will go through a medium-sized bridge built to drive across the rails. Then, the 'tuktuk' will u-turn in front of a traffic light and enter into a junction on its left. I include a GPS coordinate of "7.003287, 100.453766".
Here is Wat Hat Yai. It has a huge shape. Information says this is the world's 3rd largest "reclining Buddha" (35-meter long, 15 meters high and 10 meters wide). "Wat" means a temple. The full name of this wat is "Wat Hat Yai Nai", I shortened the long name to "Wat Hat Yai" because it is the popular name that has always been designated here.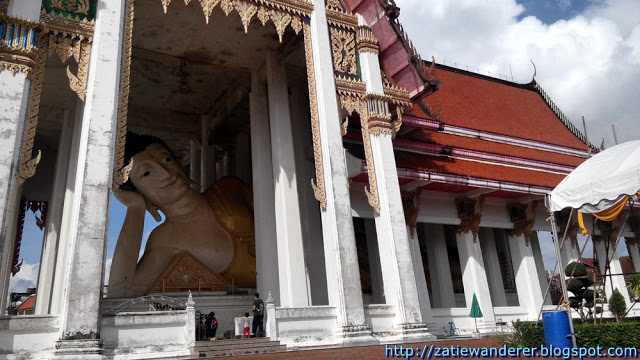 It looks like some Buddhist visitors are praying. To show respect, we wait until they are finished and then we enter. Getting into it is free. In Wat, many dogs are roaming around. My advice is, don't take off your shoes or don't go inside. Enough to just pictured outside. The reason is, in Wat's area, there are many dry dog poops here and there. We also have to wash our feet afterward because we didn't seem aware of this at first. Compared to other Wat's around Thailand, I can say that its interior is clean and free from dogs, except here. Fortunately, as a Moslem, there is a free toilet and we use grassland for cleaning due to the absence of clay.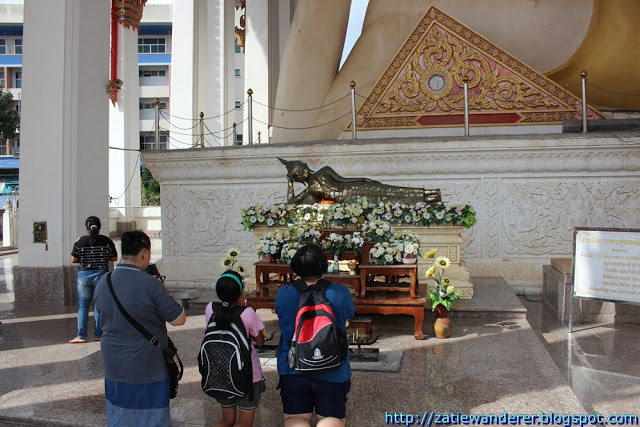 Then we wandered to the back of the statue's feet while sitting and relaxing for a moment. Due to the dome shape similar to the roof of a village house in most Asian countries, the temperature is relatively cool, plus the cool breeze.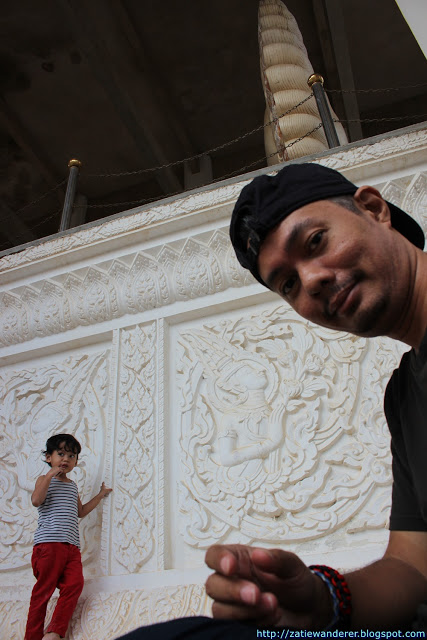 That's the statue's feet …. see how big it is !! Actually, according to Buddhist beliefs, the Buddha was in a state of sleep and dreaming. So all of us, including his followers and all the contents of this world supposedly produced, created and contained in the dream that the Buddha is experiencing. And, the adherents said, "Play as much as possible in this world as the Buddha still dreaming because after he becomes conscious (or 'awake'), his dream will be destroyed and we will all be gone."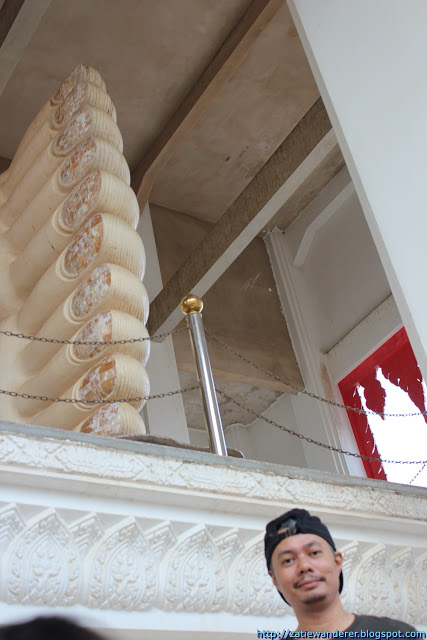 That's their belief, let it be ……
Then we go back to the front to pick up the shoes. But we do not wear it, instead, the shoes are held and we're barefooted to the toilet to wash our feet.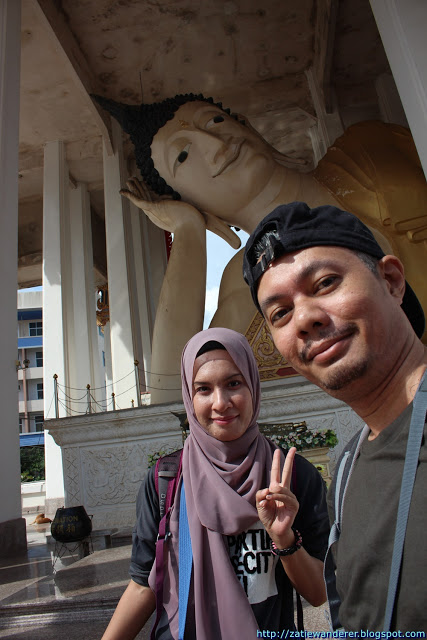 This is the position of the 'wat' edges taken from the location of the toilet. We were surprised when entering the bathroom that a large dry leaf shaped like a carcass of an already dead big iguana or commodore. Hahahaha! Suddenly crossed in my thought that there might be a python in this toilet?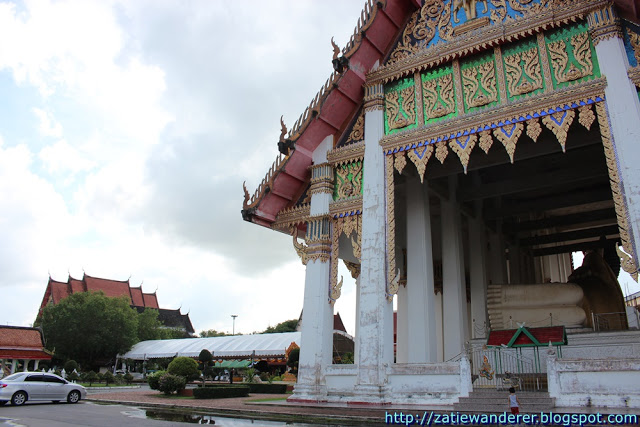 Next to the toilet, there is a monastery, a school where many monks assemble, muse and discuss. There are also new monks arriving by car. Their faces looked serious and less smiling. Maybe it's a bit strange for them because not many Muslims visit here. Or perhaps in Hat Yai, religious sentiments are pretty high. We understand that many hostile events between religions occur in the south of Thailand, which is quite close to Hat Yai. Sorry, I'm not interested in talking about it here. Let us think positively, ok?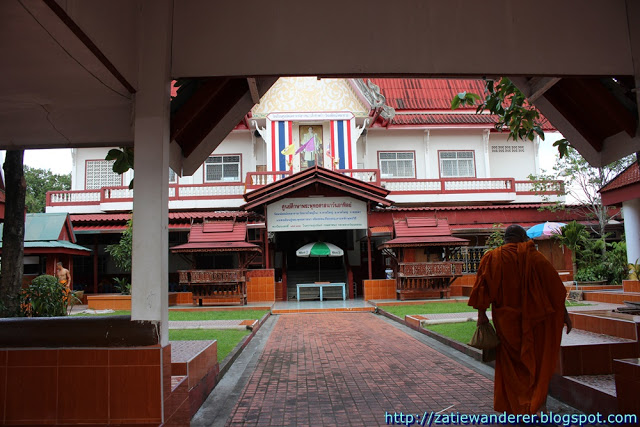 Next to the monastery, there is also a special building housed a statue of Buddha or perhaps a statue of the old monk who had long been dead. We did not go inside, just looking out from the outside.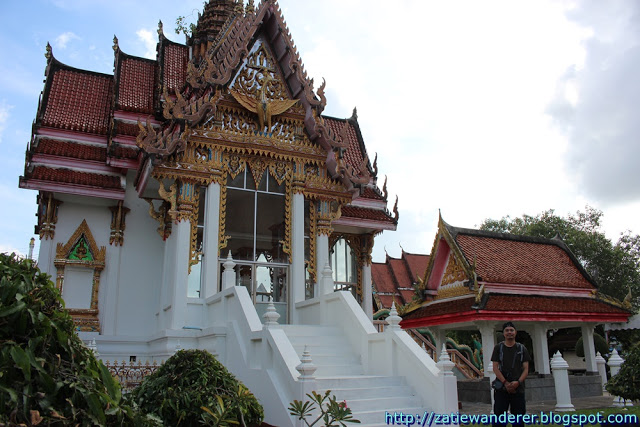 From the building that houses the statue of the Buddha, we can view the full size of the large Wat that houses a "reclining Buddha" statue. Take a look at how large the Wat can fit a big statue. It would be a significant loss if you didn't visit here.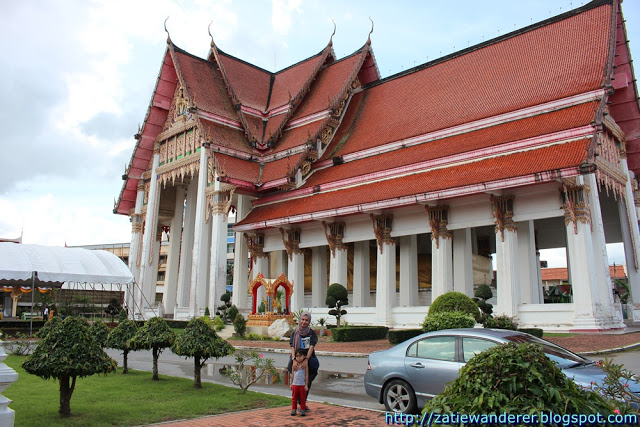 At the edge, there is a Buddha statue. The difference with the other is the presence of 4 faces in one head. Therefore, it is uncertain whether it is a statue of a Buddha, a god, or the old monk who died long ago.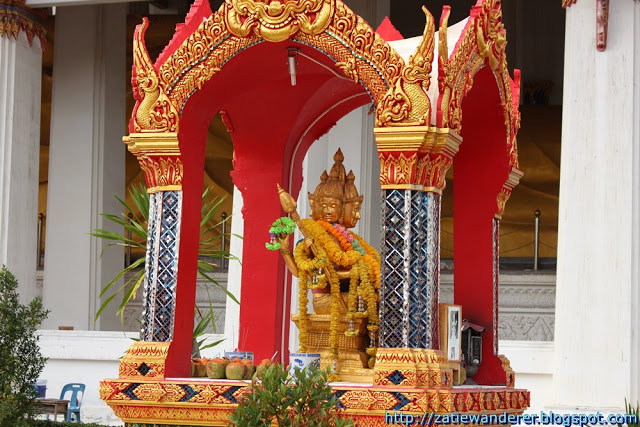 We pictured the last time here before heading elsewhere.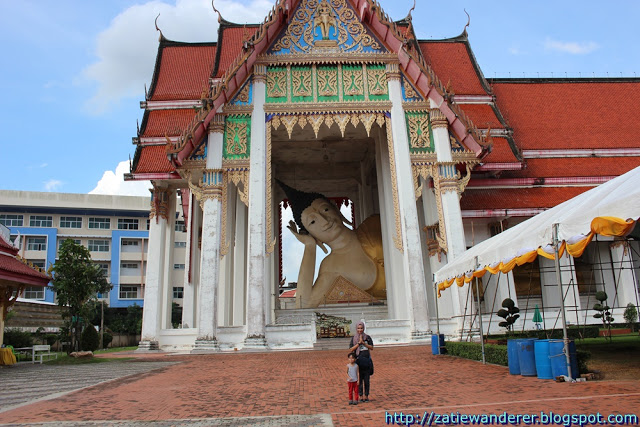 The statue is a great monk in Hua Hin named Hua Mongkol. We will include a blog entry about Wat Hua Mongkol later on. We are not sure why he is very famous around southern Thailand. Perhaps during his life, he was a renowned government figure or a famous monk in the past.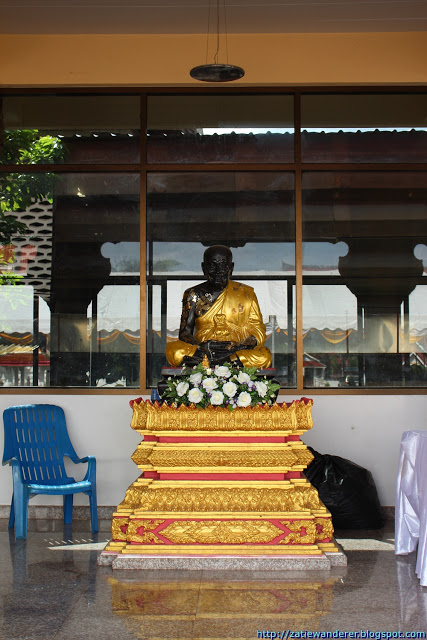 We went back to the front of Wat Hat Hai. Here is a donation jar. For Buddhists, you can donate here. You can choose to donate to any statue in particular. For example, if you wish to donate to that lying statue, you can put donations into the jar placed in front of it.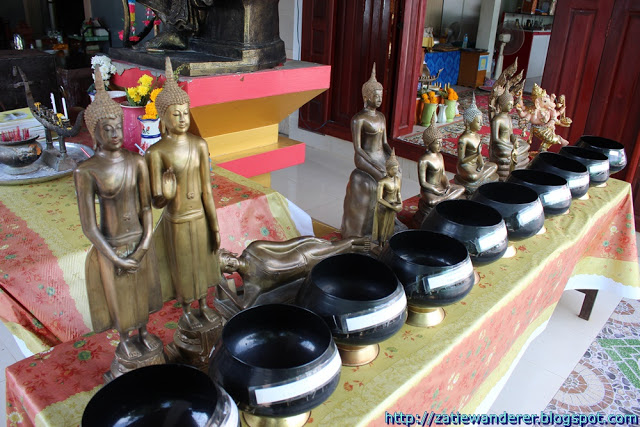 Next to the donation fund, a statue looks like a martial arts teacher in old Chinese films. Yeah, like the monks in kung fu movies, Shaolin and so on. Not sure who the figure is.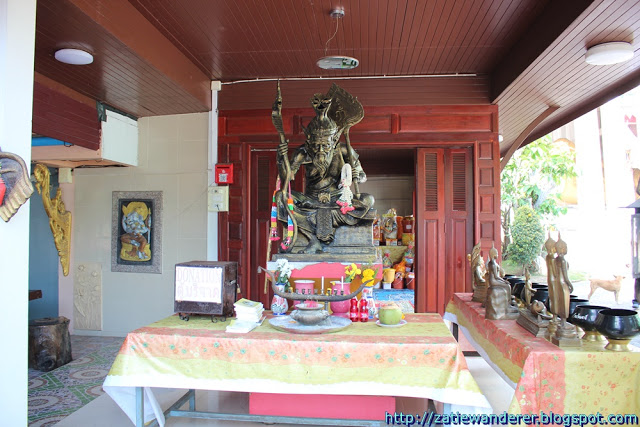 Look at that, and the elephant head is made of wood. Looks real, right? But it's a bit scary too since it seems alive. The Thai people worshiped and praised elephants. So, three things are prohibited in Thailand: insult, condemn or speak out blatantly about their King, elephants, and Buddhism. There may be more sensitive things that I still don't know and you need to do your research. The punishment for this offense is imprisonment and many foreigners have been jailed. This is a place for locals, and we follow their way if we do not want any problems.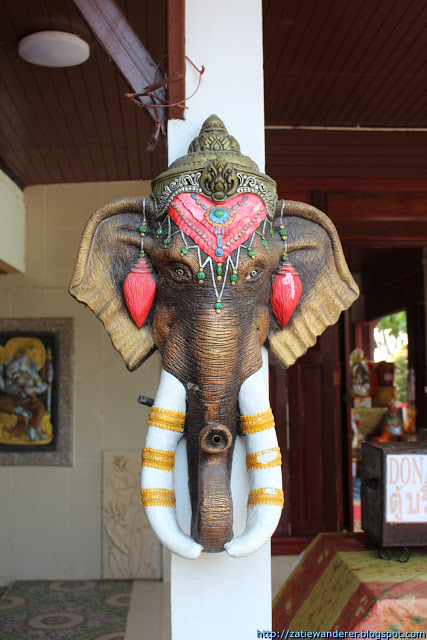 ***
We did not use any travel packages, so we had to find 'tuktuk' on the main road. So we walked out of Wat Hat Yai. Not far, just in 200-300 meters. We also had a picture at Wat Hat Yai's entrance. For the first time in our life, we are surrounded by many dogs. Fortunately, the dogs around Thailand are not fierce.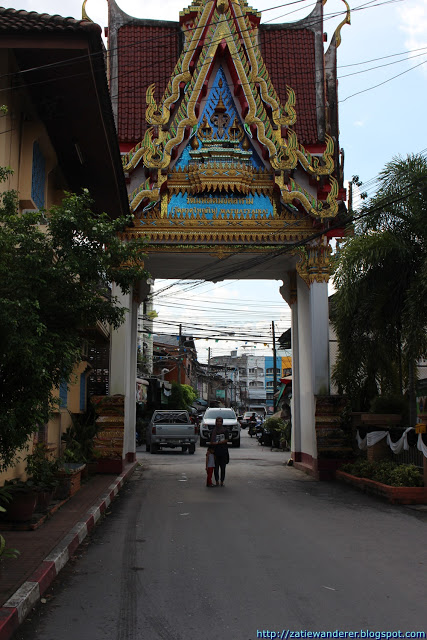 I would like to include this blog entry with our trip to Thailand Primary School (located just beside the Wat Hat Yai) and the wet market. But since these posts are too long, I have to split them into a separate blog entry.
Continued in the entry… Thailand – Laos Tour: Day 2 – Part 2 – Thailand Primary School and Wet Market.