Continued from Thailand – Laos Travel: Day 6 – Part 2 – Maeklong Railway Station in Samut Songkhram. For pre-travel, please refer here.
As soon as we finished the activities at the Maeklong market, we quickly packed up to go to Nakhon Pathom. Seriously, I had no idea where we needed to step to get the minibus. The time now is still early which is at 11.30 am.

So, while lifting the bag, I asked the host of the shop we hangout earlier about the location. There was also an old man in the house who came out and pointed in the direction using sign language. Presumably, because he was worried we didn't understand, he even escorted us to the intended place through the middle of the market (the area inside the market and not the railway track section). He is an old man, but the way he walks is very fast. And we, with a heavy backpack, feeling breathless because we had to follow his fast pace. Tatie was left behind but still in sight. I had to go ahead first as didn't want to miss his direction.
Indeed the location was different from the time we arrived this morning. It is 250 meters from the market.

Well, I share the GPS location of the minibus station: 13.405791, 99.999649. Here is also a minibus station to Bangkok.
Pictured first. At this time we are ready to buy tickets to Nakhon Pathom. Each ticket costs THB80, children also have to pay the same price. At 1.00 pm the new minibus will depart from here, meaning there is a 1 hour and 15 minutes of waiting time.

I even looked around for anything worthwhile to do while waiting. We are really hungry. Our mistake is that we didn't buy any fruit earlier at the market. To your knowledge, there are no halal food shops or stalls here. When trying to ask the salesman at the ticketing booth, he said that we can eat at the stall as in the picture above.

I also asked Tatie and Aqif to check first whether it is halal or not because from a distance there is no sign that the stall serves halal food.
There was a toilet beside the stall, then we took turns guarding our bags. Yes, indeed, it is not halal. Maybe the salesman at the booth didn't understand the meaning of halal. I don't blame them because they are not Muslims.
Our minibus is already here but because of the schedule, we had to board it at 1.00 pm. Then the driver called me and told me to put the two backpacks into it first.

Then, what do we need to do? There is a balance of 45 minutes of waiting time.
Once upon a time when humans lived in caves, it was the work of men who went out hunting and brought back food. But in my case, the cave I mean is the minibus station. So, I left them both there and started looking for food.

Yes, I remember, at the end of the place we passed earlier, there was a 7-Eleven. I thought, there might be a halal Maggi there. I didn't dare to go any further because my family was waiting at the station.
This is the minibus station from across the street. And about Maggi, luckily there is at 7-E. I bought some packets of biscuits and a bowl-type Maggi. It's a spicy tomyam flavor and the halal logo was displayed. In 7-E, as usual, just need to ask for the hot water provided here. I opened the lid of the bowl and poured hot water while returning to the 'cave'.

I don't know how many times we ate Maggi. I didn't eat it because my stomach is sensitive and problematic due to having acid reflux symptoms most of the time. I assumed that Maggi would be served as a temporary food, apparently, it had turned into lunch. I had to go back to buy another Maggi for Aqif.

This time Aqif followed me to 7-E. With the hot bowl having to be held in both hands, I was already starting to get uncomfortable while walking to get back to the minibus station. I continuously observing Aqif on how he walks and pushing his body with my knees so that he would not suddenly stepping out of the pedestrian path and getting into the busy road, hahaha.
Everyone was full for a while and the minibus was about to depart. The journey takes more than an hour with a distance of 66km. On the way, Tatie suddenly vomited, probably because her stomach was shaking and she had just finished eating. And the minibus driver drives like crazy. Luckily I brought aromatherapy oil. Immediately lost the mood that day.
This is where we were stopped by a minibus driver (GPS: 13.814806, 100.041747). He said he only knew this location which was said to be the 'minibus station for Nakhon Pathom'. We can accept his excuse. After all, the train station is not far. I was a little disappointed because I informed him in advance to stop at the location closest to the train station. It's okay because this type of travel can't expect the best situation all the time.
Picture of the location where we stopped. Image borrowed from Google.

I was pacing by the side of the road thinking about what kind of transport we need to take. At our side, there was a line of motorcycles and some riders were relaxing. With yellow jackets, I thought that they were a roadside garbage sweepers worker (see motorcyclists in the picture above). Apparently a rider for a motorcycle-type tuktuk.
I asked and was answered like a chicken and a duck talking. As usual, I Google a picture of the train and show it to them and only then do they understand. I actually forgot the fare for the motorcycle tuktuk. As far as I remember it is about THB20 or THB40 per person and children are free. I asked the rider again, can we ride if carrying this big backpack? He said, yes. Suddenly it popped into my head, does my wife have to ride a motorcycle with someone else anyway? Because we were carrying a child, so Aqif was placed in the middle between the rider and Tatie. So, there will be little distance from the rider. And I rode another motorcycle. The two motorcycles departed in parallel at the same time with a distance of 2.8km to Nakhon Pathom train station.
Map of riding a motorcycle-type tuktuk to Nakhon Pathom train station.
Arriving at the station, I immediately rushed to buy a 3rd class train ticket at the counter. Sorry, I forgot the ticket price but no more than THB40 per person. Children do not have to pay. The condition of our train is in the old form i.e. the seats and the interior are made of wood.

But one problem is that the train schedule is 3.00 pm and the time is already 2.30 pm!!! After all, the last train schedule is at 3.00 pm every day. How do we solve it?
Immediately we set foot from the station to the stupa which is 400 meters away. Yes, the distance is close, but can you walk fast while carrying a heavy backpack? Hehehe.

So, we had to go through a row of shops and stalls in the middle of the street.
From a distance, you can see the stupa. Whatever sights are there on the left and right of the road, there is no time for us to see. Time is running out! This place is not worth it to staying here for a night.

Then there is a bridge. At this time, Tatie was left behind with Aqif. I had to lead first since this stupa is my favorite.

I took a picture on the road we passed earlier. Full of various sale items.

Did you see the train station at the end? Later we need to get back there.

Ok, it's getting closer! The atmosphere is a bit tense. Our faces were tense and tired. If we skipped for coming here, we will feel regretful for the rest of our lives. According to sources on the website, this is the largest stupa in the world. Ever been to Borobudur in Jogjakarta, Indonesia? You will see a monument shaped like an ice cream vendor's bell and inside there is a statue of a monk meditating. That is a mini stupa. And in here is a bigger type of stupa.

I zoomed closer.

Zoom at the top.

Because Tatie was tired, so I asked her to wait at the sales booth on the right. Then I left my backpack there.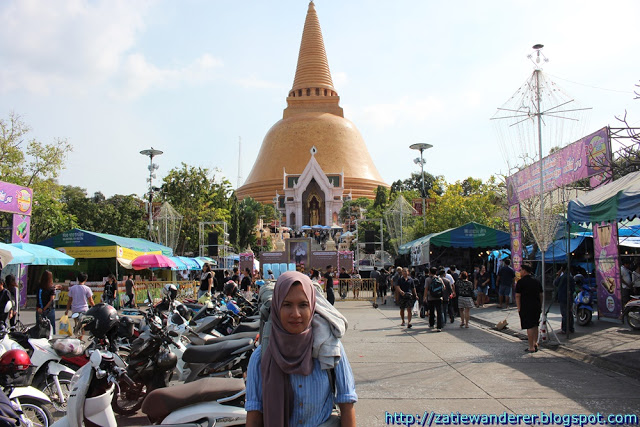 Sales booth at the entrance to the stupa.

Photo of the inside of the sales booth taken by Tatie.

This stupa is called Wat Phra Pathom Chedi (or Phra Pathommachedi). I assumed that the Nakhon Pathom city name was taken from its name. At a height of 120.5 meters, it is the tallest stupa in the world after the Jetavanaramaya stupa in Sri Lanka.



The meaning of Phra Pathommachedi is the first sacred stupa given the title by Mongkut. Its original name, Phra Tom Chedi, means large stupa in the old Khmer language or royal stupa in northern Thai. However, it is not the oldest or the first stupa in Suvarnabhumi (the old name for Southeast Asia). According to archaeologists, this stupa dates back to the 4th century.
Then, Aqif and I went upstairs. This is the picture from above leading to the train station.

I'm not sure what's going on here because there are pens, paper and a place to write. Maybe a paper to write their respective prayers and wishes.

Buddha statue with the symbol No Fear or 'Abhaya Mudra'. Meaning this statue is the focus for those who seek self-strength as well as to repel evil.

In front of the statue, there is also large pottery to fill with water or maybe water that has been recited in holy wordings?

Then we went down the stairs because there was not enough time to be here long. Looks like there is another Buddha statue on the left

….. and also the right side.

If we could spend more time, of course, I would turn around to the back of this stupa or find the entrance into it.

We headed back to the stone bridge because we didn't have time to take pictures there just now.

The construction of this bridge seems to be a long time ago.

We have another 15 minutes before the clock hits 3.00 pm. We need to go to 7-Eleven first to buy goods and snacks.

We finally arrived at the station as well. There are another 5 minutes before the train arrives. Many are relaxing, sitting and lying here.

I thought this was the train that we will board but it wasn't.

Women's carrying purchased items.

The train has already left. I think maybe it's heading to Thonburi (Bangkok).

Pictured here as a keepsake. I assumed that we only came here once in a lifetime and never repeat it in the future.

Video around the journey from Maeklong Railway Market to Nakhon Pathom.
Do you know what time the train arrives? 3.30 pm… regretful for walking so fast until we got tired and feeling tense. Continued to the next entry which is Thailand – Laos Travel: Day 6 – Part 4 – Trip To Kanchanaburi and Reviews About Rainbow Guesthouse.