Continued from the blog post Carpacker 2015 – East Coast – #1 Pre -Travel.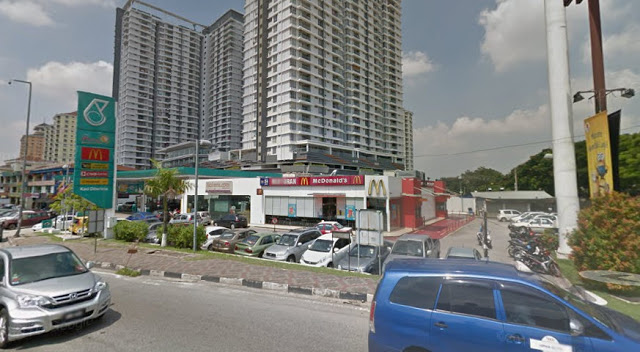 We started the journey at 6.30am. Since we had not had breakfast and I was arranging the time to arrive on time, we had to have breakfast at McD which is located in the petrol station on the MRR2 Highway near Taman Melati, Hulu Kelang. I've been craving to eat the McD breakfast menu set for a long time. After eating, we continued our journey with a cheerful face and very much fun, not to mention our son. The weather also looked good, dim and cloudy.
I mentioned in the previous post that we don't want to rush, right? But why do I care about punctuality? Keep reading, later you will know where and how many hours we spend on the road.
Our first destination was Temerloh. On the way, I said to Tatie, "Let's do some crazy work and something out of the ordinary?" Tatie agreed. That crazy job is to visit the graves and tombs of Malay warriors and fighters in the past such as Mat Kilau, Tok Gajah and so on. So, at least we have an additional purpose to visit the towns and small towns around Pahang.
To get to Temerloh, the estimated time is 1 hour 30 minutes if starting from Taman Melati. Meanwhile, we stopped to rest at the Petronas station which was approaching the end of the Karak Highway.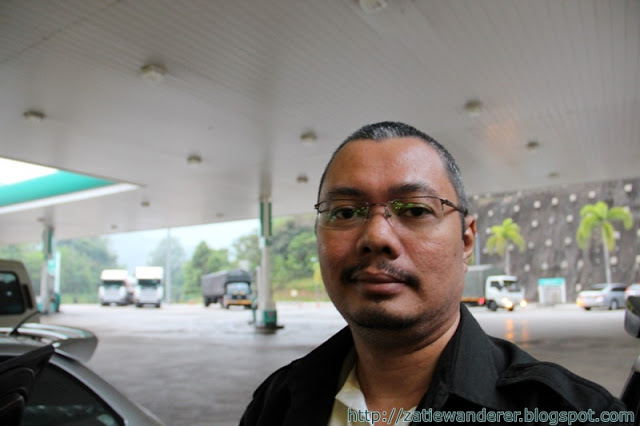 Stop here for a moment to buy a snack. I think this is the largest Petronas station in Malaysia. While my wife went to the toilet, Aqif and I enjoyed the view of several monkeys in their respective styles on the hill next to the station.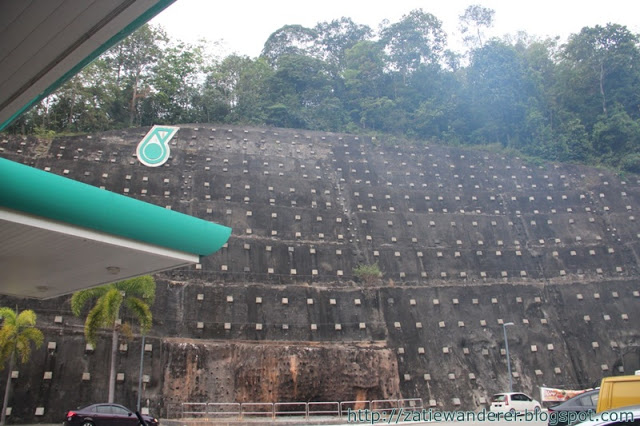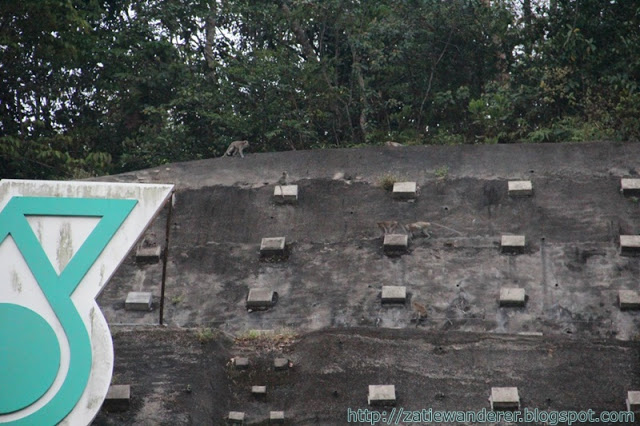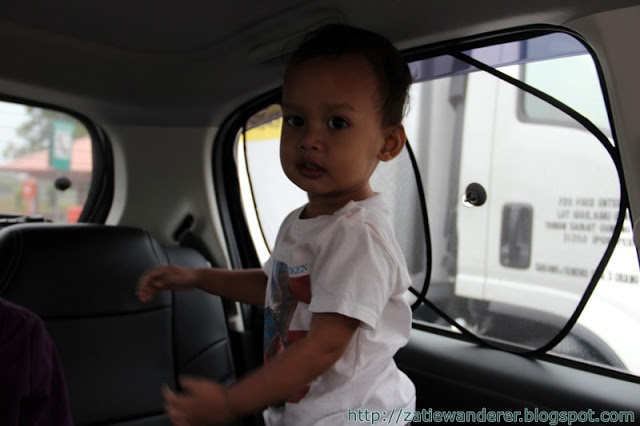 Look at Aqif's face. He's very excited to see the monkey. Tatie and Aqif usually sit in the back. Quite narrow because our car is small, it's only an MYVI car. It's okay, as long as it's comfortable. Both of them are used to sitting in the back, sometimes up to 10 hours for carpacking around peninsular Malaysia. Alhamdulillah, so far MYVI is reliable for a long-distance journey as well as fuel saving. Not like my old car, the BMW E46. Every two months there must be damage that occurs suddenly such as gearbox, white smoke, has been overhauled twice in less than 2 years and all sorts of other things. That is why during the year 2010-2013 we rarely did any long distance trip except back to the in-laws' village in Johor. Until now I've been traumatized by European cars.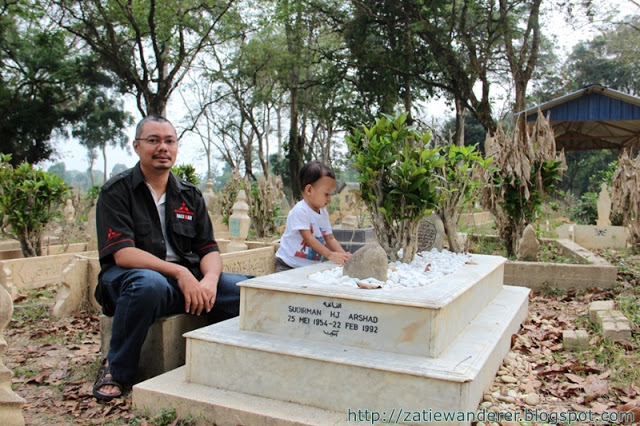 The last time I went to Temerloh was in 1999/2000. As soon as we arrived here, I continued to look for the grave of Sudirman Hj Arshad. According to the initial plan, we wanted to go straight to Jerantut to find Mat Kilau's tomb, but after reaching Temerloh, we continued to visit Sudirman's grave.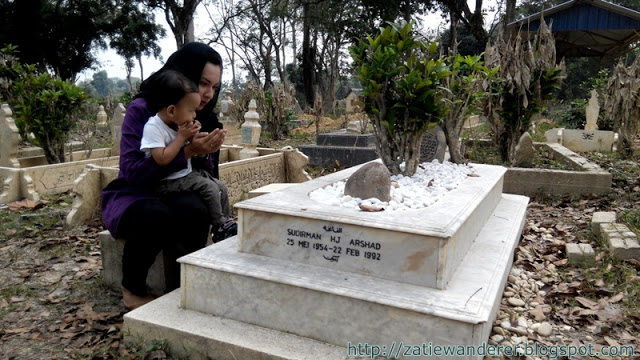 His grave is located at Kampung Chengal Cemetery, Temerloh, Pahang. For the exact location can refer to the map above or copy and paste the GPS coordinates "3.461932, 102.402929" into Google Maps. The distance from Temerloh toll road is about 9 km. The search for his grave was a bit difficult as we had to ask 2 different people. Arriving at the side of the road where there is a junction to Chengal Village, I had to ask a woman who was selling cakes for breakfast. From the car window, I saw them smiling as if there was a popular artist in our car. He said we had to keep going in and through a road that only fit for a car. I thought I'd buy some cakes, but our stomachs are still full.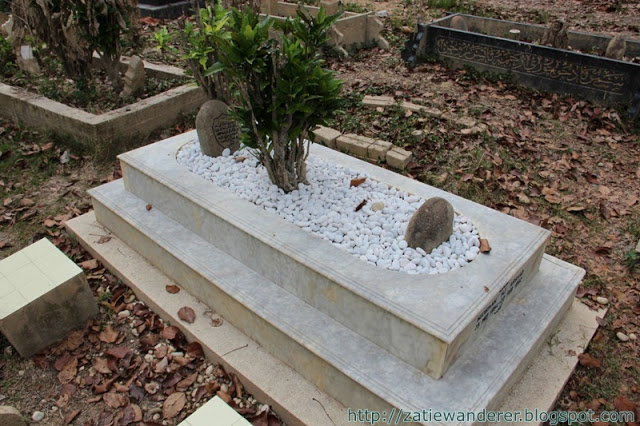 Arriving at the gate of the cemetery, I was getting ready to get out of the car and straighten my legs. But had to cancel as there was a group of rather wild monkeys. Yes, they are very wild. I saw them jumping on the tall trees as if the branches were about to collapse. Suddenly a nonsense tought in mind, "Later they kidnapped Aqif and carried him on the back of their body and went straight into the forest, it will be difficult later."
I drove straight inside until we met the entrance of a place like a factory or a construction site. There is a second door to the cemetery. Are there any ghosts? Relax, there are no ghosts during the day. I'm more worried about "human ghosts" who are crueler. I parked the car on the side and our family started looking for his grave. We searched all over the area but couldn't find it. I walked counterclockwise while Tatie walked clockwise. We both formed a circle but still couldn't find his grave either. Luckily, the 4G network reception is quite strong and I also searched based on the shape of the tomb pictures from other blogs. Finally, meet. The funny thing is, his tomb is located right near the second entrance. If we worked as lawnmowers, we might have finished mowing the lawn for the whole area.
The three of us sat around his grave and recited Al-Fatihah and selected prayers. We also had the opportunity to thank him for being "assigned" by the Almighty Creator to entertain us all. Indeed, the grave is neat and clean as if there are guests who always come here and clean it.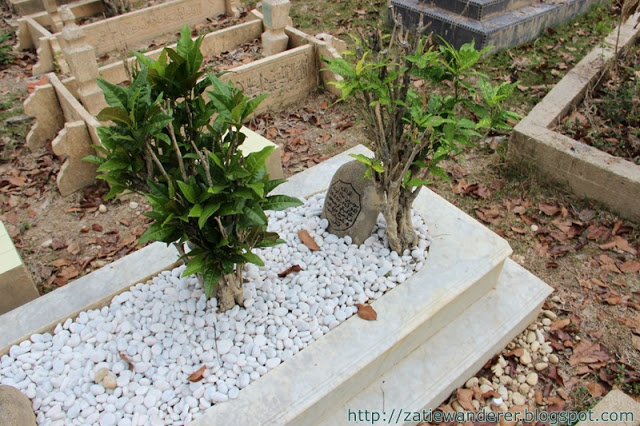 Who doesn't know him !! It's unbelievable that we are now right in front of his grave. The country's number one famous entertainer in the 80s. His death saddened Malaysians and even raised many questions. Sorry, I don't want to discuss that here. Later, if we talk more, it will be slander. It is reported that Dato Aznil Hj Nawawi often visits Sudirman's grave and cleans it.
As Malaysians, surely we have all memorized his song entitled "Merdeka". Let's enjoy the song above.
Tanggal 31
Bulan lapan lima puluh tujuh
Merdeka! Merdeka!
Tetaplah merdeka
Ia pasti menjadi sejarah
Tanggal 31
Bulan lapan lima puluh tujuh
Hari yang mulia
Hari bahagia
Sambut dengan jiwa yang merdeka
Mari kita seluruh warga negara
Ramai-ramai menyambut hari merdeka
Merdeka!
Tiga satu bulan lapan lima puluh tujuh
Hari mulia negaraku merdeka
May we Malaysians be free from foreign colonialism and the latest colonialism of the Malay mind to forget the identity of race, customs and culture. The trip to Jerantut was a bit sad and heartbreaking because there seemed to be a connection between Sudirman's song Merdeka and Mat Kilau's struggle against the British some time ago in Pahang.
How much does it cost to go to Temerloh (according to the current price, except for food/drink)?
The fuel tank is still 4/5 since it was fully filled the day before departure.
Gombak toll plaza – RM6.00
Bentong toll plaza – RM3.50
Continue to the next blog post… Carpacker 2015 – East Coast – #3 Jerantut City and Mat Kilau.